Long-time Jethro Tull guitarist Martin Barre is returning to Peterborough for a concert at Market Hall Performing Arts Centre (140 Charlotte St., Peterborough) on Tuesday, September 25th.
Barre has been touring with his own band for some time, and last performed at the Market Hall in April 2017 to rave reviews. He delivers blues-infused hard rock originals along with selections from the Jethro Tull catalogue — classic tunes like "A Song for Jeffrey", "Aqualung", "Locomotive Breath" and "Thick as a Brick", but re-imagined with guitar front and centre.
The 72-year-old Barre was the guitarist in Jethro Tull from 1969 until 2012, making him the the longest-standing member of the band aside from founder Ian Anderson. He appeared on every Jethro Tull album except the band's debut This Was (1968) and is particularly known for his guitar work on Aqualung (1971).
VIDEO: "Aqualung" – Jethro Tull

His instrumental for the title track of Aqualung was voted the 25th best solo ever in the USA and 20th best solo ever in the UK. Many virtuoso guitarists — including Joe Bonamassa, Steve Vai, and Jo Satriani — have credited Barre as an important influence on their playing.
Born in Birmingham, England in 1946, Barre began his musical career in the early 1960s playing saxophone with Birmingham band The Moonrakers, and then joined The Noblemen (later renamed The Motivation).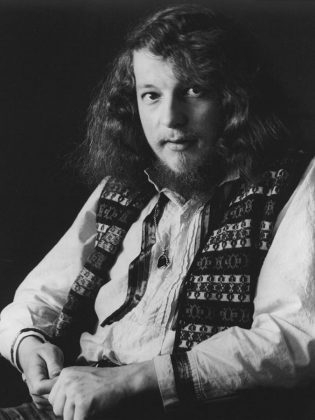 In 1968, Ian Anderson of Jethro Tull — which had formed in 1967 as a blues-rock band before later morphing into a progressive rock outfit — was having conflicts with the band's guitarist Mick Abrahams and was holding auditions for a new guitarist.
Barre showed up for an audition but was so nervous he barely played. He returned for a second audition and, despite arriving without his own amplifier or guitar cord, he got the green light from Anderson.
For the next four decades, Barre performed as Jethro Tull's guitarist (he sometimes played flute and mandolin). In addition to his role in Jethro Tull, he has worked with other musicians including Paul McCartney, Phil Collins, Gary Moore, Jo Bonamassa, and Chris Thompson and has shared a stage with Jimi Hendrix, Fleetwood Mac, Pink Floyd, and Led Zeppelin.
In 1988, his playing on Jethro Tull's 16th studio album Crest of a Knave earned him a Grammy Award for Best Hard Rock/Metal Performance Vocal or Instrumental. The Grammy win was a controversial upset, as many did not consider the album — which beat out records by both Metallica and Jane's Addiction — to be either hard rock or heavy metal. In fact, no one from the band was at the awards ceremony to accept the award, as they has been told they had zero chance of winning.
VIDEO: "Locomotive Breath" – The Martin Barre Band

In all, Jethro Tull has sold an estimated 60 million albums worldwide, with 11 gold and five platinum albums among them, and has been described by Rolling Stone as "one of the most commercially successful progressive rock bands". The band continues to tour under Ian Anderson's name, while Barre also performs songs from the band's catalogue with his own band.
In the 1990s, while still with Jethro Tull, Barre began performing as a solo artist. He has since released six studio albums — A Summer Band (1992), A Trick of Memory (1994), The Meeting (1996), Stage Left (2003), Away With Words (2013), and Back To Steel (2015) — with his newest record Roads Less Travelled dropping at the end of August.
On Roads Less Travelled, Barre performs on electric guitar, acoustic guitar, and mandolin.
VIDEO: "Rock Me Baby" – The Martin Barre Band

"I've concentrated on improving my songwriting over the last few years and as a result, I am really pleased with this new CD," Barre says about Roads Less Travelled. "Although my playing has a lot of space in the music, I've worked a lot harder on the arrangements and lyrics. My goal is to have a CD that keeps the listener from beginning to end."
At his Market Hall concert, he'll be performing tracks from the new record — along with his other original tunes and, of course, some Jethro Tull songs — backed by members of his touring band: vocalist Dan Crisp, bassist Alan Thompson, and drummer Darby Todd.
Tickets for Jethro Tull's Martin Barre Band are $38 for assigned regular seating and $48 for assigned table seating, or $78 for VIP table seats which include a pre-show meet and greet with Barre, a signed poster, and complimentary refreshments.
Tickets are available now in person at the Market Hall box office, by phone at 705-749-1146, or online at the Market Hall Box Office or online at markethall.org.