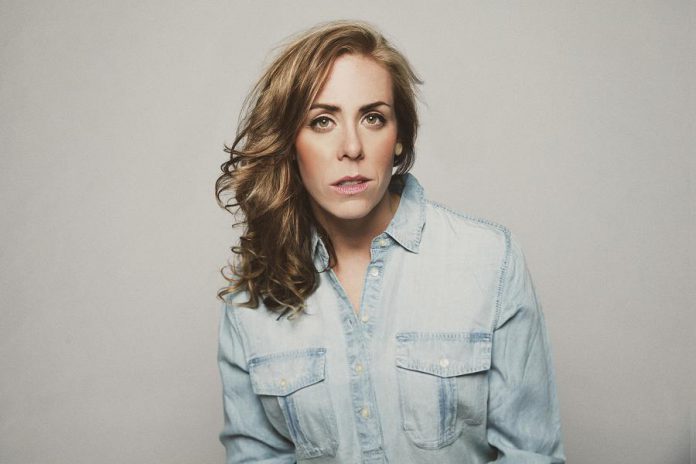 The unofficial end of summer comes with the turning of the calendar from August to September. Schedules begin to normalize for most people, but there are still lots of live performances to get out to. The weather remains beautiful and the music in Peterborough and area is as ever-present as the summer time.
Here are just a few of the great things happening in the city this month.
---
Rob Dickson, Merival, and Graven at The Garnet in Peterborough on September 4
Three great folk/roots acts hit the stage at The Garnet (231 Hunter St. W., Peterborough, 705-874-0107) on Tuesday, September 4th.
Rob Dickson is a Yukon-based artist who is about to release a brand new full-length record called Looking Through Your Window. His music has a rare sensitivity that brings the listener into his world almost instantly.
Also on the bill is Toronto artist Merival, a songwriter who brings the personal to the stage with a beautiful voice and well written tunes. Her latest recording is called Lovers and features five songs about her coming to grips with lost loves from before she was 20 years old.
Last but not least on the bill is Ottawa's Graven, aka Matty McKechnie. His tunes can be whimsical or heartbreaking, and are always genuine.
Tickets are available at the door and music will begin around 9 p.m.
VIDEO: "Driven to Odds" – Rob Dickson

Fin De Fiesta Flamenco at the Gordon Best in Peterborough on September 6
It will be a red hot evening of flamenco dance and music on Thursday, September 6th at Gordon Best Theatre (216 Hunter St. W., Peterborough, 705-876-8884).
Acclaimed Spanish group Fin De Fiesta Flamenco presents "Salvaje", a new production that "explores the wild, untamed and passionate nature of flamenco."
Lovely vocals, scintillating guitar arpeggios, flute melodies, and cajón combine to bring the music to life for dancer Lia Grainger and guest dancer Deborah "La Caramelita."
Tickets are $25 at the door and $22 in advance and can be purchased at the Only Cafe or on Eventbrite.
The show begins at 8 p.m.
VIDEO: Fin de Fiesta Flamenco

Creekside Music Festival debuts in Apsley on September 8
Festival season is not fully over as the first annual Creekside Music Festival takes place in Apsley on Saturday, September 8th.
This is a cozy festival with only 300 tickets being sold. Musical entertainment includes Montana Sky, The Ireland Brothers, Ace & The Kid, and Dauncey.
Tickets for the festival are only $25, and camping is available (but limited) with prices of $25 for trailers or $15 for tents. If you plan on camping, phone 705-559-3111 to make arrangements.
You get tickets in Apsley at Kemp's Garage, Hunter's General Store, or phone Mike and Sandy Del Mastro at 705-872-7589.
Check out the Facebook event page for more info.
VIDEO: "Midnight Special" performed by Ace and the Kid

Dewey Via in the Nexicom Studio at Showplace in Peterborough on September 11
Heartfelt tunes will be the order of the evening on Tuesday, September 11th as American singer Dewey Via takes the stage at the Nexicom Studio at Showplace Performance Centre (290 George St. N., Peterborough, 705-742-7469).
Via's shows traverse a few genres, from rock to blues to folk to country, and his voice has a golden tone that's immediately likable.
The show begins at 8 p.m. and is $30. Get your tickets at the Showplace Box Office, by phone at 705-742-7469, or online at www.showplace.org.
VIDEO: "Small Town" – Dewey Via

Kira Sheppard and Jake and Ilia Nicoll with Mike Duguay at The Garnet in Peterborough on September 12
On Wednesday, September 12th, Kira Sheppard, Jake Nicoll and Ilia Nicoll from Newfoundland will be at The Garnet (231 Hunter St. W., Peterborough, 705-874-0107) along with opener Mike Duguay.
I cannot recommend this show enough. The evening will feature the harp, fiddle, and much more. Ethereal tunes full of meaning and charm. You will be transported somewhere else for an evening and that can be the magic work of music. This is one of those nights.
Tickets will be available at the door and the show begins around 9 p.m.
VIDEO: "That Time" – Kira Sheppard & Jake Nicoll

Petunia with Minimalist Jug Band at The Garnet in Peterborough on September 13
Speaking of being transported somewhere, on Thursday, September 13th at The Garnet (231 Hunter St. W., Peterborough, 705-874-0107), throwback country/folk savant Petunia will be bringing his one-of-a-kind show to Peterborough.
His music could be described as the love child of Tom Waits and Jimmie Rogers. Artfully crafted tunes that are highlighted by his excellent and wide-ranging voice.
Opening the show will be the Minimalist Jug Band, a one-man project by Al Mader that is poetic and theatrical on top of being innately musical.
This is another can't miss show. Tickets will be available at the door. Show begins around 9 p.m.
VIDEO: "Inside of You" – Petunia

Lindsay Barr at The Black Horse in Peterborough on September 21
After her amazing performance at The Hootenanny on Hunter Street in August, you get another chance to see Lindsay Barr perform with her band on Friday, September 21st at The Black Horse Pub (452 George St. N., Peterborough, 705-742-0633).
Lindsay is a powerhouse vocalist with a great band behind her. Her music is based in rock and roll but other influences and genres come to the surface during her show.
There is no cover and the show begins at 9:30 p.m.
VIDEO: Lindsay Barr at Hootenanny on Hunter Street

Amanda Rheaume at the Academy Theatre in Lindsay on September 22
Juno Award nominee and multiple award winner Amanda Rheaume will perform at the lovely Academy Theatre (2 Lindsay St. S., Lindsay, 705-324-9111) on Saturday, September 22nd.
Her music is immediately likable. It's centered around a pop/folk sound that is driven forward by her powerful voice. Rheaume has opened for such acts as Emmylou Harris, Ani Difranco, Lucinda Williams and many more. Once you catch her shows you'll be able to tell why she is such a lauded artist.
Tickets are $30 and are available at the Academy Theatre Box Office, by phone at 705-324-9111, or online at www.academytheatre.ca.
VIDEO: "Wolf of Time" – Amanda Rheaume

Union City at The Red Dog in Peterborough on September 29
On Saturday, September 29th, Peterborough rockers Union City return to The Historic Red Dog Tavern (189 Hunter St. W, Peterborough, 705-750-1710) for their first show in the city in what seems like a long time.
Their sound is atmospheric and seems to be influenced by certain elements of British rock/pop circa the 1990s.
Tickets will be available at the door and the show begins around 9 p.m.
VIDEO: "A Drop in the Ocean" – Union City