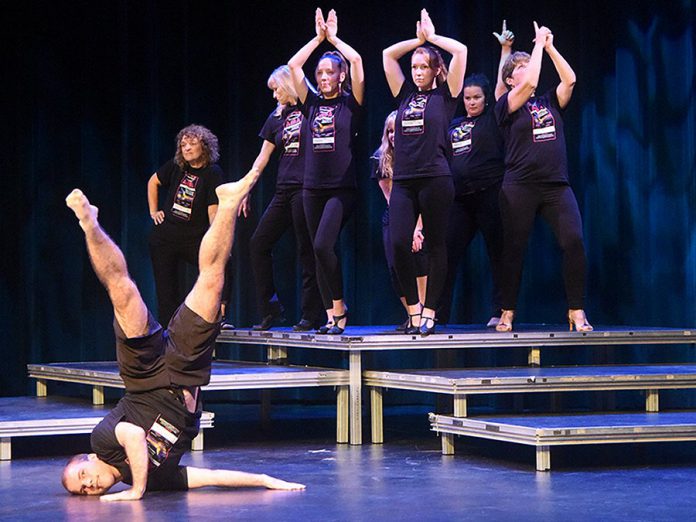 This October, the music of Swedish pop superstars ABBA comes to Showplace Performance Centre in Peterborough in a special fundraising event featuring the glitz and glitter of the disco era in a unique presentation that's distinctly home grown.
Created by the same production team that brought Cats and Ain't Misbehavin' to Showplace, Len Lifchus, Pat Cooper, Bill Crane, Melissa Earle, and Howard Berry are teaming up with 12 of Peterborough's most respected vocalists and six fabulous dancers for a celebration of ABBA's music and to kick off Showplace's campaign to raise money to purchase new seating for the theatre.
"The show is a fundraiser for Showplace and it's the beginning of a capital campaign we are doing," says producer Pat Hooper, who is also chair of the board of directors of Showplace, a not-for-profit organization.
"We need new seats, but there are other things in the theatre that need to be upgraded as well."
ABBA has been back on the cultural radar in a huge way in 2018. This past summer, the feature film Mamma Mia 2: Here We Go Again hit theatres. On September 28th, pop diva Cher is releasing a new album consisting entirely of ABBA cover songs.
And in December, the original members of ABBA — Agnetha Faltskog, Bjorn Ulvaeus, Benny Andersson, and Anni-Frid Lyngstad — will be releasing their first new recordings together in over 35 years.
However, as Pat reveals, Showplace's ABBA show was in production long before this year's resurgence of the pop music icons.
"We've been fortunate that we hit the wave of what has been happening with ABBA this year," Pat says. "We actually started planning this last fall. We've been working on it for a long time."
Having sold around 400 million albums, ABBA needs little introduction. No matter what corner of the world people live in, ABBA has been a part of their musical landscape. Formed in Stockholm in 1972 by song-writing partners Benny and Bjorn and female singers Agnetha and Anni-Frid, ABBA found international fame in 1974 when they won the Eurovision song-writing competition with "Waterloo". The song quickly hit the top of the charts on every continent, and for the next eight years the band put out hit after hit, including a total of 20 on the Billboard Top 100.

Songs such as "Dancing Queen", "S.O.S.", "Mamma Mia", "The Name of the Game", "Super Trouper", "Fernando", "Take a Chance on Me", "The Winner Takes It All", and more too numerous to name, are some of the most beloved pop songs ever written and continue to be embraced by multiple generations. Like perennial gems in a musical garden, ABBA's music continues to find new audiences through stage shows, film, tribute bands, and constant play on every media platform.
"ABBA wrote great music," says musical director Bill Crane. "It's simple, it's straightforward, and it goes straight to the soul. Especially if you're from the disco age, the music just sparkles with the glow ball."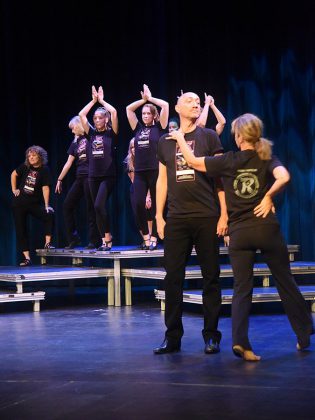 "It's also interesting how many different styles of music are heard in ABBA's music," Pat points out. "There is some classical, Spanish, and even rap in their music."
"But it's all about the beat," director Len Lifchus adds. "People love to dance to the beat."
The Showplace tribute to ABBA started as the brainchild of Bill Crane, who admits that he came to appreciate the music of ABBA later than most fans. It wasn't until he saw the Toronto production of Mamma Mia that he became a fan.
"When ABBA was hot between 1974 and 1982 I was too busy getting a degree and raising a family to be paying attention to what they were doing," Bill explains. "But I got tickets to see Mamma Mia and, well, I was just not prepared for it. We had fabulous seats and the show was just electric. I just fell in love with it.
"I've come to understand that Benny and Bjorn wrote some of the most perfect examples of popular idiom that has ever been done. The music is fabulous, and the words are a vehicle for this infectious and electric music. I'm thrilled to have the opportunity to do this show."
The show will not just feature the music of ABBA, but also five songs from the Broadway production of Chess, which was written by Benny and Bjorn alongside Tim Rice in 1984 and spawned the international hit "One Night in Bangkok" made famous by Murray Head.
VIDEO: The Music of ABBA promo
"There are a number of fabulous songs from Chess, and we are including five of those songs in the show," Len says.
"I think the Chess music is a great foil for the rest of the show," Bill adds.
Making up the company are a collective of some of Peterborough's theatrical elite, along with some recognizable faces and voices in our community including Bill Crane, Rosemarie Barnes, Roy Braun, Karen Ruth Brown, Kevin Carter, Christie Freeman, Gillian Harknett, Tim Jeffries, Heather Knetchel, Theresa McMullen, Darcy Mullen, and Kristin Taylor.
They are accompanied by dancers Susie Cox, Heather Boyd, Madie Earle, and Jake Roberts under the direction of choreographer Melissa Earle (who will also be dancing in the show).
Although ABBA wrote some of the most infectious dance music of all time, the band never actually danced while performing. As a result, Melissa had to find inspiration from other sources, as well as from her own creative vision, to choreograph the show.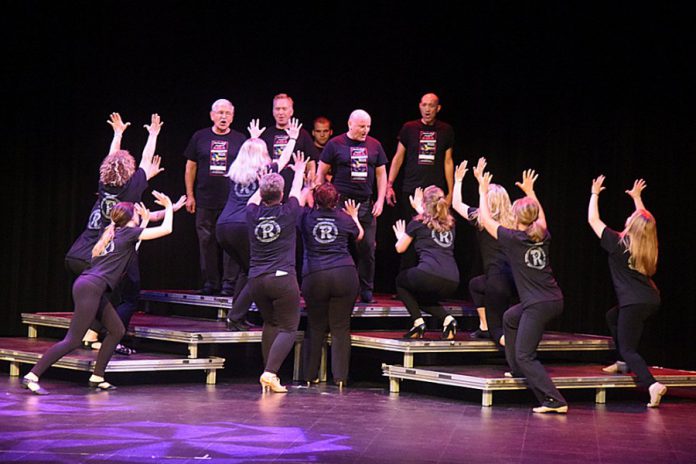 "I got more inspiration from the Mamma Mia movie and stage show than watching videos of ABBA themselves," Melissa says. "I draw my inspiration from the mood and style of the songs and from the film."
But Melissa isn't just in charge of getting her dancers to move. She is also putting the musical performers through dance sequences as well.
"I've had to find a nice balance of complex movement and dancing that isn't overly complicated for the singers because they are concentrating on singing," Melissa explains. "It's not like Cats where I had oodles and oodles of dancers. I have five dancers and then singers who move well."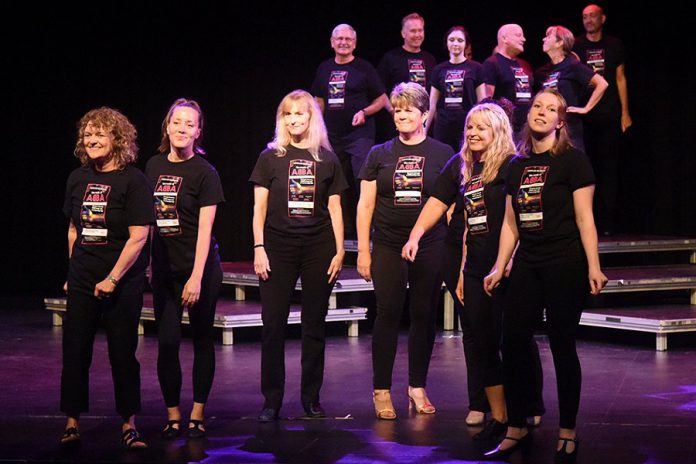 Meanwhile, costume master Howard Berry turned his apartment upside down to create the flamboyant look of the show.
"I am doing 38 costumes," Howard says. "I have six ladies sewing in my apartment Tuesday and Thursday from ten a.m. to three p.m. I have racks in my living room and my bedroom. My dining room is a disaster — it's just sewing machines."
Although they are beloved for their music, it's often been written that ABBA could be one of pop's worst-dressed bands, with some questionable costume designs during the height of their career. Howard has decided to avoid these fashion faux pas by creating a look that celebrates the era without recreating ABBA's actual look.
"We are not doing ABBA's costumes," Howard explains. "We are going for what we think the '70s looked like. It's a bit of what we wore in the 70s, a bit of in between, and a bit of now. I watched Tyra Banks on America's Got Talent and the last two weeks she came out in jumpsuits and bell bottoms.
"Everyone in our show is in jumpsuits, and although Len didn't want them, he is getting bell bottoms. The pattern books are full of them. Everything is sequenced, glittery, and colourful. All of act one is in peaches and lime green and bits of taupe colours, while all of act two is in bright primary colours — red, blues, blacks, and golds. It's just dazzling. It's going to be good."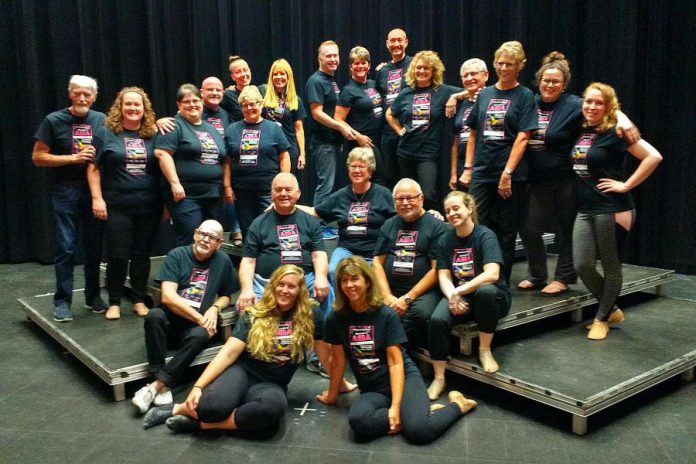 Although ABBA is always a favourite of audiences, there are a lot of shows featuring the music of ABBA every year in Peterborough and this one won't be the last (Lakefield College School announced last week that they will be putting on Mamma Mia as their annual musical). I posed the question to the creative team what was different and unique about this production over others we've seen before.
"It's twelve fantastic Peterborough singers and five dancers and everybody is loving what they're doing," Len states. "Usually you go to an ABBA show you see four people stand up and look like ABBA. We're not replicating ABBA. This is a salute to ABBA, Peterborough style. That's the difference. It will be an interesting experience."
"This is the music that you know, with Peterborough flair," Bill adds. "It's our show done our way."
Although the company is still secretive about revealing too much of the show, after my visit with the production team I was invited to see a sneak peek of the show's first act finale of "One Night in Bangkok" mashed up with "Voulez-Vous".
Featuring Roy Braun, Darcy Mundle, and Tim Jeffries as soloists for the number, "One Night in Bangkok" is a big production number that the entire company performed with tons of conviction.
Upon its conclusion, Len looked over at me, gave me a thumbs up, and said, "That's the difference. That's how Peterborough does ABBA."
VIDEO: The ABBA Top 40: Their Greatest Hits

The Music of ABBA: A Showplace Fundraiser runs on Friday, October 12th and Saturday, October 13th at 8 p.m., and Sunday, October 14th at 2 p.m. Tickets are $34 and are available at Showplace Performance Centre (290 George St. N., Peterborough), by phone at 705-742-7469, or online at www.showplace.org. There's also a preview performance on Thursday, October 11th, but tickets for that performance are not available to the general public.
The Music of ABBA: A Showplace Fundraiser has been made possible by the following sponsors: Monkman, Gracie and Johnson; Liftlock Group; Investor's Group; Grant Thornton; Medical Centre Hearing Services; Porter Sound; kawarthaNOW.com; Revolutions Dance Studio; Long and McQuade; Merrett Home Hardware Building Centre; and Renegade Apparel.