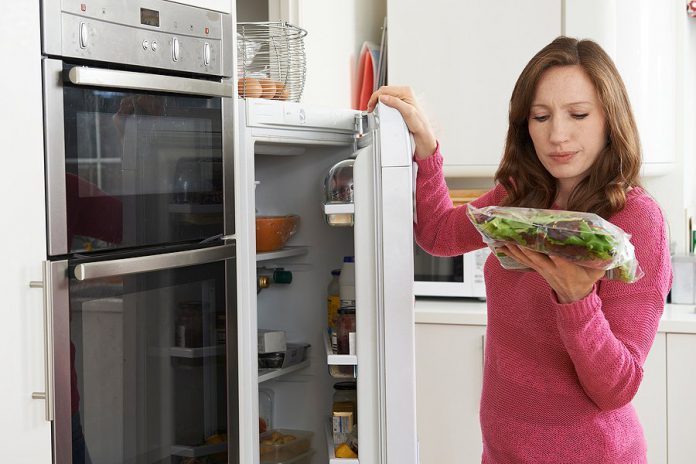 The end of summer marks a time of abundance and to local growers it is a time for harvest. In Peterborough, September is designated Local Food Month and from fall fairs to festivals in the park, this month is filled with events to support local farmers.
Strengthening our urban and rural connection to food allows us to become more aware of the cycle of food.
For most of us, this includes thinking about where our food comes from — but have you ever thought about what happens after we throw food away?
In Canada, nearly half of our food waste comes from households, from uneaten leftovers, untouched fruits and vegetables, and food that is "bought and forgot". All this wasted food adds up in the environment.
"The amount of land, water, and labour resources devoted to growing precious food, only to have 40 per cent of it treated as garbage, is abhorrent in this era of exploding populations and diminishing resources," explains Virginia Swinson, Waste Diversion Section Manager with the City of Peterborough. "The willful wasting of food must no longer be condoned and tolerated."
Food waste has a large price tag for the environment and the economy. Landfills are running out of space, especially for preventable waste. When food is left to rot, like at a landfill, it emits methane gas, a greenhouse gas that warms the planet about 30 times as much as carbon dioxide.
Each household in our community spends approximately $1,500 per year on food that gets thrown out. That means that for every six bags of groceries you purchase, one is being thrown away!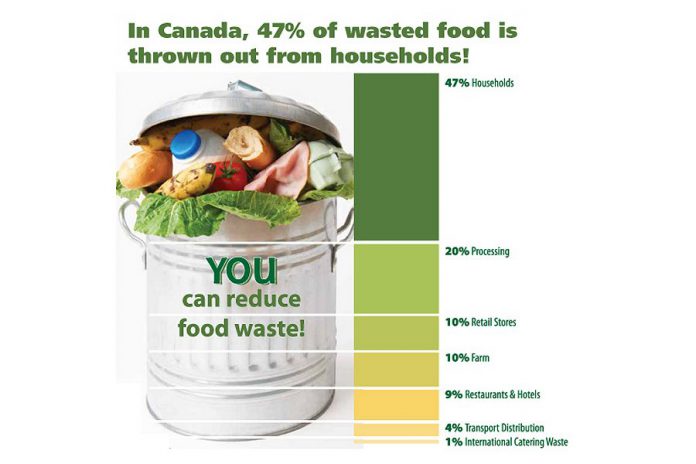 "Unlike many other problems in the world, we as individuals have the ability to change this appalling statistic," says Swinson.
Several community organizations have come together to take action in order to create awareness around this important issue; Peterborough Public Health, City of Peterborough, County of Peterborough, GreenUP, Sustainable Peterborough, and Nourish will be hosting a food waste event for local food month.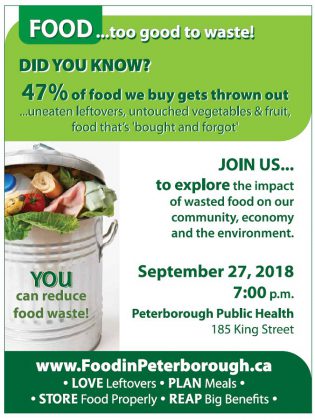 The "Food … too good to waste" event takes place on Thursday, September 27th at 7 p.m.. Join us at Peterborough Public Health at 185 King Street in downtown Peterborough to explore the impact of wasted food on our community, economy, and environment. Guest speakers will share their perspectives on food waste, both locally and provincially.
There are several steps each of us can take to avoid wasting food.
"It starts with each and every one of us adjusting our shopping and eating habits," Swinson says.
Meal planning and proper food storage are two skills we can all acquire to stop wasted food, save money, and be healthier.
According to Luisa Magalhaes, Registered Dietitian with Peterborough Public Health:
"When you plan, shop for, prepare, and eat meals made with whole foods, instead of convenience food, you get more vitamins, minerals, fibre, protein, and healthy fats along with less fried foods or added sugar and salt."
Here are some tips to get you started reducing your food waste:
Be Mindful
When shopping, bring a list and try to stick to it. It's easy to get caught up in deals especially at big box stores, but remind yourself and your stomach of what you can actually consume that week.
Plan it Out
Start out simple and make a grocery list. This will set you up for success when trying to meal plan for the first time. Take time each week to make a meal plan (this could also include enjoying a cup of coffee or glass of wine). Get the whole family involved, try new recipes, or plan theme nights to make meal-planning fun instead of a chore.
Love your Leftovers
Plan for leftovers when preparing a dinner. Learn to cook the leftovers in a new way if they don't seem appetizing the second time around. An easy way to stay healthy during the busy workweek is to plan for a second meal while cooking. We are less likely to grab something on the go, which is likely to be unhealthy, if we have planned ahead and brought a lunch. The bonus is, kids can enjoy a thermos full of warm lunch!
Store Food Properly
Keep track of what's in your fridge when unloading new groceries. Make sure that older items get eaten first before opening something new. There are many resources and containers that can help you store certain vegetables and fruit. Do some research to get the most out of your food.
The "Food … too good to waste" event hopes to educate and inspire change around food waste in our community. For more information about the event or for further resources on avoiding food waste, please visit www.foodinpeterborough.ca.