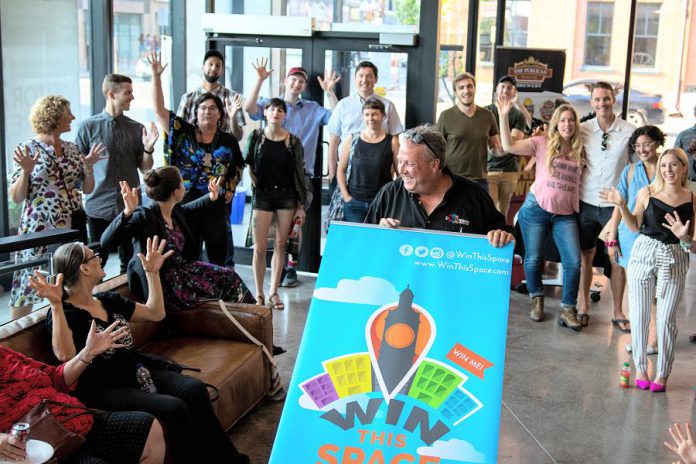 The 2019 Win This Space entrepreneurial competition was officially launched yesterday afternoon (September 18) at the VentureNorth business hub in downtown Peterborough.
This is the third straight year for the competition, where entrepreneurs compete for a chance to win a year's lease of a vacant downtown storefront for their business, along with other prizes.
The initiative was developed by the Peterborough Downtown Business Improvement Area (DBIA) in 2017 as a way to stimulate new downtown storefront businesses and create jobs. Since then, other communities in Ontario and across Canada have launched similar competitions in their downtowns.
"This program has been hugely successful for our downtown and has been an inspiration for communities across the country," says Terry Guiel, Executive Director of the DBIA. "Win This Space gets people excited about the potential of what they could do with a downtown storefront."
Tina Bromely of Tiny Greens, which produces edible microgreens, was the winner of the inaugural Peterborough competition in 2017. Nadine McCallen, owner of natural skincare business The Willow's Bark, was the winner of the 2018 competition and opened her natural wellness store called Ritual Apothecary this past July.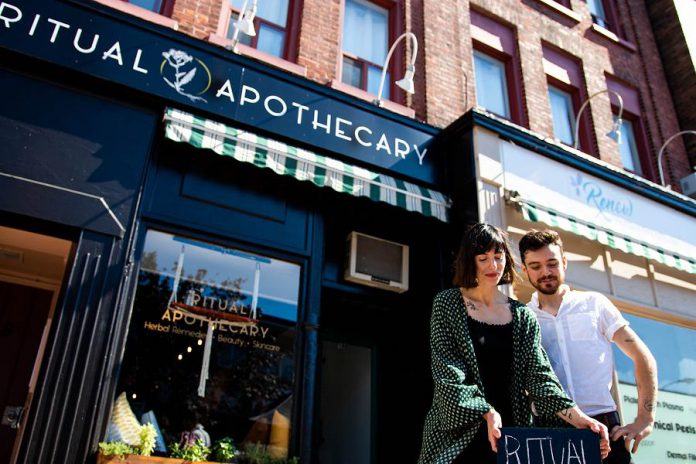 Entrants must be 19 years of age or older, legally living in Ontario, and have a business as sole proprietorship or in partnership (no franchises, cafes, or restaurants will be considered).
Interested entrepreneurs have until Friday, November 16th to put together a video application and submit it to the Win This Space competition at winthisspace.com.
A panel of judges will then select the top 10 finalists, who will take several workshops to develop their business plans. The 10 finalists will submit their business plans and make their final pitches to the judges, who will choose the winner on March 5, 2019.
The winner will then have their choice of one of several available participating downtown locations, free for one year. To cover rent payments for the winner, local sponsors will each adopt adopt a month and contribute $2,000 toward that month's lease. As well as the free lease, the winning entrepreneur will also receive products and services from the competition's sponsors, which last year totalled over $40,000 in value.
"There's only one winner, but it's encouraging to see so many people get connected with the business services in Peterborough and go on to open a local business with the support of our community," Gueil says.
For more information about the Win This Space competition and to apply, visit winthisspace.com. The deadline for application is November 16, 2018.
Win This Space is a Peterborough DBIA initiative in partnership with Peterborough & the Kawarthas Economic Development, Community Futures Peterborough, and Shorelines Slots at Kawartha Downs.
Monthly adopters (sponsoring the lease) are the Peterborough DBIA, Community Futures Peterborough, Peterborough Community Savings, Ashburnham Realty, Shorelines Slots at Kawartha Downs, Peterborough & the Kawarthas Economic Development, and Inclusive Advisory.
Gold sponsors are StudioPTBO, WCKD, Birchview Design, LETT Architects , NV Media, Greater Peterborough Chamber of Commerce, Sofie Andreou & Associates, Ontario Carpet Supermart, Red X Technologies, and Inclusive Advisory. Silver sponsors are The Publican House Brewery, MossWorks Photography, Women's Business Network of Peterborough, Marketing.Ink, Brant Basics, Studio-N, Commercial Press and Design
Media sponsors are kawarthaNOW.com, Moving Media, Oldies 96.7, 90.5 Extra, Snapd Peterborough, The Wolf 101.5, Global Peterborough, Fresh Radio 100.5, PTBOCanada, Peterborough This Week, and the Peterborough Examiner.