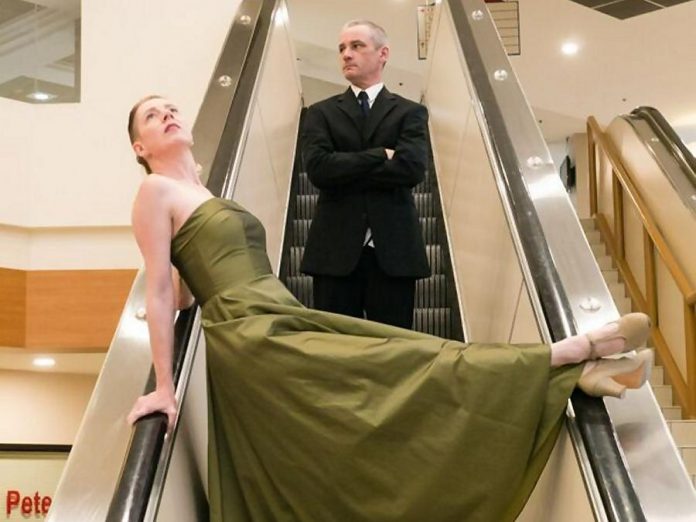 There are those who back down from a challenge and there are those who embrace the most daunting of tasks. To the great benefit of the Peterborough arts community, and by extension the community at large, Su Ditta stands firmly with the latter.
Better still she's not alone, as a member of the like-minded team bringing Artsweek back to the city from Friday, September 21st to Sunday, September 30th. The arts festival was officially launched at an event held Wednesday (September 19) at 418 George Street in downtown Peterborough, a space donated by project sponsor ünicity to serve as the festival's headquarters.
With the theme 'Art In Unexpected Places', the biennial showcase of new work by more than 100 local artists will see more than 40 events staged at various locations. Millennium Park, The Canadian Canoe Museum, Peterborough Square, the Downtown Farmers' Market, and Riverview Park and Zoo are among the venues.
VIDEO: The Artsweek Song
Artsweek 2018: September 21st-30th!!
Artsweek has a theme song! Sing along! Music by local poet of repute and prestige Derd Wormlinger (also know as Washboard Hank) Also featuring Kate Story, Ryan Kerr, Janette Platana, Laurel Paluck, These are Horizon Days,Hilary Wear, Peterborough Symphony Orchestra, Joeann Argue, Thomas Vaccaro, The Flying Canoe, Jeff Macklin, Beany John and many more!

Posted by Artsweek Peterborough on Thursday, September 6, 2018
Equally varied is the art form menu that includes dance, theatre, poetry, visual arts, film, puppetry and live music. Admission is free to all events, a full listing and description of which can be found at artsweekptbo.com.
"There's nothing like Artsweek in any other community our size," says Ditta, Artsweek's executive producer.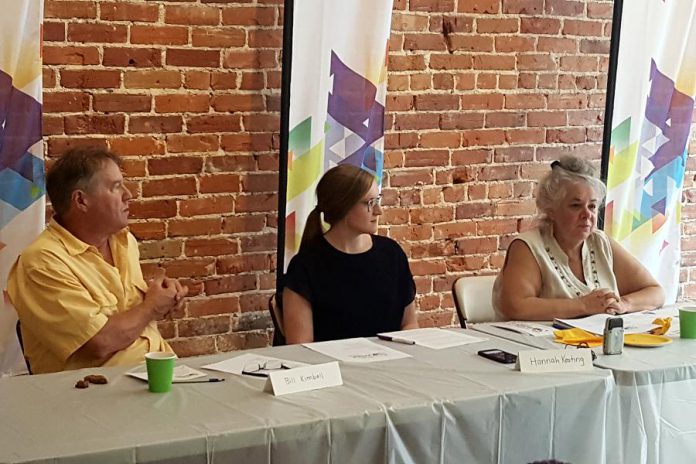 "I was really lucky to work with Liz Bierk on the first Artsweek in 2005," Ditta recalls. "I keep thinking at the beginning (of each Artsweek planning process) that I'm going to be bored with it and then I just get more and more excited. This year, Gloria Proctor Bennett did these (promotional) videos. A whole bunch of them came in a batch. I watched them and I started to cry. I was so happy. I thought 'Oh yes, this is what it's about and it's so good.'"
"The work gets better every year, the promotion gets better every year and, with the number of partners increasing, we know we're on the right track. It's a win-win for everybody. It's something that's socially important to do and imaginatively important."
In 2005, when the City marked its 100th anniversary as an incorporated municipality, then mayor Sylvia Sutherland appointed a committee to organize a year-long series of projects and events. The theme of the 2005 Centennial Celebrations was 'Imagine Peterborough' and most of the activities focused on cultivating an investment in, and recognition of, Peterborough as a creative city.
Ditta, along with Bierk, was on that committee, charged with coming up with ideas to created designated legacy projects in the arts. From that effort, Artsweek, an annual event, was born.
There things stood until late 2014 when responsibility for Artsweek was assumed by the Electric City Culture Council (EC3), Peterborough's newly formed municipal arts, culture, and heritage organization. After Artsweek was staged in 2016, the decision was made to present the event every two years moving forward. That, said Ditta, simply made good sense.
"Going biennial was an absolutely correct decision," she said. "It was something that was recommended by a focus group that we held. It brought together people that were coming to Artsweek events and also those who weren't. We heard 'Fewer projects, please' and 'More money invested in every project' and 'More opportunities to see each project.'"
"We knew we needed more time to plan the festival and give artists more time to do their work, and to get our fundraising strategies in place, so we approached the City and asked if we could do that. They were giving us $25,000 a year. That money still comes but now we have $50,000 to invest at the start of each festival."
VIDEO: "Imaginarium" test by Lester Alfonso at the Peterborough Public Library

A major player in the formation of this year's Artsweek schedule is Hannah Keating. She says serving as the event's artistic producer is "an honour" that has her more excited as the Friday, September 21st Artsweek kick-off nears — featuring the world premiere of filmmaker Lester Alphonso's new film Imaginarium, which will projected on the Peterborough Public Library's 16 front windows.
"It's balancing so many projects, so many artists and so many locations," says Keating of Artsweek's logistical challenge.
"But so many locations in Peterborough have said 'Please come here' or, when we approach them, 'We would love to have you.' It makes those partnerships really easy when community organizations are willing and happy and able to welcome our projects in."
"We really made a strong effort this time around to do a lot of outreach leading up to the festival. All through the summer we were at various events spreading the word and reaching out to specific partners, like the Council for Persons with Disabilities, the New Canadians' Centre, and Peterborough Pride."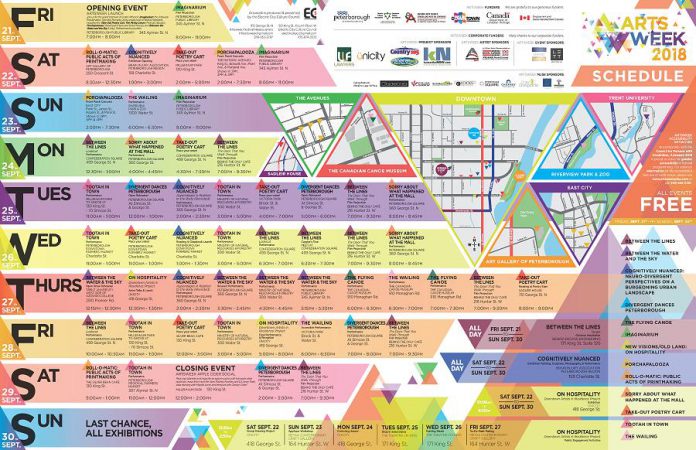 When all is said and done, success, adds Keating, will show itself in various ways.
"It will be a real success if we get good numbers out to all of the events and we're reaching new people. I think success is also the artists feeling great about the work that they've done. Most of works are brand new pieces. I think that's one of the things we should be most proud of. If the artists feel gratified and fulfilled, that's a huge success."
For all the fine tuning that has occurred since 2005, Keating notes one Artsweek staple remains sacred: presenting artistic performances and work in public spaces where people typically gather. Ditta concurs, noting Artsweek remains a work in progress in terms of things learned and applied, year to year.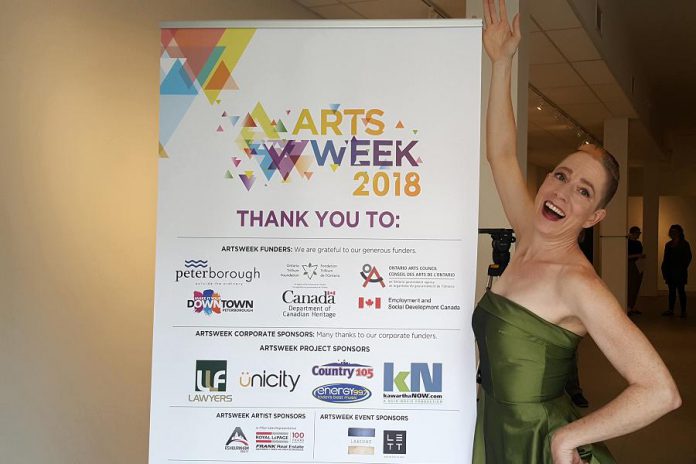 "There are things that we learned in 2016, everything from volunteer management to what we need on site," Ditta says.
"This year we're really proud that we have one performance designated as a relaxed performance that's more welcoming to people with autism or uber sensory stimulation. The incredible people at the Council for Persons with Disabilities went to every single site with Hannah to see what we couldn't do and what we could do to make them more accessible.
"And I think things went more smoothly with the artists than ever just because we learned through experience how much we need to know up front, when to push people, what kind of deadlines to set. We sought as much information about a piece as we could because we want to attract the biggest audience possible to see their work."
Ditta adds the very fact that Artsweek is staged successfully in Peterborough is a huge credit to the artists involved.
"(Trent University president) Leo Groarke, whenever he's talking about what it's like to live in Peterborough, talks about the arts community and mentions that within three months of being here, he really could feel the arts community here punch way above its weight, as he put it," she says.
"Bill Lockington is the chair of Community foundations Canada. He travels a lot. He says as soon as he goes anywhere and says he's from Peterborough, the first thing people say is 'Wow…there's a great arts community there.' It's extraordinary because although we have a Cultural Studies program at Trent University, we don't have a Fine Arts program. Typically you wouldn't see this level of artistic practice in a city without a fine arts program.
"It's a very supportive community for emerging artists. Senior artists helping starting artists without any question."
kawarthaNOW.com — whose predecessor quidnovis.com provided the first online presence for Artsweek back in 2006 — is proud to be a project sponsor of Artsweek 2018, along with Bell Media, ünicity, and LLF Lawyers.
Artists sponsors are Jo Pillon of Royal LePage Frank Real Estate and Ashburnham Realty, and event sponsors are Laridae Communications and Lett Architects. Artsweek Muses are Core Chiropractic, Collins Barrow, Locks Salon and Spa, Sherbrooke Heights Animal Hospital, Farquharson Pineiro Law Office, Bryston, Peterborough Square, and Cherney Properties.