Fluff (noun) – 1: a covering of soft fluffy feathers; 2: something fluffy // dandelion fluff; 3: something inconsequential; 4: blunder, especially: an actor's lapse of memory
On Thursday, September 20th, The Theatre On King (TTOK) not only opens its 2018-2019 season with Fluff Stories, but also debuts its new home at 171 King Street in downtown Peterborough.
An multidisciplinary showcase featuring acting, movement, film projection, sound scape and prose, Fluff Stories is directed by Kate Story and features three dramatic presentations of stories read by local author Joe Davies.
Making the show come to life is a grouping of artists consisting of on-stage performances by Ryan Kerr and Kate Story, filmmaker Matthew Hayes, set designer Ann Jaeger, and special effects and tech by Eryn Lidster, amongst others.
The September 20th opening will also double as a book launch for Joe Davies' Fluff Stories, with Elisha May Rubacha of bird, buried press creating the books in the TTOK lobby in front of the audience.
Also make sure to check out the poetic erasures created by local poet Justin Million in the new street front window of the theatre in conjunction with the show (Justin will be giving storefront readings on Friday and Saturday).
A unique event, Fluff Stories is a perfect piece to show off the capabilities of the new home of TTOK.
There is a lot going on in this show, but at the core of Fluff Stories are the three short stories by Joe Davies. On stage throughout the entire presentation, Joe gives haunting "matter of fact" readings of his Fluff trilogy as performers and film projection dramatically punctuate the stories, bringing them to life for the audience.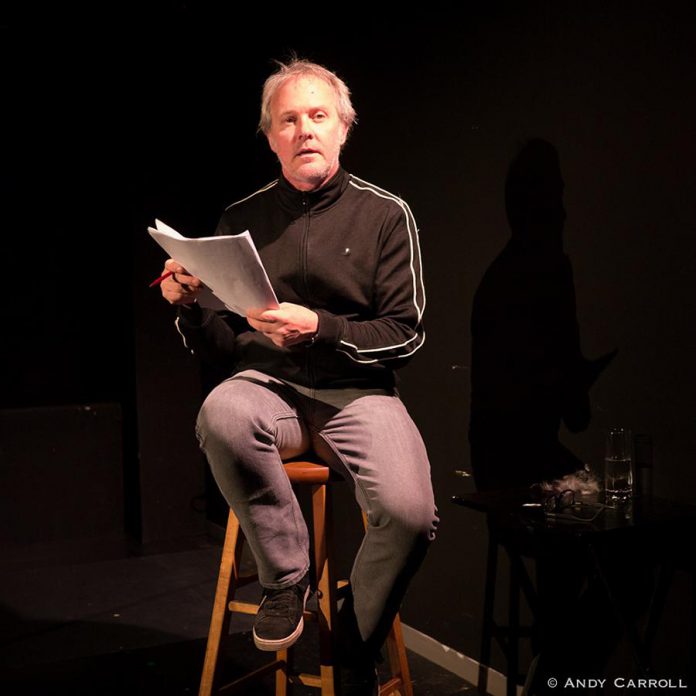 Joe's Fluff Stories are exactly what they claim to be: stories about fluff. The first story tells of a housewife's battle with fluff and its concerning effect on her family. The second story, More Fluff, is the tale of juvenile delinquent Ronald Reginald and his quest for drugs. The third story, Fluff Ends, tells of a young couple's bike ride through the country, and the surprising discovery they make.
Joe Davies is a master storyteller, who creates a hypnotic effect while reading his works. Although the stories may sound simple when described, they are actually quite complex in their delivery and the audience holds on to every word, as if something in the timbre of Joe's voice is guiding them on a journey through the mysterious fluff. Even without the dramatic lighting and stage performances, Joe's reading is a show all its own.
But what exactly is the fluff Joe writes about? In each story, the meaning and subtext seems to change, and in the end it is all up to the individual audience member's perception. Fluff can be terrifying, romantic, soft, or deadly.
In the first story fluff seems to be a metaphor for boredom, compulsive behavior, dissatisfaction, and insanity. In More Fluff, it's an allegory for justice when it becomes a predator, judge, and jury. Fluff Ends, on the other hand, is a creation story — the Genesis of Fluff — which explains nothing yet explains everything, with a beautiful and haunting effect to end the evening.
But really, this is just my interpretation of Fluff Stories. The stories are open for interpretation by individual audience members. The meaning of fluff is so fluid that one person's interpretation might be completely different than another's. You really have to come and experience this show yourself to truly understand it. It'll be a show that will be sure to create discussion afterwards.
What is most intriguing about Fluff Stories is just how Joe's stories create so much out of something that people rarely actually think about. It's a brilliant trio of stories that are sometimes charming, sometimes horrifying, but always brilliant and beautifully told.
Fluff Stories has been described by Ryan Kerr as a performance that could not have been produced at the old TTOK space, and for the show the TTOK team experiment with the space through staging as well as the projection of Matthew Hayes film for More Fluff, shot on a bicycle while riding through downtown Peterborough parks.
I was lost in the film trying to identify the locations that drift in and out, from being familiar to completely alien. All the while, the film manages to illustrate Joe's story with strong visual points. It's an interesting and original effect.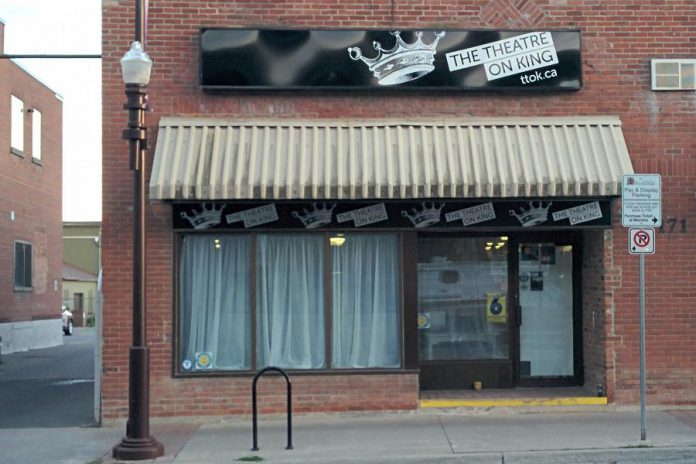 As mentioned, for those who enjoy Fluff Stories, a limited number of books created by bird, buried press will be available for purchase the nights of the show for $10. These books will certainly go fast. I've already put my order in for two copies.
Although Fluff Stories is a perfect example of what you love about TTOK, there is no denying the dramatic difference created by the new space. It is an exciting time of change at TTOK, and Fluff Stories is the perfect production to usher in the future of this beloved institution.
Come and experience the new TTOK, buy a book and discover Fluff Stories for yourself. You'll never think of fluff the same way again.
Fluff Stories runs from Thursday, September 20th to Saturday, September 22nd. Show starts at 8 p.m. Tickets are $15 or pay what you can, and are available at the door.