Divergent (adjective) – a. moving or extending in different directions from a common point; b. differing from each other or from a standard.
A dancer, coiled in rope suspended halfway up the side of the TD bank northwest wall of Peterborough Square, proceeds to free fall, seemingly in slow motion and with total control, to the awe of curious onlookers.
This is Divergent Dances Peterborough, a new choreographic work by Anandam Dancetheatre's Brandy Leary, who will be in Peterborough for three weeks developing the piece as the Fall Artist in Residence with Public Energy Performing Arts.
Divergent Dances is not your typical aerial dance performance. Rather than extenuate the virtuosity of the circus arts form Leary is interested in the quiet, the still, the un-spectacular, and the everyday and manages to explore it all while suspended two stories in the air, or slow motion tumbling down Peterborough Square's concrete steps.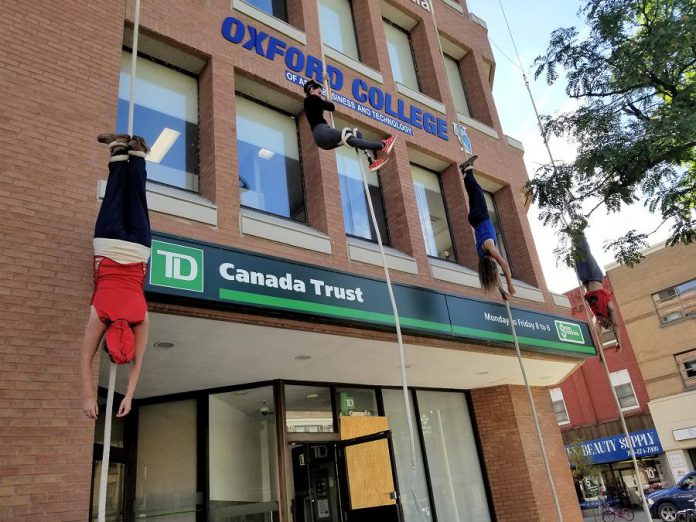 "The immense pleasure of working in residency, with a group of collaborators coming together from Peterborough, Southern Ontario, and South America has been deeply transformative for me," Leary says.
Outside of Peterborough Square is an unusual place for a dance performance. There are no curtains, no seats, there is no stage or music.
What Leary is showing us is that art and performance is about more than this — it's about listening, watching, and witnessing. And people have indeed been watching. With a wide range of responses.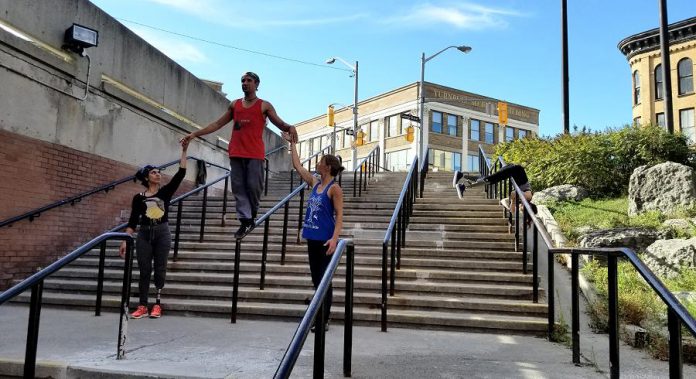 "I love it. I love it! I'm coming back. I could watch this all day," says an older woman watching from the concrete banister over the mall stairs.
Other viewers clutch their chests and pace backyards, mouths agape, not expecting to see a body dangling in the air just above the door to their TD ATM banking machine, while others pass by nonplussed by the suspended bodies overhead.
Divergent Dances Peterborough artists have been rehearsing on site to develop the performance at the corner of George and Simcoe Streets daily since mid-September.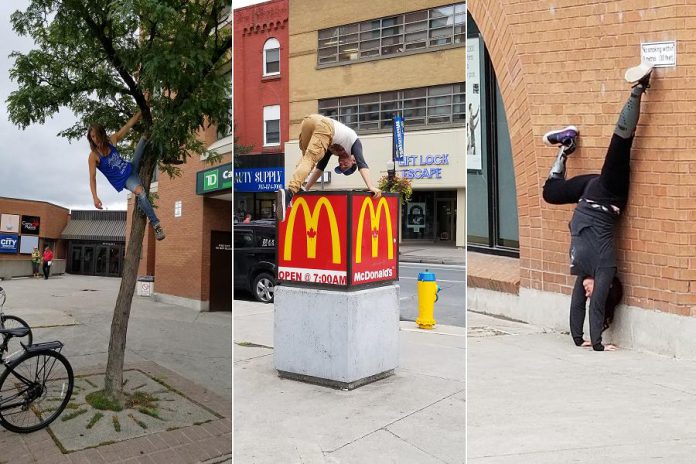 "This way of working subverts some of the 'most practiced' models of touring repertoire in the performance sector, where often an artist brings a finished product to a community from the outside," explains Leary.
Anandam Dancetheatre, under the artistic direction of Leary, is known for radical choreographic installations in unique settings. Leary's artists are carefully chosen. Local artists Thomas Vaccaro and Opal Elchuk are seasoned performers and instructors at Peterborough Academy of Circus Arts (PACA), and have worked tirelessly to build and nurture the circus arts community in Peterborough.
Elchuk and Vaccaro are both excited to be working with Leary as a part of Divergent Dances.
"I'm someone who loves to search eternally, who loves to find new and different ways to do things," says Vaccaro.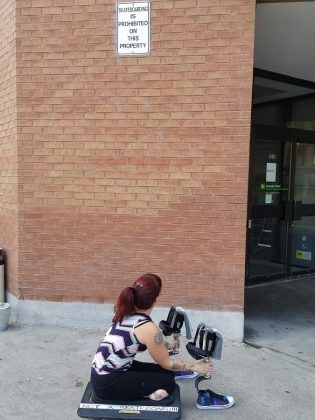 "The contrast of slowness and softness of fleshy bodies against the harsh concrete and the buzz of the city centre are striking to experience," adds Elchuk.
"Being in this process profoundly shifts my state of being, every time."
Vaccaro and Elchuk are joined by Kingston-based circus artist Erin Ball who owns operates Kingston Circus Arts, where she teaches circus arts to bodies of all shapes, sizes ages and situations, as well as staging professional performances.
In 2014, after a life-changing event that resulted in the loss of her lower legs, Ball returned to her passion of training, coaching and performing.
For Divergent Dances, Ball says, "We are exploring slowing down, language, leaning, falling, inefficiency, rolling and dominant bodies. One question I am exploring is how a non-normative body explores a normative space."
On Thursday, September 20th, Ball will be teaching a free "Adaptive Circus Arts Workshop for People with Disabilities" at the Market Hall Performing Arts Centre (140 Charlotte St., Peterborough). Participants will learn partner and group acrobatics, plus aerial hoop and silks.
Ball will be teaching the workshop alongside Lina Loaiza Bran (Ambar Violeta), a dance and circus artist who arrived from Colombia recently to work and study with Ball. Bran says some of her previous work centres on "the exploration that I have been developing about the possibilities of movement my body offers, with the particular condition of being an amputee."
Divergent Dances performing artists also features Nicola Steer, a Toronto-based multidisciplinary artist known internationally for her burlesque work as Coco Framboise, and Leary herself.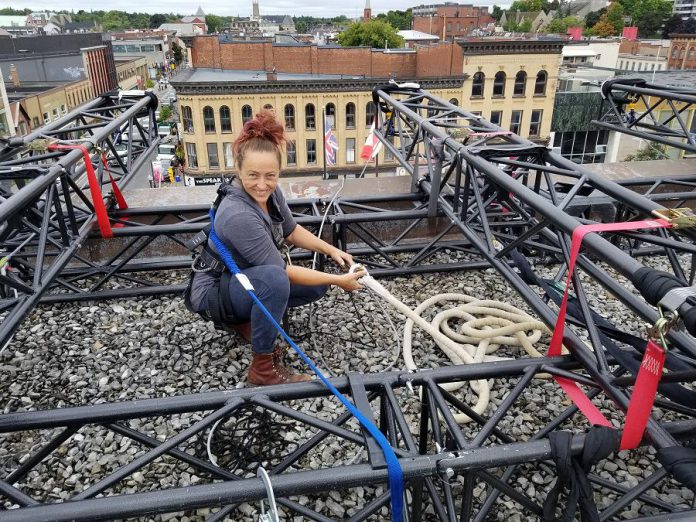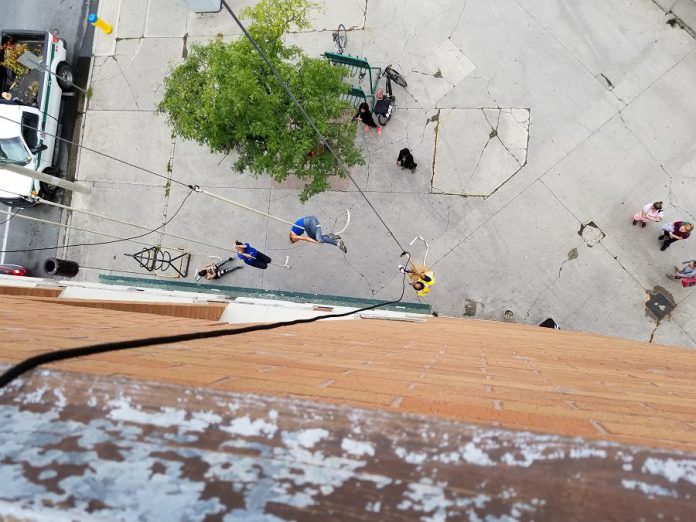 Hard at work throughout it all is Patricia Levert-Thorne, Divergent Dances' Stage Manager, who is also Operations and Production Manager at Market Hall with two decades of experience.
"I have been fascinated to see Peterborough Square as a performance space, and how this process expands and slows down movement and plays with the architecture," says Levert-Thorne.
Amino Yusuf, a recent Trent University graduate, is also involved with the project. Yusuf is Writer in Residence and charged with responding to the artists' work with original writing.
Throughout the three-week residency there are many opportunities for people to ask questions and learn about the process.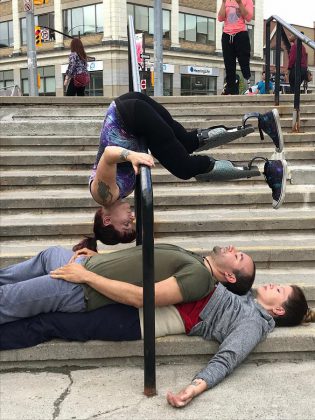 Divergent Dances artists will be hosting two open public rehearsals, followed by question-and-answer sessions, from 12 to 1 p.m. and 5 to 6 p.m. on Tuesday, September 25th.
On Wednesday, September 26th from 7 to 8 p.m., Leary will deliver an artist talk titled "Divergent Dances: Bodies & Public Space" at Trent University's Bagnani Hall at Traill College (310 London St., Peterborough).
Performances of Divergent Dances will take place at Peterborough Square in downtown Peterborough at 7 p.m. on Friday, September 28th, and at 2 p.m. on Saturday, September 29th (rain date is 2 p.m. on Sunday, September 30th).
Divergent Dances Peterborough is co-presented by Anandam Dancetheatre, the Art Gallery of Peterborough, and Artsweek Peterborough and is part of the 2018 [in]SITES Series.
"Something that Brandy tells us all the time is to 'soften' ourselves," says Bran. "To learn how to live inside of our own bodies, and the outside world, and share with those around us in soft and gentle ways."
This story and the accompanying photos were supplied by Public Energy Performing Arts.