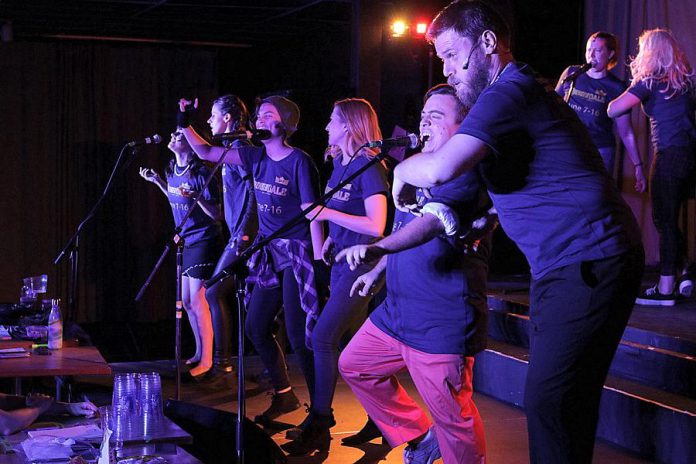 After a long absence, comedy returns to the Gordon Best Theatre on Friday, September 28th when popular Toronto-based not-for-profit group Players brings its unique blend of comedy, music, and tradition to Peterborough for the first time with a new sketch show called "Magical Mystery Tour Bus".
"It's a very unique live show," says Players vice president and performer Meg MacKeigan. "It's a lot like a cabaret. It's part sketch comedy, part rock show, part keg party. It's a bit of all three."
Established in Toronto in 2004 by alumni of Queen's University in Kingston, Players is a unique theatrical company that follows in the steps of the university's Queen's Players, first established as the Queen's Drama Guild in 1900.
Combining comedy and music in a bawdy production containing its own special comedic traditions, the Queen's Players continues to sell out shows in Kingston, while the Toronto Players has become a popular entity all its own, selling out rooms for 14 years.
"The Queen's Drama Guild started these shows over a hundred years ago," Meg explains. "They were classic cabaret and little mini-plays, and over time they added music to them.
"Because of the nature of the school, every four years there would be an entirely new group of people and the show itself evolved over time, adding new traditions and the changing the format of the show. The traditions would be passed on from the seniors to the sophomores."
However, despite their association with Queen's Players and the adoption of their theatrical traditions, Players co-founder and president Peter Higgins stresses that not all of the members of the group are affiliated with Queen's University.
"Players is not a Queen's University only thing," he says. "At our last show in Toronto. only 30 per cent of our company were Queens's alumni. Everyone else came from all other walks of life. We truly welcome anyone who wants to donate the time and is talented."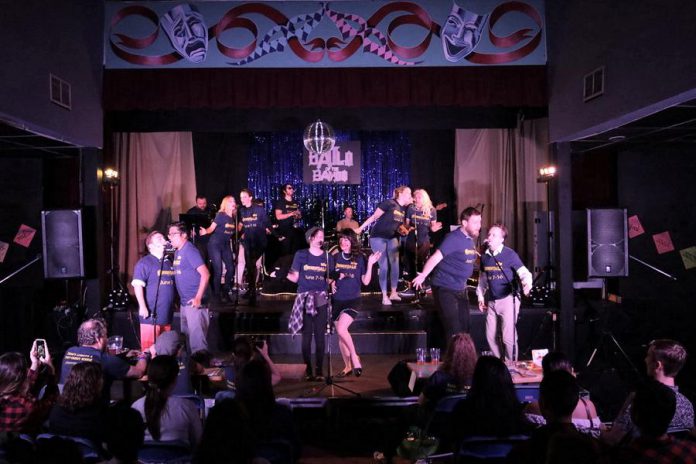 Over the past 14 years, Players has been selling out shows in Toronto with full-length original productions that usually mash up two pop culture franchises into a ridiculous frenzy of comedy and music.
"We've sold out pretty much every show we've ever done because our audience is so loyal and love our shows so much," Peter says. "They come back and they feel like they are in on the joke. Of course we want new audiences, which is part of what this tour is all about. We want to find new audiences and get them in on the joke and invite them into this silly musical comedy that we have."
What makes Players so special is the use of a theatrical element called "traditions" that originated at Queen's University.
"We have traditions big and small," Peter explains. "The biggest and most obvious are the interactions between the audience and the cast and band members. You might want to think about how the Rocky Horror Picture Show has an audience that knows what to say during certain points of the movie or the play. With us there is a similar sort of thing.
"For instance, if you hear during one of the comedic scenes a title of a song, the audience is supposed to yell 'Sing!' and the players might sing that song. Another tradition is 'seamless'. If somebody onstage makes an obvious mistake, if they fumble their lines or drop a prop, the audience yells 'Seamless!' which points out how the cast member screwed up. Certain audience members live for that moment.
"There is another tradition that if you like what the people on the stage are doing, you can pass up a beer, which they will drink right away. Those are three of our most obvious traditions, and those began at Queens's University decades ago."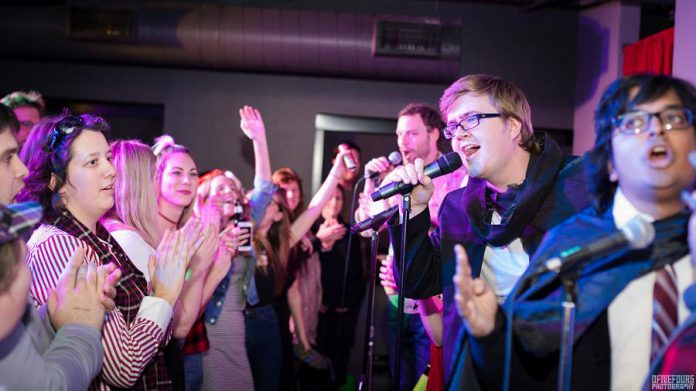 In 2017, Players decided to move its shows away from the familiar audiences in Toronto and take them on the road. This is the group's second year touring through Ontario, and its first time in Peterborough.
"Last summer was our first tour, and we wanted to do Peterborough but scheduling conflicts with the Gordon Best prevented us from stopping there," Peter says. "So we focused on figuring out the logistics of doing a tour and travelling to another city. It was a success for us, so we decided to try again this year and reached out earlier and we got the Gordon Best secured and ready to go."
While the Toronto-based shows are traditionally full-length productions, for the travelling show Players has created a sketch comedy production.
"The travelling show is an entirely new show," Meg explains. "This is the second year that we have a sketch group, which is different than how we do our summer shows based off of one full-length narrative script. Each sketch is a standalone, but it's all based on the theme of a journey. From that we came on the jumping point of the Magical Mystery Tour Bus."
It should be noted that the show is not just theatrical sketch comedy. Players' productions are as much about music as performance, and the group comes along with a first-rate rock band.
"Audiences are blown over by the music," Peter says. "It's totally accessible. Every song that we play is stuff you'll know and you'll sing along and you'll love it."
"The band is amazing," Meg adds. "It's equal parts comedy and concert. The opener is a medley of songs you'd hear on the radio. We have songs from Blink 142, Fleetwood Mac, Hall and Oates, and The Killers. It's a mix of accessible alternative and classic rock."
"It alternates between comedy and music throughout the show," Peter continues. "You have the comic scene, which is punctuated by rock n' roll, and then the next scene happens. It kind of goes back and forth and, throughout, the cast members and the people in the band are having drinks."
Out of all the traditions, the most important one that Players continues is that all of the proceeds of their shows goes back to charity. Once again, this is a decade-old tradition that originated at Queen's University.
"Whenever we did shows in Kingston it was for charity," Peter says. "None of the players took money. So when I and my friends formed the group in Toronto, we decided we wanted to maintain that model because it helps form what Players is all about.
"We have three pillars that we adhere to when we make decisions. One is to put on a great show, of course, otherwise the audience won't come back. Another is to have fun, and respect everyone involved and create a safe environment. And the third is to give any proceeds we make to charity.
"We've hit on this model every year where we pick three charities. This year's charities are the Princess Margaret Cancer Foundation, which we've sponsored the last three years, Casey House, which is a Toronto hospice for people with HIV and AIDS, and the third is the Gord Downie and Chanie Wenjack Fund, which is focused on Indigenous issues and efforts towards reconciliation and in just making Canada a better place. So those are the charities for this season, and all the shows we do are raising money for them."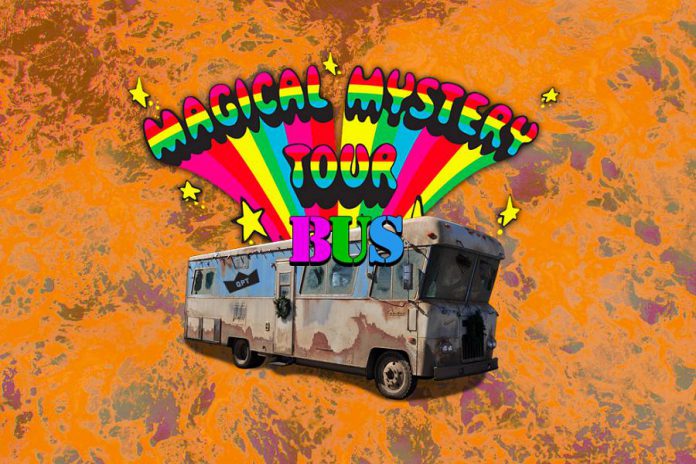 If there's one thing I've learned by sitting in Peterborough audiences, it's that this community loves comedy shows. For years, the Gordon Best Theatre was a hub for improv and sketch comedy. However, in 2018 laughter has ceased to penetrate the walls of the theater, so Players' stop in Peterborough is a chance to bring comedy back where it belongs at the Gordon Best.
To experience Players' century-old traditions and blend of comedy and music, and to support three deserving Canadian charities, this community should come out and welcome the Magical Mystery Tour Bus when it pulls into Peterborough.
The Magical Mystery Tour Bus will be performed at Friday, September 28th at the Gordon Best Theatre at 216 Hunter Street West in Peterborough. The show starts at 8 p.m.. with doors opening at 7:30 p.m.. Tickets are $15 and are available online at www.playersto.com/events/peterborough-show or at the Gordon Best the night of the show. Note: This is a 19+ event.