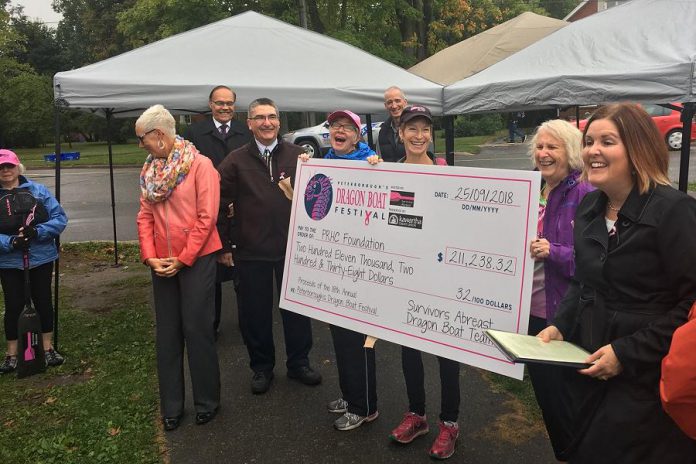 Earlier today (September 25) at Del Crary Park in Peterborough, volunteers from Survivors Abreast and the Peterborough's Dragon Boat Festival organizing committee presented representatives from Peterborough Regional Health Centre (PRHC) and th PRHC Foundation with a cheque for $211,238.32.
The cheque represents the proceeds of the 2018 Peterborough's Dragon Boat Festival, which was held on June 9th at Del Crary Park.
Joined by the festival's dragon mascot, representatives from the festival's 2018 community teams, sponsors, and volunteers used paddles to spell out this year's donation to the PRHC Foundation. Festival chair Michelle Thornton told attendees it was symbolic of the community's tremendous response to the festival's 2018 call to action.
"In 2018, our 18th year, we challenged participants, sponsors, donors and volunteers to 'get in the boat' and help make the festival even better than ever," Thornton said.
"As you can see, not only did they meet the challenge, they absolutely blew it out of the water. By paddling together, we are having an incredible impact on the lives of those women and men in our region who are facing this terrible disease."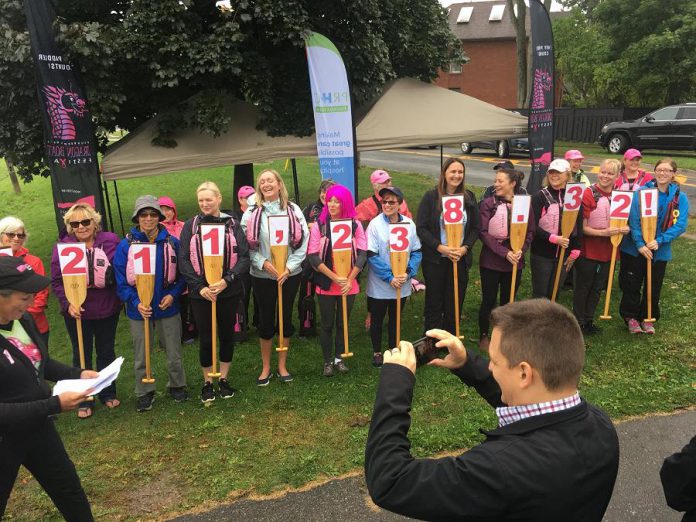 Breast cancer affects 1 in 8 women in her lifetime. The proceeds of the 2018 Peterborough's Dragon Boat Festival will be used to support fast and accurate breast cancer diagnosis through innovation in PRHC's laboratory.
PRHC Foundation President & CEO Lesley Heighway said many people are surprised to learn that, without the lab, there would be no cancer care at PRHC.
"For a cancer patient and their loved ones, two of the hardest things to deal with are waiting and uncertainty," Heighway said. "Doctors rely on lab results to determine and confirm 100 per cent of cancer diagnoses and treatment decisions."
Heighway explained that the hospital is investing in new laboratory automation technology for the efficient processing of tissue samples taken during cancer biopsies and surgeries. This means lab technologists can provide pathologists with the materials they need to make accurate breast cancer diagnoses even sooner.
She also said the technology is used for other cancers as well.
"PRHC's lab processes more than 20,000 cancer-related cases annually," Heighway said. "That number represents thousands of additional people who will benefit from the festival and its donors' investment every single year. We're so grateful for the support of our partners Survivors Abreast and Peterborough's Dragon Boat Festival, and to every one of the paddlers, donors, volunteers and sponsors who helped make this amazing event such a success."
Host team Survivors Abreast President Peggy Quirion says that they're incredibly proud of the impact the festival has had on patient care at PRHC since its inception in 2001.
"The 2018 donation brings the festival's 18-year fundraising total to more than $3.3 million," Quirion said.
"Teams that have been with us since the beginning continue to come out year after year and now their children and grandchildren are joining them or creating their own teams. It's both inspiring and humbling to think of the impact we're going to be able to have on the quality of breast cancer care available in our region, now and into the future."
2018 also marked Kawartha Credit Union's 17th year as the festival's Platinum sponsor, demonstrating a remarkable commitment to both their community and the cause.
"At Kawartha Credit Union, we are passionate about contributing to the well-being of the communities we serve," said Crystal Dayman, Vice President of Marketing and Corporate Communications.
"Peterborough's Dragon Boat Festival is a wonderful example of the impact we can have when we come together as a community to improve the quality of life. We are very proud to continue our support of an event that unites our community in common purpose and spirit year after year."
Planning is already underway for the 2019 event scheduled for Saturday, June 8th at Del Crary Park.
VIDEO: Grand total announcement at Del Crary Park (September 25, 2018)
Watch the 2018 Peterborough Dragon Boat Festival grand total announcement, filmed live this morning at Del Crary Park!

Posted by Peterborough's Dragon Boat Festival on Tuesday, September 25, 2018