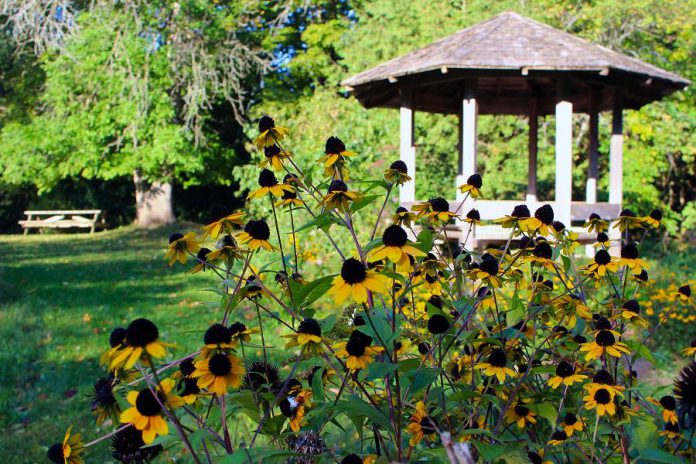 With the Autumn Equinox occurring this past weekend, the earth has tilted away from our hemisphere making our days shorter. We have officially moved into fall. For many of us, this is our favourite time of the year; fall colours, pumpkin-spiced drinks, and sweater weather is something to look forward to. It is also a great time to get outside and enjoy some 'Vitamin N'!
This past summer we saw many new visitors at GreenUP Ecology Park at at 1899 Ashburnham Drive in Peterborough. Foxes were an exciting sight as they patrolled their territory in the early mornings. Giant Swallowtail butterflies returned, and we watched with excitement as they laid their eggs on our Hop trees. The landscape will change during this time of the year, but there are many sights to see!
Let's take a walk through Ecology Park.
Monarch butterflies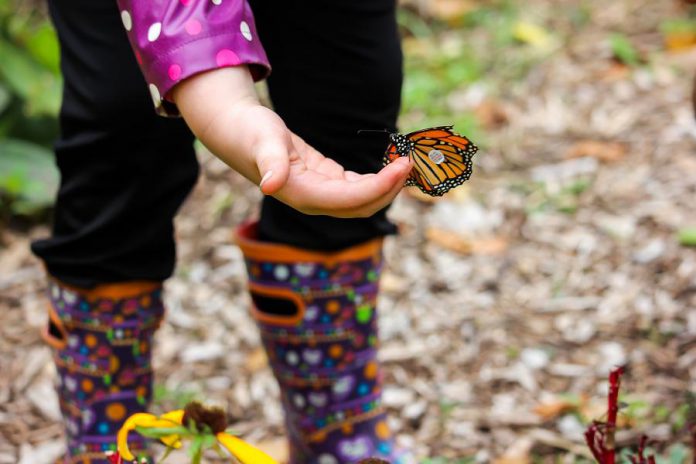 September through October marks the annual monarch butterfly migration. You may see one flutter by, about to embark on its long migration. It's been a good year for monarch butterflies, a species considered as endangered in Canada. Collective data gathered by Journey North, a citizen science project spanning all of North America, shows their numbers rebounding.
The population is the largest we've seen in a decade, which is great news for all of us that are working to save them. We hope to see their numbers continue to grow through backyard conservation efforts like planting Milkweed, which is the Monarch host plant.
At Ecology Park you can look for monarchs fuelling up before their long migration of 3,000 miles to Mexico. The bright colours of the Zinnias, Rudbeckia and Tithonia some of the Monarchs' favourites, and they are still in bloom at Ecology Park.
Squirrels
As you continue along the trail, take a moment to look up. You may see your favourite 'nutkin' building its winter home. We love to hate squirrels, but these animals are a sign of fall, busily running around and preparing for the cold months to come.
Squirrels build their nests, also known as dreys, high up in the trees. These winter homes are built of twigs and leaves, and are often mistaken for a bird's nest. The inside of a drey is filled with feathers, moss, and human items (such as paper) for insulation. Squirrels usually have more than one drey to fool predators, or as a backup in case the other is damaged.
Right now, squirrels are also hiding caches of food, which they will eat during the winter. They can find this buried treasure under a foot of snow and know whether a nut has gone rancid, purely by smell.
According to Dylan Pond, a local squirrel enthusiast and former Ecology Park Nursery Assistant, red squirrels are much more like us then we realize.
"One in ten red squirrels are left handed, which is the same proportion of left handedness as humans," he says. "We can tell by the hand they use to hold a spruce cone as they eat it."
The next time you see a red squirrel, watch as it feeds. It will eat a cone similar to how we might eat a cob of corn, holding and spinning the cone in its dominant hand.
Honeybees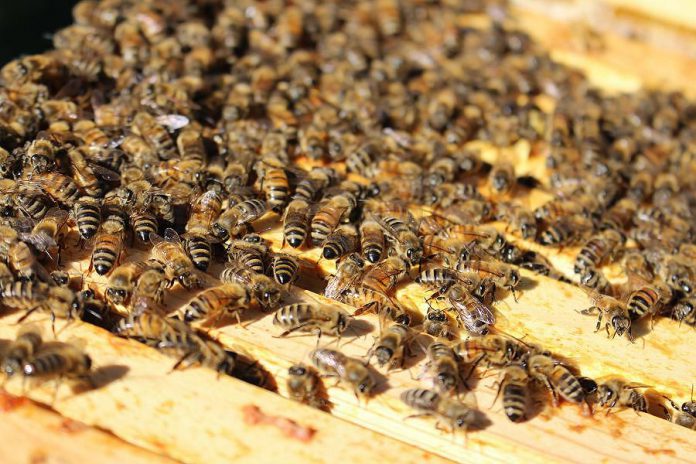 As you walk by the meadow, follow the path to check in on our honeybee hives. During this time of year, beekeepers are preparing the hives for winter. As the flow of nectar comes to an end, beekeepers will provide fall feedings of sugar water for the bees. This gives the bees that extra push before the cold weather arrives.
You may notice some dead bees outside the hive. The hive will shrink from its size of around 60,000 bees in summer to only 10,000 over the winter. Worker bees will diligently remove the deceased from the hive to keep it clean.
At this time of year, it's also possible to see a bee traffic jam near the entrance of the hive; beekeepers install reducers in the hive to minimize the use of the front door to the hive, which protects the bees from being robbed of their honey.
Humans are not the only ones with a taste for that delicious honey. Other animals such as mice, wasps, and other bees will take any opportunity to steal some of that liquid gold!
The queen bee has slowed down, laying very few eggs, and the colony will shrink.
Soon you will see our hives wrapped in their winter 'cozy' to protect them from freezing temperatures. The colony will then form a cluster to stay warm until next spring!
Flowers and trees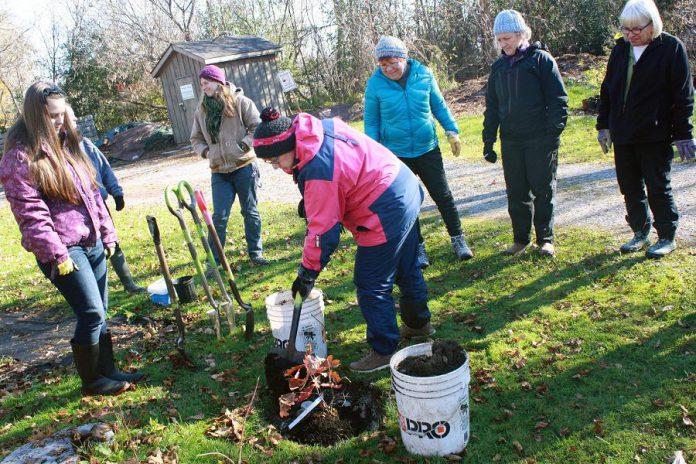 At this time of year, meadows are awash in the vibrant yellows and purples of goldenrod and asters. Take a close look at those bright yellow flowers while walking through Ecology Park. Beyond the goldenrod you will see tall sunflowers and grey-headed coneflowers, equally as bright.
The seeds of these flowers are a favourite for local birds such as the Black-capped Chickadees. If you are lucky, and quiet enough, you might find one feasting on these plants.
As you continue on your walk, admire the tree canopy. According to Vern Bastable, Manager of Ecology Park, "The landscape is truly brilliant at this time of year!" Painted with colours of copper and crimson, it's a show that nature puts on annually.
Have you ever wondered where those fall colours come from? The short answer is they always exist! Each leaf has various pigments. Chlorophyll is green and is present for photosynthesis, the complex process by which trees make their food. During the summer months, the tree is busy gathering food, along with the sun, which is why leaves appear green. They are masking the other colours!
Near fall, when the days get shorter, trees begin to prepare for winter. They are no longer gathering energy in the way they did during the summer. This gives the other pigments, such as yellow, orange and red, a chance to finally show up.
This is a great time of year to plant a tree. Why not plant a tree in your own backyard and enjoy the benefits for years to come. Autumn Blaze and Black Gum are especially vibrant right now.
If you are unsure of how to plant a tree, or you want to buy one, Ecology Park is here to help. Join us on Saturday, October 13th for our annual Autumn Tree Sale! Knowledgeable staff will be available from 10am to 4pm at Ecology Park, 1899 Ashburnham Drive, to answer all of your tree questions. Parking is available at the Beavermead lot via Marsdale Drive.
For more information about Ecology Park, including our workshops and events, please contact Vern Bastable, Manager of Ecology Park at vern.bastable@greenup.on.ca.