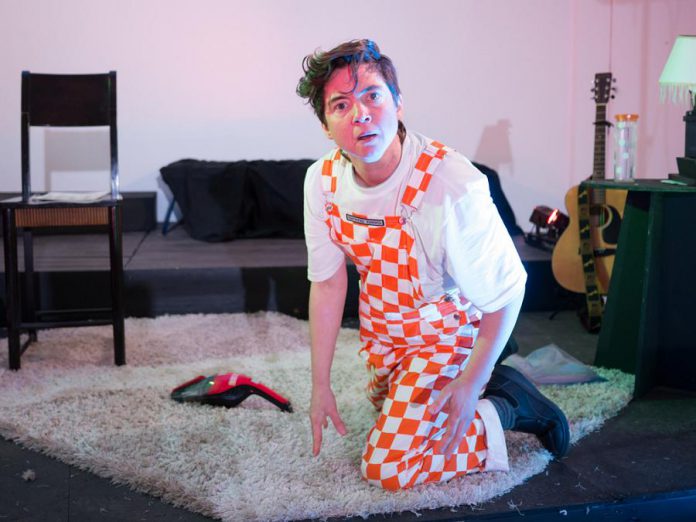 From Thursday, September 27th to Sunday, September 30th, Mysterious Entity presents writer and performer Em Glasspool's new work Wreck Wee Em at Evans Contemporary in downtown Peterborough.
Directed by Linda Kash, Wreck Wee Em is a very personal show dealing with Em's own battles with addiction, abuse, and mental illness. Performed by Em with a powerful sense of conviction, Wreck Wee Em is a chance to see a side of the artist few have seen before.
A recognized and respected member of Peterborough's arts community, Em has earned a prominence through their well-received productions such as My Gender Assignment, Queen of the Kawarthas, and Cock on a Hot Convent Roof.
However, in Wreck Wee Em, Em peels back some very dark and personal layers, revealing to the audience the often hidden, and sometimes not so secret, realities of their life.
Themes of addiction, mental illness, sexual abuse, institutionalization, alienation, and redemption are explored in this fast-paced and fractured confessional in which Em reveals all to the audience in a no-holds-barred exploration of destructive behavior, mental scars, and emotional anguish.
The one word that best describes Em's performance is "frenzied". Em crashes through the narrative, which often risks becoming incoherent due to its rapid pace and quickly-changing displays of intense emotion. They present ideas, memories, and feelings so quickly that, before the audience can decipher what is happening, Em has moved on to the next disturbing vignette.
The result is a performance that brings the reality of psychosis to the stage, imparting to the audience what Em has themself experienced through their own battle with mental illness.
There is a special bravery when a person puts themselves into the public sphere by standing up in front of their community to reveal the dark moments of their past and bluntly discuss their history of mental illness.
Although society has become more understanding about mental illness, the stigma still remains, and those who reveal their past history — despite where they are in their present — still face the fear of rejection as well as discrimination.
In Wreck Wee Em, Em appears to have already hit rock bottom — and then falls even more. As a result, they become an artist with nothing left to lose, giving them the ability to share their personal story in a way that is brutally honest and often disturbing. This is the most compelling aspect of the show.
But after a frenetic performance, the real payoff is within the final moments of the show, when Em regains a sense of control and achieves self redemption. It's an emotional payoff for a show that can often leave the audience numb.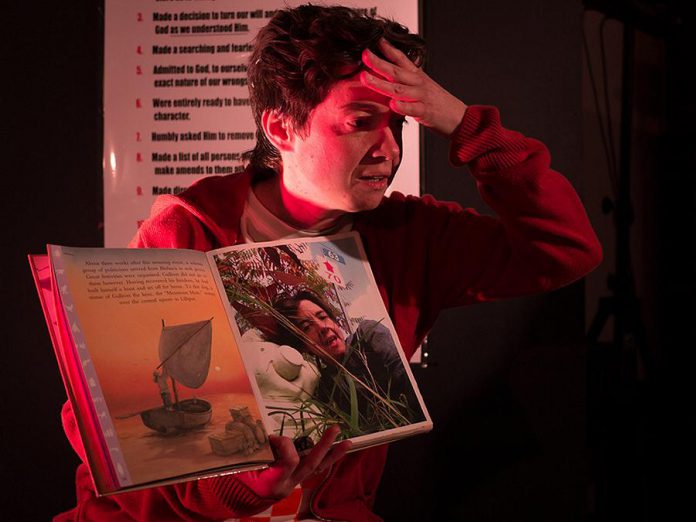 Em has an incredible supportive company of friends and colleagues that has allowed them to create this brave and passionate show. Director Linda Kash assists Em with voice work for additional characters, and the production is also supported by Tomson Highway, Jill Stavely, Gabe Robinson, Esther Vincent, and Wes Ryan.
A lot of honesty, pain, and guts has gone into the creation and performance of Wreck Wee Em, and once again Em proves themself to be a highly original performance artist.
Audiences should be warned that the show contains disturbing subject matter dealing with abuse and violence as well as strong language, and is not recommended for anyone under 17 years old. Members of Four County Crisis will be on hand at every performance for audience members who want to talk after the show.
Wreck Wee Em runs at Evans Contemporary (#2 Bankers Common, Rear Unit of 383 Water St., Peterborough) from Thursday, September 27th to Saturday, September 29th at 8 p.m., and Sunday, September 30th at 2 p.m. Sunday's matinee will be a relaxed (sensory-friendly) performance to accommodate neurodivergent people and others not comfortable with conventional theatre settings.
Tickets are $15 and are available at the door. For more information, visit Mysterious Entity at mysteriousentity.com.