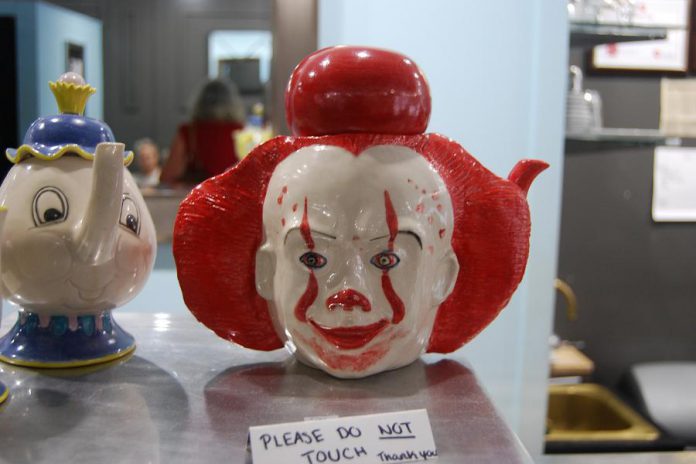 As one of the primary filming locations for the sequel to 2017's blockbuster IT, Port Hope has been bustling with filming-related activity all summer.
Fortunately, filming has been a pleasant experience for downtown businesses with an influx of cast, crew, and tourists looking to catch a glimpse of everyone's favourite nightmare clown.
Known as one of the best small towns in the province, Port Hope is typically a pretty quiet place. Tourists visit to take in a show at the local theatre or experience the annual salmon migration up the Ganaraska River. While tourists are still coming for the former, during filming, visitors from all over are also coming to star-gaze, take a selfie with Paul Bunyan, or photograph a shop dressed for the film.
"It's been pretty exciting for Port Hope and has had a positive impact to our town," says Olympus Burger owner Giorgos Kallonakis.
Port Hope was also a main shooting location for the first IT film but, as the sequel features the main characters as adults this time, the actors and actresses are more established and recognized celebrities such as Jessica Chastain, James McAvoy, and Bill Heder.
With even bigger names in town this time (including author Stephen King at one point), people have flocked to Port Hope for the filming of the sequel.
Olympus Burger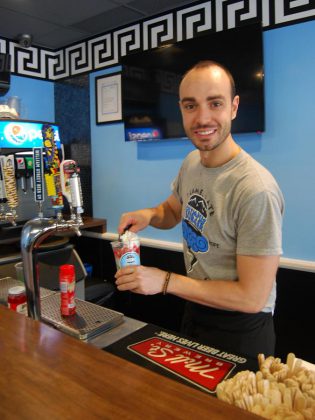 Crew vehicles are often parked in a big lot located directly across from Port Hope's favourite burger joint Olympus Burger. Of course, cast and crew have visited the restaurant to grab a taste of the local fare.
"Thankfully, we've been having a positive experience with crew members," says Giorgos, when asked about the crew.
"The crew usually has different food trucks that follow them around, but after a few weeks of the same thing they're looking for a change so they come here to check out our local burger."
Naturally, crew members have been enjoying Olympus Burger on their own time. However, the restaurant was also called upon to cater a large order when shooting went overtime and a "second meal" for the working crew was required.
"We were approached to prepare 80 burgers for them," Giorgos says.
The crew aren't the only ones checking out Olympus Burger during their downtime — talent has taken an interest as well.
"Isaiah Mustafa came in last night," Giorgos explains. "He's on a strict diet during the week so he ordered two large Spartan salads. He said he'll be coming back with his wife to try a burger for his weekend 'cheat' meal."
Olympus Burger has created a special menu item to pay homage to the film.
The new Black Raspberry Cheesecake with 7Up and Strawberry Syrup Float, and Orange Crush with Vanilla Ice Cream and Strawberry Syrup Float are available now. Ask for the "Pennywise" or the "Georgie" float when ordering.
Dreamers Café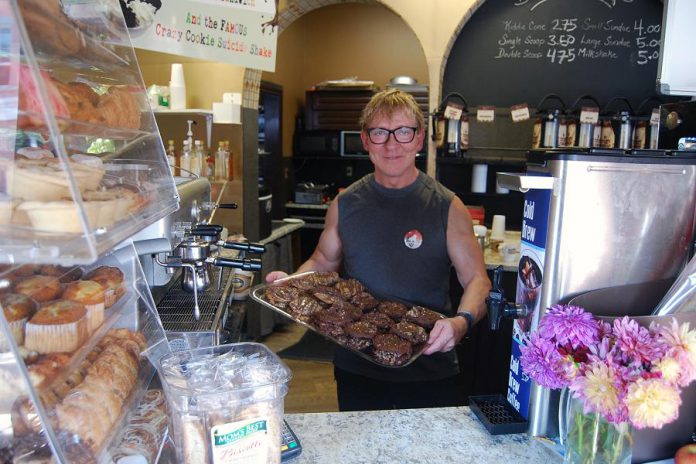 Dreamers Café on Walton has also seen an influx of crew members and served cast members as well.
"They're great, they're all so polite … they're aware that they're sort of in the way a little bit, but that we're okay with it," says café owner Roger Bernard.
"The crew ran a tab here for a couple of days, they love their milkshakes let me tell you — espresso flake with a double shot of espresso. They also love the lobster menu items here.
"And Stephen King came here for a cup of coffee and a crazy cookie. I also met his parents. They were here a couple of months ago to have lunch and she [King's mother] made a point of telling me that they were Stephen King's parents. Super nice people."
When asked if filming had caused any interruption to his business, Roger adds, "We all want to go to the movies, so let them do their job — and I think they really do their best to accommodate us. It's been good for Port Hope."
Kenneth Bell and Purpose Thrift Shop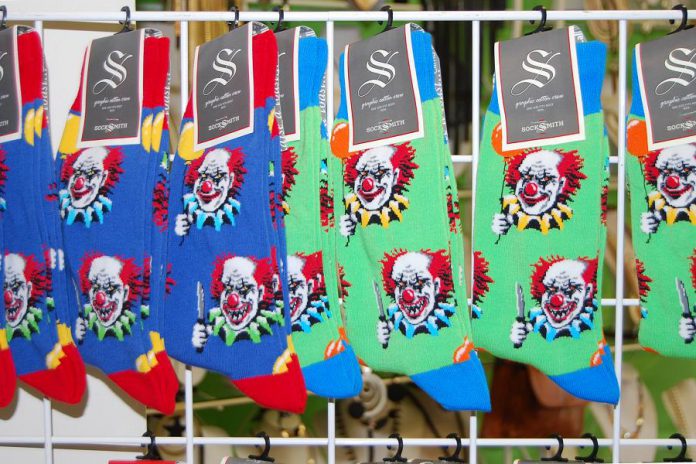 "The crew always wants to make sure we're okay," says downtown Port Hope's "King of Glitz" Ken Bell, owner of Kenneth Bell on Walton Street. "They are the nicest people I have dealt with and they go out of their way to make sure we're comfortable."
Ken points out the filming has been great for business.
"I'm telling you my sales have gone up, I've had a tremendous September," he says.
"Some of the crew have been in to buy my crazy clown socks. Overall, I think it's a positive for our town, it puts our town on the map — not that Port Hope needs to be!"
The shop is tipping its hat to filming with two styles of "crazy clown socks" that can be purchased for $17 each or two pairs for $30.
A couple of doors over is Purpose Thrift Shop, a new shop since the film crew was in town for the first film. Purpose has had its window and sign changed to resemble the Engine Art Gallery that was once in its place.
Manager Leslie Fox is happy with how the crew has done their best not to disrupt her retail activity.
"They have been bending over backwards to make us happy," Leslie explains. "Because our shop is new since the first film, a lot of people were confused when they changed our storefront. As soon as I mentioned it, the production company made a vinyl sign to go up so that people know we're still here."
Purpose has been at the heart of some of the filming activity, and because of this Leslie has had a front-row seat for some of the action and been able to take in the filming experience between serving customers.
Asked if she has had any personal brushes with fame, Leslie did have a couple of anecdotes to share. She did meet and chat with Jessica Chastain. However, it is her experience interrupting a take that will likely be her favourite filming story to tell for years to come.
"I was aware that they were filming out front, but a local woman came into my shop and was confused by the filming," Leslie recalls. "She wanted to get over to Kenneth Bell's store. I walked her to the door and offered to help her get to his shop. We step outside and then all of a sudden there's dead silence.
"I look up and I see James McAvoy and then I hear "cut" — so we walked into a scene, and that was embarrassing," Leslie chuckles at the memory.
Pennywise The Clown is everywhere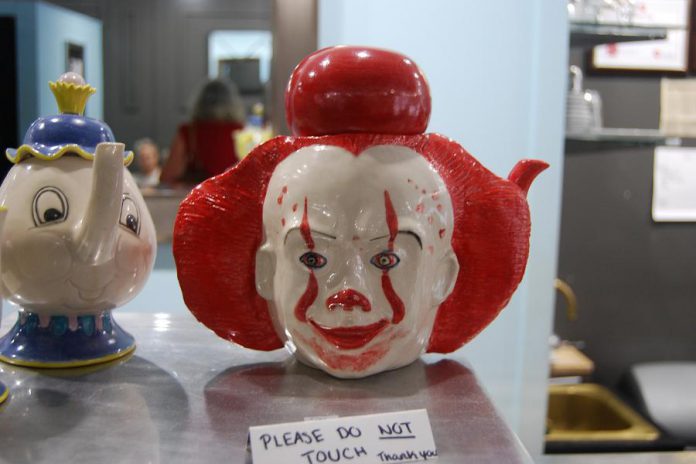 Downtown Port Hope has definitely gotten into the spirit of filming when it comes to the film's villain.
Maggie Moose has created a custom "Pennywise" fudge. Merchants are beginning to stock custom items that pay tribute to Stephen King's evil clown, and King's books are front and centre in the local bookstore.
References to the film, art pieces, menu items, sidewalk chalk drawings, soaps, and much more can be found in retail shops around downtown Port Hope.
In essence, the town is having fun with its fortune at becoming a filming location for a major motion picture and now its sequel — paying homage to the film franchise that is making the town famous.
Paul Bunyan attends Cultivate
The annual Cultivate Festival weekend ran from September 21st to 23rd this year. During the festival, a giant Paul Bunyan statue from the film towered over Port Hope's Memorial Park.
Festival attendees snapped photos of the statue, excited to have an up-close opportunity to check out the giant set piece.
Festival organizers had fun with Paul, placing a sign in front of him declaring it a statue of Cultivate co-founder Jeffrey Bray — a man who also sports a dark beard.
Want to experience the filming location for yourself?
Many tourists are flocking to the area to check out filming — some even travelling from as far as overseas.
"A young couple from England came here on vacation," says Dreamers Café owner Roger Bernard. "They are huge Stephen King fans and they sat here in the window watching filming for days."
"I've noticed a lot of star-struck people, people coming from the states and sleeping over," says Purpose Thrift Shop's Leslie Fox. "I met a couple from Maine the other day, so as far as that part [tourists] goes it's been really fun."
For adventurers bound for Port Hope, the tourism department has created a walking tour for visitors in pursuit of great selfie spots from the first film. Visit 20 Queen Street to get your free copy of the walking tour, and don't forget to tag Port Hope Tourism @exploreporthope when you post your shots on Instagram.
But you don't necessarily have to visit Port Hope to experience the filming for yourself if you live far away.
Check out Instagram user @theheartofderrymaine for photo updates from this filming location.
And on Facebook, the I Love Port Hope – Our Community in Photographs group also posts some great photography of the area (you'll have to join the group to see the photos).
Filming of the It sequel continues in Port Hope into the month of October. The film is scheduled for a September 2019 release date in theatres.