When the architect of what has become an undisputed success is asked to reflect on the idea that sparked his or her journey, 'simple' is rarely part of the answer.
That's certainly the case when Daveed Goldman recounts the origins of Choir! Choir! Choir!, an interactive community choir experience that he and co-founder Nobu Adilman have brought to audiences around the globe, both live and via YouTube in the form of some 15,000 subscribers and more than 10 million views.
On Friday, October 5th, Choir! Choir! Choir! will make its Peterborough debut at the Market Hall Performing Arts Centre (140 Charlotte Street, Peterborough, 705-749-1146). Tickets to the 8 p.m. show cost $35 at the box office or order online at markethall.org.
"Nobu and I got a bunch of people together in the winter of 2011 to sing but we had no real idea; we didn't know what we were doing and, in some ways, we still feel like we don't know what we're doing," says Goldman.
VIDEO: Choir! Choir! Choir! sings "Hallelujah" by Leonard Cohen (featuring Rufus Rainwright)

"We had done something for a mutual friend's birthday. Our friend was a musician and had a lot of friends who were musical, so a sort of makeshift choir was put together at this birthday. That was when Nobu and I first got involved doing something. After that we kind of wanted to do it again, but it took about two and a half years before we did.
"We did the first night and people were very interested in continuing to do this. So we did and just never stopped. We had no intention of doing it beyond even once or twice. There was no plan but it was clear early on that there was something there."
There was, and still is, something there.
Along with touring — Choir! Choir! Choir! will depart Peterborough for October stops in Minneapolis, Chicago, and Boston to name a few destinations — Goldman and Adilman host a twice-weekly drop-in singing event at Clinton's Tavern in Toronto.
Past stages graced include Massey Hall, Carnegie Hall, and the Juno Awards while guest singers have Rufus Wainwright, Patti Smith, Bruce Cockburn, and Sarah Harmer.
How Choir! Choir! Choir! works is brilliantly simple.
Each show attendee receives a song lyric sheet — "the template for the night" as Goldman terms it. For the Market Hall show, Leonard Cohen's 1984 song 'Hallelujah' will be "the centerpiece of the night."
VIDEO: Choir! Choir! Choir! sings "Zombie" by The Cranberries

The audience will also sing other Canadian classic songs, led by Goldman and Adilman, but a vocal arrangement for 'Hallelujah' will be taught and performed.
"We introduce ourselves, we try to connect with the audience, we warm them up … anything can happen," says Goldman.
"Then we'll start working on the song. But even within that process there are so many tangents. We're always trying to mess with it. I'm always trying to throw Nobu off and he's trying to throw me off. It's part of the fun of the night. We get to the point where we sing, but how we get there I don't think people expect. The audience thinks it's going to be one way and it's nothing like that."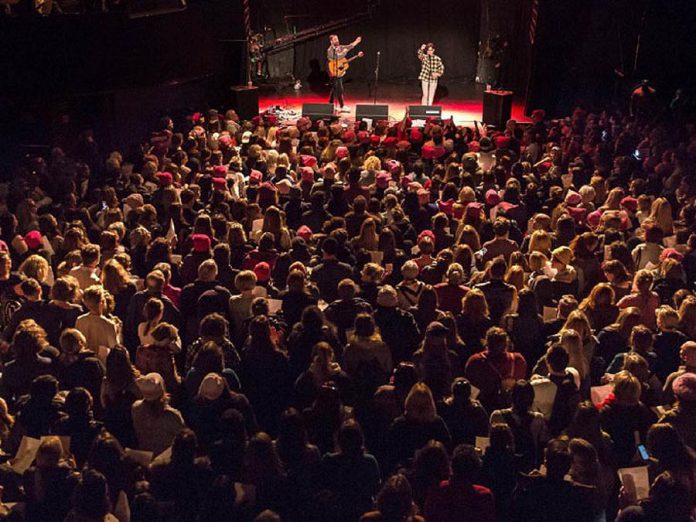 "The performance of the song is very special but it's fun to look at how we got there. We were totally not learning but all of sudden we sang this song. We just sort of nudge them along. It's just a lot of fun. We keep it really light and fun and silly."
As leaders of corporate team-building sessions during which they share their story and their core message that being made vulnerable often leads to great things, both Goldman and Adilman know a thing or two about empowering others to realize their potential.
Choir! Choir! Choir!, says Goldman, has a therapeutic benefit for those who allow themselves to be open to the experience.
"The community aspect is huge," says Goldman. "That's something we didn't really see going into it. Whether people go once a week, once a month or twice a week, they see familiar faces and they celebrate musical memories from points in their lives. It's like 'I'm not the only one who this song mattered to.'
"It empowers people to feel like they're not alone; to feel strong and be part of something bigger than themselves but it also makes them feel good."
VIDEO: Choir! Choir! Choir! sings "California Dreamin'" by The Mamas & the Papas

For both Goldman and Adilman, the joy lies in being on stage, although Goldman readily admits "the grind" wears them down.
"We'll look at each other and sometimes we'll say 'I just so don't want to go on stage. I want to be at home. Anything else but this right now.' Then the night finishes and we'll look at each other and say 'Okay, that was awesome.'"
"Being on stage is the best. I'm a singer. This is a perfect combination of all these things for me, and for Nobu as well, so I think the performance side of it is huge for us. The fact that we get to create something for people is the icing in many ways. I get to sing these songs and I get to arrange them and celebrate them every week. That gives me a lot of satisfaction.
"It's a pretty fun job. When you see how much people are enjoying it, it's hard to not appreciate that people want to do this with us. We go to all these different places and work with all these different people. It's a bit of a dream. We feel very fortunate."
VIDEO: "Bobcaygeon" at Choir! Choir! Choir! tribute to Gord Downie in Toronto

Eight years and hundreds of live shows since the Choir! Choir! Choir! formula was first tried, Goldman says there isn't a set end date.
That said, he acknowledges "everything has a life cycle. Like anything else, it could be over tomorrow, next week, next month, next year, two years from now. We don't know.
"I do know people will always want to sing with other people. I don't see that ever going away."
Off stage, Choir! Choir! Choir! has been very busy as well. In 2016, the Choir! Choir! Choir! Foundation was launched to formalize the founders' commitment to fundraising activities. The resulting 2015 C!C!C! Sings For Syria campaign raised $70,000 and sponsored two families to come to Toronto.
And in 2016, the 25 Days of Charity! Charity! Charity! campaign raised $50,000 for 25 local, national and international organizations.
For more information about Choir! Choir! Choir!, visit www.choirchoirchoir.com. A complete listing of the songs rehearsed and performed by show audiences is available on Google Docs.