Penguin Random House has announced that former Beatle Sir Paul McCartney has written a new children's book — and it will feature illustrations by Peterborough native Kathryn Durst.
"It's called Hey Grandude!," McCartney says in a video announcing the book. "I wanted to write it for grandparents everywhere, so it gives them something to read to the grandkids at bedtime."
Durst, who now lives in Toronto, grew up in Peterborough and graduated in animation from Sheridan College. In her third year, she completed an internship at Pixar Animation Studios. In addition to her animation work and illustrations for children's books such as Vlad, the World's Worst Vampire and Float, Flutter and the forthcoming Life with My Family, Durst also plays the accordian and is a puppeteer.
"A Canadian girl," McCartney says in the video, referring to Durst as he displays one of her illustrations. "As you can see, she's brilliant."
In the video, McCartney explains that his grandchildren started calling him "Grandude", a riff on the Beatles song "Hey Jude" that McCartney wrote for Julian Lennon when his father John was divorcing Cynthia.
"Meet Grandude, an intrepid explorer grandfather, and his four grandkids," reads the description of the book on the Penguin Random House UK website.
"With his magical colourful postcards, Grandude whisks his grandchildren off on incredible adventures. Join them as they ride flying fish, dodge stampedes, and escape avalanches… It's a wild rollercoaster ride with a twist of magic, and a heartwarming family story, inspired by Paul's own experiences of being a grandfather."
VIDEO: Paul McCartney announces his picture book

In 2005, McCartney co-wrote the children's book High in the Clouds, about a squirrel in search of a tropical animal sanctuary, with Geoff Dunbar and Philip Ardagh.
For her part, Durst says she is "thrilled" to create the illustrations for Hey Grandude!.
"I just love adventure stories with a touch of magic," Durst explains. "This story especially resonated with me because I have wonderful childhood memories of my dad taking my siblings and me on exciting adventures, just like Grandude does in the book."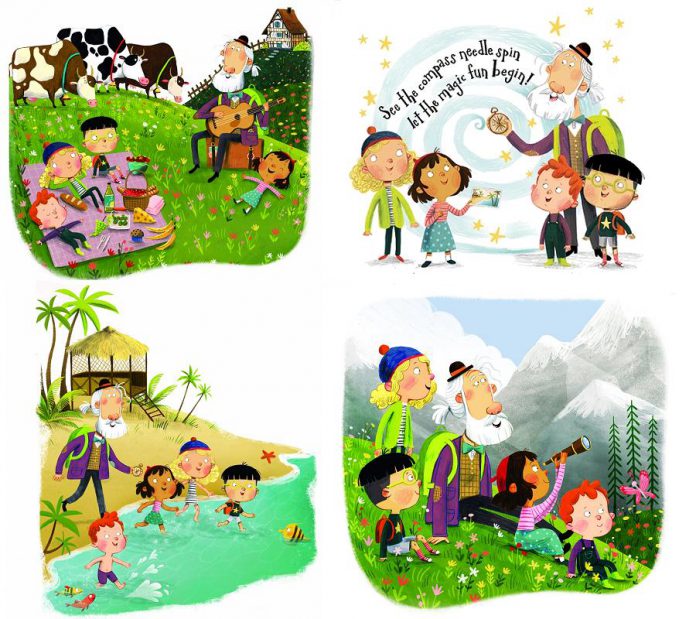 "I am very excited to be able to work with Paul McCartney on this project," she says. "It has been such a treat to collaborate with such an inspiring and accomplished artist. We both want to make an exciting and beautiful book that kids will want to read again and again!"
The book will be available in Canada on September 5, 2019, published by Penguin Random House Canada, and can pre-ordered now (in hardcover or as an e-book) on amazon.ca.