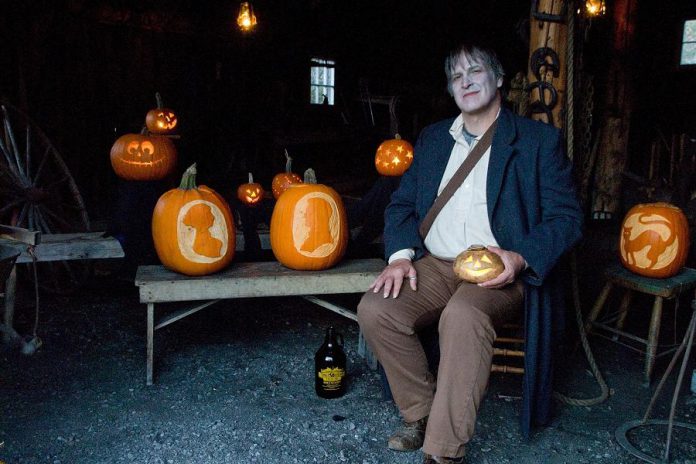 ---
Get Your TIckets For The 19th Annual Awards of Excellence & Social Gala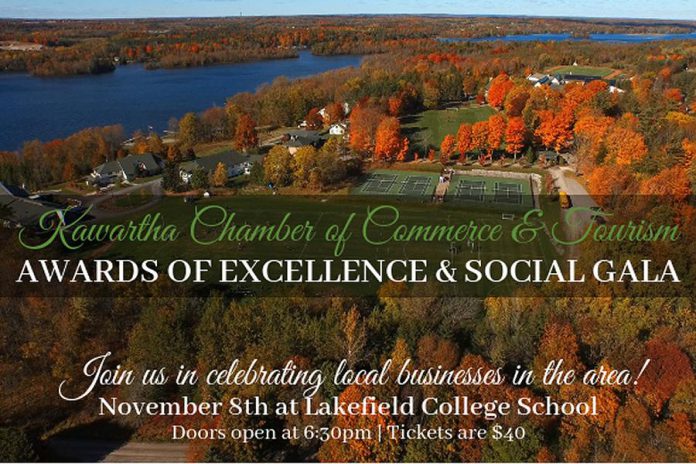 The 19th Annual Awards of Excellence and Social Gala is just two weeks away! Join the Chamber on Thursday, November 8th at Lakefield College School.
Tickets are only $40 this year, so bring along your staff to celebrate local businesses! Your ticket includes one complimentary beverage and light hors d'oeuvres.
There are only a limited number of tickets available. Tickets can be purchased at kawarthachamber.ca or by calling 705-652-6963.
There will be silent and live auctions, a cash bar and music from Rhythm & Grace. Please note: if you plan to purchase additional drinks from the cash bar, there is not an ATM on site. Auction items can be purchased with a credit card. Dress is business attire.
The Chamber thanks its Social Gala Sponsor, Shorelines Casino Peterborough.
Sponsor Spotlight: ISL Insurance Brokers

The Chamber is excited to announce that it has added a Special Recognition award to the Awards of Excellence roster, as it was requested by the judging panel due to the high number of nominations and challenging decisions they faced this year.
The Chamber thanks ISL Insurance Brokers for sponsoring the award.
"ISL Insurance Brokers is a full service general insurance brokerage that provides auto, home, business, farm and cottage insurance coverage. Our team of insurance professionals deal with a wide array of insurance providers to secure the best possible protection for our clients at the best price. The slogan 'Serving People Is What We Do Best' demonstrates our commitment to clients, staff and community and we're proud to serve the people of Peterborough, Lakefield and the Kawarthas. Visit islinsurance.ca."
Sneak Peek At Live Auction Items For Chamber Awards Of Excellence & Social Gala
The Chamber has five amazing packages up for grabs for its live auction at the Awards of Excellence and Social Gala this year! See them all here.
If you would like to contribute an item to the auction, please email events@kawarthachamber.ca.
If you are unable to attend the Gala, but would like to submit a bid for one of these packages, please email generalmanager@kawarthachamber.ca with your maximum bid, and include "Auction Bid" in the subject line. Please include a name and phone number. A proxy bidder will be assigned to bid on your behalf in increments no higher than your maximum bid.
Pizza Making Package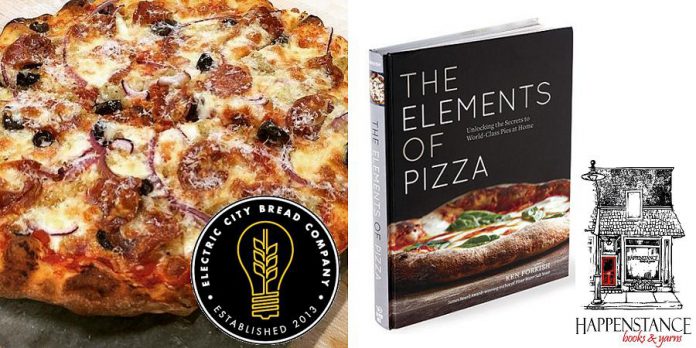 If you're a big fan of pizza, you'll love this Pizza Making Package. The package includes:
Making your own pizza at Electric City Bread Company for four (with wine!); and,
A copy of the book Elements of Pizza from Happenstance Books & Yarns.
The Chamber thanks donors Electric City Bread Company and Happenstance Books & Yarns.
The Chamber Took Part In The Habitat For Humanity's Curve Lake Build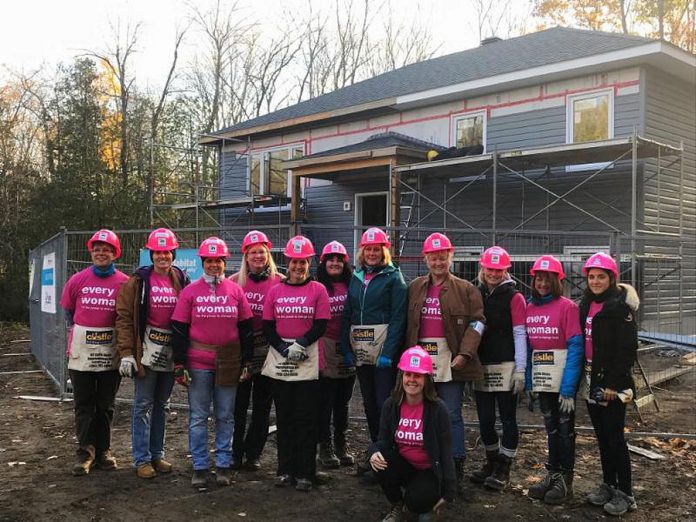 The Chamber took part in the Habitat for Humanity build in Curve Lake First Nation on Monday, October 22nd. Take a look at our Women's Build Team in action.
The Chamber thanks everyone who took part in the build day, and would also like to thank all of the individuals and businesses who supported the fundraising efforts.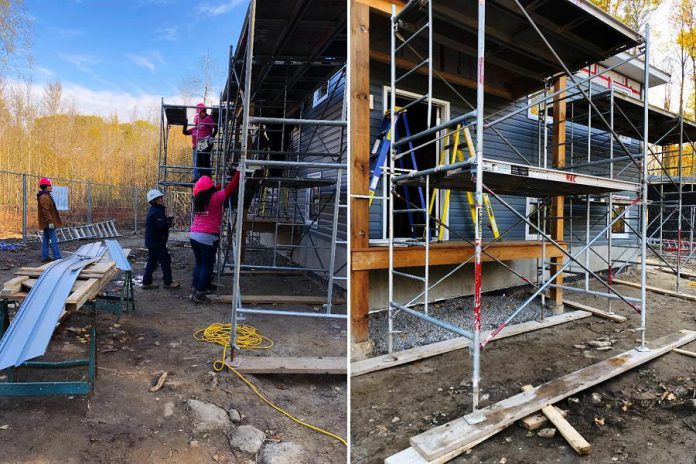 10 Ways To Build A Canada That Wins: 2019 Election Edition Survey
A strong and prosperous Canada depends on business growth.
For the past seven years, the Canadian Chamber of Commerce has published its 10 Ways to Build a Canada that Wins, which articulates a series of clear priorities and objectives that, if addressed, will give Canada a competitive edge, improve productivity and grow the economy.
It is key that the report reflects the views of businesses big and small throughout Canada, especially in an election year. Participate in a 5-to-10-minute confidential feedback survey.
By providing your input, you will be shaping the Canadian Chamber of Commerce's 2018 message to the federal government and other stakeholders, and telling chambers of commerce at the national, provincial, territorial and local levels about the priorities that are important to you, both as a Canadian and a business person.
The deadline to complete the survey is November 13th.
Community Care Flu Shot Clinic On October 24th
Community Care is hosting a Flu Shot Clinic on Wednesday, October 24th from 9 a.m. to 12:30 p.m. at 40 Rabbit Street in Lakefield.
"First come, first shot." Bring your health card.
Call 705-652-8655 for more information.
New Venture Session on October 25th
Peterborough & the Kawarthas Economic Development's Business Advisory Centre is hosting their free New Venture Session on Thursday, October 25th from 6 to 7:30 p.m. at VentureNorth (270 George Street N., Peterborough).
The session will provide an overview of:
The foundations of starting and running a business;
The resources and programs available for entrepreneurs in Peterborough & the Kawarthas;
How to access support from the Business Advisory Centre; and,
Getting started on the Startup Checklist
For more information, contact Mallory at 705-743-0777 ext. 2160 or mcgraham@peterboroughed.ca.
Historic All Hallows Eve at Lang Pioneer Village on October 26th and 27th
Join Lang Pioneer Village Museum for their Historic All Hallows Eve this Friday and Saturday (October 26th and 27th) from 6 to 9 p.m. each night to discover the origins and traditions of Halloween.
The event features:
"Floss & Tann's Cabinet of Curiosity for the Incurable Curious!" Show
Presentation by the Paranormal Seekers (Friday only)
Treat bags for kids, tractor & wagon rides, fortune telling, face painting & colouring contests
A history of Halloween traditions and much more.
Dance Away MS at Buckhorn Community Centre on October 27th
Dance Away MS this Saturday, October 27th at Buckhorn Community Centre from 8 to 11:45 p.m..
There will be live music by the "Indian River Band", Silent & Country Auction, a late lunch, cash bar & dancing!
Doors open at 7 p.m.and the dance starts at 8 p.m.
This is an Age of Majority event, costumes are optional, and tickets are $20.
To buy tickets for the event, contact the BCC at 705-657-8833, or reach out to the MS Society at 705-748-4221 or pat.stockdale@bell.net.
All proceeds in support of MS Peterborough, Kawartha Lakes & Haliburton Chapter.
Opioid Epidemic: Second Information Session Announced
Due to overwhelming interest in the Opioid Information Session held on September 26th (over 500 people attended), Selwyn Outreach Centre has decided to host a second event discussing the issue.
The second session will be held on Wednesday, November 7th at 7 p.m. at Selwyn Outreach Centre.
Join them to hear three more perspectives on the topic. Speakers include: Tim Farquharson, Deputy Police Chief; Magdy Kamar and Dr. Samier Kamar, pharmacists; and Daryl Ralph, Clinical Counsellor for drug addiction.
The event is free, and may help save the life of someone you care about.
Selwyn Outreach Centre is also planning on hosting a special First Aid Class on how to deal with an overdose and the administration of Narcan. Stay tuned.
Upcoming Events
McLean's Buckhorn Pumpkin Fest – Every Saturday & Sunday until October 28th
Try Curling at Ennismore Curling Club – October 27th
Tek Savvy Seniors – October 31st
For more information about the businesses and events listed above, please visit the Kawartha Chamber of Commerce & Tourism website at kawarthachamber.ca.
All photos supplied by Kawartha Chamber of Commerce except where noted.