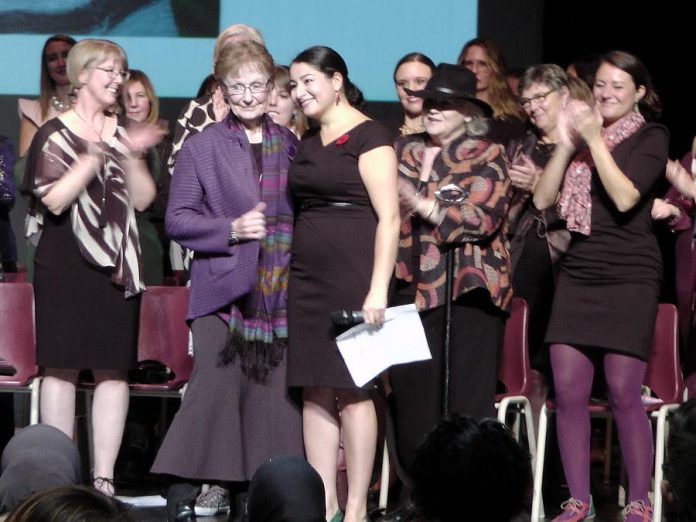 A total of 55 women from Peterborough and the Kawarthas were honoured at the inaugural Peterborough-Kawartha Women's Leadership Awards at Showplace Performance Centre in downtown Peterborough last night (October 27).
The event was organized by Peterborough-Kawartha MP and Minister of Status of Women Maryam Monsef and held during National Women's History Month, with the awards recognizing women's leadership in the community, whether through volunteering, public service, professional achievements, advocacy, or being a remarkable friend or family member.
In addition to the women receiving leadership awards, Sister Ruth Hennessey — a retired school teacher and member of the congregation of the Sisters of St. Joseph in Canada — received the Lifetime Achievement Award for her compassion and dedication to helping refugees coming to Canada.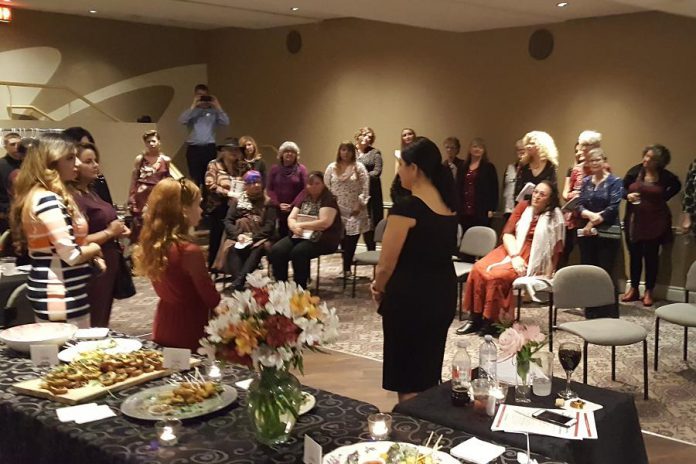 Among those receiving the awards were several well-known local women, including kawarthaNOW.com publisher Jeannine Taylor, environmentalist Cathy Dueck, arts administrator Su Ditta, lawyer Ann Farquharson, activist and writer Rosemary Ganley, New Canadians Centre Executive Director Hajni Hos, Peterborough-Kawarthas Economic Development president Rhonda Keenan, entrepreneur Shelby Leonard Watt, retired Selwyn mayor Mary Smith, 100 Women Peterborough co-founder Rose Terry, Peterborough Mayor-Elect Diane Therrien, entrepreneur Sofie Andreou, and advocate and activist Kim Zippel.
However, many of the women who received awards are perhaps not so well known in the general community, while still showing leadership in their respective fields or communities and being a role model. They were nominated by friends and family or colleagues who wanted to bring their contributions the public recognition they deserve.
See below for a complete list of all the leadership award recipients and their biographies.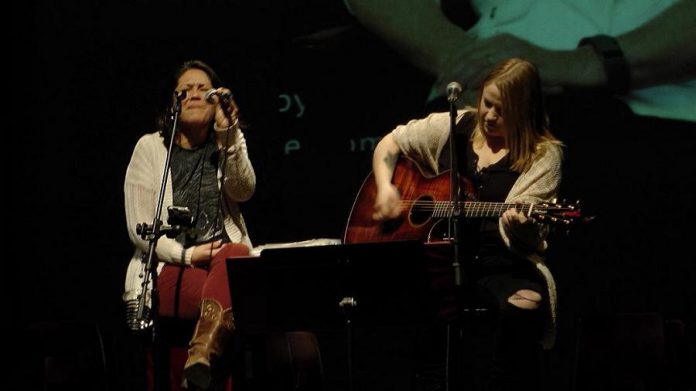 The evening began with the award nominees gathering in the Nexicom Lounge for a reception with MP Monsef, while local musicians Missy Knott and Hillary Dumoulin entertained the gathering crowd in the Erica Cherney Theatre.
At 7:30 p.m., the awards ceremony got under way, emceed by Community Futures Peterborough executive director Gail Moorhouse, with the Red Path Singers drumming in the award nominees on the stage.
Chief Phyllis Williams of Curve Lake First Nation provided the opening blessing and remarks.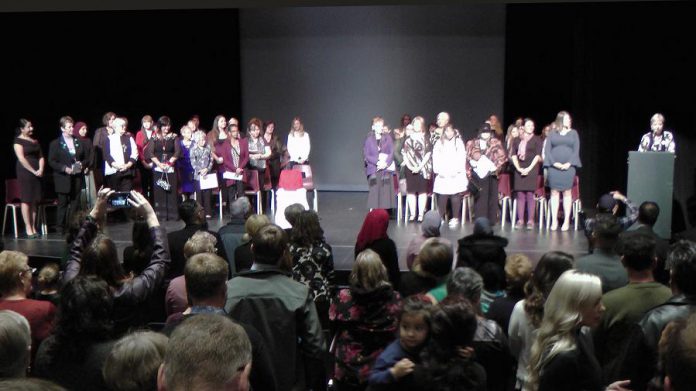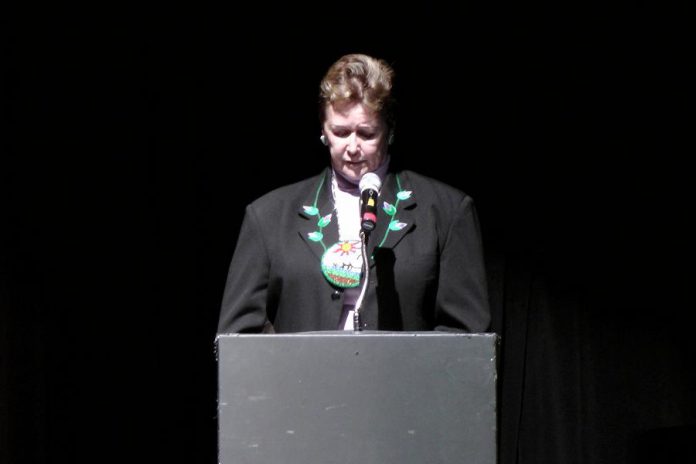 "Women are making positive changes each day, motivating communities to think, act, and be inclusive," Chief Williams said. "We have a voice. Let's use it and make a difference for all people."
As part of the event, MP Monsef encouraged award nominees and guests to bring a young person to the ceremony — a friend, neighbour, or family member — so they could interact with the award nominees as role models.
"Strong women are so important for the next generation of girls to strive for success," Chief Williams said.
"They need to see strong and proud women who have overcome barriers to be successful in their chosen field, or in times when things are too insurmountable to survive. We need to do right by them, and have events like this one."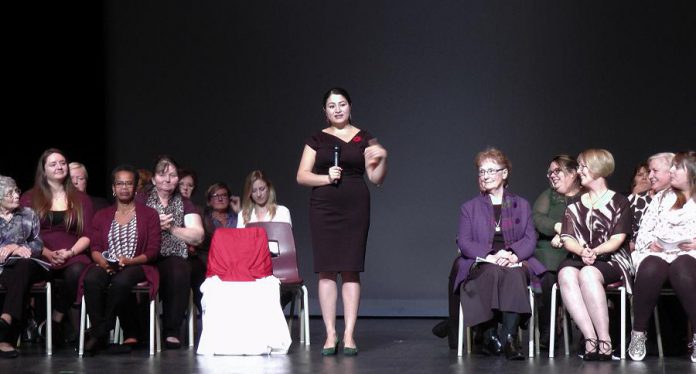 MP Monsef then addressed the crowd, explaining the importance of recognizing the achievements and contributions of women. There was a single empty chair on the stage which, MP Monsef said, symbolized all the women who could not be there because they are struggling to keep their families safe and fed or dealing with hardships — but still deserved recognition for their own personal leadership.
Assisted by young person Georgia Dueck, MP Monsef then presented the leadership awards to each of the 54 women (some of whom were unable to attend the ceremony), followed by the presentation of the Lifetime Achievement Award to Sister Ruth Hennessey.
A member of the Congregation of the Sisters of St. Joseph in Canada, Sister Hennessey spent the early years of her professional career as an elementary school teacher, first in the primary grades and then as a consultant in special education. When she retired in 1997, she devoted herself full time to the refugee ministry.
She is the founder and director of Casa Maria Refugee Homes in Peterborough, a non-profit volunteer organization sponsored by the Sisters of St. Joseph that welcomes refugees regardless of race, social status, religious, or cultural tradition and offers them safe temporary accommodation.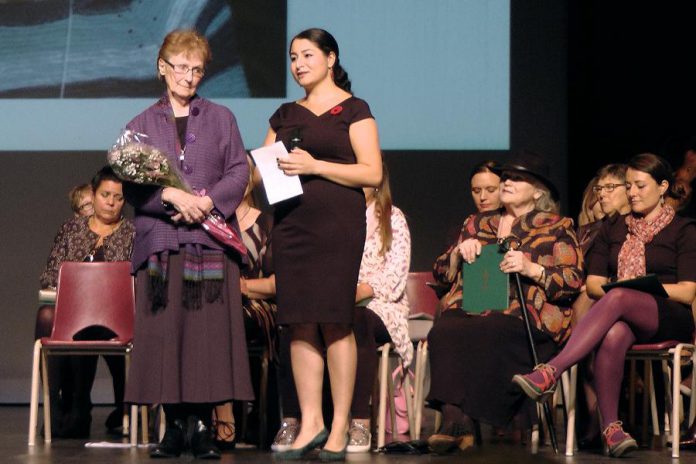 Sister Hennessey began her remarks by acknowledging the newcomers to Canada who were in the audience, including families from Zimbabwe, Kenya, and Syria, many of whom waited years for the opportunity to escape war and persecution in their native countries and come to Canada.
"We can't do anything alone, it takes all of us to welcome (people to the community)," Sister Hennessey said. "What we want is a few more Maryams, and more of these women," turning to indicate the award recipients on the stage.
Sister Hennessey also received a personal letter of congratulations from Prime Minister Justin Trudeau.
After the ceremony, members of the public gathered in the Nexicom Lounge for a reception with MP Monsef and the award recipients.
For her part, MP Monsef says she intends to continue the Peterborough-Kawartha Women's Leadership Awards next year.
---
Lifetime Achievement Award recipient
Sister Ruth Hennessey
A member of the Congregation of the Sisters of St. Joseph in Canada, Sister Ruth Hennessey spent the early years of her professional career as an elementary school teacher, first in the primary grades and then as a consultant in special education. When she retired in 1997, Sister Ruth devoted herself full time to the refugee ministry. She is the founder and director of Casa Maria Refugee Homes in Peterborough, a non-profit volunteer organization sponsored by the Sisters of St. Joseph which welcomes refugees regardless of race, social status, religious or cultural tradition and offers them safe temporary accommodation. At present, Casa Maria Homes operates three houses and to date it has welcomed more than 200 people. In 2001, Sister Ruth was awarded the YWCA Peace medallion. Sister Ruth brings valuable experience and real passion to her calling of supporting and assisting new refugees to smoothly transition to a new country, a new home and a new beginning. She is a true example of a community leader, and an integral part of creating a warm and welcoming place for everyone.
Leadership Award recipients (in alphabetical order)
Reem Ali
Reem exemplifies leadership through a number of avenues. Working at the New Canadians Centre where she coordinates two projects that aim to empower newcomer women through 'Sewing Collective' and 'Newcomer Kitchen'. Reem is a strong community leader, who not only teaches about, but dedicates herself to ending poverty, discrimination and gender inequality in all she does.
Joanne Anderson
Joanne is a tireless advocate for the senior community in Peterborough-Kawartha who volunteers her time and efforts to various functions at Lakefield Baptist Church, organizing activities and day trips for the seniors at Activity Haven. Joanne also dedicates much of her time to fundraising for the Gillie Beans Fund in memory of her granddaughter, Gillian May Berthelot. The Fund supports research for Rhabdomyosarcoma, a cancer that affects mostly children.
Sofie Andreou
While running her own company, www.sofieandreou.com, in partnership with her husband, Sofie also serves on the Board for the Peterborough Chamber of Commerce, is a StartUpPtbo Founder, on the Trent Business Council, and was a past member for Peterborough Women's Business Network Board. Sofie has been instrumental in bringing together the Women's Business Network and the Trent Business Student Association which has allowed more female entrepreneurs to get involved in the local business community.
Ileen Armstrong
Ileen first demonstrated her commitment to community service and leadership at the early age of 12 as a member of the 4-H Club. Her commitment to her community and passion for helping others continued as a nursing graduate of Peterborough Civic Hospital, working in intensive care, emergency and surgical outpatient holding units in Bridgenorth and Lakefield. Ileen has served by delivering Meals on Wheels, performing sight and hearing evaluations in schools throughout the area, as well as being involved in breakfast clubs and public school Nutrition Programs.
Eunice Blakeley
Recognized in her community as the glue that holds them together, Eunice is constantly contributing and giving back to her community. Currently, Eunice is volunteering at the local public school helping with the breakfast program, at the Buckhorn Community Centre, and with her spare time will visit with the elderly in their homes or at the hospital. On top of everything else, Eunice serves the local church as Rector's Warden, providing operational support to the Minister, the parishoners and the community.
Kate Brioux
Born and raised in Ennismore, Kate is an elementary school teacher, musician, theatre actress and community volunteer. She donates countless hours volunteering for the local church youth programs and is cast yearly in the home stead theatre where she selflessly donates her earnings to local charities. Not only does Kate possess great musical and theatrical talents but also her selflessness helps to inspire other women in her community.
Holly Butler
While attending Trent University, Holly fell in love with Peterborough-Kawartha which inspired her to open a branch of the family business here in Peterborough, Iceman Video Games. Holly has since joined the DBIA and strives to come up with innovative ways to recycle and reduce in the downtown core.
Janet Clarkson
Janet has a long list of accomplishments, including community service, advocacy and leadership roles within her community. She formed the 1st Ratepayers Association in Harvey Township in 1964, started 'Heritage Day' in Buckhorn and was part of the organizing team for a successful 'Women's Day Summit' in 2017, just to name a few of these accomplishments. She served on municipal council from 1996-2004, and again from 2006-2014 during which time she served a term as Mayor. There's much to say about this advocate that cares so much about her community both young and old.
Emily Coombes
From a young age Emily has always wanted to help others, and was recognized with the annual 'Character Award' in Grade 6 from North Cavan Public School. She continued to stay involved in her community while attending Crestwood High School, getting involved in programs such as the Amigos Group, a Kindness Group and the school band and choir. Emily remains active in the community, through volunteering at the One Roof Diner, the Warming Room and as a tutor at The Lighthouse.
Sheila Crook
As Business and Professional Women's (BPW) Ontario Provincial President, Sheila initiated a partnership with the Pay Equity Commission of Ontario to design a module to promote awareness on Equal Pay and Salary Negotiation. In 2016, she was named a Global Champion for Women's Economic Empowerment by UN Women. She is a mentor for the Canadian Coalition to Empower Women and Implementation Coach for BPW Ontario and BPW Canada.
Kathi Curtin-Williams
Kathi is always looking to improve her community in everything that she does. She coordinates the Saturday dinners for the homeless, assists with the distribution and transportation of beds to people in need and the majority of her time is dedicated to running the Peterborough Pet Food Bank in an effort to help the less fortunate keep their pets.
Julie Davis
Julie has served as the Vice-President of External Relations and Fundraising at Trent University since 2011. Her accomplishments include the successful completion of Trent's recent $50 million campaign, oversight of the external relations that connect Trent to the city, county and all stakeholders in the community. Prior to her role at Trent, Julie was President and CEO of the PRHC Foundation where her efforts helped raise more than $34 million that supported health care in the community.
Aileen Dean
Serving as treasurer and member of the Women's Institute since 1974, Aileen has been involved in a number of fundraising events in her community. From Crossroads to manning the Santa sleigh and everything in between, Aileen has dedicated many hours of her time. Alongside her husband, Aileen has also served breakfast to the students of Ridpath Public School in Lakefield for 17 years.
Su Ditta
Well known for her leadership in the national arts sector, Su has worked tirelessly to build a strong and vibrant local arts community. She has worked in the arts for over 35 years, best known for her work as Associate Curator, Media Arts at the National Gallery of Canada, and Head of the Media Arts Section of the Canada Council for the Arts. Su cares deeply for her community and is someone who will drop everything to counsel a local young artist.
Cathy Dueck
Cathy has been an advocate for promoting environmental awareness and sustainability, and was instrumental in creating the Peterborough Ecology Park, and seeing it grow to a vibrant place for the community. She is currently coordinating a pilot project called "Pathway to Stewardship and Kinship" – just one more way she is helping people of all ages learn about our environment and ways that we can ensure a greener future.
Caroline Elder
A truly gifted and compassionate human being, as an award-winning real estate agent Caroline works tirelessly to promote all that North Kawartha has to offer (both the region and its residents) and help her clients to fulfill their dreams. Her background was in Toronto radio promotion and sales, and her motto is "Let's launch YOUR dreams." She knows that her profession as a real estate agent can profoundly impact the lives of others. Her true motivation is the reward she receives when her clients dreams of living in North Kawartha are realized.
Ann Farquharson
Ann is a highly respected local lawyer, former city councillor and member of multiple boards and committees over the years. Her entire life has been spent serving this community in both a professional manner and in multiple volunteer roles – she has helped raise hundreds of thousands of dollars towards a multitude of local charities. She has been, and continues to be a shining example to women in this community of how they can lead and shape the destiny of the community they live in.
Carol Fisher
Carol Fisher founded the special needs Kawartha Komets Hockey Program with husband David Fisher. She gives relentlessly, year round, to lift the lives of hundreds of special needs athletes who have gained so much personally through team sports. Through her huge heart, Carol has given to each of them, like every Canadian, the Love of 'the Game' as they blossom and become wonderful ambassadors of our region.
Michelle Gallant
Michelle Gallant is a dynamic and energetic leader of community initiatives. She leads policy directions for species at risk at the Ministry of Natural Resources and Forestry while supporting her young and active family. Somehow, Michelle finds time to also co-lead Reimagine Peterborough's policy and engagement initiatives. Through this work, she fosters neighbourhood links and connects citizens to community organizations and plans. Michelle has also played a strong role in supporting women becoming involved in politics, whether as candidates, campaign contributors or involved citizens. In so doing, she lives her values of diversity, inclusion, democratic engagement and environmental protection.
Rosemary Ganley
Rosemary travels the world and makes Peterborough her home. She is a lifelong activist and writer who works tirelessly for the rights of girls and women, for poverty reduction and food security, for the rights of scientists, and for the rights of all to worship and vote as they choose. She attended the 4th Annual UN Conference on Women in Beijing in 1995 and is a current member of the Gender Equality Advisory Council to the G7.
Lynn Gehl
An Algonquin Anishinaabekwe, Lynn has worked for 32 years to address the sex discrimination in the Indian Act. Lynn has a rare visual impairment and after teaching herself to read earned a PhD in Indigenous Studies from Trent University. Her commitment to work on issues of land defence and indigenous rights, her multiple publications and knowledge-sharing with her community are of immense value to the community and Indigenous women across the nation.
Mary Gordon
"Everyone has potential." This is Mary's motto as she takes on the business of poverty head-on in downtown Peterborough. Working with Seeds of Change, she created a community meal on Christmas Day which ran for 3 years. She now works with Bedford House in a group called "Bridges out of Poverty". She helps her kids, her friends, and strangers with equanimity and respect – she is the "unsung hero" for many.
Stephanie Hayes
As a doula and business owner of "Hello Baby!" Stephanie has dedicated her career to supporting new and soon-to-be mothers and families as they go through their pregnancies and after giving birth. She has also been a volunteer at PRHC working to make the hospital baby-friendly. She is very caring with all her clients, and endeavours just as strongly to assert the strength and independence of women and their unique abilities. She combines a strong spirit of entrepreneurship, community leadership and service toward gender equality.
Kristy Hiltz
Not only has Kristy built a successful business, Sherbrooke Heights Animal Hospital, she has also built a reputation in the community as one of the most caring and unselfish veterinarians in Peterborough. She founded the Kawartha Turtle Trauma Centre in 2002. In 2015 Kristy began Salaam Peterborough, a group of dedicated community members who have sponsored several Syrian families. She actively encourages helping the elderly, our veterans and the homeless, and is heavily involved with the Down Syndrome Gala, Pedal for Hope and numerous other local charities.
Hajni Hos
Hajni demonstrates an extraordinary zest for life and education. She trained as a lawyer in her native Hungary, gained a teaching degree and completed 3 years of a PhD in political science. As Executive Director of the New Canadians Centre Peterborough, Hajni has led a team of 23 staff to provide exemplary service to newcomers to our community, and has overseen a move to a newly renovated and accessible location, which resulted in the restoration of one of Peterborough's heritage buildings. She and her family are established volunteers, contributing significantly to the organization of the annual Norwood Fair.
Debbie Jenkins
A Trent University PhD candidate and Lakefield resident, Debbie has dedicated both her professional and personal life to environmental conservation and advocacy. Previously employed as a wildlife biologist, she has organized the annual community-based Trent BioBlitz program, collecting invaluable data on local biodiversity, including for many species at risk. She co-founded the Imagine the Marsh (2nd Gen) based in Lakefield and the Trent Students for Responsible Development. She is committed to conveying environmental science to a broad audience with the goal of informing and engaging the public, and protecting nature. She is a passionate and dedicated advocate for those without a voice.
Tina Johnston
Running a successful business and raising a family is only the beginning of Tina's impact in Peterborough. She works with Habitat for Humanity, YMCA Strong Kids, and other organizations. She orchestrated the United Way's "Be a Goddess" event, and was a member of the creative committee at Festival of Trees. She has been an inspiration to her son who is also a business owner and has now begun to work with entrepreneurial and at risk youth groups, and has joined her in supporting YMCA Strong Kids.
Rhonda Keenan
Rhonda has been at the helm of Peterborough-Kawartha Economic Development for the past 2 years, a recognized leader in entrepreneurship and growing new business in collaboration with community partners. Her approach is open and respectful and no matter what she is doing her door is never closed and she always makes time. She has created a community leadership group to review, access and deliver business partnership opportunities, built synergies with both the college and university, and explored and developed programs with local First Nations and the New Canadians Centre. She has brought the titles "little things do matter" and "imagine" into the office, and she has a great sense of humour!
Jennifer Kloosterman
Jenn has worked to advance the wellbeing of youth and families in our region in a number of capacities over the past decade and currently serves as the Peterborough Director of Youth Unlimited, which runs a youth centre in downtown Peterborough, cares for disenfranchised youth and street workers, and rallies churches to be involved in youth initiatives around the city.
Pat Learmonth
For two decades Pat has worked locally to support new farmers and promote farmland protection and ecological agriculture. She founded Farms at Work, a non -profit project working for healthy and active farms in Central Ontario. She co-founded the East Central Farm Stewardship Collaborative, is co-chair of the Sustainable Peterborough Working Group on Food and Farming, among many other volunteer roles. Pat brings a sharp mind, detailed research, diverse experience, and a strategic outlook to her work, and has had a positive impact both locally and across Ontario. Her family runs an organic farm in Otonabee-South Monaghan Township.
Shelby Leonard Watt
Running three stores as an independent retailer with her husband, Shelby has seen success in this community. On the personal side, at the request of a local health service, she decided to share her story about her miscarriage, and later through social media her struggles with motherhood, postpartum depression and the trials and tribulations of becoming a new mom. The support and response she received was overwhelming. Hundreds of women in turn shared their stories and Shelby saw the need to bring women together to help each other. Shelby was inspired to continue to reach out – she organized a book drive for PRHC and the children's clinic, started Tampon Tuesday to donate to Cameron House, and in February started Galentine's Day as a tribute to best girlfriends.
Stacey Love-Jolicoeur
Stacey is a transgender woman whose work focuses on the under-represented community members who are incarcerated. She is an educator and support worker for the LGBTQ2S community, and has created a re-integration program for trans offenders with a set release date, so that they will be successful upon release and not re-offend. She works towards ending discrimination through facilitating and LGBTQ2S and Friends group, and sees the indigenous population as an important element to this group. She hopes to one day see this work extended to rural communities in a sustainable way.
Janet Mann
Janet is someone who takes a lot of her own time to help people in situations that need someone as a nurturing friend. She has been a very hard worker over her lifetime, and is currently working part-time as a health care aide. Her kindness has helped many in our community – from her neighbours, to teenagers with disabilities, to families who are struggling.
Erin Marshall
For Erin, all people are equal in her eyes, with equal potential, equal greatness, equal purpose. She has created exceptional health and wellness through her Isagenix business and co-ownership of Full Tilt Cycle, a studio that empowers everyone through physical workouts and achieving personal goals. Erin created the PRHC Mom-bassadors, a group of powerhouse women who raised $30,000 in 6 weeks to buy a desperately needed fetal heart monitor. She's a walking ball of energy looking at solutions to save the world.
Judy McWhirter
Judy started working at the Buckhorn Community Centre (BCC) as a cleaner and after much persuasion accepted the position of Manager in the early 80s. Since then she has filled this roll admirably and gained the respect of everyone she comes in contact with. She has created many activities and events – her most successful achievement was starting the Spring and Fall Dinner Theatre which is a sell-out every time. After 32 years of working at the BCC, she has a smile and encouragement for everyone. She has accumulated hundreds of volunteer hours beyond her normal work week – dedication at its best!
Linda Mitchelson
Linda has made a lasting impact on the Peterborough and Kawartha region through her visionary and collaborative leadership over the past 10 years. She is a respected community advocate, building bridges and partnerships across programs and services such as Brock Mission, Youth Emergency Shelter, Cameron House, Homelessness Support Services and Warming Room. She has led and supported community planning initiatives such as the Housing & Homelessness 10 year Plan, the Age Friendly Plan, and the Rural Transportation Service 5-Year Grant. She has served on volunteer boards and participated in local and global build projects in Africa, Asia and South America.
Kirsten Mommertz
Kristen displays a fantastic sense of community, care and dedication to helping others. At Trent, she assisted students in need as a Note-taker, and she is the community coordinator for Active Minds – to end stigma around mental health and advocate for improved mental health services for students. She was also the lead organizer for Hollaback – for the prevention and awareness of street harassment, and she volunteers with various community groups such as the Peterborough Library, KSAC and Artspace. She is a foster parent for stray cats and kittens and is a role-figure for many in our community.
Tegan Moss
Tegan has worked tirelessly to build a strong and positive cycling community within Peterborough. At B!KE, the Peterborough Community Cycling Hub, Tegan has a passion for equality and tenacity to ensure newcomers, those experiencing poverty, the LGBTQ community and people of visible minority are treated equally. She wants to see more women in the bike shop, developing the skills and confidence to occupy more space in such a male-dominated industry, through programs like the weekly Women's Only shop time which help members and staff who identify as women, while providing an opportunity for male members to learn more about gender issues.
Kim Muskratt
Kim is a member of Hiawatha First Nation, Mississauga's of Rice Lake. She sits with the Turtle Clan and is a life giver, water walker, medicine Kwe, traditional dancer, hand drum singer and Grandmother. As a knowledge keeper, she has dedicated her life to learning and passing on her teachings and experiences to the youth. She has spoken many times to children about medicines and their meanings to First Nations people. She teaches Porcupine Quill work, and created a book for Parks Canada on the cultural significance and importance of Wild Rice. She has dedicated her life to bridge the lack of knowledge and understanding between native and non-native people.
Trish O'Connor
For over 10 years Trish has been with the Office of Sustainability at Fleming College where through her leadership the College has been designated a STARS Silver recipient under the Association for the Advancement of Sustainability in Higher Education. She was instrumental in having the Peterborough-Kawartha-Haliburton region recognized as a Regional Centre of Excellence on Education for Sustainable Development by the United Nations University endorsed by UNESCO. She encourages staff and students to find new ways to be sustainable and constantly looks for ways to improve the existing systems.
Pat Peeling
Pat has been helping entrepreneurs in the community for close to 20 years. She is one of the original players at Community Futures Peterborough and she has helped many businesses by digging deep and understanding her client's business on an intimate level. She is known as the Queen of Community Futures because of her knowledge, skill, wisdom and warm personality. She consistently gives to the business community with little recognition – she is very humble and selfless in an industry that focuses on business success.
Lori Richey
Lori is a force of nature when it comes to her convictions and commitment to patients and our community. As the Executive Director of Peterborough's Family Health Team, She sits on committees throughout our community addressing issues of
poverty and social determinants of health, improving access to healthcare, improving care for seniors, homelessness, improving care for children and youth, addressing the Opioid crisis. She championed a Trans Care Clinic. She took intensive online Indigenous training and has ensured that all her staff take the same training. Outside of work, she is a dedicated "Big Sister" to an adolescent girl. In everything she does, Lori leads with love, authenticity, compassion, humility, strong ethical principles, and a great sense of humour.
Mary Smith
Mary has served in local politics since 1997 but her community leadership began well before her official political career. Mary is one of the founders of the Children's Stage Lakefield, has served on School Parent Councils, fundraised for numerous community projects and is a founding member of the Lakefield Environment Action Forum (LEAF). She has been involved in the preservation of local history, the development of local trails and affordable housing projects. Mary is forward thinking and considers how decisions made today will impact future generations. She is truly a community leader.
Natalie Stephenson
Since moving from Toronto to Trent University, Natalie has deeply connected to Peterborough and decided to raise her family here. She is passionate about community, the environment, and social justice and has quietly volunteered the majority of her time to spearhead valuable initiatives such as the community garden program, the monthly Hungry Herbivores potluck, and Peterborough's new VegFest. She is indispensable for those who wish to learn about adopting a locally and plant-based diet. At the Sapphire Room where she works evenings, she lends a compassionate and sympathetic ear as an ally and friend to many who have no other means of support.
Julie Stoneberg
Rev. Julie Stoneberg is the Minister for the Unitarian Fellowship of Peterborough. She brings a warm, gentle yet persistent passion to her work. She has done much to foster diversity and inter-faith understanding – she was on the mobilization team for the Love Lives Here Solidarity Weekend and helped craft its United Statement which was signed by hundreds of organizations and individuals. She organized the Many Windows One Light event in October 2017 that brought together Peterborough's many faiths to celebrate and learn from each other. She volunteers with Hospice Peterborough, and attends many local community justice events.
Sarah Susnar
Sarah is the small business owner of Play Café Peterborough where she offers a welcoming and exciting space full of age-appropriate activities for active children. She is always looking for ways to help out the local community and provide support to moms and their families. She is a great entrepreneur, provides much needed valuable community service and is a great community leader.
Jeannine Taylor
Jeannine has demonstrated strong and enduring leadership both as a female entrepreneur and in her service to the community. Jeannine founded quidnovis.com in 1996, the first online magazine in Peterborough-Kawartha. The not-for-profit website quickly became a valuable resource for community information and events. In 2009 she transformed it into a revenue generating media company and rebranded the site as Kawartha Now, and through the business supports numerous arts, music and community organizations. As a volunteer, Jeannine chaired the development of Millennium Park, she has served on numerous boards and committees and has organized and promoted fundraising events such as the Love for Lydia concert. She is an outstanding role model for young women.
Rose Terry
Rose has been strongly involved with the Peterborough entrepreneur community. She has helped create many jobs and success stories within Peterborough-Kawartha through Innovative Cluster. She is also a founding member of 100 Women Peterborough, a non-profit organization that donates $10,000 to a deserving cause four times a year. She is an inspiration and mentor to many budding entrepreneurs in this community.
Diane Therrien
A dynamic citizen and activist in Peterborough, Diane has taken on many roles: social worker, city councillor, community and minority rights activist. From facilitator of community education and engagement with the Peterborough Poverty Reduction Network to policy advisor with the Ministry of Aboriginal Affairs in Toronto, to her work with Peterborough City Council, Diane lives a life of exemplary dedication to public service, to social activism and justice issues, and the well-being of her fellow beings.
Audrey von Bogen
Audrey has been a strong community advocate for many years. Her engagement within the community has been extensive and continues to this day including numerous volunteer roles including: President of the Beautiful Buckhorn Foundation, Volunteer and Board member of the Buckhorn District Tourist Association, Buckhorn Community Centre, Community Care Harvey, Buckhorn Regional Health Centre. She served as a ward councillor in the former Municipality of Galway, Cavendish and Harvey. Audrey is currently the owner of Shambhala Bed and Breakfast in Buckhorn.
Emily Warren
A woman who shows compassion, kindness and is shaping our world's future every single day. Emily operates an outstanding Nature Based Early Learning Program which provides a unique approach to childcare, while enabling parents to work flexible hours. She also runs low and no-cost children's music programs, mentors local youth, led a refugee settlement team, and presents to other educators and advocates for quality early learning. She is a truly remarkable individual who always puts children and their families first.
Marie Windover
Ever so quietly, this unassuming lady has preserved the heritage of Galway-Cavendish in a most meticulous manner. For over 30 years, Marie has been collecting artifacts from the area, and provides public access to historical photos, articles and artifacts at the Rockcroft schoolhouse museum that she manages on her own property. She is a key member of the Trent Lakes Historical Society and is interested in both the indigenous history and natural history of the region. She supports local efforts to better evaluate the environmental effects of proposed quarries and ensure public access to Kawartha Highlands Provincial Park.
Tammy Yakely
Tammy has demonstrated her caring commitment to her family despite many challenges. When her husband suffered a severe stroke several months after their daughter was born, Tammy looked after both members of her family, while keeping a job as a personal support worker. In addition, she helped her husband with their horse training and boarding facility, throughout that time, and has been "the rock" for her husband over the past 6 years.
Kim Zippel
A fierce advocate and activist in the Peterborough community, Kim has spent the better part of the last decades working tireless hours to protect our natural heritage. She is co-founder and chair of the Harper Park Stewardship Initiative, which raises awareness of the issues that threaten the health of the park's wetland and creek. She is on the Board of the Peterborough Field Naturalists, among other charities and community groups. She has volunteered for the Peterborough Regional Science Fair and is a member of the Rotary Club of Peterborough. Kim has a track record of bringing together interests of the private and public sectors to address community concerns, and she demonstrates incredible leadership in all her hard work.