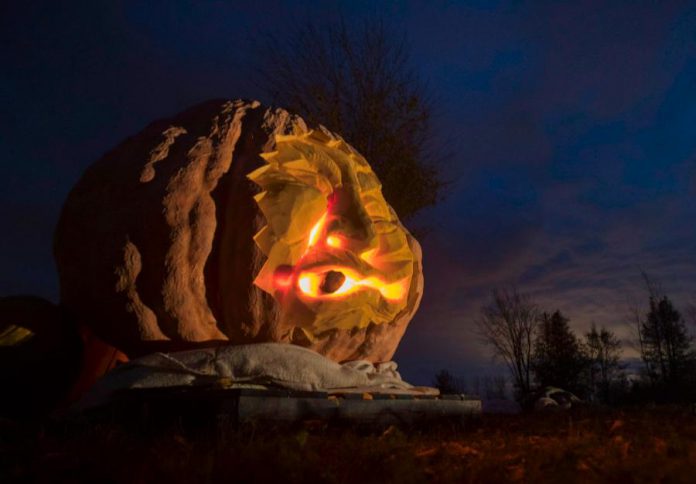 A record-breaking pumpkin grown by Cameron farmers Phil and Jane Hunt is now a record-breaking jack-o'-lantern.
The 1,959-pound pumpkin — the largest in Canada — is on display in the couple's front yard, on Highway 35 north of Lindsay.
The Hunts had their neighbour, chef-turned-carver Andrew Munro, turn the pumpkin into a jack-o'-lantern for Halloween.
The Hunt family has been growing giant pumpkins since 1992, and also held the Canadian record in 2009 for a 1,678-pound pumpkin.
They entered their latest pumpkin, which was grown from a seed planted in April, at the Woodbridge Fall Fair over the Thanksgiving weekend. It captured the record from the aptly named Giant Vegetable Growers of Ontario.
The Holy Grail of giant pumpkin growers in Canada is to reach 2,000 pounds. While a 2,225-pound pumpkin was grown this year in Calgary, Alberta, it was disqualified from official competition because it contained a hole.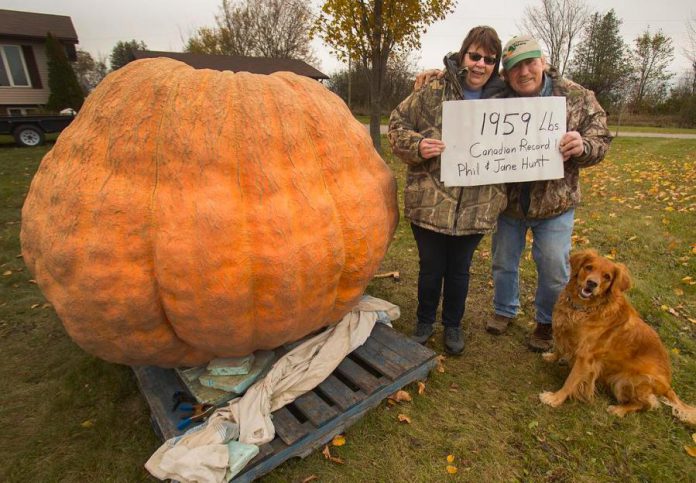 The largest pumpkin ever recorded in North America, grown by Steve Geddes in New Hampshire, weighed 2,528 pounds. The largest pumpkin ever recorded in the world was grown by Mathias Willemijns in Belgium in 2016, and weighed in at 2,624 pounds.
As for Canada's record-breaking pumpkin, the Hunts encourage people to stop by their home on Highway 35 near Cameron and take their picture with the jack-o'-lantern.
It will remain on display for a couple of weeks, before being cut up and fed to a neighbour's sheep.