---
Awards Of Excellence Recipients
The Chamber presented its Awards of Excellence last Thursday, November 8th at Lakefield College School. Chamber Board President, Tonya Kraan of Strexer Harrop & Associates, congratulated the recipients as well as all those who were nominated.
With over 80 nominations, there was a lot to celebrate. Read more about the finalists and recipients on kawarthachamber.ca.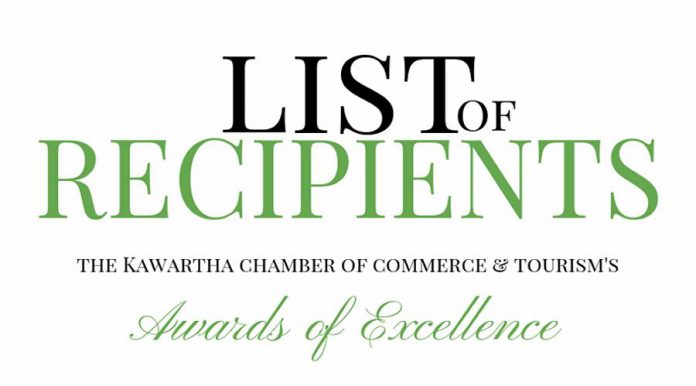 Citizen of the Year (sponsored by RBC)
Recipient: Cindy Windover, Windover Plumbing
Commercial Development or Renovation (sponsored by BALL Real Estate Inc., Brokerage)
Recipient: Jack's Lake Lodge Cottage Rentals
Lock Stop Café
The Cozy Home
The Regency of Lakefield
Customer Service Excellence (sponsored by CIBC)
Recipient: Logan Tree Experts
Happenstance Books & Yarns
The Regency of Lakefield
Village Pet Food & Supply
Entrepreneur Innovation (sponsored by Gastles Registered Patent Agents)
Recipient: Vetterview
kawarthaNOW.com
Molly's Acres
Thirteen Moons Wellness
Lifetime Achievement Award (sponsored by ISL Insurance Brokers)
Recipient: Audrey Von Bogen
Not-For-Profit Excellence (sponsored by Darling Insurance)
Recipient: Peterborough Humane Society
Community Care
Cuddles for Cancer
Outstanding Business Achievement (sponsored by County of Peterborough)
Recipient: Lakefield Foodland
Nightingale
Salon Sorella & Day Spa
Retailer of the Year (sponsored by Nexicom)
Recipient: Trinkets & Treasures
Happenstance Books & Yarns
Style Boutique
Service Sector Excellence (sponsored by Herod Financial Services)
Recipient: The Regency of Lakefield
Kawartha Lakes Construction
Lakefield Herald
Tourism/Hospitality Excellence (sponsored by Peterborough & the Kawarthas Economic Development)
Recipient: Lang Pioneer Village Museum
Greenbridge Celtic Folk Festival
Indian River Reptile Zoo
Young Professional Award (sponsored by Community Futures Peterborough)
Recipient: Emily Wilkins, Adventure Outfitters
Thanks To Elmhirst's Resort
The Chamber thanks Elmhirst's Resort for donating the Sunday Brunch & Flight Package to the Awards of Excellence & Social Gala last week.
Weed And The Workplace Information Session – November 19th
Register now! Space is limited. Cut off for registration is this Friday, November 16th at 9 a.m.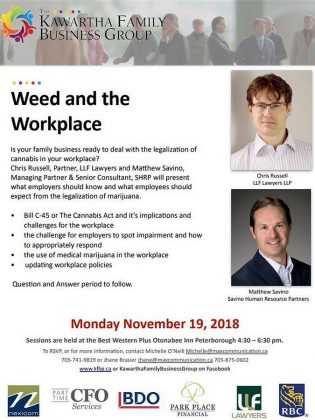 The Chamber is partnering with the Kawartha Family Business Group on its Weed and the Workplace Information Session taking place on Monday, November 19th from 4:30 to 6:30 p.m. at Best Western Plus Otonabee Inn in Peterborough.
Tickets are $15. Please note: this ticket price is only available to Kawartha Chamber members.
Chris Russell, Partner at LLF Lawyers & Matthew Savino, Managing Partner & Senior Consultant at Savino Human Resources Partners will discuss:
What employers should know & what employees should expect
Bill C-45 and its implications & challenges for the workplace
The challenge for employers to spot impairment and how to appropriately respond
The use of medical marijuana in the workplace
Updating workplace policies
A Q&A period will follow.
Unauthorized Phone Calls From Peninsula
It has come to the Chamber's attention that some of Chamber members have received a HR Services phone call without the Chamber's permission.
This unauthorized communication was not from Chamber member Savino Human Resources Partners (SHRP), but rather from an out-of-area provider who is not a member of the Chamber.
The company contacting Chamber members is Peninsula, which is an affinity program through the Ontario Chamber of Commerce. The Chamber does not have a partnership with this organization locally.
Please note: The Kawartha Chamber has not given this organization permission to contact members on the Chamber's behalf.
If you have any further questions or concerns, please don't hesitate to contact the Chamber.
Welcome New Member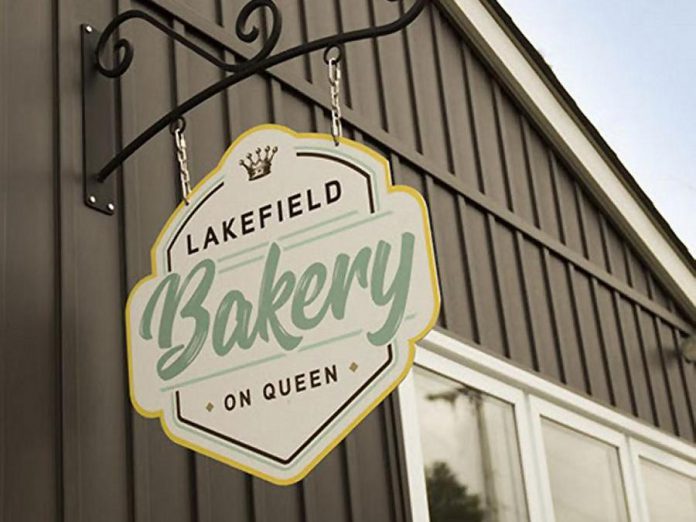 Lakefield Bakery on Queen
127 Queen St., 705-651-2253, www.lakefieldbakery.com
The Lakefield Bakery on Queen opened its doors on July 27, 2018. It has been busy, and owner Theresa is pleased with how supportive the community has been.
The Lakefield Bakery on Queen is a small town bakeshop with all the favourites plus some additional items that have been part of Theresa's European heritage.
There's no better place to get delicious coffee with our alliance to pilot coffee roasters, great baked goods made on site and newly added lunches to go.
Wait until next Spring & enjoy the new outdoor seating area.
The Chamber Was Represented At Several Remembrance Day Ceremonies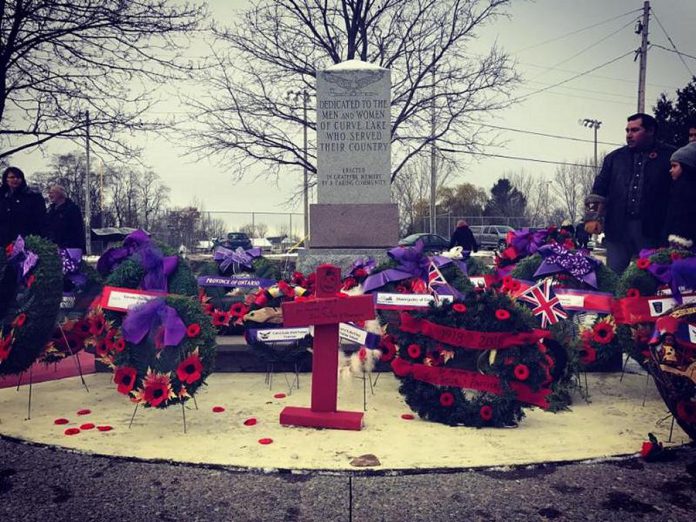 The Chamber participated in Remembrance Day ceremonies in Buckhorn, Bridgenorth, Curve Lake, Warsaw, Apsley and Lakefield this year.
The Chamber thanks those who laid wreaths on the Chamber's behalf:
Lynn Woodcroft, Lynn Woodcroft, Sales Representative, Royal LePage Frank Real Estate
Tonya Kraan, Strexer Harrop & Associates
Erin McLean, McLean & Buckhorn Berry Farms
Roberta Herod, Herod Financial Services
Jessica Tucker, Shoreline Furniture Co
Penny Wilson, The Cozy Home
5 Minutes for Business – Mentally Healthy Workplaces: The Best Investment Your Business Can Make
Article By The Canadian Chamber Of Commerce
Every week, nearly 500,000 Canadians miss work due to mental health problems or illnesses, costing the economy in excess of $51-billion annually. In order to remain competitive, businesses need to focus inwards and begin investing in and improving how they navigate mental health in their workplace.
With most adults spending more of their waking hours at work and with one in five Canadians experiencing a mental health problem or illness, addressing the issue of mental health at work is vitally important for all people in Canada- especially employers. Mentally healthy work forces perform better and create opportunities that allow for inclusive growth for all sections of society.
One Stop Christmas Shop – November 17th
The One Stop Christmas Shop is taking place this Saturday, November 17th from 10 a.m. to 2 p.m. at the Royal Canadian Legion Branch 77 in Lakefield.
Shop for holiday gifts from local vendors. Non-perishable food donations at admission welcome; all donations support the Lakefield Food Bank.
Lakefield Santa Claus Parade – November 18th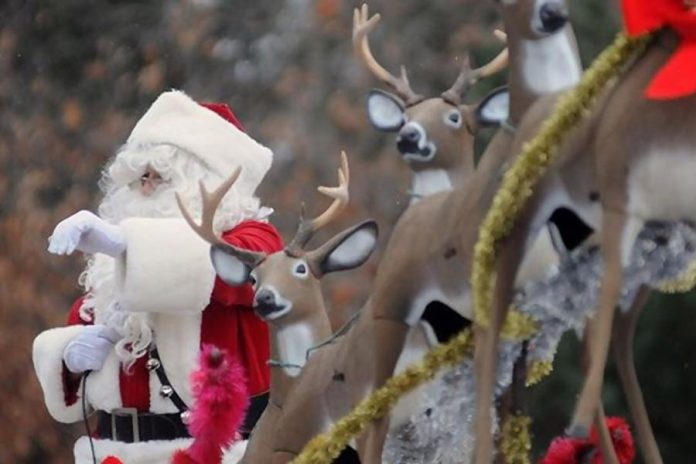 The Lakefield Lions Club is holding its Lakefield Santa Claus Parade this Sunday, November 18th from 1 to 3 p.m. in Lakefield.
After the parade, stop by the Lakefield Legion to meet Santa and enjoy some treats. Registration will take place at the Lakefield Legion from 12 to 12:45 p.m.
The Warsaw and Apsley Santa Claus Parades are coming up November 24th. Stay tuned for details in next week's NewsFlash.
Curve Lake Annual Christmas Craft Sale – November 18th
Join Curve Lake First Nation this Sunday, November 18th for their annual Curve Lake Christmas Craft Sale. It's taking place from 10 a.m. to 4 p.m. at the Curve Lake Community Centre.
There will be Christmas homemade crafts, baked goods, jewelry, and more. Admission is $3 per person. Half of funds raised will be going to the Curve Lake First Nation Food Bank.
Santa Claus & Live Reindeer At Village Dental Centre – November 23rd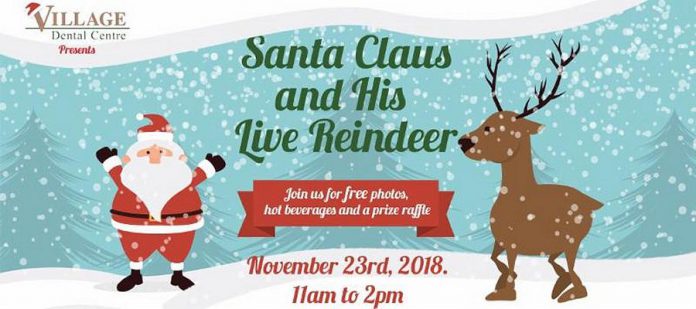 Stop by Village Dental Centre in Lakefield on Friday, November 23rd to see Santa Claus and his live reindeer. The event takes place form 11 a.m. to 2 p.m.
Enjoy free photos with Santa and Comet, cookies, hot chocolate, and live music.
Village Dental Centre elves will also be raffling off prizes and giving out goodie bags.
Christmas At The Marshland Centre – November 17th and 18th
Christmas at the Marshland Centre is taking place this Saturday and Sunday, November 17th and 18th.
The Marshland Centre will be decked out for Lakefield's 13th Annual Christmas Artisan show and sale.
A Village tradition, the show features works by local and regional artisans.
You'll find original handcrafted items including pottery, gourd art, jewellery, metal sculptures, textiles, paper art, wood turning, herbal products, jams, jellies, honey, and much more.
Ladies Night At Selwyn Outreach Centre – November 23rd
Save the date! Selwyn Outreach Centre is hosting its Ladies Night, "Let's Talk: What the Gluten" on Friday, November 23rd at 7 p.m.
There will be great food, awesome draw prizes, and even better company. The event features naturopath Dr. Uwaya Erdmann, a live food demo by Jericho MacInnis, and Lakefield store Sweet Competition.
Admission is $5.
Upcoming Events
Apsley Santa Claus Parade and Celebrations – November 24th
Warsaw Santa Claus Parade – November 24th
8th Annual Buckhorn Holiday Home Tour – November 25th
Lakefield Christmas in the Village Holiday Home Tour – November 30th – December 2nd
For more information about the businesses and events listed above, please visit the Kawartha Chamber of Commerce & Tourism website at kawarthachamber.ca.
All photos supplied by Kawartha Chamber of Commerce except where noted.