Support for a safe and inclusive Peterborough community is being crafted one stitch at a time with the first-ever Community Knots Stitch-A-Thon in support of the United Way of Peterborough and District and the the Kawartha Sexual Assault Centre (KSAC).
Happening at Bennett's Home Furnishings from 10 a.m. to 2 p.m. on Saturday, December 1st, members of the crafting community — knitters, chrocheters, rug hookers, felters, embroiders — are invited to fill 100 chairs in the Lazy Boy showroom while creating support for survivors of sexual violence and trauma.
Organized by KSAC with support from Peterborough's own Needles in the Hay boutique, the event is set to raise awareness, much-needed funds, and a collection of hand-crafted hats, scarves, and mittens for those being supported by local shelters — while bringing together a supportive community of crafters and artisans.
Needles in the Hay owner Deanna Guttman knows just how meditative, therapeutic, and healing it can be to stitch.
Her shop supports a community of enthusiasts and artists who knit, crochet, weave, and felt and she is thrilled to partner with Kawartha Sexual Assault Centre on the event.
"Needlecraft is primarily a female endeavour and it's great to be involved, as a feminist, in such a women-led industry," Guttman says. "I know the centre uses this as a tool for mindfulness and so when (KSAC interim executive director) Lisa Clarke popped-in to the store and pitched me, it was a great opportunity."
Guttman says knitters tend to work in groups so whole clubs are welcome at the December 1st event, but she stresses that individuals and solo makers are also welcome to fill one of the chairs at Bennett's Home Furnishings.
"I've always got a number of projects on the go, so I'll be working on those at the event," Guttman says, stressing that there is no pressure to complete a certain item or project during the day of the event.
She explains the stitch-a-thon is about bringing people together, allowing for interaction, and sharing a love of arts and crafts.
"This is going to be about gathering more than it is about getting something done," Gutmann says.
"Some people knit constantly, and they might be able to finish a hat at the event. I knit less now, after buying the store — go figure — but I've got a number of projects on the go, so that's what I'll be working on."
Participants are asked to pay a $25 fee or, in lieu of the fee, to collect sponsorships for three hand-crafted projects that will be donated to local shelters. Hats, mittens, and scarves are all welcome.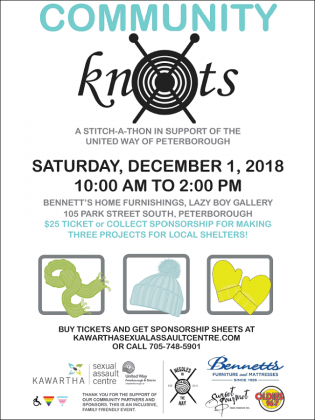 Guttman hopes that the event will be well attended and that it will be one more opportunity for people to understand the healing nature of needlecraft.
Already offered as a free weekly workshop by the Kawartha Sexual Assault Centre, "Purls of Wisdom" is a multi-generational knitting circle that involves older women who have been trained by the centre to provide mentorship, leadership, and wisdom to young people who have experienced trauma.
The intergenerational knitting circle offers valuable skills and strategies that assist young people with managing stress and anxiety, and Guttman says she's really happy that the healing power of knitting is being shared in the community.
KSAC interim executive director Lisa Clarke agrees.
"Often, with the survivors of sexual violence we work with, we explore grounding and mindfulness techniques," Clarke says. "One of the most creative of those is stitching — whether its knitting, crocheting, quilting or even needle felting."
Clarke says the centre is grateful for the ongoing support of the United Way of Peterborough and District and everyone is looking forward to raising funds and awareness in this unique way.
"We thought, let's all gather together, in those amazing Lazy Boy Chairs at Bennett's Home Furnishings, and stitch, share, and celebrate together with the master knitters from Needles in the Hay," she says.
The Community Knots Stitch-A-Thon is open to everyone and, besides offering a chance to connect with other caring crafters while enjoying the beautiful decor at Bennett's Home Furnishings, participants will be able to enjoy food supplied by Sunset Gourmet.
Tickets to participate in the event are $25, available in advance online at eventbrite.ca or at the door on the day of the event.
To waive the fee, get sponsored to make three projects for local shelters and bring your projects with your completed sponsorship forms to the event (forms can be downloaded at www.kawarthasexualassaultcentre.com).
At the event, there will be prizes for the top sponsor, most projects made for donation, and door prizes.
Kawartha Sexual Assault Centre (150 King St., 3rd Floor, Peterborough) is a not-for-profit charitable organization dedicated to supporting those affected by sexual violence. In Peterborough, the centre offers individual counselling, group counselling and workshops, peer supports, public education, and professional training. For more information, visit www.kawarthasexualassaultcentre.com. If you are experiencing a crisis, call the 24-hour toll-free support line at 1-866-298-7778.