From Tuesday, November 27th to Saturday, December 1st, the students of Lakefield College School, under the direction of Geoff and Rachel Bemrose, present the musical Mamma Mia! at the Bryan Jones Theatre in Lakefield.
Lakefield College School is one of the first groups to acquire the recently released rights to perform this musical theatre favourite that features the songs of the 1970s Swedish pop supergroup Abba, making this a very special entry into Lakefield College School's roster of well-produced musicals.
The history of Mamma Mia! goes back to 1984, when Abba's Björn Ulvaeus and Benny Andersson met producer Judy Craymer while collaborating with Tim Rice on the musical Chess. Having parted ways with Agnetha Fältskog and Anni-Frid Lyngstad two years earlier, thus dissolving Abba, Benny and Bjorn were looking for new horizons and Judy was convinced the music of Abba had a dramatic power that could become a stage musical all its own. Although Benny and Bjorn were slow to convince, they eventually gave Judy the green light for a musical project.
Judy hired Catherine Johnston to write the book for the show, and Mamma Mia! opened in London's West End at the Prince Edward Theater in April 1999. Although it has changed theatres a number of times, the show continues to run today making it one of Britain's longest-running musicals. The musical made its North American debut in Toronto in 2000, where it had a five-year hit run at the Royal Alexander Theatre. Mamma Mia! had a hard time transitioning to the US market, with brief runs in San Francisco, Los Angeles. and Chicago before premiering on Broadway at The Winter Garden in 2001, where it found its audience and ran for 15 years and over 5.000 performances.
In 2008, the original theatrical production team alongside producer Tom Hanks successfully brought Mamma Mia! to the big screen starring Meryl Streep, Colin Firth, and Pierce Brosnan, further popularizing the production far beyond the stage (and leading to the 2017 sequel Mamma Mia! Here We Go Again). While Mamma Mia! has surprisingly never been won any major theatrical awards, the show has become a beloved favourite acquiring a cult following, popularizing the "jukebox musical" genre, and creating a second wave of Abbamania.
Mamma Mia! tells the story of Donna Sheridan (played by Catherine Kim in the Lakefield College School production), whose romantic entanglements from 20 years ago catch up with her when her daughter Sophie (Kate Bemrose) searches for the identity of her father on the eve of her wedding. Part of a pop trio in her youth, Donna gave up music when she got pregnant with Sophie while on tour in the Greek Islands in 1979. Settling down and creating her own successful holiday resort on the remote island paradise of Kalokari, Donna is a strong-willed business woman and mother who never looked for assistance from Sophie's father.
In fact, Donna isn't even sure who Sophie's father is. Is he American architect Sam Carmichael (Liam Davidson)? The rugged writer and explorer Bill Austin (Zachary Chiagozie)? Or punk rocker turned British banker Harry Bright (Liam Cole)? Stealing her mother's diary so that she might find out the identity of her father so he can walk her down the aisle, Sophie locates and invites all three men to her wedding. Now, as the island resort explodes with excitement of wedding celebrations, Donna's past comes crashing down on her as old romantic wounds are reopened, secrets are revealed, and the definition of family is redefined.
There is no denying the popularity of Abba and Mamma Mia!, which is a guaranteed hit with any audience. Geoff Bemrose revealed to me that he and co-director Rachel had been waiting for the rights of this show to come up for 15 years and Lakefield College School is one of the first amateur companies to put on the show. With a team of 47 students (34 cast members and 13 crew) and five teachers working on the show for the past three months, Mamma Mia! is a true passion project for the school.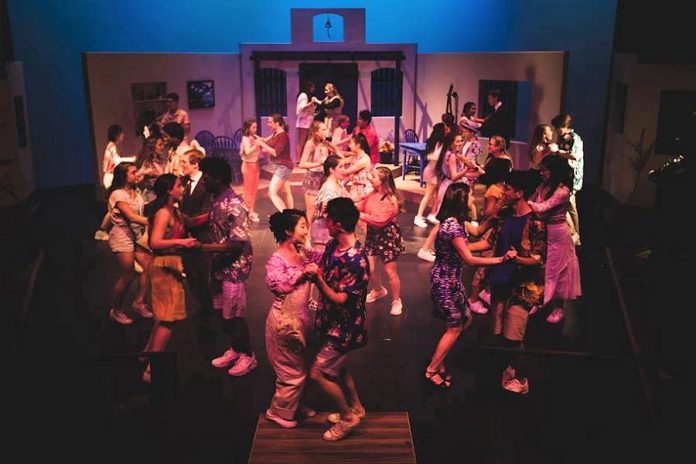 One of the challenges in having this show performed by a very young company is that it has some very adult themes. As a result, the cast needs to find a fine balance between youthful energy and emotional maturity to make it work. As both theatrical professionals and respected educators, Geoff and Rachel and their team find that balance in their performers, and lead them in a fun — and sometimes provocative — musical journey through romance and Swedish pop.
Mamma Mia! becomes a showcase for the huge talent of Catherine Kim in the leading role of Donna Sheridan. Catherine first caught my attention in her small but mighty role of reporter Gloria Thorpe in Lakefield College School's production of Damn Yankees last year. I described her as being a "spitfire" for her dancing and singing abilities.
Well, that performance was just the tip of the iceberg because Catherine proves herself to be a massive powerhouse in Mamma Mia! with her ability to dominate the stage, hit all the notes in her big musical numbers, and display a tremendous emotional maturity that allows her to transcend from student to middle-aged single mother.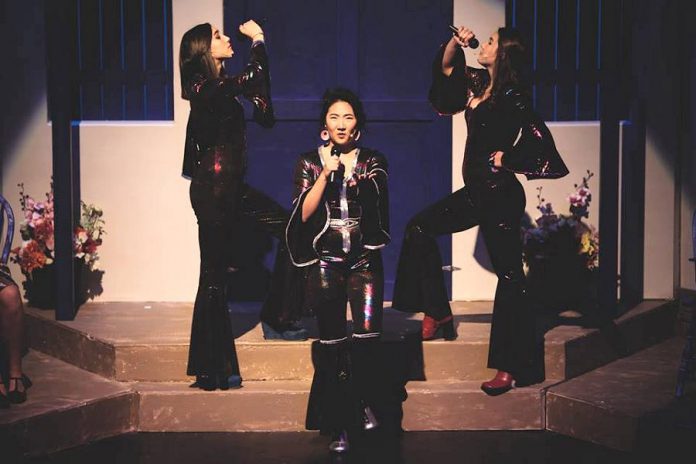 Whether belting out fun pop numbers such as "Mamma Mia", "Money Money Money" and "Super Trouper", or emotional ballads such as "One of Us", or her standout musical moment of the show "The Winner Takes It All", Catherine proves herself to be one of the most impressive new musical theatre performers I have seen this year.
Catherine Kim musical superstar written all over her, and I can see a very big future for her in performance arts if she continues in that direction. If there's one reason to see this production, it's to take a first look at this emerging actress before she goes on to bigger roles on much bigger stages.
Although I have been aware of Kate Bemrose (who plays Sophie) for a number of years, Mamma Mia! is the first time I have seen this charming young performer in an acting role. Kate has a very unique and unconventional vocal style that doesn't fit the traditional stage musical mold, but had me enchanted. Very gentle and fragile, with just a hint of vibrato, Kate's voice is more in the line of Zooey Deschanel or Grace Vanderwall than Patti Lupone or Sarah Brightman, giving it that slightly unique flavour that stands out from other vocal artists.
From her opening lines in "I Have a Dream", Kate exudes youthful optimism and a sense of romanticism, adding a layer of charm to the production. I don't know if musical performance is something that Kate plans to pursue, but I know that I'd be interested in her potential as a singer beyond stage musicals.
I was very impressed with the casting of the three leading men in the show. For the three potential fathers, the production team chose three young men who couldn't be more different from one another, and each maintaining their own sense of originality and charm. Liam Davidson, as Sam, has a sense of brash romanticism and real world sensibility; Zachary Chiagozie as Bill Austin is cool and worldly; and Liam Cole as Harry Bright is quirky and eccentric.
Each of the boys give his own outstanding musical performances, albeit it in the form of duets. Liam Davidson, who also has an unconventional yet powerful voice, gives a standout performance with Kate Bemrose with "The Name of the Game". Liam Cole and Catherine Kim paint a charming picture of days gone by with "Our Last Summer" (I may be a bit biased because that is my favourite Abba song).
Unfortunately, despite his great voice, Zachary doesn't get very much vocal spotlight. However, he does have a great duet in the second act with supporting player Sierra Gibb with "Take a Chance on Me". But watch Zachery closely in some of the big group numbers: he has some pretty killer dance moves when he lets loose.
I also want to give a shout-out to Sierra Gibb and Valentina Boren who play supporting roles as Donna's former musical partners Rosie and Tanya. Armed with some of the funniest lines, they not only back up Catherine in some of the production numbers, but they provide an interesting vocal blend when they sing together on "Chiquita" and "Dancing Queen". They also have their own outstanding moments, with Sierra's above-mentioned "Take a Chance on Me", and Valentina's "Does Your Mother Know". Performing in two fun character roles, Sierra and Valentina add a sense of spice to the show.
Beyond the story and the musical performances, the real strength of Lakefield College School's production of Mamma Mia! lies in the giant production numbers choreographed by Rachel Bemrose. Rachel is one of the finest dance instructors in the area, and her big numbers are always the best of the best. Mamma Mia! is no exception to this. The big moments of the show are always when the entire cast is on stage: the more singers and dancers Rachel can pack into a number, the bigger and more electric it's going to be.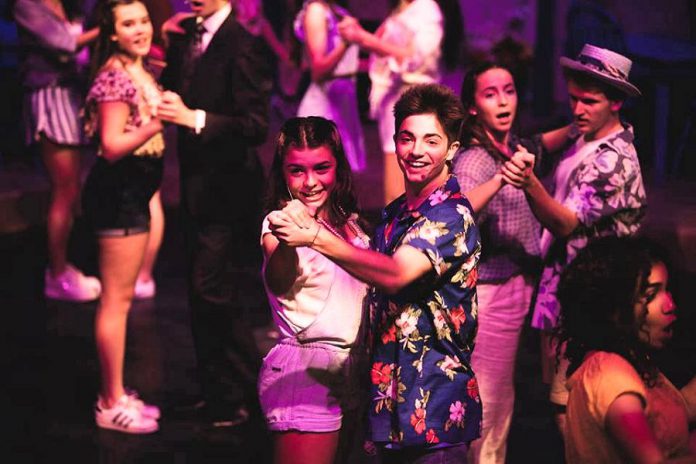 Production numbers like "Money Money Money", "Gimme Gimme Gimme", "Voulez Vous", "Under Attack", and "I Do I Do I Do" are very impressive. And only Rachel Bemrose could choreograph the male chorus of the show — led by Romano Watt as Sky, Alex Forde as Pepper, and Eric Xia as Eddie — in a number featuring them dancing in flippers while singing "Lay All Your Love on Me".
At the preview performance I attended, the final post-curtain call finale was the rousing highlight of the show. As the cast assembled one more time for another trio of Abba favourites, the audience rose from their chairs, clapped, sang, and hollered while the Lakefield College School company exploded one last time on the stage.
Mamma Mia! is always going to be a crowd pleaser, as the entire world seems to be in love with the music of Abba. But the staff at Lakefield College School have really created something special in their arts program, and their theatrical productions are truly special.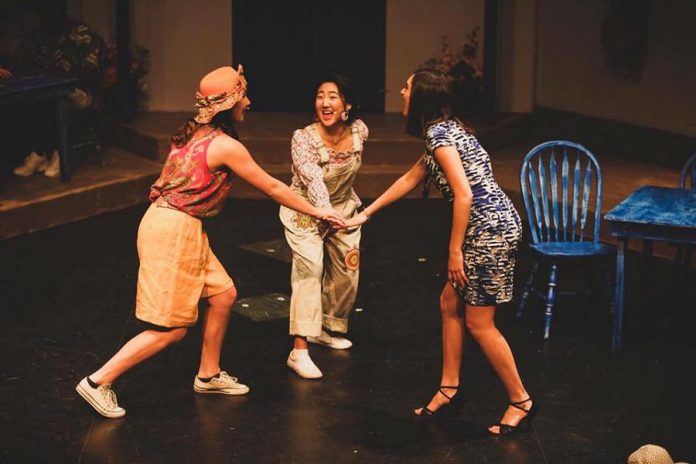 They not only provide a safe and positive space for young performers to flex their creative muscles, but become an arena for young talent to shine in the spotlight. Even more extraordinary, their productions are always free to the public. It doesn't get much better than that.
Editor's note: All five performances of Mamma Mia! at the Bryan Jones Theatre are sold out.