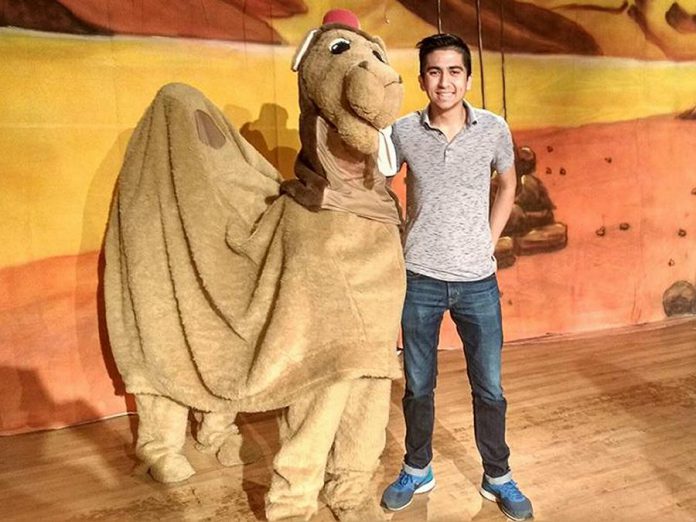 Pantomime (noun) – a theatrical entertainment, mainly for children, that involves music, topical jokes, and slapstick comedy and is based on a fairy tale or nursery story, usually produced around Christmas.
"Someone lift the camel's head! It looks like she had a stroke," yells Sarah Quick at two performers in a floppy-headed camel costume on the Lakeview Arts Barn stage.
The theatre audience, comprised mostly of children, bursts out in high-spirited laughter.
This is the high type of energetic fun brought to Globus Theatre's annual Christmas pantomime. A holiday tradition for the last 13 years, this year Globus Theatre, under the direction of Sarah Quick and James Barrett, is presenting Sarah's original production of Ali Baba and the Forty Thieves. Opening on Friday, December 7th, the pantomime stars Toronto-based performers Armon Ghaeinizadeh as Ali Baba and Siobhan O'Malley as Princess Fortunia, with Sarah as the villainous Kai Ote and James as Dame Fatina, alongside a rotating cast of 50 children and six adult performers.
Sarah has been working with a huge group of children for six weeks; organizing the performers, who are separated into two different casts so that the most number of children can have the opportunity to experience acting, has been a massive undertaking. I am impressed how Sarah — despite dealing with a wide age range of actors, from elementary school age kids all the way to performers in their early teens — manages to keep everyone focused and engaged through the fast-paced rehearsal.
James and Sarah have welcomed families, as well as school audiences, back year after year in an annual performance that has become a tradition for many families in the Kawarthas. With Ali Baba and the Forty Thieves being the third pantomime I've seen at Globus, it has also become an unlikely yearly tradition for me. I thought I didn't like pantomimes, until Sarah and James challenged me to attend their 2016 pantomime based on Little Red Riding Hood — which I found, much to my surprise, delightful. I allowed myself to fall under the magic of the performance, and became as involved as the kids.
First performed in 2009, Ali Baba and the Forty Thieves is a revival of Sarah's original take on the classic Middle Eastern folk tale from the Arabian Nights. What seems like an unusual choice for a Christmas pantomime is in fact, according to Sarah, a traditional one in England, from where she originates.
"It might seem unusual in Canada, but in Britain it's one of the ones that gets done all the time," she explains. "I don't know why. It's just one of those old stories. Although we are doing it again, it's not exactly the same show. We have more kids now, and I write more topical jokes, but there was a camel then, and there is a camel now."
The camel that Sarah speaks of is one of the highlights of the show, and even the performers are excited to see the two-piece camel prop come out. Complete with a fez placed on her head, Alice the Camel was created in 2009 by Victoria Schilling who went on to design costumes for Stratford.
Taking time out during a brief break from rehearsal, I quickly get some photos with the camel and get to have a visit with this year's lead, Armon Ghaeinizadeh. A recent graduate of the University of Toronto's theatre program, Armon made his Stratford debut at age 11 in South Pacific, and has gone one to act, direct, and choreograph productions throughout Toronto including a one-man show, Lemon Lemon, in August 2018.
After finding out about Ali Baba and the Forty Thieves from his friend Katherine Cappellacci, who played the title character in Globus' Snow White pantomime last year, Armon is performing for the first time in the Kawarthas.
"This is my first pantomime," Armon reveals. "When an opportunity comes knocking at your door, you just answer it. When Katherine told me about the audition notice, I ran out (to audition) and here we are."
For Armon, it's also a new experience working with such a large cast of children.
"I've worked with kids before and I've worked as a child performer, so I know what it's like from both sides. But I've never worked with this many kids before. Fifty children is a lot. It's a completely new experience but I'm ready.
"I think it's important to create a love for theatre in the next generation of performers. Things like opera and theatre and ballet are starting to lose the cool factor with the younger generation and, in my experience, it's not as accessible and not targeted to younger audiences.
"So I think it's good to bring in these younger people from within the community and say you can also be on stage and you can also do theatre. That way the younger generation finds a love for theatre and we don't lose this incredible art form."
James Barrett reprises his annual role as this year's dame, one of the most important figures in the traditional British pantomime. This year, James plays Dame Fatima Fandango, the highly vivacious mother of Ali Baba.
"Never until I met Sarah did I think I'd do this every year," James admits. "I had heard of pantomime but I never saw one until we did our first one here. Sarah told me what it was and we just did it.'
In British pantomime, the dame is a female character — often an older matronly woman — portrayed by a male actor in drag.
"In the UK there are many different types of dames," James explains. "(Some actors') whole career is playing dames. The first one we saw was a very sexy drag queen dame in sexy outfits. I could never be that person, but you don't have to be. I've become my own type of dame, and even then there are different characters. But I'm not the singing, dancing person with legs up to my eyes. It's whatever skills that you have."
As Globus Theatre's resident dame, James has taken the traditional role for 13 years, requiring him to create different characters while still maintaining his unique style. James has found his own personal voice when performing as the dame, a character that remains popular with both children and adults.
"The fun of it is that the dame is in charge, and she can take control of anything that goes on the stage," James says. "That, to me, is so much fun. The fact that I can deal with the audience in any manner I see fit is good fun. If someone (in the audience) is answering their phone, I can call them out on it. It's not a regular thing where the play stops, but now they become part of the play."
But as James points out, in our ever-evolving society the dame plays a more important part in the family pantomime now than ever before.
"The dame is not a drag queen, but more of a clown," he points out. "It's not realistic make up. It's exaggerated and highlighted. But there are still kids walking out of the show who think I'm a woman, or are skeptical but don't know for sure."
James explains that the dame appeals to both adults and children for different reasons.
"It's funny for adults because I'm a funny-looking woman," he says. "But for kids I'm just a different-looking person than anybody they've ever known before, and that's okay. They can like them and have fun. In this world I think it's important to just say it's for fun. You can dress up and do what you like and be what you want to be."
One of the things that I think is so winning about the Globus pantomime is that, while it's an over-the-top show for the kids, it's also filled with subtle adult humour providing something for parents to enjoy too. Instead of being cute and patronizing, Sarah has a quality to her writing where the comedy comes from cleverness instead of slapstick.
"It's a style that I've grown up with in England," Sarah reveals. "Even if you watch something like Coronation Street, you see so much panto-esque comedy and writing in that. People getting the wrong end of the stick, and double entendres, and slips of the tongue."
Filled with genuine laughs, charming performances, and a little bit of magic, Globus Theatre's Ali Baba and the Forty Thieves is a holiday family show worth seeing. I was enchanted with the cast at the rehearsal I attended, and I can't wait to go back to Globus for an actual performance.
Christmas at The Lakeview Arts Barn is a beautiful experience, and a perfect destination for your own holiday celebration. It's no wonder that entire families return year after year to the Globus pantomime. Although a new tradition for me, it's one that I plan to continue for years and years to come.
Ali Baba and the Forty Thieves has eight evening and matinee public performances: December 7th and 8th and 14th and 15th at 8 p.m., and December 8th and 9th and 15th and 16th at 2 p.m. A three-course table d'hôte menu is available at 6 p.m. prior to every evening performance.
Theatre-only tickets are $27.50 plus HST for adults and $17.50 plus HST for children (15 and under). Theatre and dinner tickets are $60 plus HST for adults and $40 plus HST for children. For tickets and dinner reservations, call 1-800-304-7897 or 705-738-2037.