Those whose business it is to be creative know full well that inspiration can come from anywhere and everywhere and all points in between.
While attending Humber College, Peterborough native Carley Smale kept up correspondence with her grandmother, exchanging letters with her on a regular basis.
"I asked her to be my pen pal," recalls Smale, 28.
"Even though I've known her my whole life, I was learning new things about her through her letters. I thought the concept of two people writing back and forth and kind of falling in love would be a cute idea."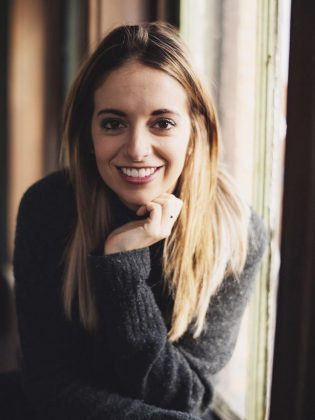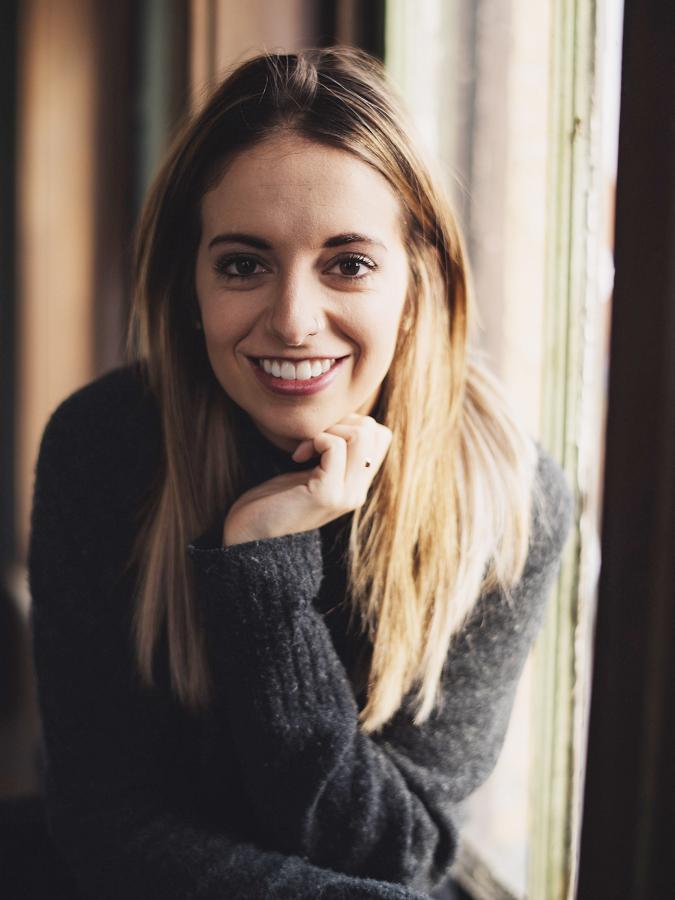 Two years ago, Smale put that "cute idea" on paper, writing the script for Christmas Pen Pals, also inspired by past similarly themed films like The Shop Around The Corner (1940) and You've Got Mail (1998).
There things sat until Lifetime came calling, informing Smale that her script would be produced as a new TV movie. On December 15th, Lifetime will premiere Christmas Pen Pals in the United States with the Canadian premiere following on December 22nd on Super Channel.
Directed by Siobhan Devine and shot on location in Fort Langley, British Columbia, the film stars Sarah Drew (Dr. April Kepner on Grey's Anatomy), Canadian actor Niall Matter (The Predator, Primeval: New World, and Eureka), and Michael Gross, best known for his role as Steven Keaton on the hit comedy sitcom Family Ties (1982-1989).
Following an unexpected breakup weeks before Christmas, Hannah (Drew), a tech wiz and creator of the dating app Perfect One, heads home for the holidays, challenged to save her failing business by re-conceiving a new romantic dating model.
Upon her return, she runs into her high school boyfriend Sam (Matter), who she has carefully avoided for years, and reluctantly makes a deal with her dad Ted (Gross) to sign up for the town's Christmas Cupid, an anonymous holiday pen pal service.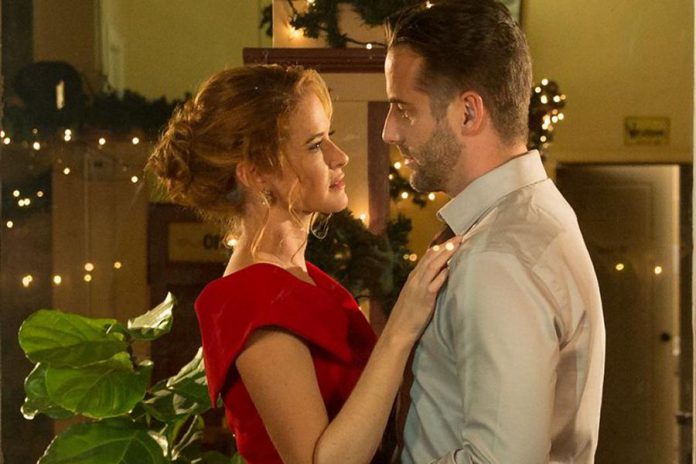 Hannah is smitten by each letter she receives and starts to believe her Christmas pen pal could be her soul mate. It's not until Christmas Eve that everyone must reveal their true identities to their pen pals, even if it means coming face to face with the last person they ever expected.
"When I started writing scripts, I never really thought that they would every actually get made into films," says Smale.
"That has happened quite a few times now but it truly never gets old. I'm always so blown away by it. I'm very grateful because it has been my dream."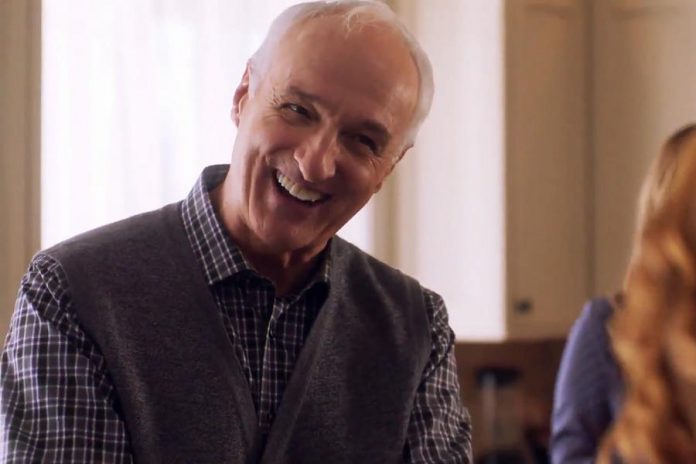 An avid writer and movie fan as a youth, the Crestwood Secondary School graduate moved to Toronto to attend Humber College where she studied film and media. While in college, she interned with a production company that made TV movies. Smale's first produced screenplay, The Christmas Parade, premiered on the Hallmark Channel.
2014 was a breakthrough year for Smale, seeing her produce and direct her first feature film, Cold Season, which won Best No-Budget Feature at the 2015 Toronto Independent Film Festival. Then, in December 2015, Smale's original story concept titled On The 12th Day Of Christmas premiered on the Hallmark Channel and was the #1 TV movie of the weekend with 5.4 million viewers.
Buoyed by those successes, Smale went out on her own to pursue writing full time. In December 2017, her screenplay for the comedy-drama Snowed-Inn Christmas premiered on Lifetime.
VIDEO: Christmas Pen Pals Sneak Peek

"I wake up every morning and sit at my desk and write," says Smale. "It definitely does not come easily. I find it extremely difficult to sit at a desk and spend a day by myself and get pages out.
"It's hard to continue to be inspired every day because a lot of the time you're sitting alone. You can get a little stir crazy, for sure. I create a vision board for how I see the movie and that keeps me motivated and inspired."
Smale, joined by her mom Wendy, was able to spend a few days on the set of Christmas Pen Pals. She describes the experience of seeing and hearing actors speak the words she wrote as "surreal". And while she is pitching films rooted in different genres, Smale is cognizant of the fact that Christmas-themed script writing has proven lucrative for her.
"Christmas movies are very wholesome," she assesses.
"I think people enjoy that kind of escape, especially at this time of year when they are wrapping presents or decorating the tree. There's a charm that draws people in. There's definitely nostalgia too.
"A lot of people say 'Well, they're all just the same' but it's not true. There is a formula to it, but writing characters that have personalities and writing a story that keeps an audience engaged is not as simple as it may seem."
While she lives in Toronto, Smale gets home to Peterborough on a regular basis. For the fourth time, she has organized the Warming Room Christmas Party.
Set for Thursday, December 13th, 7 p.m., at The Venue (286 George Street North, Peterborough, 705-876-0008), the featured performers are Melissa Payne, Kate Suhr, Kate Brioux, and Paper Shakers. Admission is pay-what-you-can with all proceeds going to Warming Room Community Ministries, which provides shelter for the homeless and daily meals for those dealing with food insecurity.
"I used to work there (at the Warming Room) and it was an extremely eye-opening experience," says Smale.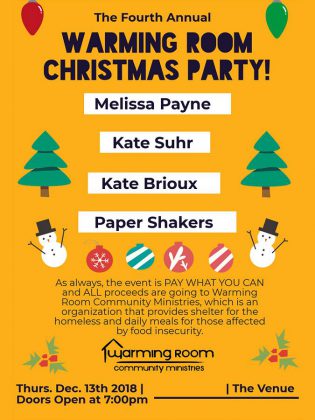 "It made me realize how much my perspective was wrong about people that don't have a home. (Warming Room director) Christian Harvey is doing pretty amazing things. I'm really proud to be a part of it."
As for her professional career, Smale is in the midst of script pitching season — the period from November through January when producers review scripts for potential production.
"In the new year, I could be unemployed," she says.
"Everything is kind of up in the air at this time of year. Hopefully there will be something but it is still fun and pitching is an exciting time."
And, as expected, she's anxious to see the film her script anchored.
"The director is going to send me a link (to the movie) in the next few days. I always try to watch by myself first so I can really analyze every frame of it.
"I am very excited. When I went to the set and saw Sara Drew and Niall Matter doing scenes together, I was pretty blown away by how much passion they gave to their characters and how much chemistry they had."
For more information on the Canadian premiere of Christmas Pen Pals, visit www.superchannel.ca/show/76550779/christmas-pen-pals.