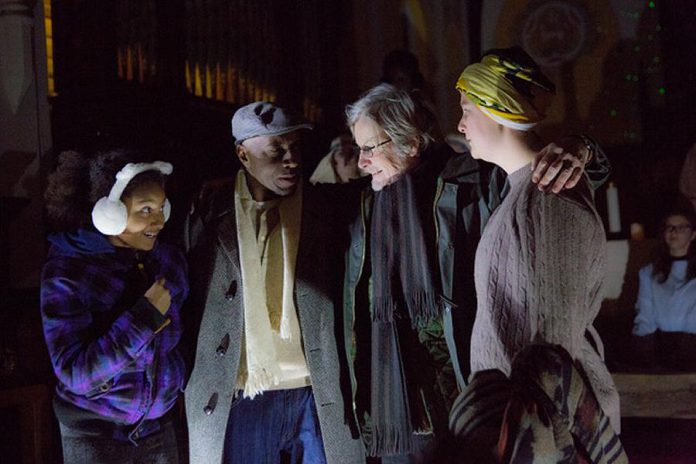 From December 7th to 14th, join 4th Line Theatre for a lantern-lit journey through the streets and history of Millbrook with the outdoor theatre company's latest original production The Other: A Strange Christmas Tale.
Written by Beverley Cooper and directed by Kim Blackwell, The Other is not only 4th Line Theatre's first-ever holiday play, but it's an immersive experiment following the format established in their popular Halloween show The Shadow Walk of Millbrook. The streets and buildings of the town of Millbrook provide a sensual backdrop for a potent story that is extremely topical, but filled with glimpses into the township's past.
With shades of Dickens' A Christmas Carol, mixed with plot devices from some old The Twilight Zone episodes, the play begins at a Christmas pageant held at St. Thomas Anglican Church in Millbrook. Community members Phyllis (Linda Kash) and Reggie (Mark Hiscox) are surprised when local curmudgeon Ebbie Krank (Robert Winslow) shows up with his granddaughter Leanne (Jalen Brink), sent to visit her grandfather by Ebbie's estranged daughter Judy (Naomi Duvall) — who has not spoken to her father since her marriage 15 years earlier.
Unsure how to communicate with his granddaughter, Ebbie becomes frustrated with Leanne's focus on her phone, and Leanne meets her grandfather's demands with pure defiance.
Then, when a mysterious woman speaking in a foreign language (Mosun Fadare) shows up at the church and approaches Leanne, Ebbie violently pushes her away from his granddaughter while shouting prejudiced remarks at her about her ethnicity.
Upset and disgusted by her grandfather's blatant racism, Leanne flees the church, prompting Ebbie to follow. What happens next is a journey through Millbrook's past and future, as Ebbie travels through 1909 to 2019 and discovers his family's legacy of bigotry and intolerance towards those who are different — "The Other" of the play's title.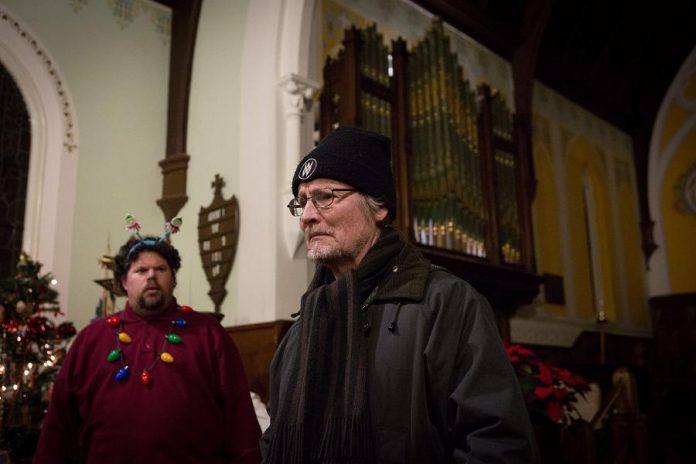 From the Roma visitors who came to Millbrook in 1909, to transient people looking for work and food during the Great Depression, to the Protestant feud with Catholics, to Canada's current aid to Syrian refugees, Ebbie takes a long hard look at his past, leading to the events that tore his daughter out of his life.
Is it too late for an old bigot to change his ways, or will he lose his family forever? Only a Christmas miracle can show Ebbie Krank the error of his ways and put love in his heart.
While keeping to the local historical themes that 4th Line Theatre is famous for, The Other is a very modern tale that strums a powerful emotional chord. Although it is sad to admit, we currently live in a society where the political backdrop in the United States, as well as in Canada, has allowed xenophobia, bigotry, and intolerance to once again rear their ugly heads.
Where once bigots stayed quiet in their beliefs, the politics of hate and intolerance has become dominant once again and racists now feel comfortable letting their slanted world view be aired out in the open.
The Other addresses this disturbing current trend head on by introducing the audience to a bigot. But instead of simply vilifying him, the play seeks to understand what elements in his life brought him to this point, exposing that history repeats itself. Playwright Beverley Cooper puts forth the idea that intolerance is generational and it is passed down from grandparents, to parents, to children.
The Other doesn't hold back, and packs a powerful and potent punch when dealing with this sensitive subject. It's refreshing to see such sensitive subject matter being dealt with in a Christmas story.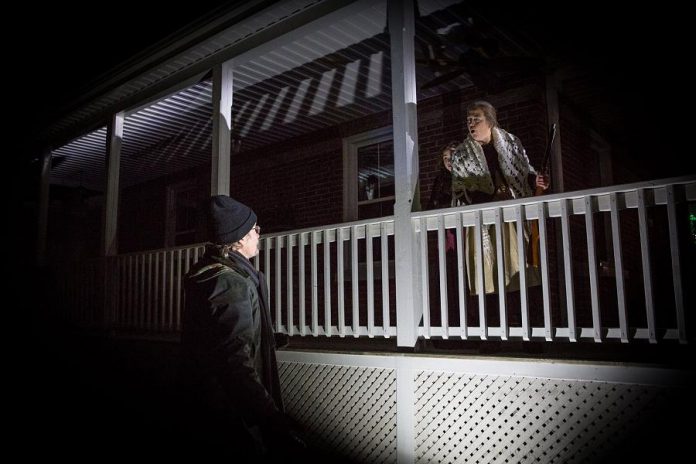 Robert Winslow gives another commanding performance as Ebbie Krank. Krank is a difficult character to play: he is insufferable, explosive, and intolerant. While playing a racist is never easy, Robert shows a very human side of his character. Despite his character's reprehensible behaviour, Rob creates a character who becomes more and more sympathetic as he moves through the different vignettes.
When the audience first leaves the church, they witness Robert pacing the street frantically, up and down the asphalt and through the crowd as he searches for his granddaughter. In the process, he envelops himself in a frantic nervous energy that rips through the audience. It's an interesting performance by a talented actor.
Robert is joined by a strong supporting cast of performers making up his past, present, and future. He meets his match in Naomi Duvall as his daughter Judy, who breaks the circle of hate when she falls in love with Haitian-born student Bill Toussaini (Danny Waugh).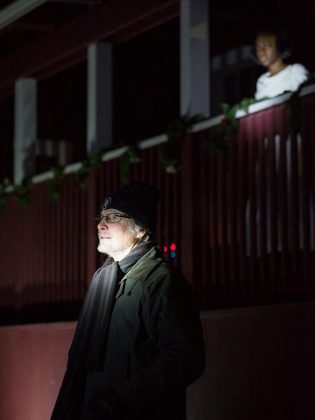 One of my favourite local performers, Naomi shows a heroic defiance as she chooses the man she loves over the legacy of bigotry that her family has tainted Millbrook with for over a century. Naomi and Danny are a charming pair, making a statement that love is colour blind and knows no boundaries.
One of the most important elements of this show is the performance by Mosun Fadare. With an unearthly beauty about her, Mosun has an otherworldly presence that creates the air of mystery to make the mysticism of this show work. Mosun is the embodiment of Christmas magic.
But the real star of The Other is Millbrook itself. The locations used for the backdrop of the show are very well chosen. From the church, to home porches, to parks, to the front of the Nexicom building, to dead-end streets, the production team makes clever use of space, and the old-fashioned small town architecture of Millbrook's scenic downtown core believably takes you back in time.
Some performers are only seen in the shadows, while others disappear into the darkness. A roaming choir of familiar theatrical faces goes from location to location, creating a beacon of light and song to lead the roaming audience to the next location. A horse and a dog help bring the illusion of reality to the show. The journey through Millbrook is scenic, beautiful, and well done.
While the trek through the streets of Millbrook is the point of this theatrical experiment, it also becomes a burden for the drama of the play. Each scene in The Other contributes a powerful piece of the story, dealing with some very emotional material that has the potential to trigger audience members. However, as the audience listens to the comical banter of Linda Kash and Mark Hiscox while travelling to the next location, the audience is momentarily taken out of the drama and some of the power of those scenes is lost.
Once at the next location, the company starts all over again. Through the drama and performance, they eventually recapture the audience, but are at risk of losing them once again as the journey continues.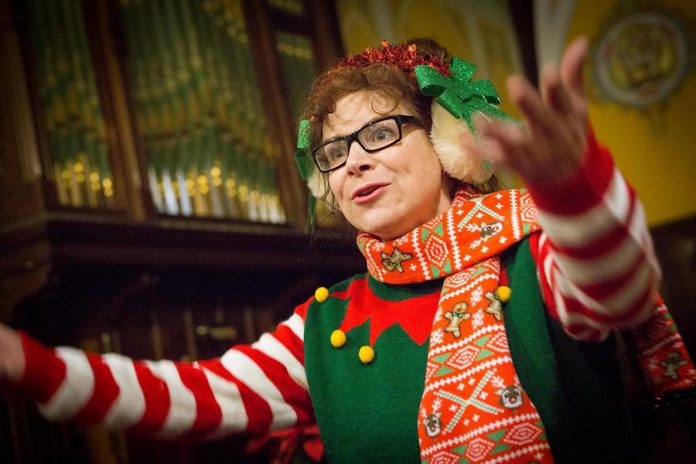 I would be interested to see how The Other would work as a conventional production done on a traditional stage. I wonder if the material would be even more potent with shorter scene transitions and less comical banter.
However, what would be lost would be the irreplaceable scenic backdrop of the Village of Millbrook. The journey through the streets is truly the magical element of the show. Trying to mesh together the journey and the story is a complicated theatrical experiment that works on most levels, and successfully creates a memorable and unique experience.
But in the end this is a holiday story. Although there were only one or two young people in the audience at the show I attended, The Other is a perfect story to start a discussion with your children about the perils of bigotry and hatred for families and communities. It is a story simple enough to understand and engaging enough for audience members of all ages, without softening the blow of the material. Beverley Cooper shows a remarkable balance in her script.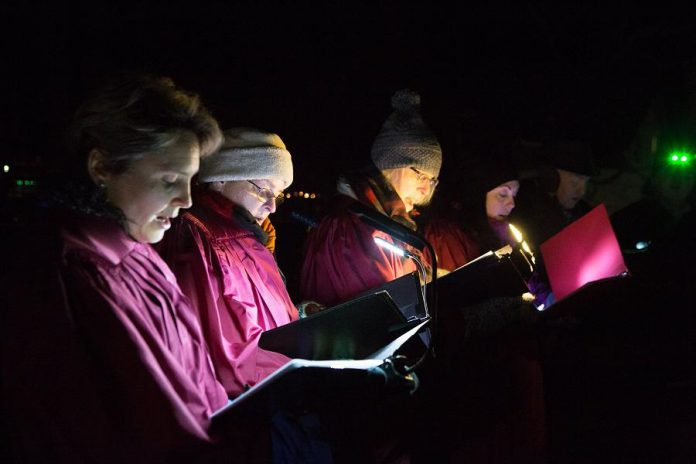 There are many holiday theatre options in the Kawarthas, but The Other: A Strange Christmas Tale is a definite winner in regards to material, originality, and in creating a memorable theatrical experience. It combines the warmth and mystery of the Christmas season with an important message of acceptance and tolerance in a world that seems to be full of hate.
The play includes fear, pathos, history, joy, and redemption. But most of all, it features the town of Millbrook in a majestic journey through its colourful past and beautiful streets.
The Other: A Strange Christmas Tale will be performed on Friday, December 7th and Saturday, December 8th, and through Wednesday, December 12th to Friday, December 14th. While the December 7th show is sold out, tickets are still available for the other performances. Each show begins at 7 p.m. at St. Thomas Anglican Church (16 Centre St., Millbrook). Tickets are $27.50 and can be purchased by calling 1-800-814-0055 or 705-932-4445 or online at www.4thlinetheatre.on.ca.
Note: Dress warmly and prepare for the elements. The outdoors portion of the show last approximately an hour and, even if it's a mild winter's night, it gets nippy after a while.