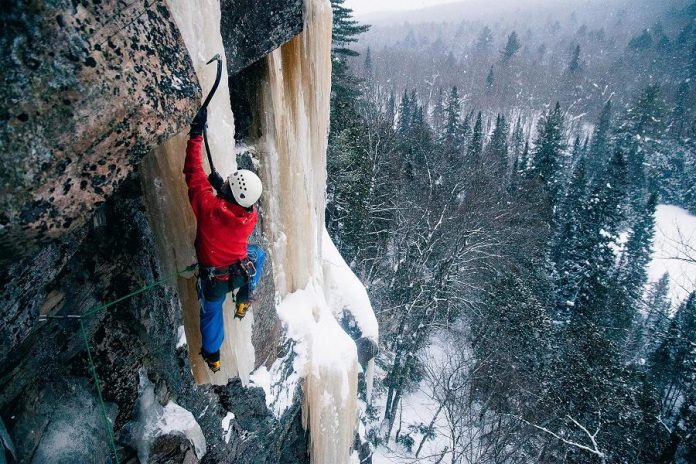 For the fifth straight year, the Southern Ontario Ice Climbing Festival (SOIce Fest) is returning to Maynooth in 2019 from February 8th to 10th.
The town, located 22 kilometres north of Bancroft in Hastings Highlands, has hosted the annual festival since it was founded four years ago by climbers Andriy Kolos, Josh Smith, and Peter Hoang.
Originally an informal celebration of ice climbing, the non-profit festival is now led by the Ontario Alliance of Climbers (previously known as the Ontario Access Coalition).
The festival has continued to grow each year, drawing ice climbers from across Canada and the northern U.S. Last year, more than 250 climbers attended SOIce Fest.
"It's a real draw for both experienced ice climbers and for those who have never tried it before," Kolos says. "We're able to build on every past year's success and bring an increasing number of ice climbing guides to the festival, so that we can continue to provide high quality instruction to an ever-growing number of people who want to get into the sport."
Ice climbing grew out of the sport of rock climbing and mountaineering, as climbers often had to traverse icy sections on their way to the summit. Because of the thrill and challenge of climbing on ice, it soon developed as its own dedicated sport.
Climbers use crampons, ice axes, and ropes to climb on ice formations including frozen waerwalls, icefalls, and cliffs and rock slabs covered with ice from frozen flows of waters. The granite rock walls of the Canadian Shield in central and northern Ontario provides the perfect terrain for ice climbing, making it a popular destination for climbers.
At SOIce Fest 2019, most of the weekend's climbing activity will take place at Diamond Lake near Combermere, about 34 kilometres west of Maynooth. Evening events will take place at The Arlington in Maynooth. The weekend will also feature clinics, demonstrations, and vendors.
The festival is supported by Mountain Equipment Coop, Arc'teryx, the Association of Canadian Mountain Guides, and Yamnuska Mountain Adventures, as well as local businesses and members of the community of Maynooth.
"We're ever appreciative for the warm welcome we see every year from the Maynooth community," says Randy Kielbasiewicz, co-chair of the Ontario Alliance of Climbers.
"We thank them for the important role they play in making this festival a continued success. Ice climbing areas are scattered around small communities in rural Ontario, and the ice climbing community is grateful for the hospitality they receive throughout the province."
VIDEO: Climbing for Community: Southern Ontario Ice Festival
As well as supporting local businesses by bringing hundreds of climbers into Maynooth, SOIce Fest also raises funds for local community initiatives.
Over the past four years, the festival has raised more than $5,500 for the Rural and Overland Utility Transit (TROUT) — a bus service that connects rural residents to the greater Bancroft area — and children's community programming in Maynooth.
For more information about SOIce Fest and updates on clinics and registration, visit www.soicefest.com.