This week's round of regional business news includes Starter Company Plus grant recipients in Peterborough and the City of Kawartha Lakes, a new augmented reality app developed by Kavtek that helps Monaghan Lumber's customers choose new flooring for their home, and a new co-working space to open in January at Venture13 in Cobourg.
Also featured is the release of Peterborough game company Bloom Digital Media's LGBTQ+ inclusive dating game for the Nintendo Switch, the winner of the Pitch to the Chief competition in Cobourg, and the official opening of Bancroft's new LCBO store.
New regional business events added this week include Camp Kawartha's annual general meeting on December 11th and the Port Hope Young Professionals Christmas social on December 13th.
---
Seven Peterborough-area entrepreneurs receive $28,000 in grants to grow their businesses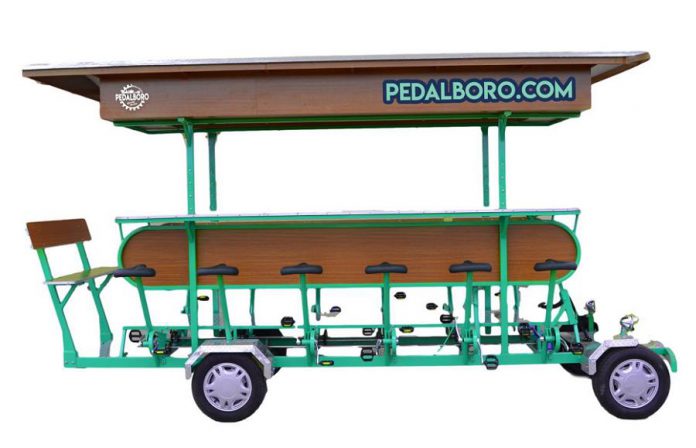 Last Thursday (December 6), the Peterborough & the Kawarthas Business Advisory Centre announced the latest round of Peterborough-area entrepreneurs to receive grants under the Starter Company Plus program.
Seven business owners received a total of $28,000 in grants as part of the sixth intake of the program, which is funded by the Government of Ontario and administered in Peterborough by the Business Advisory Centre. The recepients are:
Fraser Smith of F Smith Consulting: Sustainable Forest Management Service, which provides sustainable and ethical forest management services for conservation authorities, local governments, land trusts, woodlot owners, and primary and secondary forest producers.
Carly Eagles of Sweet Simple Nutrition, a holistic nutrition consulting practice specializing in women's wellness. Eagles' business integrates a holistic approach to wellness to help individuals discover optimal health through lifestyle adaptations.
Caitlin Jacobs of Conflict Transformations, a consultancy serving workplaces and other organizations in Peterborough and the Kawarthas. Jacobs' business helps clients understand conflict, how to work towards transformation, collaboration and creative problem solving.
Vanessa Brown of Direct Visual Care, a local mobile optician that supports vision care needs. From pop-up clinics to personal one-on-one house calls, Brown's business offers professional, personal, and affordable service to correct vision accurately.
Hillary Flood of PedalBoro, a multi-passenger bike tour company providing an innovative, eco-friendly transportation alternative for exploring downtown Peterborough. PedalBoro takes passengers on a discovery tour of the city's vibrant food scene.
Jenn Austin-Driver of Farmhill Weddings, a non-traditional wedding venue located in Keene in the rolling hills of Millen + Smith Acres. The focus is on providing a scenic farm experience with local farm-to-table menu options.
Jordan Ahee of Biosphere GPS, a software startup that makes it easy to explore nature, discover new places, and plan outdoor activities more intelligently.
Starter Company Plus supports entrepreneurs who are starting, growing, or acquiring a business. It offers a series of workshops to support the creation of a formalized business plan, culminating in the chance to pitch for competitive grant dollars. Since the program began in March 2017, the Business Advisory Centre has seen more than entrepreneurs participate and has awarded $170,000 in grants.
"This program is generating results for our community and strengthening our region as a destination for small business," explains Madeleine Hurrell, the economic development officer at the Business Advisory Centre who oversees the program.
In the past two years, the program has resulted in the creation of 53 startups and has supported 37 business expansions. The program has also seen the opening of 12 bricks-and-mortar locations in the region, and has created 110 jobs in the local community.
Six entrepreneurs in Kawartha Lakes receive Starter Company Plus grants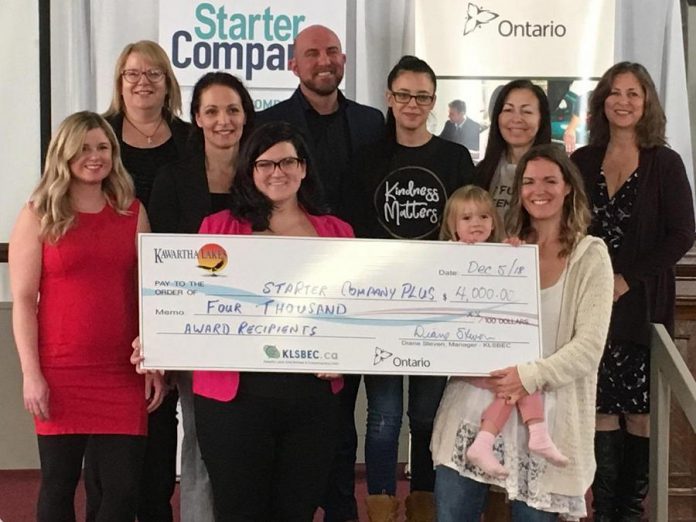 The Starter Company Plus program also runs in the City of Kawartha Lakes, where it is administered by the Kawartha Lakes Small Business and Entrepreneurship Centre (KLSBEC).
Last Wednesday (December 5), KLSBEC hosted a reception and gallery in Lindsay to showcase some of the businesses that have benefited from the program and to announce the final grant recipients in 2018:
Jessica Shea of Wild at Heart Hair Studio.
Lori Mitchell of Kawartha Restorative Acupuncture.
Amanda Lewis of Mouthpiece.
Graham Bashford of Aging GPS.
Ally Boothroyd of Sarovara Yoga.
Terri Mathews of Mathew Madlyn.
Through Starter Company Plus, KLSBEC has provided training and business plan development to 63 new entrepreneurs and has awarded a total of $132,000 to 33 of these businesses, creating 78 new jobs in the community.
Peterborough augmented reality startup Kavtek's app helps Monaghan Lumber's customers choose new flooring for their home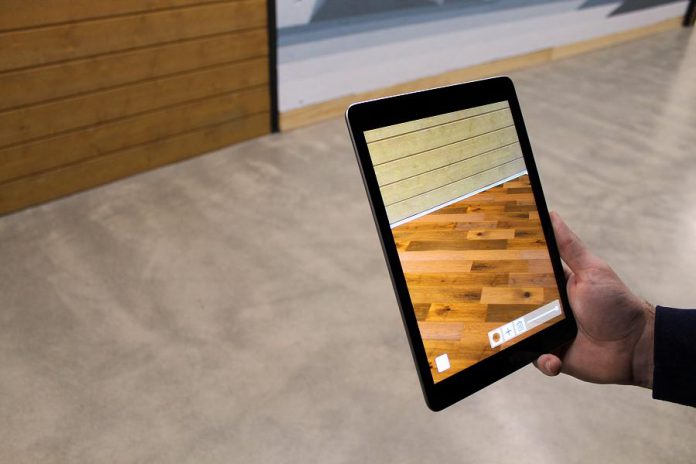 Monaghan Lumber in Cavan is using augmented reality to help customers choose new flooring for their home.
The building material supplier's new mobile app was developed by Kavtek, a Peterborough startup that specializes in augmented reality solutions for home design and renovation.
Using the camera on a mobile device such as a smartphone or tablet, the app allows users — without leaving their own home — to overlay Monaghan Lumber's flooring options on top of their existing floors to see how the room will look with the new flooring.
VIDEO: Monaghan Lumber app

Kavtek has already created partnerships with RE/MAX Integra, Wayfair, and Dulux Paints. Monaghan Lumber is one of the first building material suppliers in Canada to embrace augmented reality.
"Working with Sanu and the Kavtek team has been an excellent experience," says Warren Rose, Director of Sales and Public Relations at Monaghan Lumber. "The immediate impact on our service and customer experience has been tremendous, and we look forward to using the new technology while we work closely with designers, builders, renovators, and do-it-yourselfers."
The consumer market for augmented reality software is projected to reach over $13 billion by 2022.
"Monaghan Lumber believed in our vision and we are very excited to introduce augmented reality to their consumer base," says Sanu Somaweera, Co-Founder of Kavtek. "The app caters to the Uberized generation of consumers that need instant gratification by empowering them to visualize products in their space effortlessly."
The app is available to download for free on the Apple App Store and on Google Play (just search for "Monaghan Lumber").
New co-working space to open at Venture13 in Cobourg in January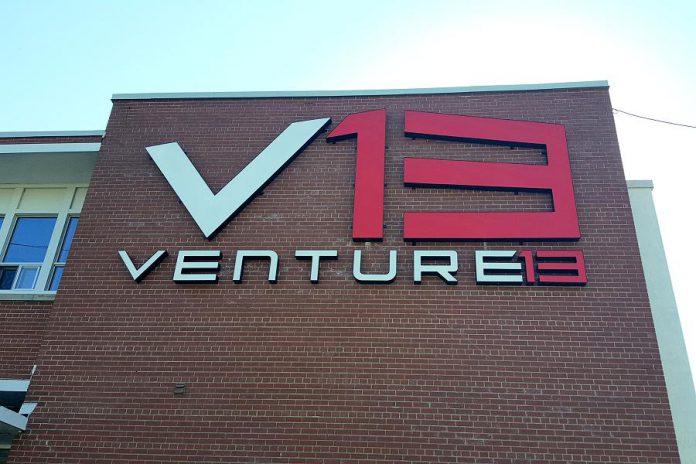 Venture13, Northumberland County's innovation and entrepreneurship centre, has announced a new co-working space designed for telecommuters and independent consultants.
Called the "VentureZone Inn", the space will open in January 2019 within the VentureZone, a flexible work and accelerator space delivered by the Northumberland Community Futures Development Corporation (NCFDC).
"Digital technology continues to advance allowing workers to be more mobile and flexible, providing employers the opportunity to offer remote work policies and solutions," says NCFDC executive director Wendy Curtis. "At Venture13 we want to capitalize on this by giving our entrepreneurial community access to yet another cohort for collaboration, idea sharing, and diversification."
At a cost of $125 per month, the VentureZone Inn will offer one dedicated seat in the co-working desk space, a high-speed fibre internet connection (wired and wireless), one dedicated locker and combination lock, access to private meeting space, and more. Anyone who signs up for a VentureZone Inn membership will receive their first month free for a trial period with no obligations or strings attached.
For more information, visit www.cobourg.ca/en/venture-13/venturezone.aspx
Peterborough game company Bloom Digital Media releases LGBTQ+ inclusive dating game for Nintendo Switch
Based in Peterborough and Toronto, independent game company Bloom Digital Media in has released its LGBTQ+ inclusive dating game LongStory on the Nintendo Switch — the fastest-selling game console in U.S. history.
The dating simulation game, set at the weirdly lovable Weasel Heights Middle School, has an eight-episode story arc. It lets you pick your gender designation and pronouns, as well as whether you would like to date any of your friends. In addition to the pains and pleasures of romance, LongStory offers players the chance to reflect on complex issues including consent, coming out, social anxiety, and bullying — all in a safe environment.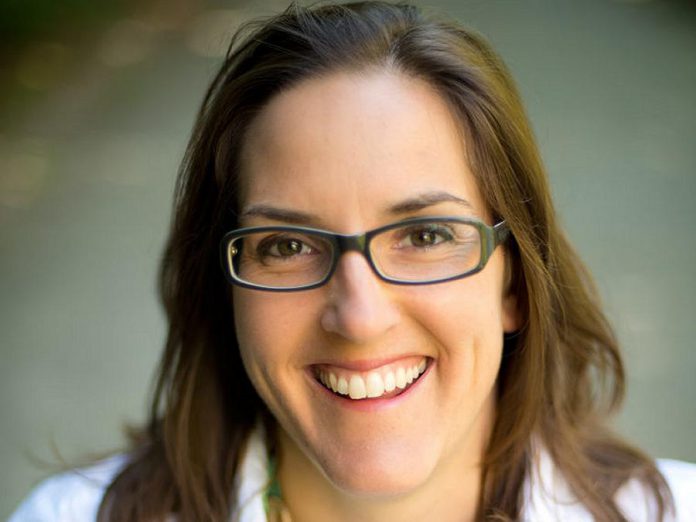 Originally published in 2014, the game is already available for PCs (Windows and Mac) and as a mobile app for iOS and Android mobile devices (it has been downloaded more than 1.4 million times). The game was released for the Nintendo Switch in North America and Europe on December 6, 2018.
The game won a Jury's Honorable Mention at the 12th International Mobile Gaming Awards in 2016.
Bloom Digital Media was founded by Miriam Verburg, who has won several awards for the company's innovative games, including a Jury's Honorable Mention at the 12th International Mobile Gaming Awards in 2016 for LongStory.
VIDEO: LongStory Trailer – Bloom Digital Media

Verburg, who has been featured in publications such as VICE, Huffington Post, and the Globe and Mail, is a strong advocate for promoting female talent within Ontario's game industry, through her participation in organizations like Dames Making Games, Interactive Ontario and as a sessional faculty member at Centennial and Humber College.
"Teens need a game that feels authentic," Verburg says about LongStory. "They are living in the twenty-first century and they need a romantic game that reflects their reality. LongStory provides an opportunity for players to take control of their choices and their experience."
According to the National Post, 10 per cent of young Canadians aged 18 to 34 identify as LGBTQ+, and according to the Canadian Mental Health Association, those who identify as LGBTQ+ face higher risks for some mental health issues due to the effects of discrimination and the social determinants of health.
Although other video game consoles like the Xbox and Sony Playstion have seen a decline in sales, the Nintendo Switch became the fastest-selling game console in U.S. history in 2018, selling 4.8 million units in its first 10 months of availability.
Northumberland County's Amy Arthur wins Pitch to the Chief competition in Cobourg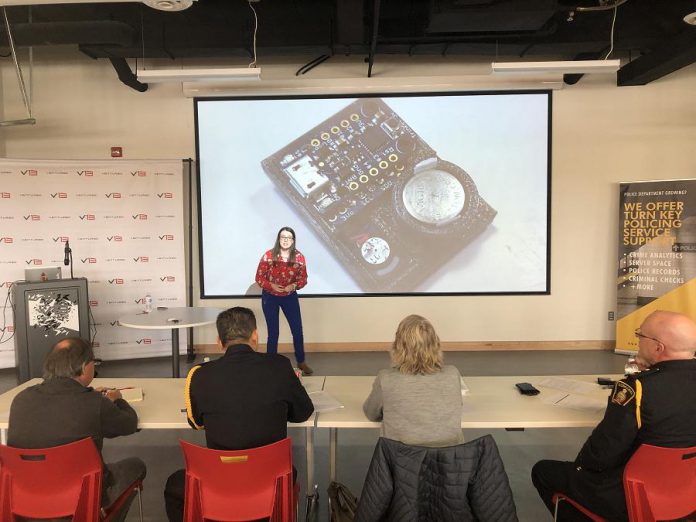 Northumberland County resident Amy Arthur has won the second installment of the "Pitch to the Chief" competition in Cobourg for her hands-free personal safety device.
The competition, which was held in the Innovation Commons of Venture13 on November 28th, offers technology entrepreneurs the chance to pitch innovative products and services to the Chief of Police for Cobourg, in partnership with Northumberland Community Futures Development Corporation (NCFDC).
A Baltimore resident and a former summer intern with the Ontario Provincial Police, Arthur is a McMaster University B.Sc. graduate who is currently finishing her Forensic Psychology degree at the University of Ontario Institute of Technology (UOIT). She previously invented a light therapy device, and demonstrated a prototype of her latest product — a hands-free personal safety device called Claxton — at the Pitch to the Chief competition
"In the market of personal safety devices, there is not one all-inclusive product that works for everyone and in all situations," Arthur says. "I have taken on the task of solving this issue. I feel truly honoured to have had the opportunity to present my product idea and prototype to the Chief and his panel."
Arthur's prototype, was developed in-house at the Venture13 MakerLab — a collaborative prototyping, engineering and microfactory space created to support startups and makers — with fellow VentureZone member Alex Papanicolaou of Campbellford and with design input from Northumberland Makers.
Cobourg Chief of Police Kai Liu, Cobourg Police Services Board Chair Dean Pepper, and Inspector Jeff Sheils, along with NCFDC Board Member Pam Russell, formed the panel of judges. The presentation format was a 10-minute pitch including slides and demonstrations, followed by an interactive question and answer period. The entrepreneur pitches ranged from IoT sensors to robotics to connected and autonomous vehicle infrastructure to wearables.
The next Pitch to the Chief competition is set for the first half of 2019.
LCBO opens new store in Bancroft
A new LCBO store in Bancroft officially opened last Wednesday (December 5).
Construction on the new building at 314 Hastings Street North (just south of the Canadian Tire and Foodland) began over the summer.
The new store is much larger than the previous location on Station Street in downtown Bancroft. It's wheelchair accessible and features a Vintages corner, a cold beer room, and ample parking.
Hours are 10 a.m. to 6 p.m. Monday to Thursday, 9:30 a.m. to 8 p.m. on Friday, 9;30 a.m. to 6 p.m. on Saturday, and 11 a.m. to 6 p.m. on Sunday.
Peterborough Chamber breakfast meeting on attracting local shoppers on December 11 in Peterborough
The Peterborough Chamber's next breakfast meeting takes place from 7 to 8:30 a.m. on Tuesday, December 11th at Carousel Restaurant & Tavern (116 Lansdowne St. E., Peterborough).
Terry Guiel, executive director of the Peterborough Downtown Business Improvement Area (DBIA) will speak on the top "Santa Keeps it Local – How to Attract Local Shoppers".
Networking begins at 7 a.m., with breakfast served at 7:30 a.m. (when you can make your best 30-second elevator speech to the room), followed by the guest speaker at 8 a.m.
The event is free (you only pay for whatever you order for breakfast).
Haliburton Highlands Chamber of Commerce host a Holiday Open House in Haliburton on December 11
The Haliburton Highlands Chamber of Commerce is hosting a Holiday Open House from 4 to 6 p.m. on Tuesday, Demember 11th at the Chamber offices (195 Highland St., Haliburton).
The event will celebrate the past year and features treats and hot beverages.
Northumberland Central Chamber of Commerce hosts Christmas Meet & Greet in Cobourg on December 11
The Northumberland Central Chamber of Commerce is hosting a Christmas Meet & Greet from 5 to 7 p.m. on Tuesday, Demember 11th at the Best Western Plus Cobourg Inn & Convention Centre (930 Burnham St., Cobourg).
This networking event is open to all local business people and is free both for Chamber members and non-members.
Advance registration is requested at nccofc.ca/events/details/christmas-meet-greet-1365.
Camp Kawartha holds its annual general meeting on December 11
Camp Kawartha is holding its annual general meeting from 5:30 to 8 p.m. on Tuesday, December 11th at Camp Kawartha (1010 Birchview Rd, Douro-Dummer).
After networking and refreshments, the formal portion of the meeting gets underway at 6:40 p.m. The agenda includes annual reports, election of board members, and special presentations from Chris Magwood of the Endeavour Centre and Don Watkins from from the Rotary Club of Peterborough Kawartha.
Magwood will speak about living buildings as the most sustainable building standard in the world and Camp Kawartha's own unique living building project, and Watkins will talk about Adventure in Understanding, a program that brings First Nations and non-First Nations youth together through a canoe journey.
This is also an opportunity to learn about everything Camp Kawartha accomplished over the past year, and hear about future plans including the organization's capital campaign.
Kawartha Lakes Small Business & Entrepreneurship Centre hosts small business workshop in Lindsay on December 12
Kawartha Lakes Small Business & Entrepreneurship Centre is hosting a "Building a Strong Small Business Community and Networking " small business workshop from 3:30 to 6:30 p.m. on Wednesday, December 12th in the lower level meeting room at the Lindsay Public Library (190 Kent St. W., Lindsay).
Facilitated by Sandy Greenberg (serial entrepreneur, business coach, and former business advisor at Centennial College Centre of Entrepreneurship), the workshop will explore the benefits of creating a strong business community, including the importance of breaking down barriers to creating a collaborative environment, the value of strategic alliances, and creating buying programs, cross promotions, and shared resources with other community businesses.
The cost of the workshop is free, but registration is requested at www.eventbrite.ca/e/building-a-strong-small-business-community-and-networking-small-business-workshop-tickets-52023075419.
Kawartha Chamber Business After Hours Holiday Social at Kawartha Lakes Construction on December 12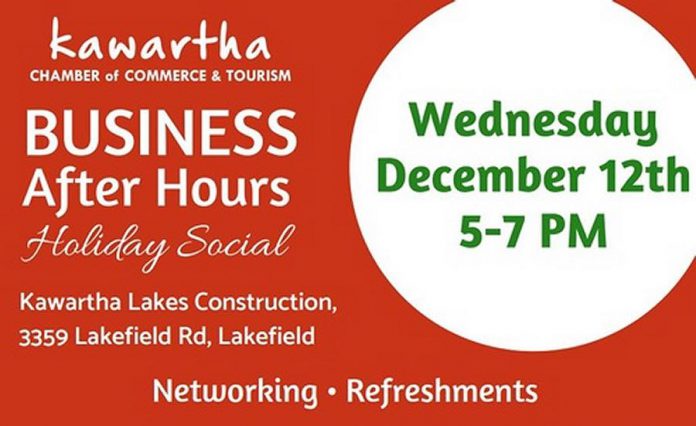 The Kawartha Chamber of Commerce & Tourism is hosting its Business After Hours Holiday Social from 5 to 7 p.m. on Wednesday, December 12th at Kawartha Lakes Construction (3359 Lakefield Rd., Lakefield).
As part of the event, the team at Kawartha Lakes Construction will be again be running their employee contest for do-it-yourself Christmas trees, where they challenge staff to come up with creative Christmas trees and have guests vote on their favourite.
Kawartha Lakes Construction will also be collecting toys for the Lioness Club Toy Drive, as well as non-perishable food items for the Lakefield Food Bank.
The event is free for Chamber members and $25 for non-members. Register at business.kawarthachamber.ca/events/register/4744.
Port Hope Young Professionals hosts a Christmas social in Port Hope on December 13
The Port Hope Young Professionals group is hosting a Christmas social from 7 to 9 p.m. on Thursday, December 13th at Table+Loft (59 Walton St., Port Hope).
This free event will feature DJ Chris Martell and drinks and food will be available for purchase. Attendees are encouraged to dress in their "ugliest" festiva attire.
Bring a locally purchased and wrapped gift of a $10 value to participate in the buy local gift exchange.