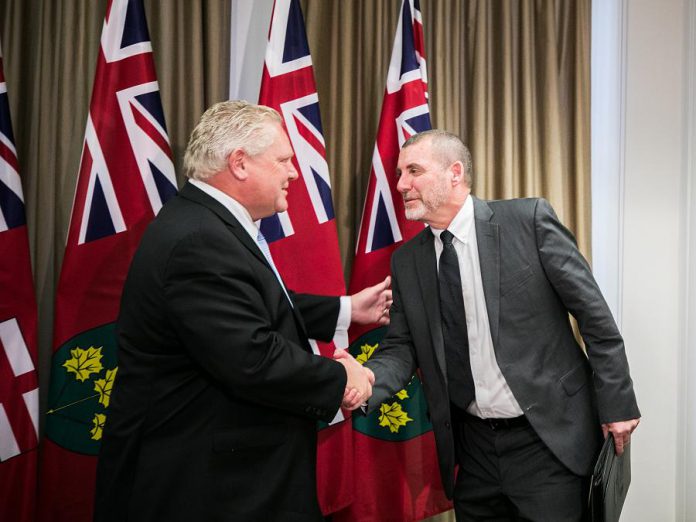 City of Kawartha Lakes Mayor Andy Letham was one of seven mayors from across southern Ontario who had a one-on-one meeting yesterday (December 10) with Premier Doug Ford at Queen's Park in Toronto.
Ford also met with Guelph Mayor Cam Guthrie, London Mayor Ed Holder, Mississauga Mayor Bonnie Crombie, Oro-Medonte Mayor Harry Hughes, Ottawa Mayor Jim Watson, and Windsor Mayor Drew Dilkens.
Each meeting, which ranged from 30 to 45 minutes, was also attended by Dean French, the premier's chief of staff, and Steve Clark, the Minister of Municipal Affairs and Housing.
According to a statement from the Premier's Office, the purpose of the one-on-one meetings was to discuss "shared priorities" including the economy, transportation infrastructure, housing, and plans for the private retail sale of cannabis.
"It felt a little bit, when we got the call on Friday, that we were being called to the principal's office," Mayor Letham said in an interview today on CBC radio. "But in the end it turned out to be a very productive conversation."
At his meeting with the premier, Letham says they discussed working together, the growth plan for Kawartha Lakes (including expanding highways, development, and affordable housing), natural gas, broadband, and long term care beds.
"The premier seemed quite impressed that we had gone to great lengths ourselves to reduce our council from 16 to eight in the last election," Letham said.
Earlier this fall, the Ontario government had forced the City of Toronto to reduce its council from 47 to 25 seats.
Letham said he didn't discuss the cancellation of the Basic Income Pilot program during his meeting with Ford.
"I've had that conversation with the minister several months ago when they announced the cancellation, so it didn't come up yesterday."
Lethan says the premier promised to follow through on the items discussed and have a follow-up meeting.