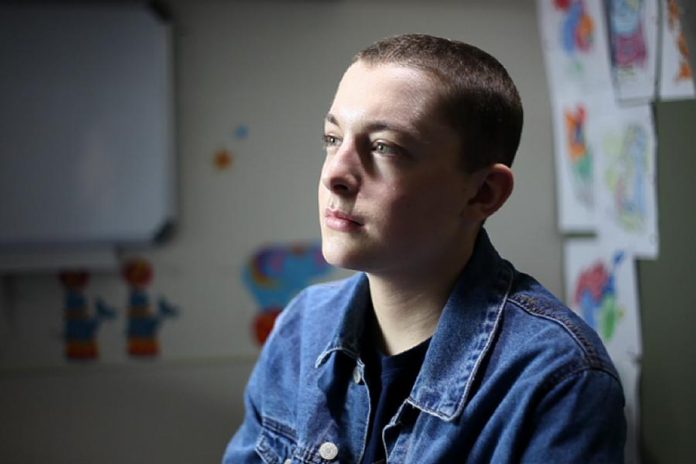 When he found out he had cancer, Anthony was a typical 16-year-old boy: playing hockey, learning to drive, working at a part-time job, and hanging out with his friends. In the blink of an eye, his life changed and he had to spend months in a hospital bed far from his family and friends. Now he's receiving care at Peterborough Regional Health Centre (PRHC) — a close drive to home so he can do normal teen things like play video games with his friends and sleep in his own bed.
Through the PRHC Foundation's 2018 Gift of Hope campaign, you can support pediatric cancer care at our hospital, so kids and youth like Anthony can receive the best quality care closer to home. That means they don't have to spend as much time travelling to treatment and don't have to be separated from their home and community, and reduces the financial burden on their families.
Your donations to the PRHC Foundation will help purchase additional specialized equipment and technology needed for PRHC's new pediatric oncology clinic, which operates in collaboration with The Hospital for Sick Children (SickKids) in Toronto. The multidisciplinary healthcare team at the clinic includes doctors, nurses, child life specialists, and social workers, and provides a range of high-quality pediatric cancer services, including chemotherapy.
Many people don't realize government funding only covers a portion of what hospitals need to meet the best practices in patient care. It's private donations from people like you that allow PRHC to purchase the technology and equipment to advance patient care — both for pediatric cancer care and throughout the hospital.
Please read Anthony's story in his own words below and watch his video, and read a message from Shay Cannon, RN at PRHC's Pediatric Outpatient Clinic. And then please consider giving more families the Gift of Hope by making a donation to the PRHC Foundation to fund the equipment and technology so the pediatric oncology clinic can continue to provide lifesaving patient care to even more children.
This is the fifth and last of a series from the PRHC Foundation to show how your donations to our hospital make a real difference in the lives of real people. kawarthaNOW is sharing these stories of hope from patients, doctors, and parents. This week's story is how donations help advance pediatric cancer care at our hospital.
Anthony's story
Hi. I'm Anthony. Hockey player. Son. Friend. Cancer Patient.
There are three things I've learned recently: how to drive, it's possible to miss doing homework … and how to live with cancer.
Just last year I was a typical 16-year-old kid from Lindsay. I played competitive hockey (go Muskies!), worked a part-time job in town, and hung out with my friends whenever I could. In the blink of an eye this was all taken away from me. One night I was at my friend's cottage, the next day I learned I had Philadelphia-Positive Acute Lymphoblastic Leukemia.
In other words … a kid with cancer.
I spent months in a hospital bed, being far away from friends and family. Well, not my mom. She was beside my bed every day and every night (love you mom). I missed the routine I was so used to: friends, school and hockey. I even missed going to class!
I am now 17 years old and receiving my cancer treatment at PRHC. I come in at least every two weeks for blood work. But I also have to get my blood counted before things like dentist appointments or if I'm not feeling well.
I am at PRHC a lot. I'm lucky it's a close drive from home. Close enough to get home and play video games with my friends and sleep in my own bed. You know, normal stuff. And now that I can drive, sometimes I even get the car (love you dad) to make the trip to PRHC!
Cancer sucks. But the staff here at PRHC make it a little easier. I'm always happy to come in and see them. They brighten my day.
Life changes in the blink of an eye. And maybe I had to learn that a little too soon. But I know I'm not alone when I see other kids at PRHC like me. That's why when the PRHC Foundation asked me to be champion for the Gift of Hope Campaign I said yes. I want to help make sure that when the next kid gets cancer, they have access to great care close to home … and a little bit more of the normal stuff.
Everyone has a reason to support the Gift of Hope campaign. This is mine.
Please give the Gift of Hope to help make sure more kids like me cam receive cancer treatment at PRHC.
Thanks!
Anthony
17-year-old Anthony is having cancer treatment at PRHC. Here's why he says care close to home is so important.
A Message from Shay Cannon, RN at PRHC's Pediatric Outpatient Clinic
I'm Shay Cannon and I'm an RN at PRHC's Pediatric Outpatient Clinic.
In my job, I get to know my patients and their families quite well because they're here a lot. I get to learn their stories, their favourite stuffed animal, things to say to make them laugh, how to make injections not hurt so much and how to make their visit with us a little more fun.
I can tell you that their care close to home makes the burden of disease a little easier. It means less travel and expenses, and less time away from loved ones. Today you can help make sure more patients like Anthony can continue to receive the best pediatric cancer care, close to home.
Please give these families the Gift of Hope this holiday season with a donation supporting Pediatric Cancer Care.
Shay Cannon, RN
Pediatric Outpatient Clinic, PRHC
The Peterborough Regional Health Centre (PRHC) Foundation works with donors to fund the equipment and technology that form the backbone of patient care at PRHC — bringing new lifesaving services to our region, and helping attract and retain expert doctors, nurses, and staff. For more information, visit www.prhcfoundation.ca or call 705-876-5000. You can also follow the PRHC Foundation on Facebook, Instagram, and Twitter.