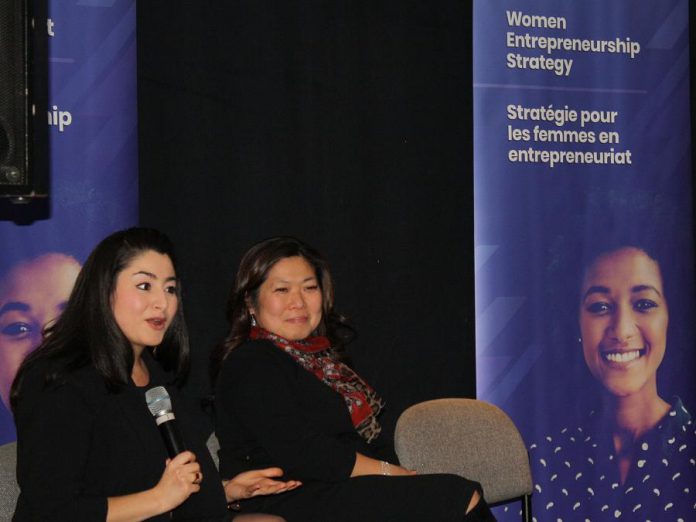 With this time of year seeing Canadians, coast to coast, counting their blessings and looking forward to the fresh start that a new year promises, one of their number is particularly excited to take her efforts on behalf of women to a new level.
With the federal government having recently elevated the agency known as Status of Women Canada to full department status — it's now the Department for Women and Gender Equality — Peterborough-Kawartha MP Maryam Monsef, as minister responsible for the department, is chomping at the bit to continue her work creating "a more equal playing field" that ensures women have "a fair and equal shot" at opportunities as they arise.
Over breakfast at the Speak Easy Café on Tuesday (December 18) — she's in the riding for the duration of the Christmas break — Monsef, 34, touched on a wide range of issues, including how her new department's major focus will be on closing the gender wage gap as well as addressing and ending gender-based violence.
"Progress has been made but we have a lot left to do," Monsef says.
"Having a full department formalizes the role of the minister responsible for women and gender equality. It centralizes the role. Everything we're doing to advance gender equality is actually happening across every government department. Having that coordinating role is important for me and for those who come after me.
"But without political will, without having a prime minister who cares about these issues, without the concern from Canadians that we need to address these issues, that department will just be another department. It's really important that we have the people in the right places to continue to do the work and that Canadians ask us to continue to do more, which they are.
"I learned here (in Peterborough) that a strong women's movement is the most effective way to advance gender equality in the long term. My number one priority as minister has been strengthening the organizations that support survivors of gender-based violence, who have solutions to close the gender wage gap, who are working to nurture the next generation of leaders.
"The best thing I can do to make a lasting difference is put the people of Peterborough at the centre of what I do. They've never steered me wrong."
That the formation of the department is historic isn't lost on Monsef — she's both the last federal Minister of Status of Women and the first federal Minister for Women and Gender Equality. On December 13th, she issued a statement that proclaimed the new department "will maintain and forge new connections to grassroots organizations advancing equality in Canada while acting as a coordinating body for gender equality issues within the Government of Canada."
While the department's creation and her role leading it towards its mandate has Monsef excited over what's ahead, she points with equal enthusiasm at the accomplishments of the Liberal government over the past year, talking specifically on the new NAFTA agreement and the continued implementation of the National Housing Strategy, a 10-year, $40 billion initiative that was rolled in November 2017.
"This new trade agreement was fundamental to Canada's economic success," she says.
"Minister (Chrystia) Freeland stood up for Canadian values and negotiated a new NAFTA. That means greater stability for the Canadian economy and ensures that we have access to our largest trading partner. Beyond that, we've also been diversifying our trade markets. Canada is now the only G7 country that has a trade agreement with every other G7 country. The next chapter is about working with employers and entrepreneurs to help get their products and services to markets in the U.S., but also beyond the U.S.
"We're set up to lead in this new economy. As long as we have leaders who continue to speak up for Canadian values, who advocate for human rights, and who lead by example in terms of a rules-based world order, Canada will continue to thrive. The way that we've been approaching the economy and international relations … Canadians, since we got elected, have created more than 800,000 jobs.
"We have the lowest unemployment rate since we started keeping track of the numbers, wages are up, there are more women working now than ever before, more young people, more Indigenous people, more newcomers. This approach is working. As long as we invest in Canadians and provide them with the tools that they need to succeed, Canada will continue to lead on the international stage."
As for housing, Monsef notes that more than $7.4 million in federal funding has provided housing for 1,432 families in the riding. She's continuing to work with local housing providers and advocates to ensure the riding gets its fair share of the pie when funding is doled out. That involves working through the application process with them and ensuring Peterborough's voice is heard loud and clear.
On April 1, 2019, all bilateral agreements with the provinces/territories are expected to be signed (Ontario, BC and the Northwest Territories have already signed on). Those agreements are for the next iteration of the Investment In Affordable Housing envelopes that will see costs matched between the provinces/territories and Ottawa, and then flow through to municipalities.
"This (providing housing) is not easy work, and it is often thankless work, but they (local housing advocates) do it because they believe in it," praises Monsef.
"They have achieved incredible things on meagre budgets. It's leaders like those who advocated for a National Housing Strategy. Every time you see someone working in this field, give him or her a high five and thank them. Housing is the solution to a lot of the other challenges that we experience.
"We want to make sure that as Peterborough continues to grow and people have a place to live when they come here. I'm grateful for the people who do this work. I'm also keenly aware that we are at a pretty special moment in time where we are working together, seizing the opportunity that exists with creation of the National Housing Strategy. The community has given us a clear mandate."
Looking ahead, Monsef, like most all of her Cabinet colleagues, will seek to be returned to Ottawa when Canadians head to the polls on October 21, 2019. Late in October of this year, the local Liberal riding association selected Monsef as its candidate, her having met 'targets' required to be considered for, and granted, nominee status.
"I have responsibilities that will continue until Election Day … they don't stop," she says.
"I can't speak on behalf of Canadians and how they will be voting or what will drive their vote. I will say that at the end of this mandate, Canadians will judge us. Did we stand up for Canadians and Canadian values every single opportunity we got? Did we work to make sure our kids and grandkids have good air, good water, and a safe place to call home? That's how we'll be judged.
"We presented a plan and that plan is working. We are growing the economy and unemployment is lower. We are addressing inequality. We are working to protect our environment and our natural heritage for generations to come."
Reflecting on the journey that brought her to Ottawa in October 2015 and has seen her not only represent the riding federally, but also fight on the frontlines for women's rights as full Canadian citizens, Monsef is quick to acknowledge she hasn't done it alone.
"Whatever success I've achieved, whatever positive service I've provided to this community and to Canadians, whatever hurdles I've been able to overcome, it is because I am surrounded by an incredible team of hard-working people who care about this community like I do and go above and beyond the call of duty every day.
"I had a pretty intense learning curve, especially in my first year. It was in many ways a baptism by fire. But thanks to the support of my team and this community, as well as the resilience I have learned from my mom and my mentors, I learned in my first year of politics what it normally takes years for people to learn. As long as I wake up every day thankful for the opportunity, and as long as I wake up every day with the community top of mind, I'm on the right track."
And despite the pressures of the responsibilities of her job, Monsef says she doesn't feel any extra heat.
"This community, again and again, asks me to just be myself. There's no pressure. I enjoy being out and about at various events, raising my hand and asking questions, bringing people together for different events and engaging in dialogue. I love this. This is how I charge my batteries.
"Being at the mall Saturday to support the Salvation Army … I'm not doing that because it's my job. I'm doing it because that's where I get my motivation from. And when I need time to recharge and not be in the public, I get to spend time with my nieces."
The original version story has been updated to correct some supplied information about the National Housing Strategy.