There's an eerie silence in the local theatre community the week before Christmas. The last holiday show has been performed, the audiences have gone home, the curtains have closed, and the stage lights have gone dark. It's the holiday break and little is being produced until at least New Year's Eve.
So that gives me a moment to reflect on all the shows I've seen in 2018.
This year I covered more shows than ever before. In all, I previewed 49 shows for kawarthaNOW, and also attended a number I didn't preview. I also covered more ground this year, extending my reach far beyond Peterborough and visited stages in Lakefield, Lindsay, Bobcaygeon, Norwood, Millbrook, and Port Hope. This gave me a greater variety of shows to see, and lots of new directors, actors, and theatrical communities to experience.
As a result, to pick "the best" is extremely daunting. In truth, the shows and people I loved is a very long list, but these are the theatrical highlights I covered in 2018.
Best Plays (in chronological order)
The Maids
January 2018 at The Theatre on King. Directed by Ryan Kerr and featuring Kate Story, Lindsay Unterlander, and Sheila Carleton.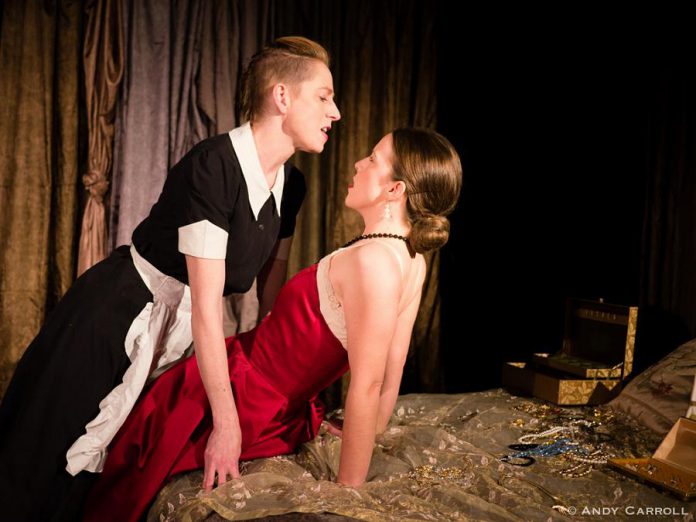 Always unearthing intriguing dramatic productions from the past, Ryan Kerr heated up the cold winter with French playwright Jean Genet's erotic psychological thriller The Maids.
Although produced at the start of the year, The Maids was a show that stuck in my mind all year long. Based on the real-life Papin murder case of 1933 that dominated France's headlines and fascinated the country's intelligentsia, Genet's 1947 play was an imaginary character study — Filled with eroticism, lesbianism, incest, domination, and role play — of two sisters who murdered their mistress.
Kate Story and Lindsay Underlander played sisters Solange and Claire, who act out murderous erotic fantasies of killing their mistress, played by Sheila Charleton. Together Lindsay and Kate showed a lot of chemistry and trust as they switched the balance of power between one another, and ignited the stage with a sort of madness that stuck to the audience like napalm.
The Maids packed a solid punch, and also provided people interested in the story hours of fascinating research. The Maids was a well-chosen gem that was both fascinating a provocative.
Murder for Two
August 2018 at Globus Theatre. Directed by James Barrett and featuring Victor Pokinko and Matt Pilipak.
Founding members of Toronto's Bad Hats Theatre Victor Pokinko and Matt Pilipak returned to Globus Theatre in Bobcaygeon in August for James Barrett's production of Ellen Blair and Joe Kinosian's musical comedy Murder for Two.
A fast and furious two-hander featuring murder, mayhem and music, Murder for Two brought audiences to the surprise birthday of esteemed writer Arthur Whitney. The lights go out and the dozen assembled guests yell 'Surprise!'. When the lights come back on, Whitney is found dead on the floor.
Enter Matt Pilipiak as officer Marcus Markowitz who, in a bid to get a promotion, seeks to solve the murder before the big town detectives show up. In the 90 minutes that follow, Marcus has to interrogate a house full of the guests (all cleverly played by Victor Pokinko) and put together the clues. Best of all, the pair do it all in song.
In this hilariously clever one-act show, Victor morphed from one character to another, often playing up to four characters in a scene and singing duets with himself. It was an incredible theatrical feat. Furthermore, the show featured the debut of Globus Theatre's newest acquisition, a grand piano once belonging to famed thespian Colm Wilkinson. Making full use of the piano, the two actors took turns accompanying each other and often played the piano together.
Murder for Two was a complex show put together by a charming pair of professional performers, and was the sleeper hit of 2018.
Who Killed Snow White?
August 2018 by 4th Line Theatre. Written by Judith Thompson and directed by Kim Blackwell. Featuring Cynthia Ashperger, Grace Thompson, Cassandra Guthrie, Tom Keat, and many more.
4th Line Theatre, under the direction of Kim Blackwell, took a big risk when producing Judith Thompson's Who Killed Snow White?. Instead of being one of the whimsical historical plays that 4th Line Theatre has become famous for, Who Killed Snow White? was a modern horror story ripped from today's headlines and provoked a strong response from audiences. The result was a production that may have been the most important show produced in 2018.
Who Killed Snow White? told the story of teenager Serena (played by Grace Thompson) through the eyes of the people who loved her, primarily her grieving mother Ramona (Cynthia Ashpenger) who is trying to understand the tragic events that helped destroy the child she loves. The play forced the audience to take a hard and realistic look at the modern age of cyber bullying, sexual assault, and the cult of misogyny — without ever becoming pretentious or watering down the subject.
The show wasn't an allegory or a warning to young people, but instead gave adults a snapshot of what's going on in the shadows of today's youth culture that they don't necessarily understand. Rather than presenting stereotypes, it created characters and situations that had many layers.
Most of all, it challenged the audience by not shying away from controversy. Some audience members were reportedly very uncomfortable with the piece, while others hailed it as one of 4th Line Theatre's finest shows. And that's what good theatre is. It's controversial, divisive, and creates conversations.
Who Killed Snow White? was all of that and, while a different type of theatrical experience for 4th Line's usual audience, I believe it was one of the most important stories the Millbrook outdoor theatre company has ever told.
Proof
October 2018 at The Lindsay Little Theatre. Directed by Altaire Guarl and featuring Anwen O'Driscoll, David Draper, Ellen Giddings, and Anthony Jackson.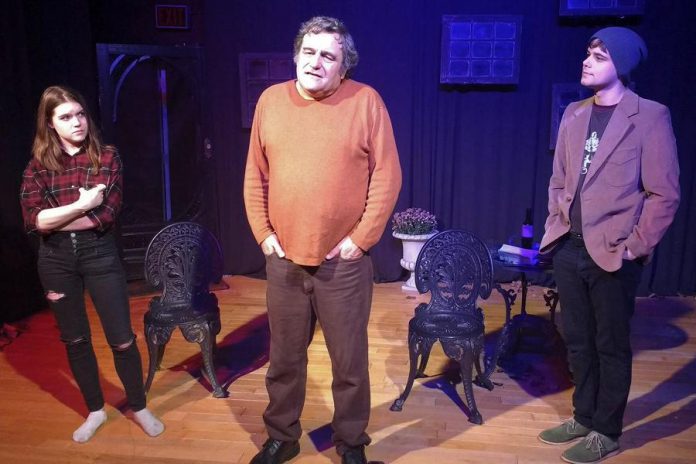 When I found out that Lindsay Little Theatre was putting on David Auburn's award-winning 2000 play Proof, I groaned at the thought I'd have to sit through what I considered to be a boring and pretentious mathematics play. But director Altaire Guari challenged me, telling me she'd make me fall in love with this show. She arose to the challenge, and I found myself absolutely entranced by her incredible company of actors.
In the right hands, Proof is a powerful and engaging story of mental illness and family legacy. It tells the story of Catherine Llewellyn (Anwen O'Driscoll), who is picking up the pieces of her life after the death of her father Robert (Anthony Jackson), who held a legendary status among mathematicians but suffered from a degenerative mental illness. Having taken care of her father for years, Catherine not only has to face her own future while dealing with her own crippling depression, but the invasion of her condescending older sister Claire (Ellen Giddings) and a former protégé of her father, Harold Dobbs (David Draper), into her home and life.
Under the guidance of an intense director, Proof became a dramatic masterpiece with a dynamic, powerhouse cast. Anthony Jackson gave a very human and warm performance, accompanied by three of the most exciting young actors on the local stage today: Anwen O'Driscoll, who currently has a budding career in television, award-winning actor David Draper, and new talent Ellen Giddings in her stage debut. It's not surprising that, since performing in Proof, David and Ellen have since gone on to secure agents and both have television appearances on the horizon.
The talented cast, superb direction, and passion for the material made Proof a captivating piece, selling out all of its performances at the Lindsay Little Theatre. The biggest surprise was that, as someone who thought he wouldn't like this play,, I sat in that audience for three performances. It was one of those incredible times where it's good to be wrong.
Unexploded Ordnance
November 2018 by Fleshy Thud at The Theatre on King (TTOK). Directed by Kate Story and written and starring Ryan Kerr.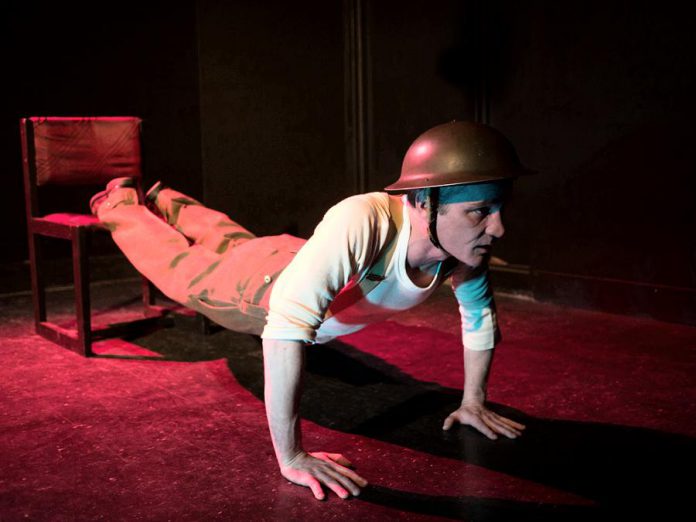 One-person shows are difficult beasts at the best of times. It's a daunting experience to put oneself in front of an audience for an extended amount of time, especially in a situation where the performer fears being considered self-indulgent. However, when TTOK's Ryan Kerr decided to write Unexploded Ordnance, a play that celebrated his passion for the history of World War I and the Dadaist arts culture that emerged from it, he opened up to the audience like never before.
Ryan intertwined stories from his past that created a pathway to his own artistic journey, which eventually led him to help create one of the most important creative hubs in the Kawarthas. The result was one of the most powerful and engaging performances of 2018.
Although a personable and recognized individual in the local theatre community, Ryan is guarded when it comes to his private life, and so has remained somewhat of an enigma to his audiences. The revelation of events from his past during Unexploded Ordnance was a powerful experience for people, especially those who only know him from his introductions at TTOK. Backed by the historical material of WWI and Dadaism, Ryan created interesting parallels to the Toronto punk scene of the 1980s, with some hard-hitting reveals.
As well as the presentations at TTOK, Ryan and his company also toured the show through local high schools, where it was said to be an extremely popular Remembrance Day performance. It's hard to make an impact on people who have never experienced war, but Ryan was able to engage the audience, share history, and keep WWI relevant and real.
Unexploded Ordinance was highly personal and extremely engaging. It was history with a personal connection, and educated audiences on the occasion of the 100th anniversary of the end of WWI.
Best Musical
A Musical Journey with Janis Joplin
April 2018. Produced by Barb Mills. Written by and starring Lindsay Barr.
Most people who know me know I'm not a fan of musical tribute artists. If I can't see the real thing, I don't want to go and, if the musician is dead, I'd much rather stay at home and listen to their records. So let it be said first and foremost that local performer Lindsay Barr's A Musical Journey with Janis Joplin went far beyond the usual tribute concert.
Far more theatrical in its execution, the performance took the audience through all of the peaks and valleys of the legendary musician's extraordinary but tragic life, from her early days as a folk singer from Texas, to San Francisco, Monterey Pop, Woodstock, and to her tragic death in an LA hotel room. It took the audience on the musical journey it promised.
Lindsay Barr did the impossible by not just performing Janis Joplin's songs through every stage of her career, but by becoming the living embodiment of Janis, recreating her energy, her look, and her unique and highly original sound. Uunder the guidance of musical director Rico Browne, a gifted group of musicians provided spot-on backing vocals for Lindsay, furthering the experience. Meanwhile, Addison Wylie, Terry Convey, and Adam Martignetti helped recreate infamous television appearances and concert moments, providing a complete musical theatre experience.
The only thing wrong with the show was that it was a one-night-only performance — never before have I seen the Market Hall packed to the rafters. This show was an incredible musical experience that should not only be revived, but taken on the road. The world doesn't need another Eagles tribute group — audiences need to see shows like this one.
A Musical Journey with Janis Joplin was a joyous and magical night and a journey I want to take with Lindsay Barr all over again. Bring this show back!
Honourable Mention: Lindsay Lohan's Speak: A Classic Album Comes to Life
February 2018 at The Theatre on King. Written by and starring Dave Cave.
Somewhere between madness and genius sits Lindsay comedian Dave Cave, who brought to TTOK a show nobody ever asked for nor knew they wanted, when he performed Lindsay Lohan's forgettable 2004 album Speak in its entirety.
Famously saying that he was "getting no joy out of this", Dave managed to keep the audience riveted for nearly two hours of excruciating banal lyrics and hilarious commentary, as he deconstructed Lohan's career just prior to her bad girl antics.
I continue to shoot Dave information for Toronto's Fringe Festival from time to time, begging him to revive this comedic masterpiece on the Toronto stage. There is a market for this show, and if you missed it you will never know just how horrible and hilarious Lindsay Lohan can be.
Dave is a comedic genius and he put too much painful effort in learning the stupid songs from this terrible album for this show, hands down the funniest performance of 2018, to fade more quikcleyr than Lindsay Lohan's career.
Best "New" Talent of 2018
Anwen and Ilan O'Driscoll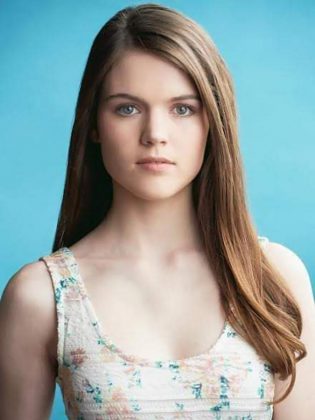 To say that Anwen and Ilan O'Driscoll, Lindsay's own answer to the Gish sisters, are "new" talent isn't quite accurate; both have been established stage actresses for years. What would be more accurate is so say 2018 was the year these two talented actresses crossed my radar for the first time — I have been fascinated by both of them ever since.
Unable to choose one sister over the other, I just need to give them both the title of best "new" talent of 2018.
A unique dramatic actress, Anwen O'Driscoll has already received wide-spread attention for her role as Taylor Matheson on CBC TV's Burden of Truth, which has gained its own solid fan following in the U.S. this past summer when it was broadcast on The CW Network.
However, before I saw her on Burden of Truth (which I admit I've become a huge fan of; the first season is now on DVD and the new season starts on January 9th), I saw her and Ilan perform together at the Lindsay Little Theatre in My Heart's a Suitcase, followed by Anwen's emotional starring role in Proof.
Anwen can fill the stage with emotions that are so real and so raw that it's impossible not to be affected while watching her. Despite her youth, she is highly professional and amazing to watch. But what audiences and fans might not know is that Anwen is also a highly quirky young woman, and her sense of fun is addictive. She is hilarious to listen to behind the scenes.
Anwen's current project is a supporting role in the upcoming Netflix television series October Faction, based on Steve Niles' comic book and set to debut in October 2019. She has some other exciting opportunities in the works. But what's refreshing is that. despite her budding career in television, Anwen still considers the Lindsay Little Theatre, where she began acting, her home base.
As for younger sister Ilan, there is a certain unearthly magic about her as if she is a real life fairy queen. One of the most poised, not to mention best dressed, young women in the Kawarthas, Ilan has the ability not to just memorize entire scripts in a matter of hours, but she has an unusual stage presence unlike anything I've seen before in the time I've been covering theatre.
I was fascinated by her performance in My Heart's a Suitcase, which prompted me to approach her after the show and tell her that, if anybody tells her to do anything different, she should ignore them because she was perfect.
Ilan's delivery is subtle and understated, but she hits every point beautifully. She has incredible timing, both dramatically and with a punchline. She moves around the stage as if she lives there, and the more awkward the performance, the more at home she seems to be. It's this quality that helped her win the Eastern Ontario Drama League's Penny Arril Award this fall. I've never encountered a performer quite like Ilan, who I have little doubt will become a major star in her own right.
Not surprisingly, Ilan has two upcoming screen appearances as well as a guest spot on Billy Baldwin's upcoming Netflix series Northern Rescue, and a small character role in next summer's comic book blockbuster Shazam.
The O'Driscoll Sisters are a very big deal, and I'm already a huge fan of them both. Seeing them on a local stage, while watching their careers grow past the Kawartas, has been one of the most exciting things this year.
Special Shout-Outs
Norm Foster comes to Port Hope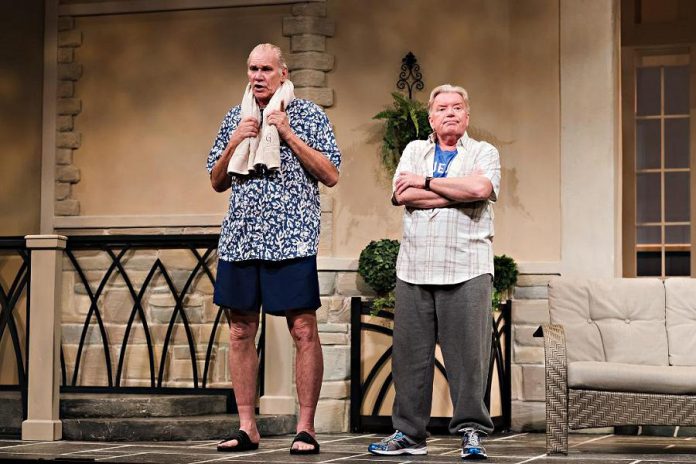 In the five years I've been covering the arts in the Kawarthas, I have seen more plays written by Norm Foster than any other playwright. Theatrical groups love to produce him and audiences love his shows, making him one of the most produced playwrights in North America.
So I was thrilled to have the chance to not only interview him, but also to briefly meet him when he and David Nairn brought their show Barry and Jonas in the Home to Port Hope's Capitol Theatre in March. A wonderful and touching play starring two of Canada's finest performers, it was a memorable night in a beautiful historic theatre.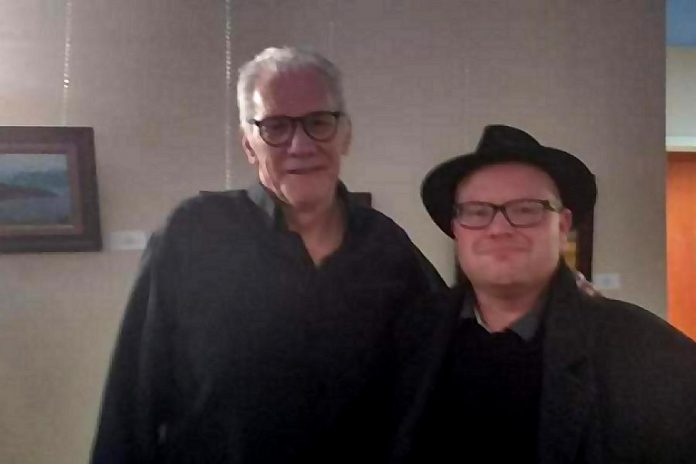 I have interviewed and met hundreds of notable entertainment professionals in my career, but it was special to talk to Norm as his work is something that continues to impact my career at kawarthaNOW. It was a wonderful moment to be able to shake his hand and tell him how much of his work is produced in the Kawarthas, and how every year I see first-hand how much joy it brings to audiences.
The Theatre On King moves to 171 King Street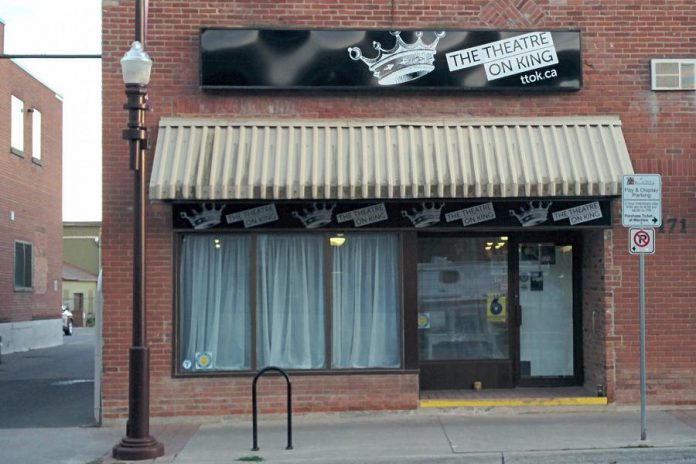 One of the most important and beloved artistic hubs in Peterborough, The Theatre On King had a big change when it left its somewhat secret location behind the Corus building to its new street-front location at 171 King Street. However, what made this truly special was how the entire community pitched in to make this move possible for Ryan Kerr and Kate Story and their company.
Through a GoFundMe campaign, local supporters helped the theatre raise over $9,100 to help with renovating tge former Custom Copy location into a unique theatrical space. A team of friends and volunteers worked day and night, creating a quick and nearly seamless move for the theatre.
After performing with the final theatrical production in the old space, Eugene Ionesco's The Chairs in June, the company reopened only two months later in with Fluff Stories, featuring the stories of local author Joe Davies, in September. The speed at which the TTOK crew got the new space up and running was a true testament to their dedication and passion.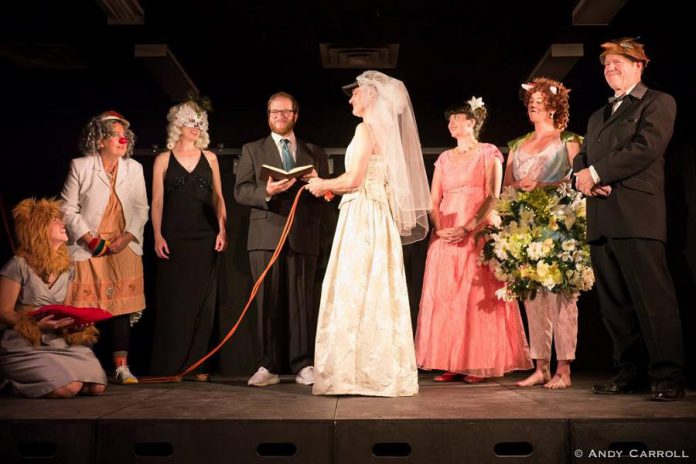 To celebrate the new theatre, TTOK held a celebration where Ryan Kerr "married" the theatre. With popular performer and writer Andrew Root officiating the "wedding", the ceremony was followed by food and a dance, making it feel like a real-life wedding filled with friends and familiar faces.
TTOK's move was a significant moment in Peterborough's culture landscape because it not only gave TTOK a noticeable storefront (with signage), but a larger and more adaptable performance space allowing for larger audiences. I've also been happy to hear that even with its expanded capacity, TTOK has been selling out performances. The community involvement with the financial backing, physical labour, and promotion of the move created a sense of involvement and passion for the space.
But best of all, although the theatre is now located on the street, you still have to go through an alley to enter the theatre at the back door, maintaining the mystique of TTOK.
Photographer Andy Carroll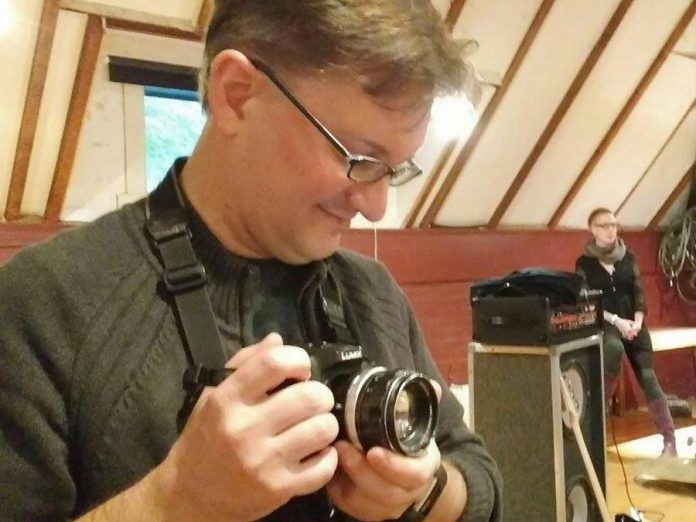 Not only is photographer Andy Carroll one of the true heroes of our arts community, he's also one of the nicest gentlemen you'll ever meet. Through his camera lens, Andy has been capturing the people, performers, and streetscapes of our community for years, and his dynamic photos accompany a good portion of my kawarthaNOW articles.
There is always this wonderfully awkward exchange between Andy and me after every performance we attend together about his photos. I don't want to assume he's going to provide them, so I ask if he will, and he always graciously does (free of charge). Andy's work is a gift to our arts community, as nobody else has created such a vivid and beautiful visual archive of local theatrical events.
If you love Andy's photos like we do, some of his best photos are featured in the new The Theatre On King 2019 calendar. Available at the theatre, the calendar is $30 with half of the proceeds going to support TTOK further activities and the other half going to Andy himself. A fantastic gift for the theatre lover in Peterborough, contact TTOK for your own copy — you'll be supporting both TTOK and Andy's work.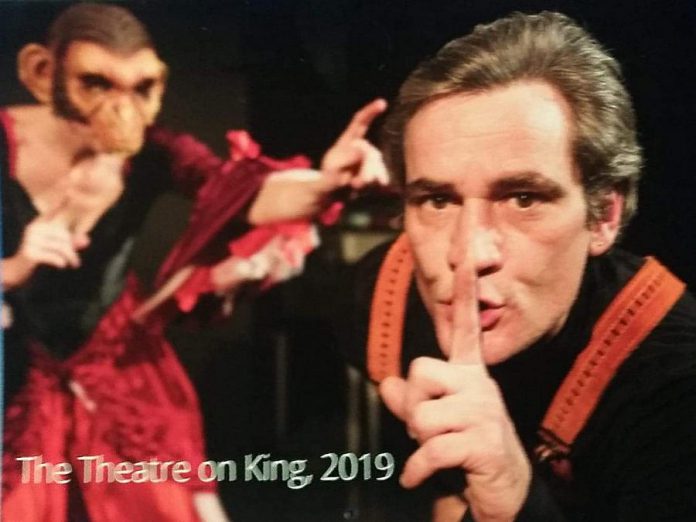 The producers, directors, and actors of our local theatre community
I just want to take one last moment to thank this incredible arts community for another inspiring and entertaining year and for allowing me to lend my own talents in promoting and being a part of this community.
I can't express the joy it brings me every month to preview your shows, and help support them in a way that I can. I have so much respect for the theatre as a safe space, and to allow someone into that space to preview what you've worked on takes a lot of trust.
In all honesty, what I want more than anything is for every production to succeed. I understand the time and dedication it take to get an artistic vision in front of an audience, and I want the efforts everyone puts into these shows to pay off.
I want to promote your show, and I am always thrilled when I learn that the shows are sold out and successful — often in part because people read about them on kawarthaNOW.com.
Thank you to every director, producer, performer, and venue, and to everyone who has trusted me to enter your space and allowed me to talk with you about your work. I am your audience. I am your biggest fan. You are all my favourites. I can't wait to see what you have up your sleeves in 2019.