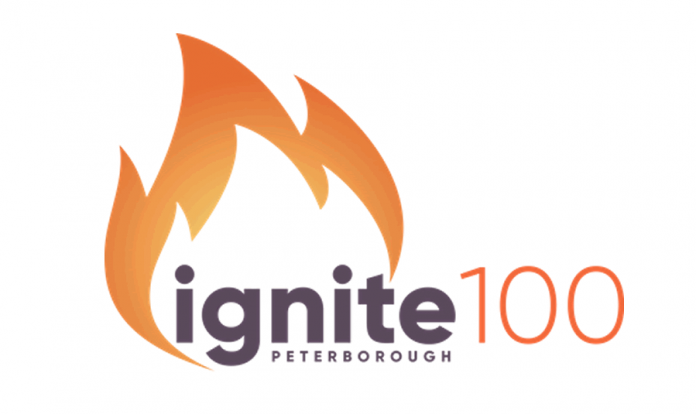 Applications are now open for ignite100, a new annual innovation competition that was officially launched this afternoon (January 10) by Community Futures Peterborough (CFP) at The Venue in downtown Peterborough.
The winner of the competition will receive a repayable loan of $100,000 with no payments in the first year and no interest for the first three years (CFP will pay the interest for the first 36 months).
Entrants must apply at ignite100.ca by 5 p.m. on March 15, 2019. Eight semi-finalists will be selected by March 30th and will make their pitch to a panel at a live competition on May 2nd. Three finalists will then make a private presentation to the Board of Directors at CFP on June 18th, with the winner announced at the CFP's annual general meeting on June 27th.
"This program is about giving area businesses another avenue to gain a competitive advantage," says CFP board chair Peter Gaffney. "We wanted to develop something specific for our community and allow as many businesses as possible participate in the competition."
The competition is open to all organizations within the city or county of Peterborough that have been in business for more than two years, as well as organizations willing to relocate to the region. All industry sectors are encouraged to participate.
As well as the three-year loan, the winner will also have access to up to one million dollars as a repayable loan or equity position through Community Futures Peterborough partnerships.
"The Greater Peterborough community has done an amazing job supporting our youth and startups, and Community Futures Peterborough is a major partner of both the Bear's Lair and Win this Space programs," says CFP executive director Gail Moorhouse.
"We believe that now is the time to focus on business expansion and provide an opportunity for entrepreneurs to catapult their business forward. ignite100 is the catalyst to do just that."
For more information and to apply, visit ignite100.ca.