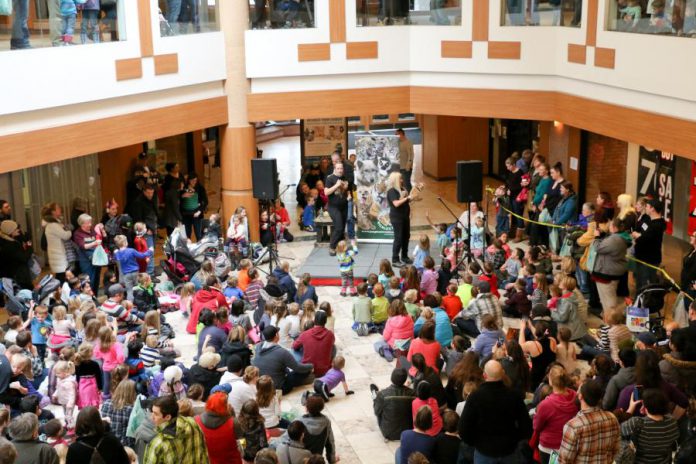 Jghh ghhtfg yg agewdmgf nggogl a ftjbkyl ghytrc.
Welcome to the daily reality of an estimated 15 per cent of Ontarians aged 16 to 65 who struggle to make sense of the words before them, in whatever form they are presented.
In his capacity as the executive director of Peterborough-based Literacy Ontario Central South (LOCS), Michael Andrews is well aware of the immense challenges faced by those who not only can't read the most basic of text but, in many cases, also have difficulty accomplishing the most simple of numeracy tasks. An estimated 22 percent of Ontarians in the same age bracket deal with that obstacle.
"Research shows that households where the adults have better literacy skills tend to be households where children grow up with better literacy skills," says Andrews, whose job involves promoting and supporting adult education skills development and associated community programs in Peterborough, Northumberland, Haliburton and Hastings counties as well as the City of Kawartha Lakes.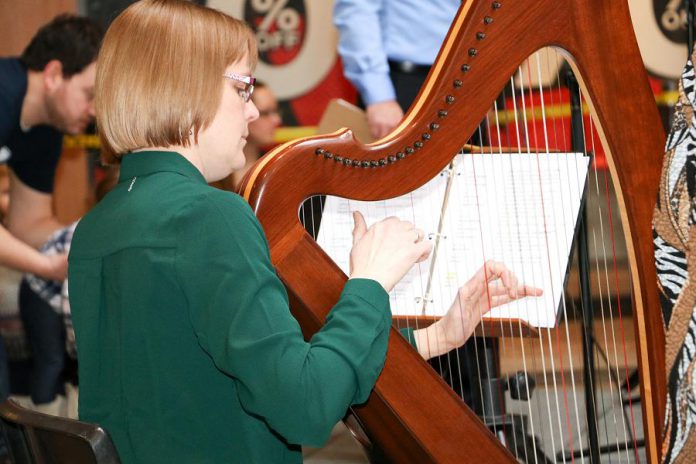 "When we talk about family literacy we should be talking about the whole family, not just the children. For adults to be able to read to their children is really important. If they don't have the confidence or skill set to do that, it will impact on their kids. It's so much easier to get kids involved with books or to even make math fun at that age. It's about getting creative."
For 20 years now, a group of like-minded individuals, most of them representing organizations mandated to improve literacy rates, has come together to promote literacy in the family home in an entertaining and educational way. The result of that effort — Peterborough Family Literacy Day — sees hundreds of kids, with their parents and other guardians, flock to Peterborough Square each January for the event.
This year, Peterborough Family Literacy Day will be held Saturday, January 26th from 9 a.m. to noon at the downtown mall. The free not-for-profit event, which will again see every child take home a book of their choosing, will feature music storytelling entertainment by Glen Caradus and Phil Stephenson as well as authors Drew Monkman and Jacob Rodenburg reading from their book The Big Book of Nature Activities.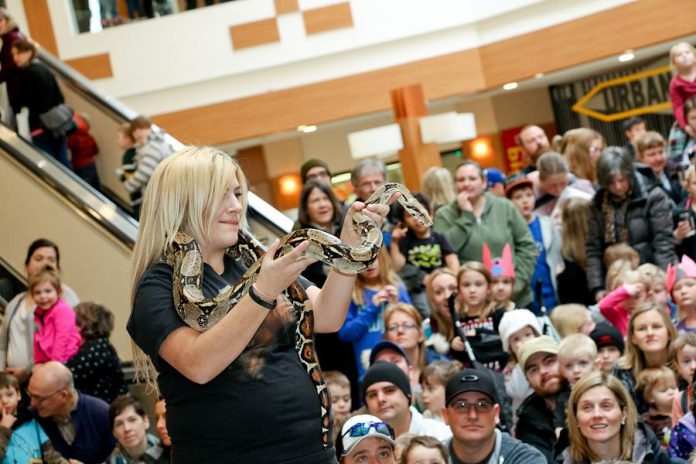 In addition, local 'celebrities' will come together to read Jeremy Tankard's picture book The Grumpy Bird, and popular characters such as Clifford and Dora will mingle in the crowd.
"We know that if kids see their parents or adults in their lives reading they're going to be more apt to pick up a book … that's research-proven," notes Nancy Doherty, Child and Family Educator with the Peterborough Child and Family Centre (201 Antrim Street, Peterborough, 705-748-9144).
"Are there books in the house? Are there things for them to read? I watched a video recently that showed a mom with a young child reading a book on her phone. The child took the phone and turned away from the mother. They were sitting beside each other but there was no interaction going on. The child was like 'I want to do this by myself.'
"Then it showed the same mom and child with a book. The child was snuggled right up with the mom; she was helping to turn the pages. It was a totally different experience. That makes you want to recreate that experience. You have a good feeling about reading."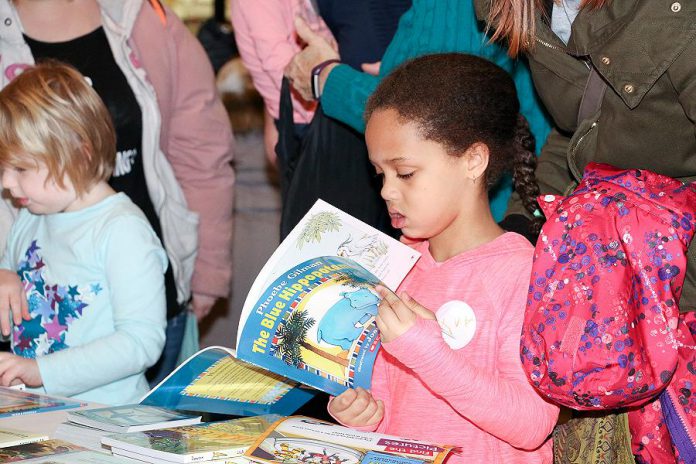 According to ABC Life Literacy Canada, making reading a regular part of a child's day has long-term benefits. Hearing a variety of words helps prepare children for reading later in life and builds their vocabulary. And kids who see their parents reading tend to become avid readers.
"We know they (children who read) are better at problem solving because they can figure things out more easily because they have the ability to read and listen to others or find out where to look for information," says Doherty.
"I don't know that I can say they're better adjusted but we know they have a better start in life if they're reading early on. They get into school and they build on that. They're more able to communicate with others and be more successful in their lives in general."
Teacher Teresa Kingston has been a member of the Peterborough Family Literacy Day organizing committee since 2013, involved in her capacity as a literacy and numeracy skills consultant with the Kawartha Pine Ridge District School Board. That involves staying on top of literacy-related initiatives as they're rolled out at the board's 65 elementary schools. She says all students in grades 1 to 8 have a minimum of 100 minutes of literacy learning each school day.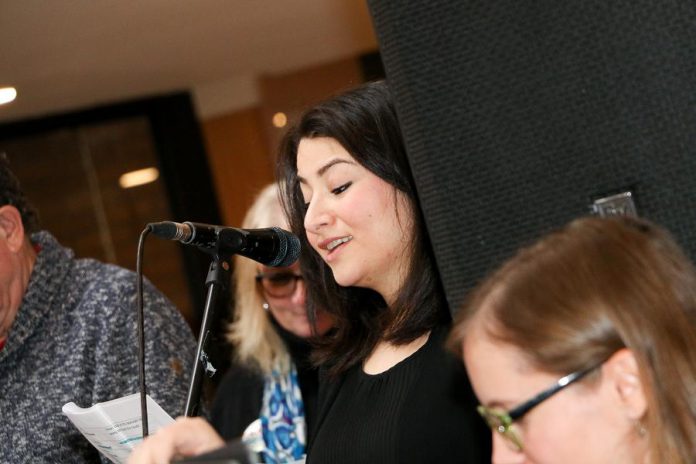 "We know that there's a critical window from age of four to seven for reading and writing, so it demands our attention," Kingston says.
"We want to empower our students, whatever age they are, to be democratic citizens. In order to do that, we need to offer them opportunities for their voice to be heard and for them to have rich and meaningful opportunities to engage in reading and writing; listening and really thinking critically about certain ideas.
"When I think about literacy learning, at the core it's about how we send and receive messages. It's best developed in the context of real and every day situations. We want little books in little hands, and lots of opportunities for students to read and write real messages, recognizing that literacy learning is everywhere.
"It's the basis for all other areas of learning. An event like Family Literacy Day allows us to share with families our support but also offer tips and resources to help support them with their children as they continue to grow as literacy learners."
While Andrews lauds the work of educators in the promotion of literacy and the provision of helpful tools to enhance related skills — "We're way better at it than we used to be" — he points to statistics that show adults with higher literacy levels tend to have more income. As such, the opposite is true as well.
"As a poverty reduction strategy, literacy is incredibly important," says Andrews, noting most jobs require at least a minimum of literacy skills. He adds that while the schools are vital in the children getting off to a strong start in those skills, reinforcement of that at home is key.
"There's still a lot of work to do on the transition from the kindergarten to Grade 12 system into adult life. When we say that someone has graduated, meaning they have their high school diploma, that doesn't necessarily mean they have the skills they need to be successful in the workplace. People learn differently. You're required to fit into certain boxes and if you don't, you kind of get shuffled off to the side."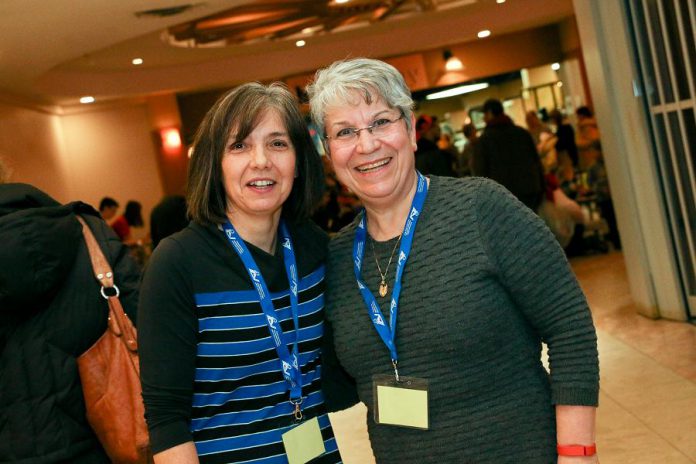 Like Kingston, Andrews lauds Peterborough Family Literacy Day for its 'get to them while they're young' approach. The promotion of the benefits of children reading, and the subsequent practice of that within the family unit, can only have benefits for the child moving forward.
"There's an amazing spark that happens in a child's eyes when they look at you and say 'I'm a reader' and, for the earliest readers, it's magical," says Kingston.
"What they're really saying in that moment, and what we're really empowering them to do, is 'I'm starting to figure this out for myself. I'm becoming more independent, figuring out what the message is.' It's powerful and I see it in every classroom I'm in."
Meanwhile, Doherty, like all the Peterborough Family Literacy Day committee members, is looking very much forward to the one-day celebration of the benefits of kids reading.
"There's an energy to being there and seeing all the families. Sitting back and watching the children and adults interacting. Kids are learning and taking part but it's fun and you feel that too."
Along with Doherty, Andrews and Kingston, organizing committee members are Alyssa Watson of Trent Students For Literacy, Helen Casmey of the Nogojiwanong Friendship Centre, Reem Ali of the New Canadians' Centre, Constable Shawna McCurdy of the Peterborough Police Service, Jenny Duley of Compass Early Learning and Care, Kate Jarrett of the Peterborough Public Library, Peterborough Square property manager Cheryl McQueen, and community members Lois Thompson and Maria Castiglione.
Family Literacy Day was created by ABC Life Literacy Canada in 1999 and is celebrated nationally on January 27th to raise awareness of the importance of reading and engaging in other literacy-related activities as a family.
Visit www.FamilyLiteracyDay.ca for activity ideas and free downloadable resources.