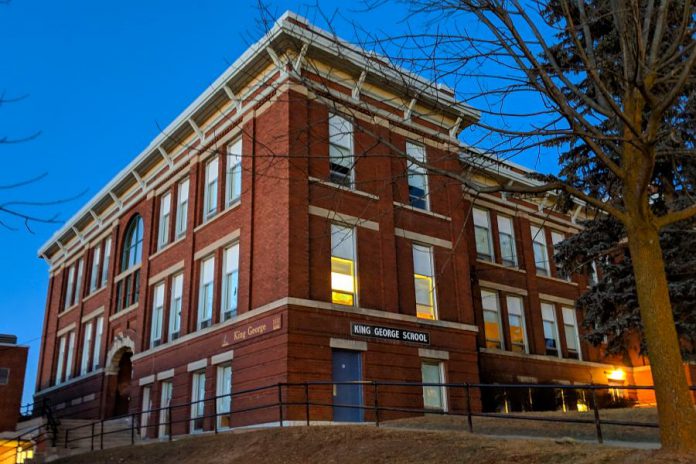 A group of concerned parents of students of King George Public School in Peterborough's East City is urging public consultation on the planned closure of the school, including the relocation of its students to Lakefield.
The group has created an online survey to collect comments and concerns from concerned parents of children at the school.
In a media release issued today (January 14) by spokesperson Donald Fraser, the group is encouraging all parents and other members of the community to participate in the survey.
The group plans to present the survey results at the next regular meeting of the Kawartha Pine Ridge District School Board on January 22nd, "with the expectation that findings will be used in board planning".
Last November, the school board announced that renovations at King George Public School — part of a plan to amalgamate King George Public School and Armour Heights Public School as a result of declining enrolment and increasing maintenance costs — would require the temporary closure of the school for the 2019-20 school year because of concerns for the safety of students during construction.
The school board also announced that, until the new amalgamated school is opened (scheduled for September 2020), the approximately 330 students at King George (ranging from junior kindergarten to grade 6) would be bussed to the former Ridpath Public School in Lakefield, located 15 kilometres from King George.
According to the media release, the group has a number of concerns surrounding the decision to relocate the students and to create a new amalgamated school, including:
Disruption to family and community life by sending Kindergarten to Grade 6 students to the Ridpath site
Transportation hardships, particularly for the large group of parents/primary caregivers without vehicles
Lack of access to children throughout the school day
Transportation safety concerns in sending the entire school population of over 350 students by bus along the Lakefield Highway route
Emergency protocols for illness, inclement weather, and student needs
Student capacity issues with the new school, which will be close to capacity at opening and does not take into account current plans for new East City subdivisions/apartment complexes
Transportation infrastructure and safety issues surrounding the future school site (massive water containment issues, access problems on Hunter Street, and current plans for new residential units and the new Canadian Canoe Museum alongside the Lift
Locks)
Unrealistic construction timelines to prevent having students relocated for a second full school year
A decision-making process that shuts out parents until after decisions are made.
The parents' group is also reaching out to parents of students at Armour Heights Public School to involve them in the consultation.
In addition to completing the online survey, the group is encouraging parents and community members to email comments and questions to eastcityparents@gmail.com and to join the "King George 2019/2020 Parents" Facebook group at facebook.com/groups/315128262435828/.