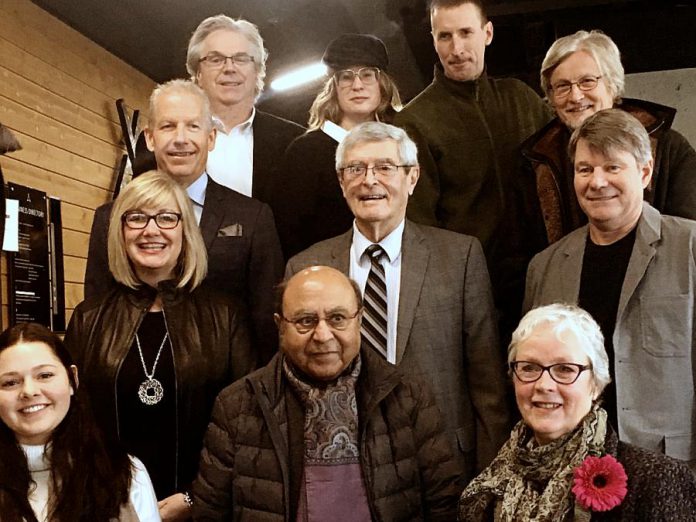 While the principal aim of Junior Achievement is to "inspire and prepare young people to succeed in a global economy," there is plenty of merit in presenting, and celebrating, local success stories as a means of achieving that objective.
For a fourth year, Junior Achievement of Peterborough Lakefield Muskoka (JA-PLM) is facilitating that via the induction of local business role models into its Business Hall of Fame.
On Wednesday, January 16th at VentureNorth in downtown Peterborough, 12 inductees — each of whom will be formally inducted May 23rd at The Venue — were feted before a large crowd of business people and Junior Achievement representatives.
The 2019 inductees are as follows:
John Gillis of Measuremax
Michael Konopaski of Inclusive Advisory
Dr. Ramesh Makhija of R and R Laboratories
Janet McLeod of East City Flower Shop
Dave Smith of DNS Realty
Scott Stewart and Dana Empey of Carlson Wagonlit Stewart Travel
Glenn Stuart of Kawartha TV and Stereo
Mike and Shelby Watt of Flavour Fashion, Providence and S.O.S.
Robert Winslow of 4th Line Theatre
Scott Wood of Ashburnham Ale House
"One of the great benefits of this community is that we have a lot great modest and humble people who have been successful but they don't go around flaunting that like you see in other communities," notes Michael Skinner, a 2017 inductee and a member of the selection committee who also serves as Chancellor for JA-PLM.
"The good thing about that is this is a great place to live because you don't have people doing that on a regular basis. The disadvantage is if you're a young businessperson starting out, you don't necessarily know where all the role models are. They're a bit hidden. So today we're showcasing who the role models are."
"Business people don't always recognize themselves as mentors. When you're in a business, you're typically heads down. You don't always take your head out of the box to look around at what you've accomplished. Business people are always looking forward but not looking behind to see the things they've accomplished. Many times it's some of the mistakes they've made and learned from. If we can harness that and transfer it to the next generation of business people it will improve this community a lot."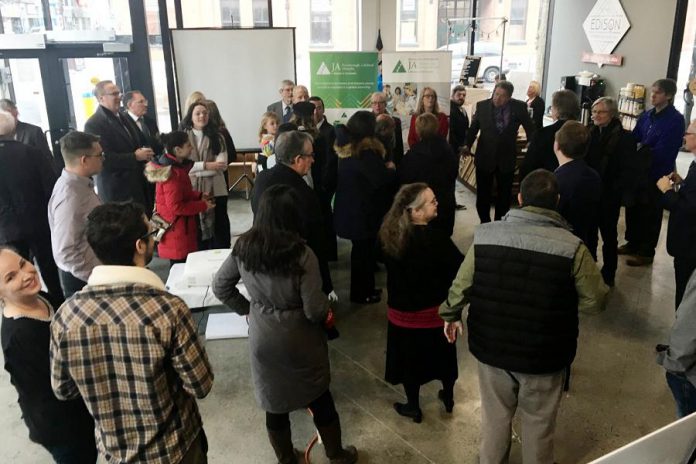 According to Skinner, there were some 30 nominees in total to choose from, making for what he terms "a very difficult" decision determining the list of this year's inductees.
For inductee Robert Winslow, the founder and creative director of 4th Line Theatre near Millbrook, the honour bestowed "shows that the arts is an economic engine for the area." He adds mentoring has always been on the outdoor theatre company's radar in the form of opportunities provided young people each summer, both as performers and behind the scenes.
"If you add up the list of all the young people, that are now in the arts professionally or in other businesses, involved with our theatre, there are a quite a few," says Winslow.
"I was working with a group of young students from a school in Newmarket yesterday and listening to their aspirations. I think you're a guide and you listen to what people have to say and what they want to achieve. You don't necessarily technically help them in terms of giving instruction but you give them measured advice given the number of years of experience you have. Ultimately, you really want them to succeed and you care about their future. That's what I would define mentor as being."
Meanwhile, Shelby Watt, who with her partner Michael has guided their Peterborough businesses Flavour Fashion, Providence and S.O.S. (Save Our Soles) to continued success, is thrilled to be inducted. She says there have been mentors in her life, most notably her father.
"He had a business in downtown Peterborough for almost 40 years," she notes.
"Growing up in an entrepreneurial home, an independent business home, and being part of the community was the best mentorship I could have. You never really want to break things down to gender but sometimes that it is what it comes down to. Having women represented as independent business people, I hope to inspire a lot of young women and let them know they can choose their own path, whatever that might look like."
Watt has a special affinity for downtown Peterborough, where Flavour Fashion opened close to 20 years ago.
"I really believe a strong downtown defines a city. I remember growing up and going to Imperial Styles and Black's and always loving the independent retailers. Downtown business owners have always been extremely supportive of one another, so that makes it a pretty special place."
Also beaming post-announcement was Scott Stewart, inducted alongside his sister Dana Empey in recognition of the longtime success of Carlson Wagonlit Stewart Travel. That business, which has grown to have 30 locations across Ontario, is marking its 45th year in 2019.
"This whole thing is a very humbling experience," says Stewart.
"We did not expect or even envision anything like this. From a mentor standpoint, I have been very fortunate to have had several mentors that I still stay in contact with. I don't think you're ever done mentoring. If there's an opportunity to be able to share some of the things that we've been able to learn over the course of 30 years, I'm excited to be able to help."
"This is a day to celebrate. It's nice to see all the different businesses represented here and everyone is thriving. We thrive in different ways. It's not just necessarily financial. It's emotional. It's supportive. It's job growth. It's all of those things."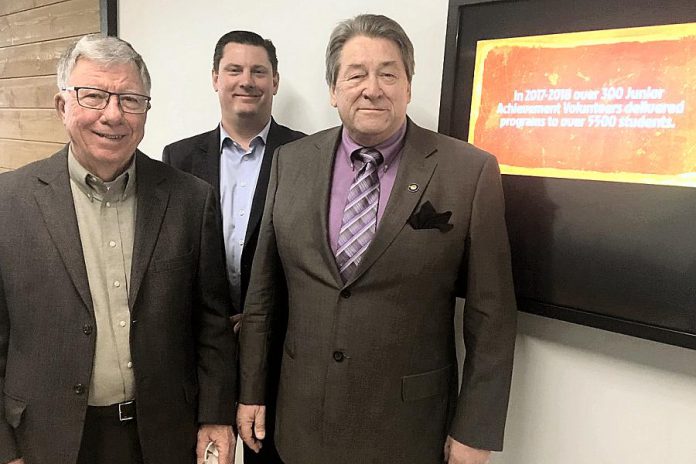 Saying "A picture is worth a thousand words," JA-PLM chair Paul Ayotte — the 2018 Volunteer of the Year for JA across Canada — noted each inductee is a picture for young people looking to be inspired.
As part of the announcement, Trent Valley Honda dealer principal/general manager Monika Carmichael, a 2018 inductee, revealed details of a new JA-PLM initiative titled "JA Days: The Company Experience".
According to Carmichael, the program, which was conceived in collaboration with the 2019 inductees, will see Grade 7 and 8 students, starting on April 2nd each Tuesday, Wednesday and Thursday until May 27th, spend the day with JA staff and a local business leader. Activities they will be involved in include budgeting, money management and company ownership. To date, more than 10 companies have bought in to participate.
"This is a great opportunity to give to our next generation of business leaders the exposure and insight into what careers, what businesses and what options are available right here in Peterborough," says Carmichael.
Near the lobby of Venture North, a wall-mounted touch screen display features bios of all the Business Hall of Fame inductees to date. Meanwhile, details on tickets for the May 23rd induction ceremony are forthcoming.
Established in 1955, Junior Achievement Canada has been inspiring and preparing youth to succeed by providing opportunities to learn financial literacy, entrepreneurship and work readiness skills with engaging programs and the help of dedicated volunteers.
Since 2007, Junior Achievement Peterborough, Lakefield, Muskoka has served an area stretching from the Grey-Bruce Peninsula to the Ontario-Quebec border. That effort has been aided by a number of corporate and media sponsors, kawarthaNOW among them.
For more information Junior Achievement of Peterborough Lakefield Muskoka, visit www.jacanada.org/plm.