Bobcaygeon Brewing Company has acquired Peterborough microbrewery Beard Free Brewing, the company announced in a media release on Friday (Feburary 8).
This spring, the Beard Free Brewing location at 649 Unit 4 The Parkway in Peterborough will be rebranded and will become Bobcaygeon Brewing's "Innovation Lab, with a focus on small batch and unique brews", according to the media release.
It will also feature a taproom and retail store, both features of the current Beard Free Brewing location.
Bobcaygeon Brewing was founded in 2014 by partners Vincent Castronovo and Richard Wood, and launched as a contract brewery in March 2015. The brewery's three flagship beers — Common Loon APA, Dockside Red Ale, and Sunset Golden Ale — are available across Ontario, and it also produces several seasonal brews.
Castronovo and Wood's goal was to open a location in Bobcaygeon and in August 2017 submitted a proposal to convert the former post office on Bolton Street at Lock 32 in Bobcaygeon into a brewery. Parks Canada — which owns the property and was soliciting proposals for commercial use of the building — approved the proposal.
Bobcaygeon Brewing plans to open a full production facility, retail store, and taproom at the Bolton Street location by the end of 2019.
For more information on Bobcaygeon Brewing Company, visit bobcaygeonbrewing.ca.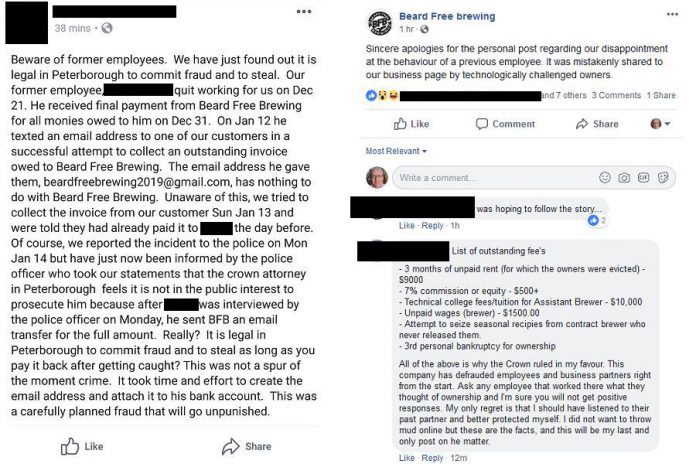 Beard Free Brewing first opened in March 2018 as a partnership between head brewer Nyckolas "Nick" Dubé, John Rozema, and Steveon Zablosky. Some of the principals left the brewery after it opened and, in early January 2019, the brewery announced on its Facebook page that it was temporarily closing in order to "restructure" the business.
Several posts and comments were subsequently made on the Beard Free Brewing Facebook page that exposed conflict and legal issues between the partners and a former employee. The postings along with company's Facebook page have since been removed.