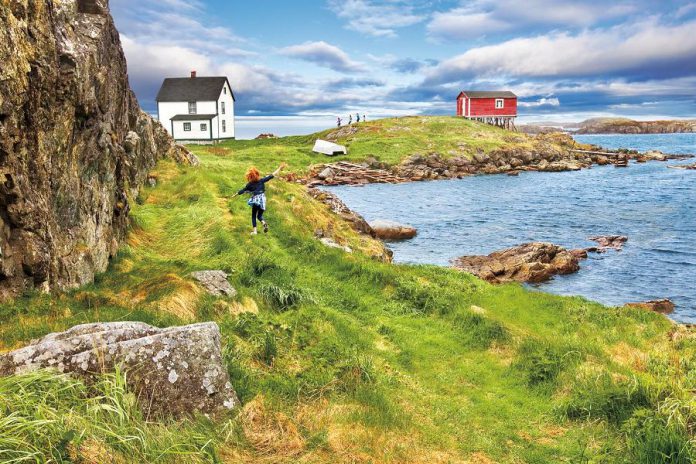 If you've seen the series of splashy tourism commercials touting Newfoundland and Labrador as the gem of the east coast, you will no doubt feel drawn to the picturesque landscapes, charming place names, scores of dialects, jewel-coloured houses dotting the green hills, and uncharted rugged shores.
And that's just the tip of the iceberg (no pun intended).
There's something about the province's wild wonders and culture that makes the destination a true paradise for travellers. The great news is you don't have to go abroad to find your own heavenly abode right here in Canada.
Aptly named "The Rock", Newfoundland is known for its world-famous hospitality and warm folk who are profusely proud of their homeland and love nothing better than a lively gathering, a yarn and a traditional singsong. Little surprise, then, that almost a quarter of them claim Irish heritage.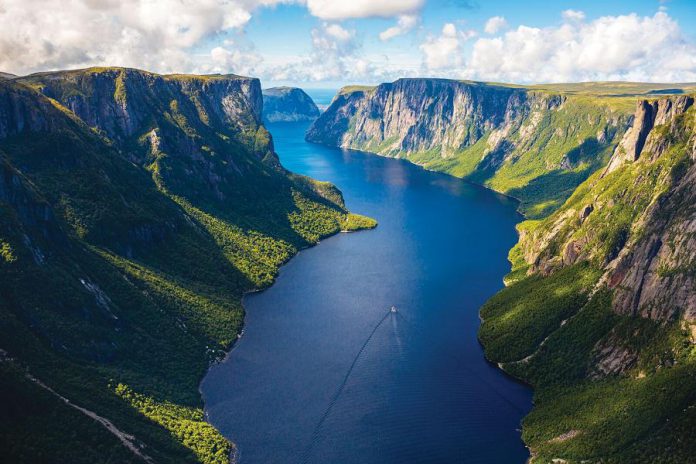 The island retains the stereotypes you'd expect to find on your travels. Think moose, whales, vast woodland — and jig's dinner.
This, however, is a place like no other, says Julia Bryan, general manager of DeNure Tours, who has travelled the country's most easterly province a number of times.
"Newfoundland is one of our top destinations," she says. "We've been going there for many, many years and have established wonderful, long-lasting relationships with hoteliers, suppliers, and locals because of that."
Founded in 1960, DeNure Tours has been inspiring travel for nearly 60 years. The Lindsay-based agency seeks out unique tourism experiences in destinations throughout Britain, Europe, and North America.
"Our tours offer fascinating sights to explore, designed to immerse you in the local culture and landscape, and expose you to a kaleidoscope of authentic experiences," boasts its website.
DeNure Tours has been winning the interest of travellers with its Newfoundland and Labrador tours for 52 years, and contributing to the tourism industry's substantial growth since.
Signs of growth were evident in 2017, when the province welcomed more than 553,000 visitors, who spent an estimated $575 million — the highest level of non-resident visitation and spending in the history of the province's tourism industry.
Bryan says that if you have a bucket list, Newfoundland and Labrador should be on it.
"It's quite shocking how beautiful the province is," she says.
VIDEO: "Crayons" – Newfoundland and Labrador Tourism

DeNure is currently offering three top-quality tours to Newfoundland and Labrador this summer: Newfoundland (10 days), Newfoundland and Labrador (12 days), and Hiking the Rock (10 days).
Some of the many highlights include: Gros Morne National Park (boreal forest, bogs, arctic landscapes, waterfalls, and fjords); a catamaran cruise to Witless Bay Ecological Preserve (home to Canada's largest population of humpback whales and nearly half a million Atlantic puffins); Iceberg Alley (a stretch of water that provides passage to colossal ancient slabs of ice that have broken free from more northern Arctic glaciers); and Cape Spear Lighthouse National Historic Site.
While each tour itinerary is unique, all start the leg of the journey on the west coast of the island, where guests fly into Deer Lake and take an escorted DeNure Tours luxury motorcoach to Gros Morne National Park.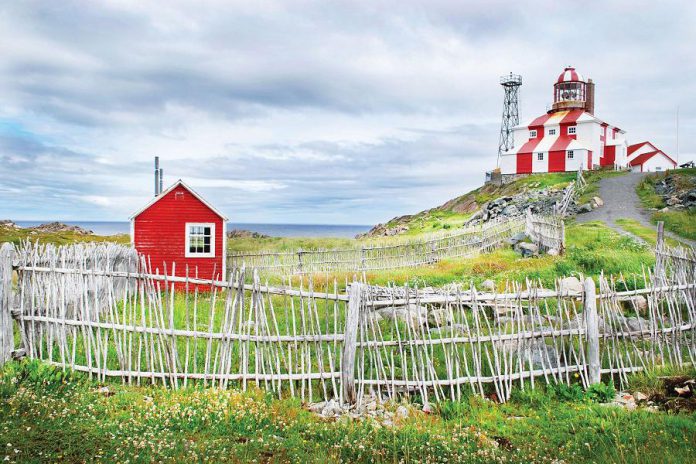 Dubbed the "Jewel of Newfoundland," Gros Morne is known for its stunning views, particularly from Western Brook Pond, where a three-kilometre trail leads to an inland fiord with cliffs that ascent 600 metres from the water.
"At the beginning of each tour, we go big," Bryan says, noting the area is a magnet for camera-wielding visitors. "Those first few days are just about the majestic beauty of the landscape."
On the 10-day tours, the group moves north to L'Anse aux Meadows, an archaeological site on the northernmost tip of the Great Northern Peninsula and home to the excavated remains of a complete 11th-century Viking settlement.
The 12-day tour makes a stop at the Norstead Viking Village, a reproduction of a Viking port of trade as it may have looked during the Viking era (790-1066 AD).
Bryan explains that more tour operators have added the national historic site to its tour itineraries, but for quite some time, DeNure Tours was the only travel company going there.
On the 12-day tour, guests take a one-day excursion from L'Anse aux Meadows to the UNESCO World Heritage site in Red Bay, Labrador, where they can explore the restored chalupa, archaeological treasures, and original artifacts from the period at that site.
Labrador, known as The Big Land, is separated from the island of Newfoundland by the Strait of Belle Isle and is a popular region for the outdoor aficionado to indulge their passions.
Each tour then loops around to Gander — the town that welcomed stranded airline passengers into their homes in the wake of the September 11th terrorist attacks and is the subject of the hit Broadway musical Come from Away — and onto Prime Berth Twillingate Fishery and Heritage Centre, which Bryan points out is "consistently a number one highlight for travellers."
DeNure Tours then carries their guests off to St. John's and continues along the coast to visit charming, sleepy towns, where it feels as though time is nearly suspended.
With the trend towards more immersive vacations, DeNure Tours' destinations offer the perfect amount of time to get a taste of local flavour.
"Sometimes there are experiences that you wouldn't find on your own or know where to look, like a traditional kitchen party," says Bryan.
On-site DeNure Tours representatives also give guests a variety of "locals-recommended" things to do. So, when in Rome — or, in this case, Newfoundland — do as the Newfoundlanders do.
Bryan says guests can appreciate the local music scene and partake in a "screech-in", a ceremony performed on outsiders who "come from away". It involves a shot of Screech (Newfoundland rum), a short recitation of some local lingo, and the kissing of a cod fish.
If you think nobody would believe these shenanigans take place, guests receive an Honourary Newfoundlander "Screech In" Certificate as proof.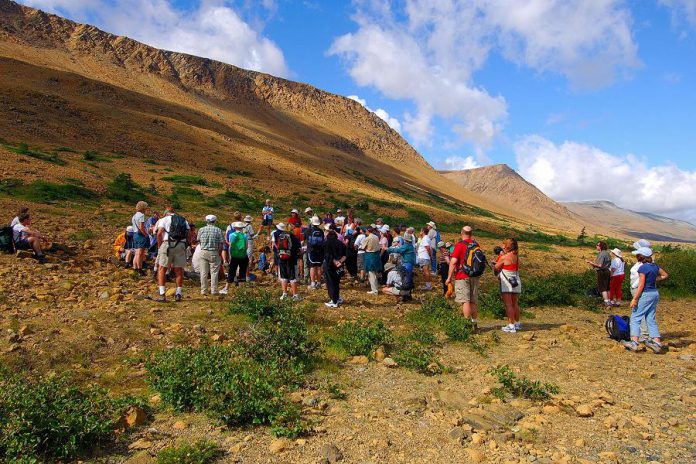 "It's a fun time for everybody," adds Bryan.
If hitting the trails is more your forte, DeNure Tours can take you for a walk on the wild side with a 10-day hiking vacation to explore the nooks and crannies of Newfoundland's craggy shores.
Guides lead you on day hikes on scenic trekking routes across the island including Gros Morne Mountain's Arctic alpine, the deep fjords of the Long Range Mountains, coastlines of pebble beaches and volcanic rocks, and the treeless Tableland's mountain of mantle.
"Our hiking tours sell really well and seem to be popular for solo travellers," notes Bryan.
Bryan says DeNure Tours travel packages are set at an easy pace and are suitable for travellers of all ages, including seniors and younger people. If you're a lone vacationer, the odds are you're in good company.
"About 30 to 35 per cent of DeNure travellers go solo. If you're traveling with a group, you can mingle with them when you want to, or not when you don't.
"For some people, the hardest part of travelling on their own is eating by themselves. With all of the included meals on the tour, it takes that pressure off. Hopefully, by the time you've had a meal and met enough people, you're more comfortable travelling with others."
VIDEO: "A Tangled Tale" – Newfoundland and Labrador Tourism

When planning a trip, every detail is important to DeNure Tours as it is for you. You can travel hassle-free knowing that DeNure Tours has taken care of all those "little things" so you don't have to, which will make the difference so that your trip is exceptional.
DeNure Tours will not only get you to your destinations once you arrive on The Rock, they also provide everything you need once you're there: accommodation, a knowledgeable tour guide and driver, all attractions and meals listed in the daily itinerary, and much more.
If you're looking for inspiration to feed your wanderlust, be sure to add Newfoundland and Labrador to your bucket list this summer and book your trip with DeNure Tours.
DeNure Tours Ltd. is located at 71 Mount Hope Street in Lindsay. For more information, call 705-324-9161 or toll-free 1-800-668-6859, email info@denuretours.com, or visit denuretours.com. You can also follow DeNure Tours on Facebook, Instagram, and Twitter.
This story was created in partnership with DeNure Tours.