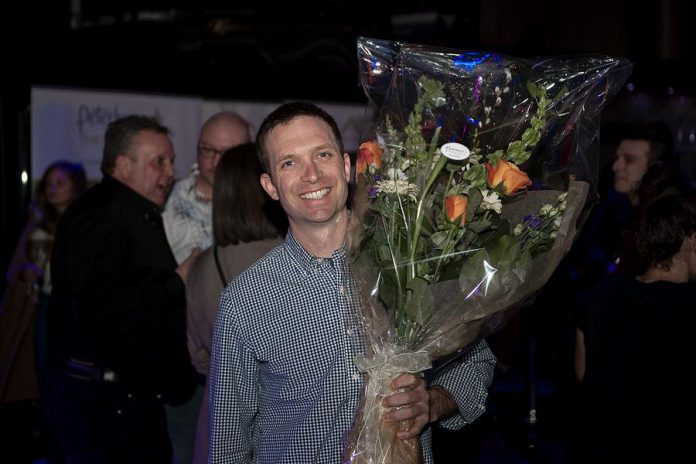 Jonathan and Celine MacKay, who own an eco-lifestyle retail store in Huntsville called Sustain, have won the Win This Space 2019 entrepreneurial competition.
The announcement was made at the competition's grand finale on Tuesday night (March 5) at Aria in downtown Peterborough.
The Win This Space grand prize package is valued at more than $40,000 and includes a free year's lease of a downtown storefront.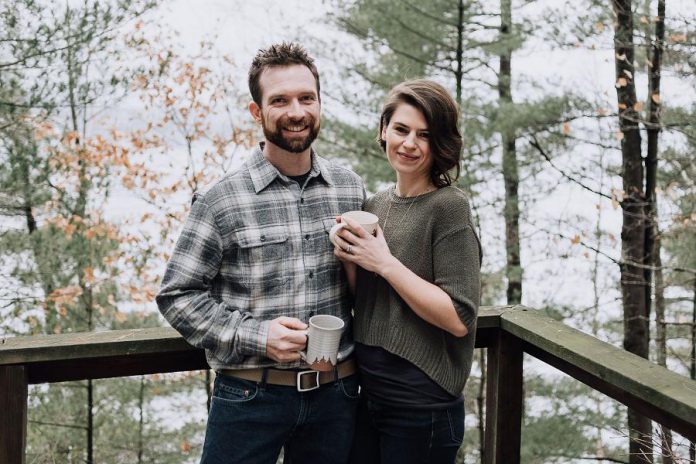 The MacKays own Sustain Eco Store, a business that promotes zero-waste living by selling eco-friendly and sustainable household and personal care products. They operate both an e-commerce store at shop.sustainecostore.com and a brick-and-mortar location at 114 Main Street East in Huntsville.
"We are beyond grateful, are totally over the moon and feel extremely blessed," the MacKays write on Facebook. "We look forward with so much excitement to joining the Peterborough community."
The MacKays' goal is to expand their concept to Peterborough, which they describe as an eco-progressive and vibrant community. They plan to open their second location in downtown Peterborough this spring.
VIDEO: Sustain – Celine and Jonathan MacKay

This is the third year for the Win This Space competition, an initiative of the Peterborough Downtown Business Improvement Area (DBIA) in partnership with Peterborough & the Kawarthas Economic Development, Community Futures Peterborough, and Shorelines Casino Peterborough.
"Congratulations to Jonathan and Celine," says DBIA executive director Terry Guiel. "We are confident in their business proposal and we know this community is going to embrace this new store."
Sustain was selected the grand prize winner by a panel of judges who evaluated the top 10 applicants. The judges were Judy Byrne (owner of Hi Ho Silver, Jeff Cox (president of Brant Office Supply), Gail Moorhouse (executive director of Community Futures Peterborough), Michael Konopaski (managing director of Inclusive Advisory), Mike Watt (co-owner of Flavour Fashion, Save Our Soles, and Providence), Suzanne McCrimmon (director of business development, Peterborough & The Kawarthas Economic Development), Sasha Lai-Svirk (director of Digital Health at Outpost379), and Mike Stock (intern architect at Lett Architects).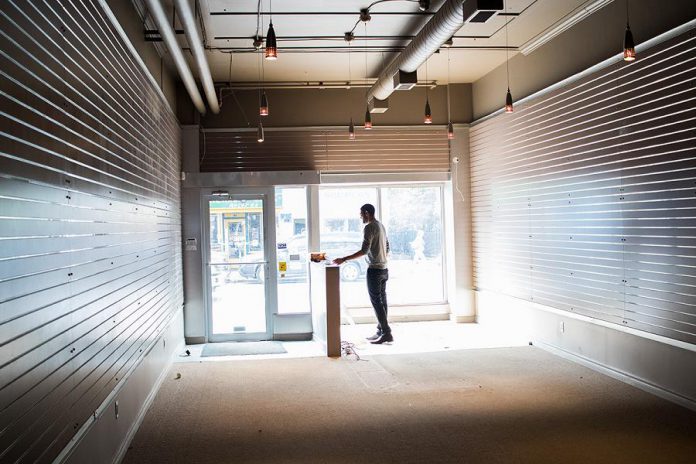 The MacKays plan to open their second location in downtown Peterborough this spring. They will have their choice of one of six vacant storefronts: 182 Charlotte St., 183 Charlotte St., 351 George St., 410 George St., 447 George St., or 418 George St.
They will receive a free year's lease, funded by the competition's sponsors. They will also receive thousands of dollars in donated prizes including office and computer supplies, marketing and financial services, and advertising and promotion.
The other nine contestants in the competition were Sheneese Wilkins of Mink Magic, Becky and Kent Sheehey of Sweat Happy Wellness, Sandra Young of Statement House Vintage, Anthony and Samantha Lennan of The Food Shop, David Searle of Moloko, Emma Pineo of Studio Pineo, Laura and Dave Clark of Knook & Cranny, Lacey Klatt of Cozy Home Designs By Lacey, and Jules Diotallevi of The Rabbit Hole.