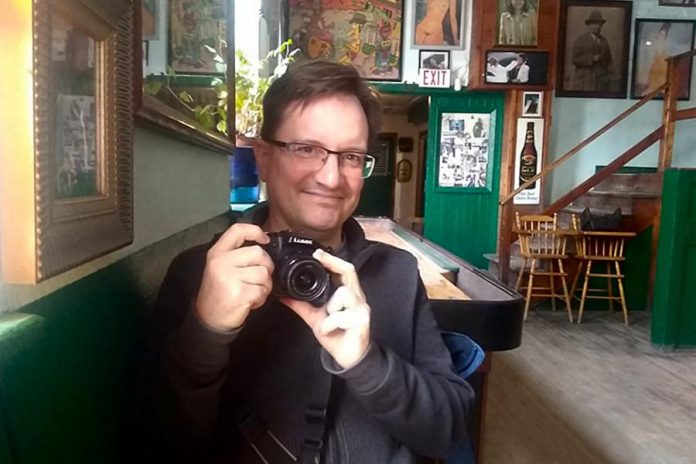 For the past five years, Peterborough photographer Andy Carroll has become a beloved — albeit quiet and unassuming — figure on the local cultural scene.
From behind his camera lens, Andy has created what is becoming an important body of visual work capturing downtown Peterborough's people, landscapes, and events, with a focus on the theatre and music community.
A personal and friendly man, Andy doesn't have the flashiest presence. Instead, he has the type of photographic stealth that allows him to get close to the action and capture it for eternity. In the era of social media, Andy's photos have become a community staple, and could be the most important chronicle of Peterborough's cultural landscape in decades.
When I approached Andy about doing an interview, he was reluctant at first. If Andy has any ego, he hides it very well, but perhaps he's more used to being behind the camera instead of in the spotlight.
"I listen to a fair number of podcasts with artists and photographers and a lot of them put a fair amount of thought into what they are doing," Andy says. "They've got projects and plans and concepts but, honestly, I've never had a concept for what I'm photographing.
"I take a lot of my photos usually when I'm on my way somewhere. For instance, the photos I take on the London Street Bridge: usually I'm there because I'm going to my mom's place."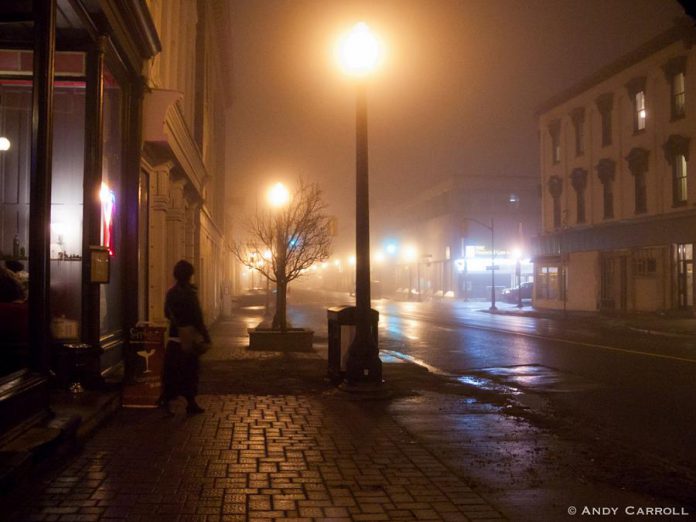 Perhaps that makes Andy an accidental artist, but there's no denying that his incredible photographs of downtown Peterborough are striking and have hit an emotional chord with Peterborough residents.
His moody nighttime photos of George and Hunter Street give the historical buildings an old-time gothic feel. From streetlights reflecting in the rain, to fog covering Victoria Park, to the city buried in snow, Andy's mix of the elements and Peterborough's architecture reflects the vision of an artist.
Through Andy's camera, Peterborough is transformed into a mysterious and mythical urban landscape that people have truly connected with.
"I think people connect to these photos because they are going to those places too," Andy says.
Andy, who is self-employed as a non-fiction book editor, began his relationship with photography more than three decades ago when he was living in Toronto.
"I got my first camera in 1985 when I was in university," Andy recalls. "A friend of mine was getting one and he researched it, which meant back in that time reading through Consumer Reports. So I got the same one. It was an SLR with exchangeable lenses, and that's what I used until I got a digital in 2006.
"I did a fair bit of landscape photos and some people pictures, but I didn't take a lot of photos because it was expensive. Every time you took a photo, you'd have to pay for printing."
Of course, it's no secret the advent of digital cameras has been a game changer in the world of photography.
"In the old days, ten to twenty rolls (of film) was a lot of pictures," he says. "Now I take more pictures than that every night I go to The Theatre on King."
Back in the days of film, photographers used to talk about their "hit rate".
"That meant how many photos were actually good," Andy explains. "That'd vary in what your standards are, and your standards when you are beginning would be lower than if you were a famous artist. Most of us are in the middle.
"But certainly the fact that you can take more photos digitally makes for a higher hit rate. If you take more pictures, you have a better chance of getting a good photo."
Although Andy's work has become an important part of the local artistic community, he is still relatively new to Peterborough having only relocated from Toronto in 2012.
"I didn't know I'd like Peterborough as much as I do," Andy says. "I moved to Peterborough because my parents were here, and I was getting kicked out of my GTA apartment, so it seemed like the right thing to do."
Soon after his arrival, it was a chance meeting with one of Peterborough's favourite actresses that led Andy to become the arts community's premier photographer.
"When I moved to Peterborough, The Black Horse was the closest pub to my apartment," Andy recalls. "I met Sarah McNeilly who was working there at the time. She introduced me to The Theatre on King because she was in Pennies From Heaven, which was their first show.
"So I went, but I wasn't taking pictures. I started taking pictures when they did Kate Story's Romeo and Juliet: Superstar ice Miners of Europa."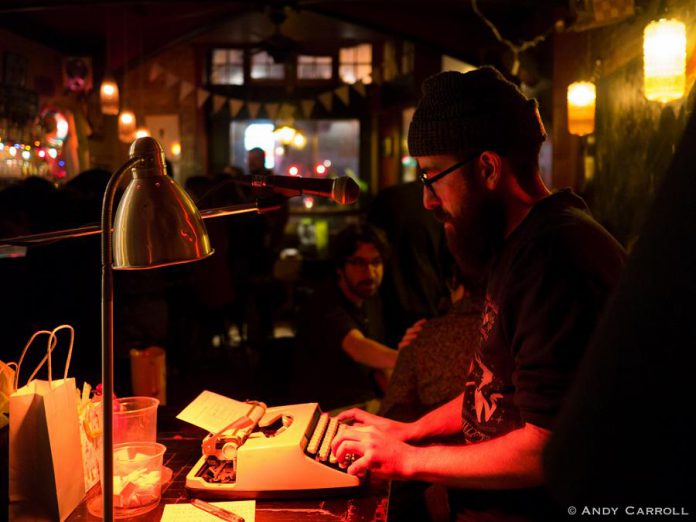 Staged in November 2014, Romeo and Juliet: Superstar Ice Miners of Europa was the second show that I covered at The Theatre on King (TTOK) for kawarthaNOW. In the years that followed, Andy and I have become sort of a duo at TTOK — although never planned nor discussed — with both of us showing up like clockwork to nearly every preview show.
Other than TTOK's Ryan Kerr, Andy is probably the only one who has been to more events than I have, capturing the mirth and magic of everything from theatrical productions, to book launches, to film screenings and private celebrations.
"TTOK is a community," Andy says of the theatre. "That's the main community I'm involved in. From those people I know other people, but it all centres around the theatre."
From his phone, Andy shows me a list of shows and events he has photographed at TTOK and I compare to see how many of them I covered. Reflecting on some of the best shows I've seee, and a couple of the not-so-good ones, I ask Andy what his favourites are.
I get a very different response than I'm expecting.
"I'm looking at the shows very differently than others," he says. "I'm looking at the shows visually, so instead of favourite shows I could talk about favourite photos."
While Andy has become known for his TTOK photos, he has also captured the nightlife at downtown bars like The Black Horse and The Garnet, creating equally engaging and dynamic visuals of the performers who make music on their stages. I ask Andy what his relation with those spots in particular are, but I get a similar answer to my question about his landscape photos.
"That's just where I hang out," he says. "Besides TTOK, I don't go out to take pictures somewhere. I just take pictures at places where I'm going. Mostly it's just a photo diary more than anything."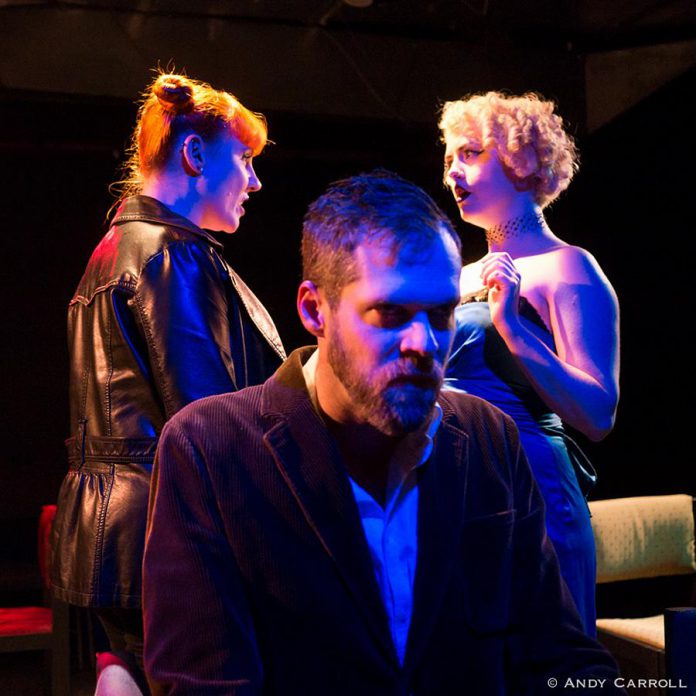 But just like his landscape photos, Andy's photos of performers are dynamic. He manages to capture a variety of emotions and expressions from Peterborough's actors and musicians, creating a visual that is always in motion and completely alive. In Andy's photos, everyone is beautiful and larger than life. But, once again, a part of the process of getting the perfect photo is the sheer volume of what digital allows Andy to do.
"I'd like to say that everyone is equally photogenic, but it's not true — some people are just really good at posing," Andy says. "A lot of people take one photo with their phones and they're done. When I shoot someone performing, I take a thousand photos you never see. It's like the theatre: I take a thousand photos, but you only see five or ten."
Over the past few years, Andy's photos have accompanied many of my articles (he doesn't ask for anything in return other than a credit), and his images are among the most dynamic theatrical photos being taken.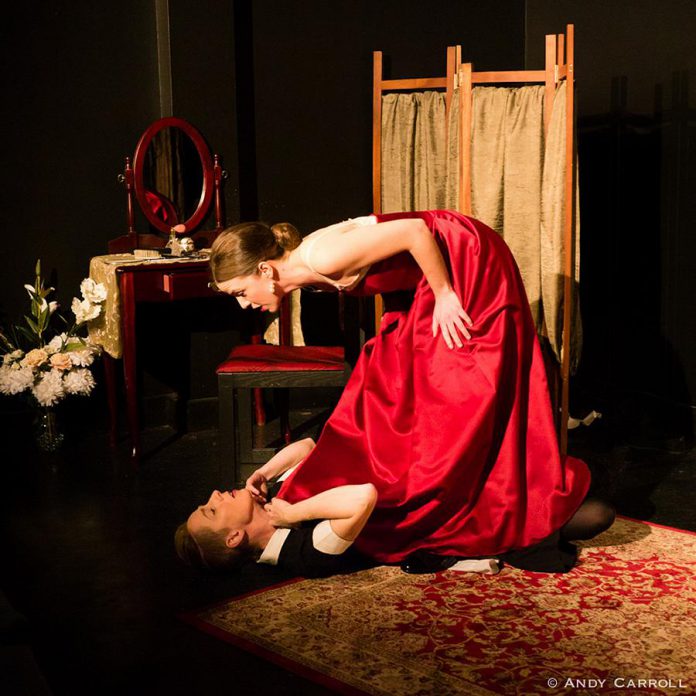 Many of Andy's photos have become iconic, and are crucial in the promotion and support of the local arts community.
"Ultimately photography is a form of advertising," Andy observes. "If the audience see a good picture, they'll click on an article."
In 2018, Andy released his first collection of his favourite TTOK photographs as a calendar, which is still available for sale at the theatre (171 King St., Peterborough). With his work becoming increasingly popular, I ask Andy if an art exhibit could be in order.
"I haven't seriously thought about doing an exhibit," Andy admits. "But I have recently thought about what to do with the photos. Putting together the TTOK calendar was one project, and I've thought that I might put together a book of photos from the original TTOK." (The theatre moved from its original 159 King Street location in 2018).
Andy's body of photographic work is a gift to the Peterborough community. He has documented the downtown arts experience in a way no local photographer has managed to do before, beautifully capturing faces, events, and landscapes with a vibrant eccentricity that is pure Peterborough.
Andy may just be photographing the world as he walks through it, but the end result is a continuous living visual picture of Peterborough's culture.
To see more of Andy's work, visit his Flickr account at flickr.com/photos/andys_camera/ and follow him on Instagram @andy.carroll.photos and Twitter @andyscamera.