Already reeling from the news of the sudden passing of club owner, DJ, and Hootenanny On Hunter founder Jonathan Hall, the Peterborough music community is now coming to grips with the loss of revered musician and highly respected mentor Joe Hall (no relation).
Longtime Toronto-based musician and 1998 Juno Award recipient Tony Quarrington posted news of Hall's passing on Facebook.
"It is with profound sadness that I have to announce the death on Friday (March 22) of my dear old friend and collaborator Joe Hall," wrote Quarrington.
"We just brought out a new recording in December; in his opinion and mine, the best ever. He will be missed. He was unique. He was the only Canadian songwriter I would seriously compare to Leonard Cohen."
A fixture on the Toronto music scene for years with his band The Continental Drift, Hall called Peterborough home for the last 30 years. As highly regarded for his encouragement of, and inspiration to, young musicians as he was for his own talent, Hall worked with a number of local acts, including The Silver Hearts.
Hall recorded three albums with The Continental Drift — whose members included Tony Quarrington and his brother, the late Paul Quarrington — the first being 1976's HJ Boenke recorded by brothers Bob and Daniel Lanois. The follow-up, On The Avenue, was recorded at the brothers' Grant Avenue Studio in Hamilton.
Later, Hall turned more frequently to recording and producing other musicians' work.
Reached at his home on Sunday, bassist and Tonemasters member JP Hovercraft termed Hall's passing "an incredible loss personally … he's been family for years and years."
"He wasn't just a lyricist — he was a poet cutting right to the essence, whether it was deadly serious or insanely funny. He was not afraid to put anything into words. No social pressures kept Joe from saying what he intended to say. Absolutely one of the highlights of my career in music has been the work I was able to do with Joe."
"He enriched the Peterborough music scene incredibly. He just loved that there was music everywhere. He wanted a life full of music, not just necessarily a life full of making music. That really was a bit of humbleness on his part because he was frigging giant."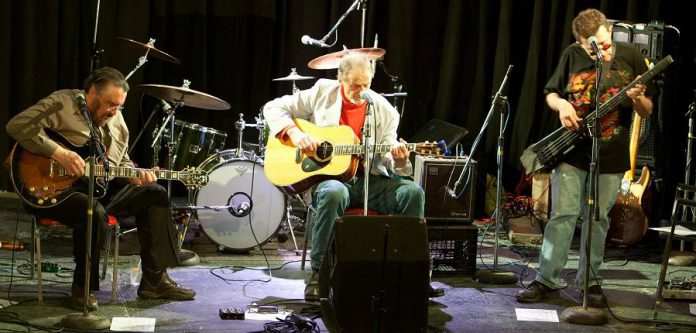 Hovercraft learned of Hall's passing on Friday (March 22nd) from Hall's son. According to Hovercraft, he had been ill for quite some time.
"We were expecting it but it wasn't supposed to be so soon. I wanted more time or even one more gig or something. We always think there's going to be more time but that's not necessarily so."
"He put an awful lot of miles on his liver. He got into AA and got dry and had been that way for 20 years but it still caught up with him."
"There's this video that was made in Lee Morgan's backyard. It was a party and some of the locals came and played music. There was Buzz Thompson playing Stand By Me with Lee on drums and Joe playing guitar and me on bass and Phil Marshall too was there. Here I am, the only one left from that. That's spooky."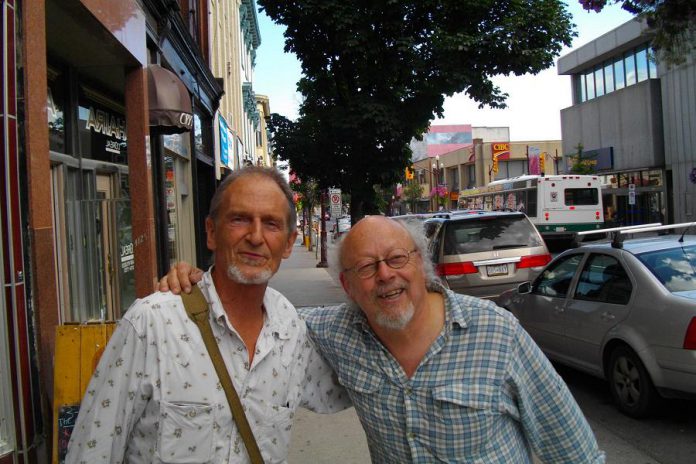 To this day, Hovercraft clearly remembers the first time he heard Hall play.
"In a musician's life, you get these experiences where somebody says 'Go see this band,' so you take their word for it and you go," he says.
"Sometimes you walk in and there's something going on that's just so incredible that you're left dumbfounded, thinking 'Holy shit, I wish I was in that band.'
"That was my experience the first time I saw Joe Hall and the Continental Drift somewhere on Queen Street (in Toronto).
"I was like 'What the hell is this and why aren't I part of it?' The crowning moment in my career was when I got to join that band (The Continental Drift). I was excited and I was nervous. I got to keep doing it and it was wonderful every time. It was absolute magic.
"That's what I'm really going to miss. I'm awfully blessed to have had that happen but it's not going to happen again."
VIDEO: Nos Hablos Telephones – Joe Hall & The Continental Drift

According to Hovercraft, a private family service will be held for Hall, although he suggests the local music community may come together at some point to honour him in some way.
"Joe would walk down the street and there would be somebody there with their hand out. He would go out of his way to give as much as he could. It was suggested to me that if anybody asks what can they give (in Hall's memory), just walk down George Street and give to the first person that's looking for a helping hand."
kawarthaNOW also reached out to Hall's long-time friend, local artist Joe Stable, but was unable to connect with him in time for this story.
VIDEO: Joe Hall at The Joe Show at Acme Art & Sailboat Company on November 2, 2018
Looking back at First Friday in November. Will the Xmas Frist Friday be as musical? Only way to know is by going out.

Posted by Bill Kimball on Friday, December 7, 2018
At the First Friday Art Crawl in November 2018, Stable held an exhibit called "The Joe Show", featuring Stable's artwork based on photographic portaits of Hall, with half of the proceeds going to help produce Hall's final album.
Hall also performed at the exhibit, along with Tony Quarrington and Hovercraft.
Earlier today (March 24), Stable posted a simple message on his Facebook page, accompanied by one of his portraits of Hall:
"Mr. Joe Hall, we love you and will miss you so much."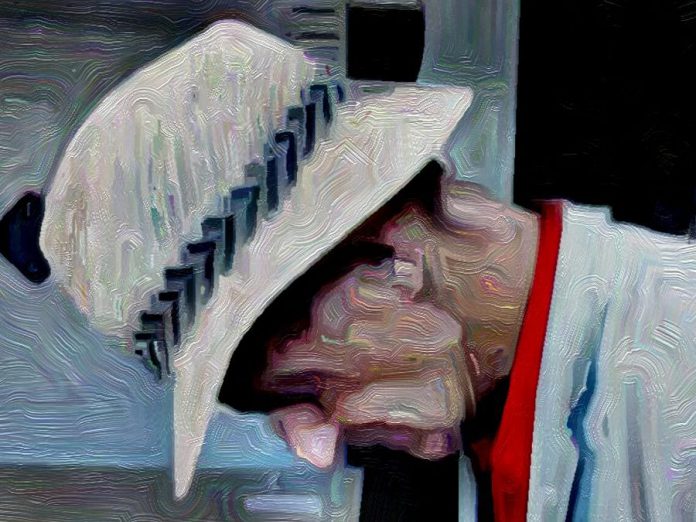 Others shared similar sentiments on Facebook upon learning of Hall's death.
"Such a great artist," wrote singer-songwriter and visual artist Kurt Swinghammer. "Wish I could see him play again."
"Whenever I bumped into him, he never failed to say something memorable, meaningful, and hilarious," wrote local musician and artist Robert Atyeo. "He was a mentor to me, introduced me to his friend Willie P. (Bennett) one day which changed my life."
You can listen to Joe Hall's final album, released in 2018, on the Trent Radio / Radio Free Peterborough Local Music Archive Project website (Adobe Flash required).
VIDEO: Joe Hall in conversation with Paul Quarrington (Market Hall in Peterborough, 2009)

VIDEO: Brain Damage Blues – Joe Hall & The Continental Drift

VIDEO: We Met at The Lumsden Street Beanery – Joe Hall & The Continental Drift

VIDEO: Eva B – Joe Hall & The Continental Drift