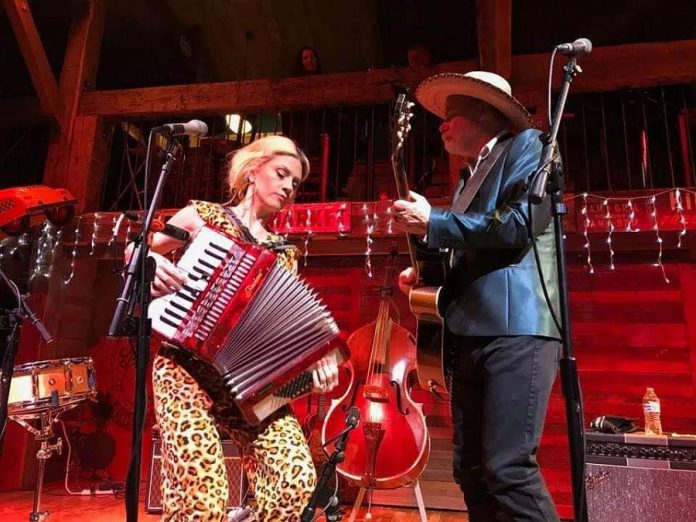 When it comes to his music, Fred Eaglesmith is definitely not a late bloomer. After all, the alt-country singer-songwriter began playing guitar and writing songs by the age of 10, hit the road as a performer when he was still a teenager, released 22 records, became a cult hero to his fans (the self-proclaimed "Fred Heads"), won a Juno Award, and performed on David Letterman.
But when it comes to love, that has bloomed again later in life for the 61-year-old musician after he met Texan singer-songwriter Tif Ginn.
For the past few years, the couple have been writing and performing together, heading out in their tour bus (one of many Eaglesmith has owned over the years) to play shows in hundreds of small towns and large cities across North America.
And the duo is returning again to Peterborough on Friday, April 5th to perform at the Market Hall Performing Arts Centre, having last played here in 2016 at Showplace Performance Centre.
VIDEO: "49 Tons" – Fred Eaglesmith and Tif Ginn

As many locals know, Fred is no stranger to Peterborough, having several connections to local musicians.
"Me and Peterborough go way back," he said in an interview with kawarthaNOW's Josh Fewings in 2016. "I remember I first started coming down there when Reverend Ken and Washboard Hank were still playing together, and of course I used to play shows with your dad (musician Dan Fewings)."
As well as Washboard Hank (Hank Fisher, father of kawarthaNOW's food columnist Eva Fisher), another one of Eaglesmith's former band members was the late Willie P. Bennett, who lived in Peterborough until his death in 2008. He played harmonica and mandolin with Eaglesmith for more than 20 years.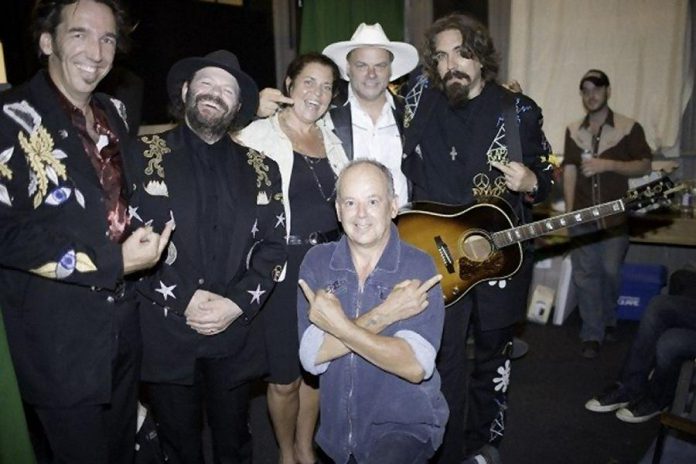 Born Frederick John Elgersma, Eaglesmith grew up on a 200-acre farm near Guelph, one of nine children in an impoverished family. When he was nine years old, he saw Elvis Presley perform on television and decided he wanted to be a musician.
By the time he was 10 years old, he began playing guitar and writing songs. But his strict evangelical minister father, who took the family to church five times a week, didn't approve of Eaglesmith's musical aspirations and, when he was 16 years old, Eaglesmith ran away from home.
Riding the rails and hitchhiking across Canada for three years, Eaglesmith busked in youth hostels and wherever else he could. His friends had already nicknamed him Eaglesmith, and he adopted it as his stage name when he was 18. He was a political and prolific songwriter, a Canadian version of Woody Guthrie, with his lyrics focused on the struggles of rural working people.
"I wrote so many bad songs from the time I was ten years old to fifteen," he says in a 2004 interview with Roy Kasten of the Riverfront Times. "But when I was fifteen I wrote a song about a kid dying on the farm. Although looking back it was very immature, there was nothing to it, but it struck a chord with people. They cried when they heard it. I knew I had found something, I knew I was a storyteller. From then it was just honing my skills."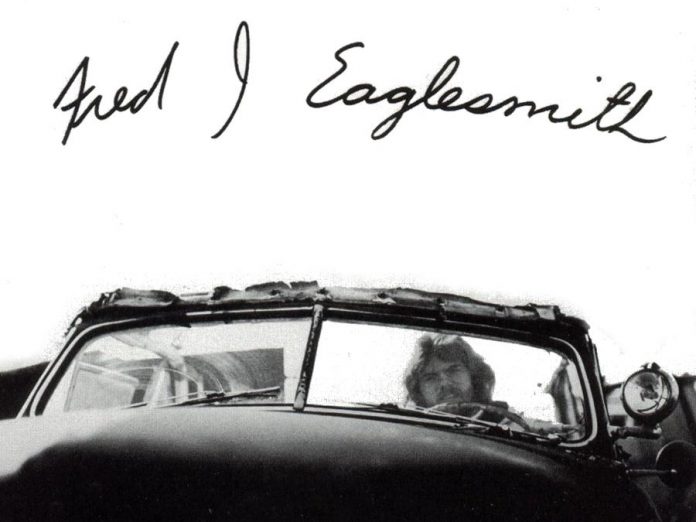 He released his first album, 1980's Fred J. Eaglesmith, independently at the age of 23. By this time, he had married his high school sweetheart and they had three children. The couple bought a farm where they grew flowers to sell to farmers' markets in Toronto, which gave Eaglesmith the chance to perform in Toronto clubs and further refine his song-writing chops.
But the combination of farming and performing music proved too much of a challenge, and the family's flower business went bankrupt.
"It just led me down the wrong roads," Eaglesmith tells Kasten. "It was harsh, I couldn't do it. I thought I was just gonna end up like my parents, never have any money and slide backward."
Eaglesmith had already released five records in Canada but was virtually unknown in the U.S. and, in the early 1990s, he headed to Nashville where he signed with independent music publishing company Vertical Records. His down-to-earth tunes, sung in Eaglesmith's raspy voice and with a rock edge, began to earn him a following in the small venues where he performed, especially in Texas.
By the mid-1990s, he was performing with his band The Flying Squirrels (with Willie P. Bennett on harmonica and Washboard Hank on percussion). Their 1996 record Drive-in Movie won Eaglesmith the Juno Award for Best Roots & Traditional Album – Solo in 1997. Several more bands and 14 more records followed, with his latest being 2017's Standard.
While Eaglesmith has never achieved superstardom, he has a loyal legion of fans who call themselves "Fred Heads", and they've been along with him every step of the way. But playing hundreds of shows every year isn't conducive to family life, and Eaglesmith and his wife eventually parted ways.
"I had kids and everything, but I had no idea how it worked," Eaglesmith told Jeff Spevak in a 2016 interview with USA Today. "I had no business even dabbling in that world. I had a trying childhood, my parents' relationship was not great. Lots of stuff affected my ability to have a relationship."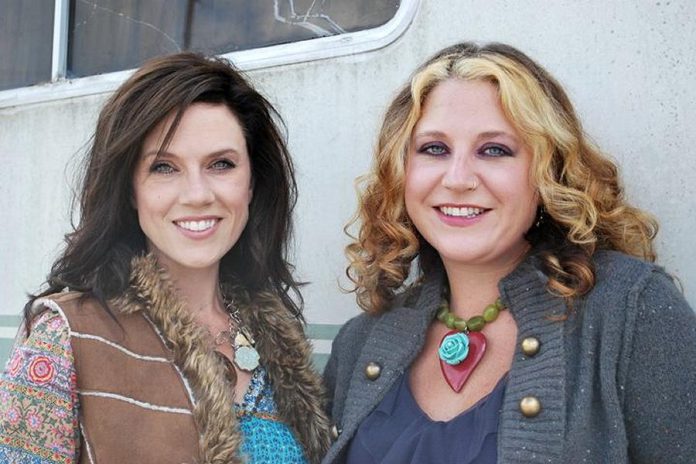 That changed when Eaglesmith met Tiffani "Tif" Ginn, who already had her own successful music career in her home state of Texas.
Ginn grew up in a musical family in the Texan farming community of Schulenburg. Her parents had a band called The Unplanned Parenthood Association, and Tif and her sister Brit starting performing as young children in an offshoot of the family band. Tif went on to study piano, guitar, voice, dance and theatre from childhood through college, and cut her teeth while hosting open mic nights at the prestigious Cactus Cafe in Austin, Texas.
As adults, Tif and Brit formed The Fabulous Ginn Sisters and released three critically acclaimed albums. The duo toured for nearly a decade, when an impromptu collaboration at Texas' Old Settler's Music Festival in 2009 presented them with the opportunity to sing backup for Eaglesmith and garnered them an invitation to join the band as well as perform as the opening act.
"Careless" – Fred Eaglesmith on David Letterman (with Brit and Tif Ginn)

By this time, Tif had married singer-songwriter Bill Passalacqua, the bassist in The Fabulous Ginn Sisters, and they had a son Blue (the couple later divorced).
Tif and Brit ended up touring with Eaglesmith, and both performed with Eaglesmith when he appeared on The Late Show with David Letterman on June 14, 2010.
In 2012, Tif became a solo artist and released a self-titled debut album that she co-wrote with Eaglesmith. Tif and Eaglesmith soon fell in love and became a touring duo, with Tif singing and performing on multiple instruments including ukulele, harp, trumpet, drums, percussion, and more. Tif's nine-year-old son Blue often joins them on stage.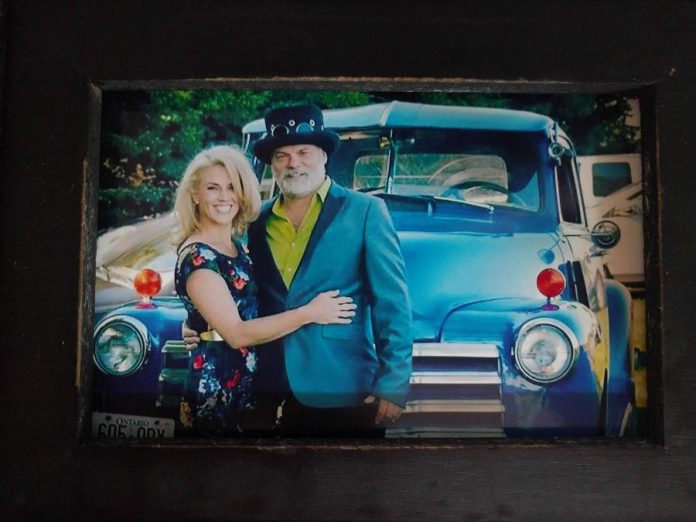 The couple married in 2014 and Tif eventually moved to Canada, prompting the name of her 2018 10-song record Moving Day — a name suggested by her son Blue — which includes four of her own songs and six co-written with Eaglesmith.
At Eaglesmith and Tif's Market Hall show, you can expect to hear songs from Moving Day, along with tunes from Eaglesmith's latest release Standard and from his back catalogue.
The Market Hall concert is one of a string of dates in Canada in April, after which the duo will be heading to Belgium and The Netherlands in May, where Eaglesmith frequently tours.
VIDEO: "Lucille" – Eaglesmith Eaglesmith and Tif Ginn in Bruce Mines

"I have a really big following there," Eaglesmith said in at 2017 interview with Constance Scrafield of the Orangeville Citizen. "It's like touring Ontario. I play every little town in the Netherlands."
Tickets for The Fred Eaglesmith Show Starring Tif Ginn at the Market Hall Performing Arts Centre (140 Charlotte St. E, Peterborough) are $33 for general admission or $35 for assigned cabaret table seats.
Advance tickets are available at the Market Hall box office, by phone at 705-749-1146, or online at markethall.org. Tickets will also be available at the door for $35.
"Getaway Car" – Tif Ginn at The Arlington in Maynooth in 2014