As it is often said, what's old is new again. And when it comes to revamping kitchens nowadays, many homeowners seem to be looking to the past for their inspiration.
Michele Kadwell-Chalmers knows more than a little bit about capturing old-world ambience while enjoying the comforts of modern living.
The owner of The Original Flame, a boutique fireplace company in Peterborough, carries a line of antique reproduction and retro kitchen appliances, and can assist anyone looking to add an instant dose of vintage glam to their home or business with the most enduringly popular designs dating back decades.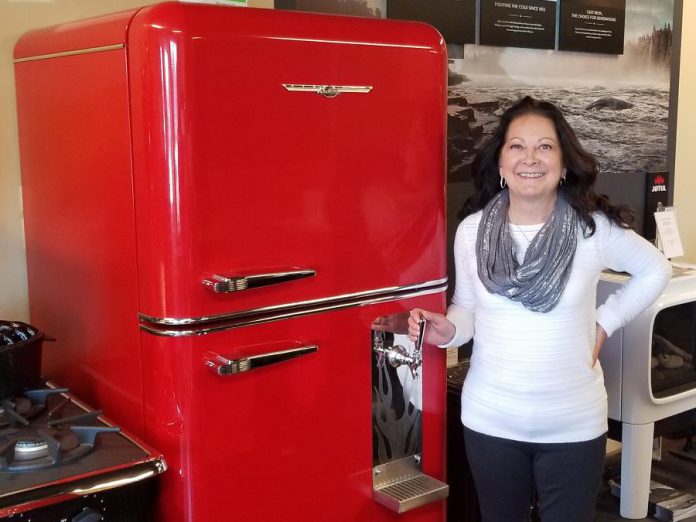 The Original Flame now boasts three product lines made by Ontario appliance manufacturer Elmira Stove Works: the "Antique" (based on a Victorian wood-burning model), the "Fireview" (a wood-burning cookstove), and "Northstar" (a retro 1950s-inspired collection).
All three lines have the vintage look but satisfy today's performance expectations, says Michele, who has been carrying Elmira models for four years.
"Even though you're choosing new appliances that approximate the look of period ones, you're still getting the modern high-efficiency performance," she says.
If you're window-shopping for kitchen appliances, a fireplace store typically isn't a place that would be top-of-mind. However, the decision to sell Elmira Stove Works products at The Original Flame, Michele explains, was an easy decision as Elmira makes wood-burning cookstoves, once considered the heart of every granny's home.
"The wood cookstoves are like the old-fashioned ones that your grandmother or great-grandmother would have had in her kitchen that burned wood," Michele says.
"When you think about it, the first place you go for a wood cookstove is a fireplace shop, so it made sense for us to carry this product as it's tied to our business. Then we noticed Elmira's retro kitchen appliances, which are so cool and trendy, and we decided to add that line to our store as well."
If you're creating a unique kitchen with nostalgic touches, perhaps it's time to say goodbye to stainless steel appliances and let Elmira's vintage-inspired pieces bring a whole new vibe to your kitchen.
Imagine the bold and pastel colours (pink, orange, mint, teal) with soft, curvy edges of these appliances in your contemporary space, without having to do it completely in Cleaver family style or a 50s diner.
"You don't need to have a checkered floor and red fridge to work the Fifties look," says Michele. "You can have a plain modern kitchen and by adding a mint green, buttercup yellow, or robin's egg blue appliance, it can really bring your space to life."
Antique line
Elmira's Antique line includes a customizable collection of ranges, wall ovens, microwaves, refrigerators and matching dishwashers. With seven unique colours (Cayenne Pepper Red, Jewel Green, Liberty Blue, black, white, bisque, black/bisque and black/white) and a vast combination of trims and features, you can create a one-of-a-kind look that suits your decor and individuality.
Fireview line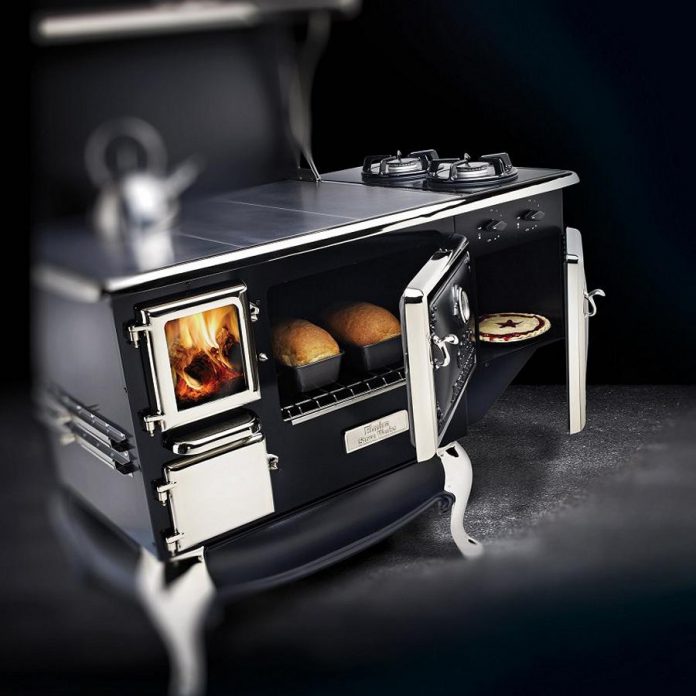 The Fireview wood-burning cookstove is perfect for home or the cottage. It serves as a high-output room heater, a cooking appliance, an attractive fire-viewing woodstove and, with an optional water jacket, a source of hot water-all using a renewable resource. For cooking versatility, you can add the optional side gas burners.
Northstar line
The Northstar line of 1950s-look retro appliances features ranges, refrigerators, keg fridges, microwaves, hoods and splashbacks, and dishwasher panels. All of the appliances come in nine different colour options, including pale pastels and bright colours that pop (Robin's Egg Blue, Flamingo Pink, Mint Green, Buttercup Yellow, Candy Red, and Quicksilver). You can go even more individual by choosing one of 185 custom colours.
The Original Flame's top seller is the retro fridge. The models include a French door, top freezer, and bottom freezer in five sizes. Another model includes a draft beer dispenser in the door — which seems to be very popular among cottagers, notes Michele.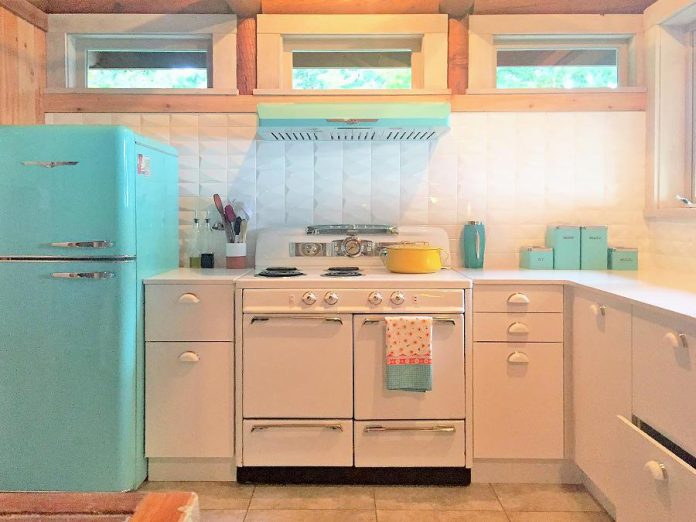 The Northstar line is the hot ticket item these days, she adds. Retro appliance sales have soared over the last five months, she explains, mainly among young couples and business owners.
Michele credits the trend to perhaps a sense of nostalgia, looking back to simpler, wholesome times and childhood memories, while others just want to get playful and eclectic with their space.
Choosing a kitchen style can be a daunting task, says Michele, but many customers who drop into her store have seen the Elmira appliances online and have an idea of what they want.
"The biggest challenge is choosing a colour," she says. "It can get overwhelming because there are so many choices. For some people, pastel colours are a bit risky.
"I had one couple who wanted a white, 1950s-style fridge and when they came into the store to order it, they immediately changed their minds and said, 'You know what? We really want the mint green.' I told them that is an excellent choice."
So your visit to The Original Flame may start with many questions, but will often end with you flipping through multiple colour swatches to get your creative juices flowing and to help you visualize what is possible in the space you have.
"One gentleman, who is a biker, requested a custom black fridge with a skeleton and flames," Michele recalls. "He loved it!"
In another recent case, she said she found much satisfaction in selling a customer a vintage-looking fridge for an old-fashioned barber shop he's planning to open soon.
"The appliances are even going into local businesses, which is really cool!"
If you're not sure what appliance or colour is right for your space, the Elmira website at www.elmirastoveworks.com offers customers a chance to build their own "dream kitchen" using an easy-to-use tool that lets each person design their own ideal appliance and to determine what look they want prior to ordering.
If you want to know more about how Elmira Stove Works can add function, efficiency and a whole lot of class to your kitchen remodel, visit The Original Flame — the only store in Peterborough who exclusively carries Elmira appliances.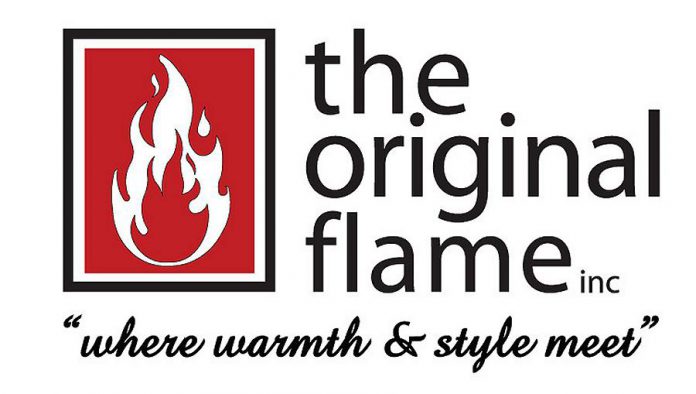 The Original Flame Inc. is located at 982 Highway 7 East, Unit 2, in Peterborough. Showroom hours are 9:30 a.m. to 5:30 p.m. Monday to Friday, and 10 a.m. to 4 p.m. on Saturday (closed Sunday). For more information, call 705-742-9452 or visit www.theoriginalflame.com. You can also connect with The Original Flame on Facebook, Twitter, and Pinterest.
This story was created in partnership with The Original Flame Inc.