Don't let the name fool you: Trent Radio is more than just a local radio station serving Trent University.
Those involved with the radio station are a remarkably diverse group of individuals with a focus on the entire community of Peterborough and the Kawarthas.
In addition to their community focus, anyone spending just a short time at Trent Radio will notice a common theme: an attempt to break down barriers that prevent people from becoming involved in local music and radio.
"Everything we do is about creating a space for people to create the radio they want," says Jill Staveley, Production Manager and Deputy General Manager of Trent Radio. "It's about creating a space where all individuals feel welcome and can participate."
This emphasis on accessibility can be seen in the recent renovations to the Trent Radio building, located at the corner of Parkhill and George in downtown Peterborough. Power-assisted doors and an accessible washroom were installed to ensure that all community members would have a comfortable space in which to operate.
In addition to these careful measures to transform Trent Radio into an accessible space, fostering inclusivity has also been central to the station's mandate.
"We are producer-focused rather than listener-focused," Staveley explains. "Our content is not driven by how many listeners we have. It's about giving a platform to creativity, diversity, and providing a space for people to learn how to produce radio content."
Content at Trent Radio changes on a seasonal basis and producers are required to re-apply each season, ensuring a variety of content and an equal chance to participate. Seasons run from September to December, January to April, and May to August, and as Staveley explains, you won't be hearing the same program schedule from one season to the next.
The influence of Trent Radio extends well beyond the physical space at 715 George Street North. In September 2018, Trent Radio received funding from the Community Radio Fund of Canada — the only organization mandated to financially support Campus and Community Radio Stations in Canada — for a project called Community Connections.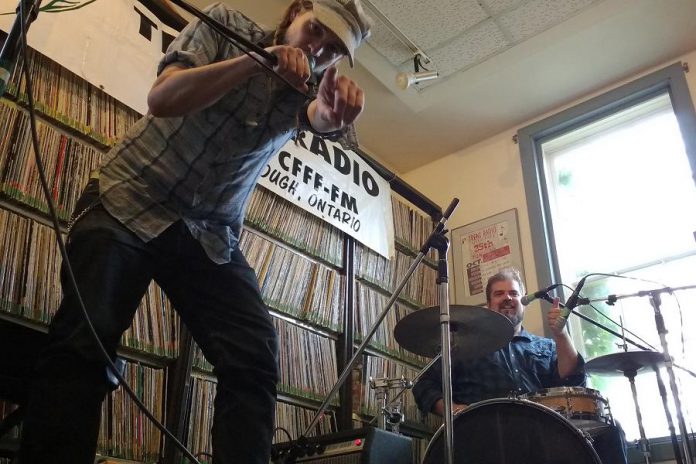 With the funding, Trent Radio has been working on two projects that will increase their capacity to dismantle access barriers: delivering remote broadcasts and developing community workshops.
This year, Trent Radio has been hosting monthly broadcasts from locally owned and operated businesses.
"We are trying to support some of the many great local businesses and develop relationships and sponsorship opportunities," Staveley says. "Most importantly, getting out into the community allows us to connect with people and organizations who might not be able to come to our location. Remote broadcasts help to break down this barrier."
Up until this point, content featured on Trent Radio has always been produced and broadcast from Trent Radio House. The Community Connections project is an opportunity for Trent Radio to invest in remote broadcasting gear, and produce as many remote broadcasts as possible to gain familiarity with the technology.
On April 15th, Trent Radio will host a full day of Community Connections programming featuring remote broadcasting from Tiny Greens, Ritual Apothecary, and Sam's Place Deli. This project is part of their four-day Community Radio Marathon & Fundraiser, broadcasting at 92.7 FM from Friday, April 12th to Monday, April 15th. To support Trent Radio, you can donate online at canadahelps.org.
Next month, Trent Radio will be broadcasting live at the Theatre on King (May 1st), at the First Friday Art Crawl (May 3rd), and at Public Energy's 25th anniversary gala (May 25th).
Trent Radio also regularly organizes and facilitates workshops within the community. To date, these workshops have been created and delivered based on the requesting organization's particular needs.
Trent Radio is now working to make this process more efficient by developing a regular curriculum of workshops that they can offer to community organizations.
"We've been delivering workshops in the community, but without a clear curriculum," explains Mauricio Interiano, Community Outreach Development Manager at Trent Radio. "We've been making workshops up on a case-by-case basis depending on what people ask for. Developing a series of workshops with set curriculum will allow us to provide services to more people, more efficiently."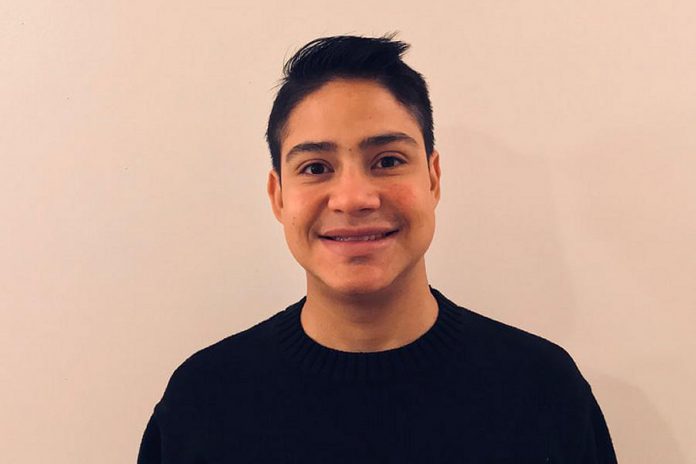 The first curriculum model in development is a one-time workshop to support organizations in developing promotional content, and to show these organizations how to use the Trent Radio studio. Among other things, participants will learn how to create and record public service announcements (PSAs) to promote their organization on-air.
The second curriculum model in the works focuses on youth and will offer classroom workshops that develop students' practical skills with hopes of growing participation in radio by taking the radio to local schools. Trent Radio staff will be running a workshop at Queen Mary Public School in May, where grade 8 students will work to create a live remote broadcast from the school.
A third curriculum model will also use remote broadcasting gear to further the mandate of Trent Radio. This model focuses on identifying individuals or groups with valuable content but who are unable to attend the Trent Radio House to record. For these groups, Trent Radio will make sure the content is heard by bringing the recording gear to them.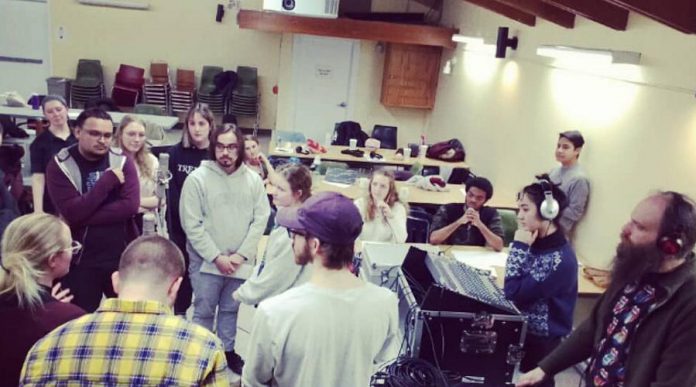 One example of this project is the work Trent Radio hopes to achieve by developing a relationship with local long-term care facilities, to visit with residents and record interviews for broadcast.
Beyond the workshops and remote broadcasting events in May, Trent Radio has two other exciting projects on the horizon that continue to demonstrate its commitment to community, inclusion, and accessibility.
"We would like to build a satellite studio," shares Staveley, explaining that a satellite studio will give those who cannot visit the current studio access and encourage greater participation in radio. Multiple locations are currently being considered for this project.
Finally, Trent Radio recognizes the barrier that English-only content creates in our increasingly diverse community, and are currently working towards developing programs in other languages.
"We are looking to engage with people that can support us to build programming that's not in English," explains Staveley. "There are a lot of people in Peterborough who don't speak English. Broadcasting content for these people will expand our reach and break down another barrier."
You can visit Trent Radio House on Saturday, May 4th as part of the city-wide Open Doors Peterborough Event. Come for a coffee, a tour of the house, or maybe even join a Trent Radio volunteer live on-air.
For more information on Trent Radio and their upcoming projects, visit www.trentradio.ca, email info@trentradio.ca, or call 705-741-4011.
This story was created in partnership with Trent Radio.