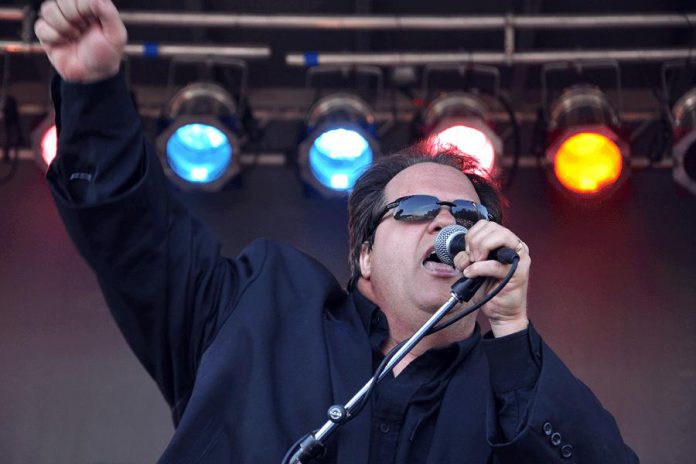 More often than not, when one reflects on where life has taken him or her, a moment in time from the past comes clearly into focus, no matter how many years have passed.
For singer Murray James-Bosch, that moment occurred in the mid-1970s in Peterborough when youthful curiosity and a touch of mischievousness led to his raiding his older sister's album collection.
It was then that he first laid eyes upon Captain Fantastic and the Brown Dirt Cowboy, Elton John's ninth album release.
"The album cover blew me away," recalls James-Bosch, who attended St Peter's Catholic Secondary School in Peterborough.
"I opened it up and there was a booklet inside with lyrics. That was really the first album that I listened to. There was just so much emotion there. Elton gives a vocal performance that perfectly fits what (lyricist Bernie) Taupin was trying to say. When I sing Elton now, it's with a reverence for the working relationship between them."
On Wednesday, April 24th, James-Bosch returns to his childhood home to perform lead vocals when Showplace Performance Centre presents Classic Albums Live's recreation of Elton John's 1974 Greatest Hits album.
Tickets to the 8 p.m. concert are $42, available in person at the Showplace box office (290 George St. N., Peterborough), by phone at 705-742-7469, or online at www.showplace.org.
"To be able to stand on stage, as someone who loves his music so much, and sing Someone Saved My Life Tonight, and have the full power of the band playing with the same reverence, is incredible," says James-Bosch. "It's a very spiritual experience for me."
James-Bosch, who has a three-and-a-half octave vocal range, has incredibly never received formal training as a singer.
That was, and still is, of no consequence to Toronto native Craig Martin, who founded Classic Albums Live in 2003 and has since presented thousands of concerts that see musicians perform classic albums in their entirety — song for song and note for note. It was in 2004 that Martin reached out to James-Bosch after receiving a recording of him singing "Roxanne" by The Police.
"I was working at the time as a technical writer and I got a call from Craig at my workplace," James-Bosch says.
"He said, 'We're going to be doing a Police show. Can you get into rehearsals in two weeks? We're going to do the show in about a month. Can you sing a little bit of The Police over the phone?' So it came together pretty quickly. I did my first show with Classic Albums Live in July 2004 at The Phoenix Club in Toronto. We did the first two albums by The Police (Outlandos d'Amour and Reggatta de Blanc)."
Elton John's current worldwide farewell tour — and the much-anticipated late May theatrical release of biopic Rocketman — has the 72-year-old five-time Grammy Award winner with 300 million-plus album sales very much in the news, providing host venues a nice boost in terms of Classic Albums Live: Elton John ticket sales. That said, the show has been toured for some 10 years now.
VIDEO: Classic Albums Live – Elton John featuring Murray James-Bosch

Martin is quick to point out that Classic Album Live is all about recreating the music exactly as it was originally recorded. It's not a typical tribute concert where the performers try to replicate the exact vocal style and appearance of the artist or group.
"My job is to give audiences exactly what we said we were going to give them, and that's a note-for-note performance of the greatest albums ever recorded," says Martin, noting that has been the objective since day one and remains the focus. "If you come to our show and you want to see a guy wearing a white glove doing the moon walk, you're going to leave disappointed. But if you come thinking 'I really need to hear Someone Saved My Life Tonight performed perfectly, you'll be thrilled.
Greatest Hits (often referred to as Elton John Greatest Hits in North America) was Elton John's eleventh official album release and the first compilation. Released in November 1974, it spans the years 1970 to 1974, and includes "Your Song", "Daniel", "Honky Cat", "Goodbye Yellow Brick Road", "Saturday Night's Alright for Fighting", "Rocket Man (I Think It's Going to Be a Long, Long Time)", "Bennie and the Jets", "Don't Let the Sun Go Down on Me", "Border Song", and "Crocodile Rock".
VIDEO: Classic Albums Live – "Saturday Night's Alright For Fighting" featuring Murray James-Bosch

"We live in a society where everything looks like American Idol and Canadian Idol; everything's all glitzy and glammy. We're so used to seeing these huge light shows. We need a return to more purity. You don't need any of that stuff if you have excellent musicianship.
"If you want that, there are tons of crap bands out there. Spend your money there. But if you're a music lover, if you care about the music, come see our show. We'll take you back to a time in your life when you had the time to listen to an entire album."
As for James-Bosch, Martin says he nails the musicality of Elton John.
"Murray is the best. He grew up with this music. Sometimes you get a guy who's like 'I've got to sing this show; I grew up with this music.' Murray's that guy and, wow, when he starts singing Elton, it's so beautiful. You can just tell that it's natural. The audience can smell a phony. Being in the room with that voice, that's pretty good."
For his part, James-Bosch says while he loved singing as a youth ('My mom says I used to sing on the potty'), he never envisaged singing before an audience. After high school, however, he formed the band Endpieces with some high school friends. Over three years in the early 1980s, it performed in Peterborough bars, got airplay on CKPT, and recorded some demo tapes as well as an EP.
Advertisement - story continues below
When Endpieces folded, James-Bosch set his sights on college, eventually taking journalism at Centennial College in Scarborough. All the while, he kept at it on the music side of things, singing with Genesis and Police tribute bands, but things were taken up a huge notch when Martin interrupted his workday in 2004.
"It's not a question of whether you can sing, it's a question of whether you can communicate," he says of the template at the root of Classic Albums Live's success.
"Because Elton John is an honest singer, I try to bring honesty to it. I don't try to sound like him. I don't pretend I'm him. What I try to do is understand his honesty and convey and uphold that. I'm not just up there singing."
VIDEO: Classic Albums Live – "Goodbye Yellow Brick Road" featuring Murray James-Bosch

Still, there are challenges.
"Your Song is very low," James-Bosch says of Elton John's 1970 single that also appeared on his self-titled second studio album. "I'm a high tenor. I have to work really hard to sing that song."
To understand Martin's drive to maintain the high standards set by Classic Albums Live over 16 years, with 170 shows scheduled across North America this year, is to understand Martin's fierce and somewhat reckless determination to start the concert series.
"I didn't have a business plan, I didn't have any money. I just decided I'm going to do this. I maxed out my credit cards, I went into lines of credit, I cashed in my RRSPs, I spent my inheritance. I just went further and further into debt. I didn't even think about it. I had to do it and it all worked out."
Advertisement - story continues below
"This is classical music by definition. It's music that has endured. It's not going to go away. No other generation cared as much about their music as our generation. The Beatles, Pink Floyd, Led Zeppelin, The Rolling Stones … all this music will endure. Fifty years from now it will still be talked about and performed."
Both Martin and James-Bosch are looking forward to the Peterborough performance, albeit for different reasons.
For James-Bosch, seeing longtime Peterborough friends and performing at what was one the Odeon Theatre where he watched moves as a teen is "pretty special", while Martin remains "thankful for being able to share this with everyone."
"I really feel there's a community being built around what we do," Martin explains. "It feels like it's important to people. This is important music to so many of us. It's our job not to fuck it up."