A robot may not injure a human being or, through inaction, allow a human being to come to harm.
A robot must obey orders given it by human beings except where such orders would conflict with the First Law.
A robot must protect its own existence as long as such protection does not conflict with the First or Second Law.
– Isaac Asimov's "Three Laws of Robotics"
Beginning Thursday, April 18th, The Theatre on King (TTOK) in downtown Peterborough invites audience to enter the futuristic world of Isaac Asimov in Escape from I. Bot.
Adapted from Asimov's short story "Escape!", Escape from I. Bot was written and is directed by local artist Eryn Lidster and features Kaitlyn VanKoppen, Addison Wylie, Bradley Boyle, Dan Smith, and Derrek Bell blasting off into their own mystery in space.
First published in 1945 in an issue of Astounding Science Fiction under the title "Paradoxical Escape", Isaac Asimov included the story under his original intended title "Escape!" in his 1950 hallmark sci-fi anthology I, Robot. It tells the story of the attempt of robotics company U.S. Robots and Mechanical Men, Inc. to enter the space race by developing the first successful hyperspace drive.
Led by Dr. Susan Calvin (Kaitlyn VanKoppen) and her assistant Dr. Robert Levan (Addison Wylie), the spaceship is built by a supercomputer named Isaac (Bradley Boyle), who has a whimsical personality and a childlike mind. Upon the spacecraft's completion, two inspectors, Powell (Derrek Bell) and Donovan (Dan Smith), enter the ship and find themselves unexpectedly blasted into hyperspace by Isaac.
Advertisement - story continues below
As the pair struggle to survive, Dr. Calvin is tasked with getting the men back while determining why supercomputer Isaac seems to have broken the First Law of Robotics ("A robot may not injure a human being or, through inaction, allow a human being to come to harm") by knowingly sending the inspectors to their apparent deaths. What follows is truly a journey with an unexpected end.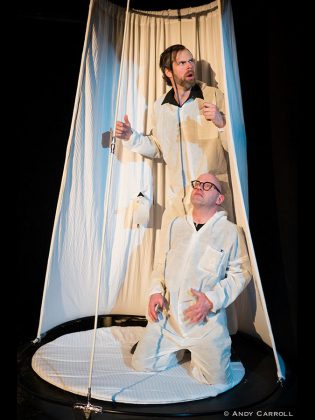 "Escape!" is an interesting Asimov story to bring to the stage, and Eryn Lidster and her company create an imaginative and visually interesting production. Filled with comedy, fun characters, and tons of intrigue, there is a sort of over-the-top whimsy to the show that keeps in the spirit of the pulp sci-fi that inspired it.
While watching Escape from I. Bot, I was often struck by the narrative and visual sensibilities of classic era Doctor Who, which in its golden age was beloved by fans for its imaginative plots yet cheap production values.
The relationship between Dr. Susan Calvin and Dr. Robert Levan in many ways mirrors that of classic Doctor Who characters as well.
In Dr. Susan Calvin, Kaitlyn VanKoppen plays a woman whose scientific mind is so advanced that she relates more to machines than to people. Her dialogue is filled with so much techno babble that she often doesn't make any sense.
Her joys come from solutions and discoveries, which is when she actually shows any sort of humanity or excitement. Albeit likable, she is not always relatable.
Thus, Addison Wylie's function as her assistant Dr. Robert Levan is — much like the Doctor Who companions of yore — to have someone for Dr. Calvin to talk to, translate the techno babble into a language the audience can understand, and be relatable. The dialogue between the two characters is often at risk of going over the audience's heads, but somehow maintains enough reality for the audience to grasp.
Advertisement - story continues below
If Kaitlin and Addison are the brain of the show, Dan Smith and Derrek Bell as the two men lost in space are the heart. The actors play Powell and Donovan a classic comedic duo, with Derrek as a brash and mouthy wise guy and Dan as a cold and calculating genius.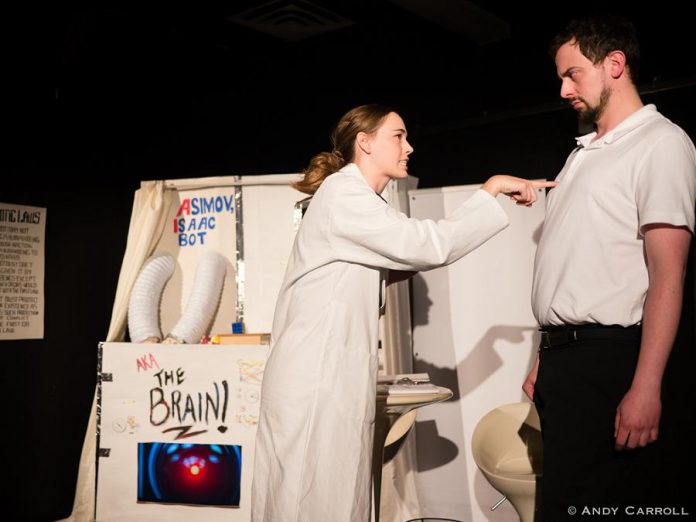 Together, they create a sense of comedy and drama as the two men hurtle through the vast unknown to an uncertain fate. However, no matter how dire the circumstance, Derrek and Dan always manage to bring a sense of comedy to their scenes, allowing the production to never get heavy handed.
The most inspired casting in the show is Bradley Boyle as the robot Isaac (called "The Brain" in Asimov's original story), who becomes the audience favourite. His first time ever on stage, Bradley steals each scene he is in with his child-like innocence, his sense of irony, and his expressive nature.
Trapped in a static computer construct complete with working arms and monitors, Isaac again reflects the look and feel of classic Doctor Who with his ridiculously campy yet still somehow sophisticated-looking contraption. Bradley brings a ton of personality to the stage, and his performance is the highlight of the show.
One of the special aspects of Escape from I. Bot that makes the show stand out is the creative use of projection with a pair of original films brilliantly created by Adam Martignetti.
The opening film is a creative and hilarious commercial introducing the audiences to US Robots and Mechanical Men, Inc., and the second, longer film becomes a creative and haunting centrepiece to the production that adds to the mystery of hyperspace and the fate of the men in space.
Beautiful and well done, Adam's film work is an inspired idea that really works.
I also want to give Eryn Lidster another shout out for her creation of the fantastic set. Simple yet complex and sophisticated yet campy, the set brings together the era of cheap sci-fi and the sleekness of higher-budget productions into a delightful mishmash that comes together beautifully.
Advertisement - story continues below
A rotating space cone puts the inspectors into a claustrophobic state, increasing their desperation and discomfort, while the scientists drink coffee from a sleek space-aged dinette set. Meanwhile, Isaac is more of a set piece than a prop or character in his large immobile state. It's an extremely inventive set that moves and surprises the audience.
An inspired and fun production, Escape from I. Bot runs from Thursday, April 18th to Saturday, April 20th at The Theatre on King (171 King St., Peterborough). Performances start at 8 p.m., with an additional matinee at 2 p.m. on Saturday. Tickets are $15 at the door or pay what you can.