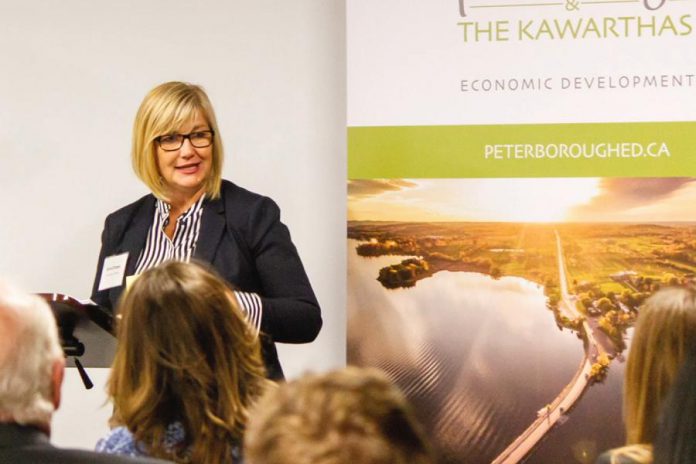 Representatives of Peterborough & the Kawarthas Economic Development (PKED) shared some of the economic development organization's 2018 achievements at its annual general meeting, held on Thursday (April 25) in the Nexicom Studio at Showplace Performance Centre in downtown Peterborough.
The event included updates from Dana Empey, chair of PKED's board of directors, and from PKED president and CEO Rhonda Keenan, as well as a keynote address from economic development industry thought-leader Eric Canada.
As the lead regional economic development agency for Peterborough City and County, PKED is pivotal in supporting the local community, according to Peterborough mayor Diane Therrien, who also spoke at the event.
"We are united in our goal of making Peterborough a great place to live, work, and play," Therrien said. "PKED plays a key role in helping our community develop and grow."
'Advancing Prosperity' was PKED's mandate for 2018, and the organization demonstrated how it did that through its support of six key sectors: agriculture and rural development, aerospace, small business, advanced manufacturing, cleantech, and tourism.
"2018 was an exciting year," said board chair Dana Empey, who noted that last year more than three million people visited the region and spent over $300 million. She emphasized that the Peterborough area is a great place to visit for what it offers recreationally, but added that it's also a great place to do business.
VIDEO: 2018 A Year In Review – Peterborough & the Kawarthas Economic Development

As part of a five-year strategic plan, one of PKED's goals is to create a culture of startups and entrepreneurship within the local community.
"We want to see startups and entrepreneurs thrive and expand, and we offer support through our Business Advisory Centre," said Empey, pointing out the city and county of Peterborough is the fastest-growing region in Canada. "This region is well-equipped to support businesses with their diverse needs, and our partnerships help us make this a reality."
Empey's sentiments were shared by PKED president and CEO Rhonda Keenan, who said the organization continuously works towards developing a high-performing economy for the local community.
"In 2018, businesses were started and expanded, and new businesses were brought into the area," Keenan explained.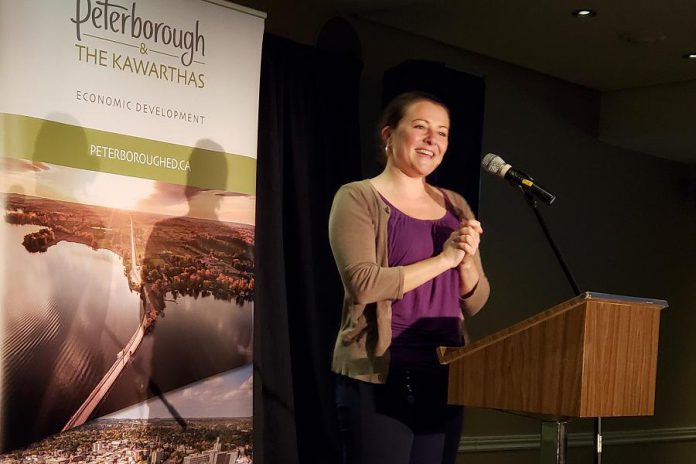 A prominent theme of the meeting was that industry changes on a day-to-day basis, largely due to advancements in technology.
"Technology is changing how we work, what we buy, how we live, and PKED needs to keep pace with these changes that are happening on a global scale," said Keenan, noting that a high-performing economy is one that anticipates where business is headed.
As a post-industrial community, Peterborough faces unique industry challenges, according to Keenan. PKED's focus on aerospace, advanced manufacturing, and cleantech aims to develop a high-tech industry to replace the loss of traditional manufacturing in the area.
Advertisement - story continues below
The success of this industry in the local region depends on a strong, skilled workforce, Keenan explained, which is why PKED's focus for 2019 is on workforce development.
"We want to work with Trent University and Fleming college to show students that Peterborough is a great place to do business," Keenan said. "There is opportunity for them here and organizations that will support them."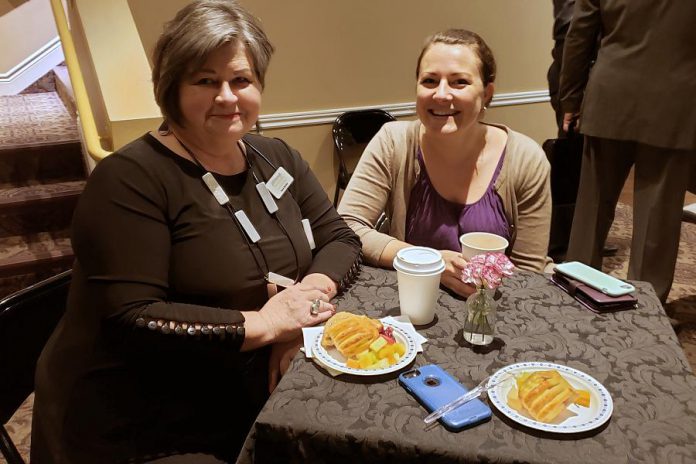 In addition to workforce development, Keenan said PKED is focused on securing available lands and buildings in the area to ensure new and existing businesses have the space to grow.
Economic development industry thought-leader Eric Canada wrapped up the event with his keynote address, describing how the global business environment is changing and what communities can do to ensure they aren't left behind.
Advertisement - story continues below
According to Canada, forces currently changing the business landscape include new forms of communication, global workers, independent workers, artificial intelligence, and increased speed of production.
Like Empey and Keenan, Canada's keynote reiterated the importance of anticipating where business is going in order to create meaningful growth in our community for future generations.
"It's not just about us," said Canada. "It's about our children's children as well."