On Thursday, June 6th, comedian and writer Deborah Kimmett brings her latest show Downward Facing Broad to Showplace Performance Centre in downtown Peterborough.
In this comedy show about the eternal battle with aging, Deborah takes on topics ranging from the generation gap, to aging 'disgracefully', to living as a modern woman in her sixties.
"People say that sixty is the new forty, but I say 'Is it?," Deborah tells me via a telephone interview. "It isn't, because you don't hear any forty year olds saying that. Sixty is really sixty. What's wrong with our wisdom and how we age?"
One of Canada's favourite comedians, Deborah has been working in comedy for more than 40 years. Fellow comedian Colin Mochrie has described her as "one of the funniest comics out there."
A former instructor at Second City in Toronto, Deborah has been teaching writing workshops for over a decade, has published three books and numerous plays, and is a regular featured performer on CBC Radio's long-running program The Debaters.
Always welcomed with a big response when she performs in Peterborough, her brand of comedy is frank but relatable, making her popular with audiences.
Now in her sixties, Deborah is unique by being a woman of her generation still actively working on the comedy circuit.
"There are not very many women at my age still doing comedy," she says. "But I'm at the age that I don't care. I'm saying the things that I really want to say and I'm not censoring myself as much."
VIDEO: An excerpt from Deborah Kimmett's "Downward Facing Broad"

One of the subjects she talks about in her new show is dealing with ageism, which she had a head-on collision with during the early days of preparing the show.
"I went to a young producer once and I told him about the idea for this show," Deborah recalls. "He said to me 'We can't do any more old curmudgeon humour anymore.'
"In what sector can you say something like this? He'd never say 'We can't do any gay humour.' There is no other sector you can say something like that. So we are supposed to live longer and have more fun, but also be put out to pasture in some way."
Advertisement - story continues below
Another subject about aging that Deborah explores is suddenly becoming what she calls 'the invisible woman'.
"There is a moment in every woman's life where you become the invisible woman," Deborah explains. "I remember this one time when I was in the grocery store and I was balancing about five lemons (in my hands). There were two men, one about 25 and one about 50, and I didn't want to drop the lemons but they didn't seem to notice.
"But then this young woman came up and said 'Do you know where the pots and pans are' and they tripped over their feet to help her."
But, according to Deb, there are some benefits to becoming invisible.
"You can take extra samples at Costco, you can steal, you can become a thief."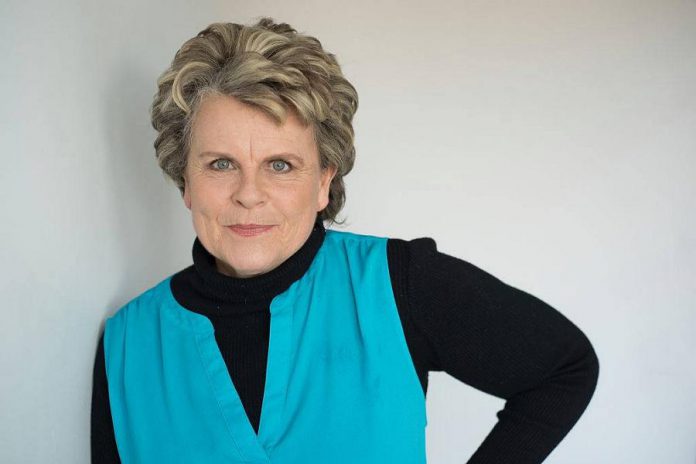 Deborah believes that in our modern era, being 60 today isn't at all what it was like for the women from generations before her.
"As I get older. I look back and recognize the wisdom of my grandmothers and how different it was when they aged. At 60 they were done and worn out, but I'm still supposed to be living forever.
"They had lots of kids, but they also had no role after they got to such an age. If they were lucky, they went to Florida once and then died. Today at sixty, you're supposed to have a bucket list. I think 'Do I really need that, on top of everything else?'"
Advertisement - story continues below
"The show is also about how older women in my life have meant a lot to me," Deb adds. "So if I like older women, then why don't I want to own that quality in myself? Why can't we own being over sixty?"
Directed by Christian Smith, Downward Facing Broad also features the music of Kingston-based singer Kim Pollard, who will be appearing as Deb's special guest performing a set prior to the show, as well as providing musical accompaniment throughout the performance.
"Kim is a blues singer who I've played with for about ten years," Deborah says. "She plays off of me, does great music at the beginning, and weaves it throughout the show. It becomes a great evening of comedy and song."
VIDEO: Kim Pollard performing with her band

Although Downward Facing Broad is about women and aging, Deborah says audiences of all ages and genders have come to her after the show to tell her how they found the material relatable.
That's what makes Deb's brand of comedy so appealing. Long established in her career as a comedian, she faces little fear in bringing a blunt sense of wit and wisdom to the audience, which is always devilishly funny.
We see can ourselves and our friends and family members in her observations of life, allowing us to laugh at our own similar experiences and foibles.
Advertisement - story continues below
Deborah's Peterborough shows are always a sell-out, so get your tickets for Downward Facing Broad now. She will be performing on Thursday, June 6th in the Nexicom Studio at Showplace Performance Centre. The show starts at 7:30 p.m.
Tickets are $29.25 and are available in person at the Showplace box office (290 George St. N., Peterborough), by phone at 705-742-7469, or online at www.showplace.org.