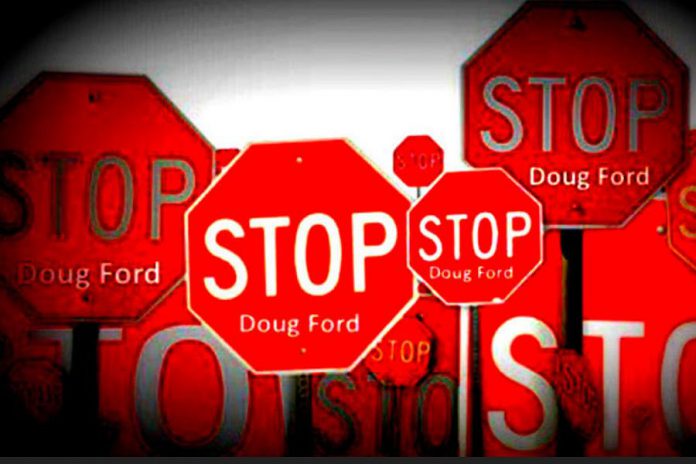 Protests against the Ford government's policies are taking place in at least 26 cities across Ontario this Wednesday (May 1), including Peterborough and Lindsay.
While the protests are being called a "general strike" and are taking place on International Workers' Day, they aren't being organized by the labour movement.
Instead, two women — Florence "Flo" O'Connell, who operates a housekeeping business in Toronto, and Dakota "Daxy" Lanktree, a documentary filmmaker from Hamilton — created a Facebook page @StopDoug last Monday (April 22) calling for a general strike against the Ontario government.
"We aren't outright members of political organizations, but are both caring and political people," they write on Facebook. "We aren't members of unions, but both stand in solidarity with our brothers and sisters that are. We consider this to be deeply important, and look at it as a beginning of a change."
Word spread on Facebook about the first event, to be held at 12 p.m. at Queen's Park in Toronto, with more than 3,700 people responding that they would be participating and another 15,000 indicating their interest.
Since then, an additional 25 protests have been organized in Cornwall, Gravenhurst, Guelph, Hamilton, Huntsville, Kemptville, Kingston, Kitchener, Lindsay, London, Ottawa, Midland, Mississauga, Orangeville, Oshawa, Perth, Peterborough, Ridgeway, St. Catharines, Stratford, Sudbury, Timmins, Thunder Bay, Trenton, and Windsor.
The Peterborough protest will take place from 12 to 1 p.m. on Wednesday, May 1st at Confederation Park in downtown Peterborough.
The Lindsay protest will take place from 10 a.m. to 2 p.m. at 14 Lindsay Street North — the provincial constituency office of Haliburton-Kawartha Lakes-Brock MPP and Ontario Minister of Labour Laurie Scott.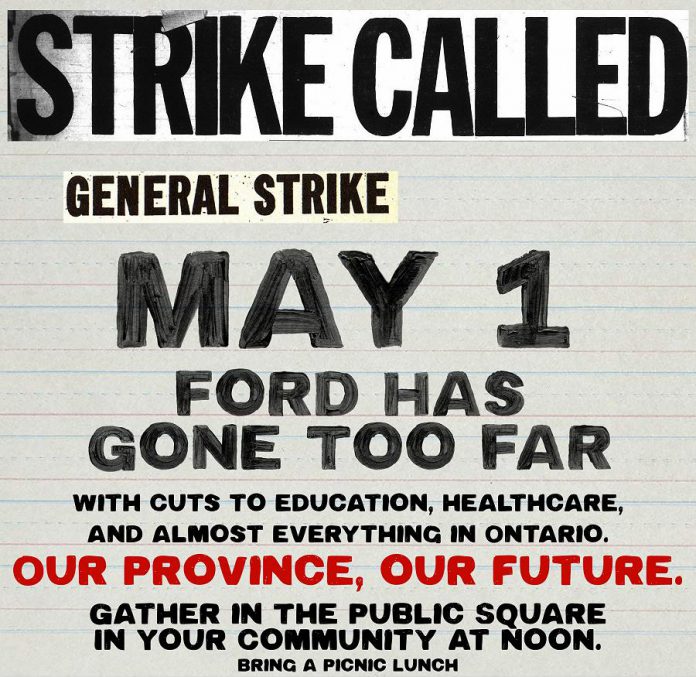 Protesters will be demonstrating against a wide range of policy changes and funding cuts announced by the Ford government, many arising from the 2019 Ontario budget.
These include funding cuts to education, public health programs, public libraries, conservation authorities, autism services, the Ontario Music Fund, and OHIP. They also include environmental cuts such as the elimination of the Environmental Commissioner and Ontario's 50 Million Trees Program, and changes to the Endangered Species Act that will reduce protections for species at risk.
According to the May 1st General Strike Against Ford page on Facebook:
This event will tell the Ontario government that we, the people of Ontario, are willing to grind this province to a halt to make these ill-informed cuts stop. It will show the unions that the people of Ontario will stand in solidarity with them. It has no other political agenda, outside of stopping the current agenda being played out in Ontario and reminding Doug Ford who he works for.
We encourage the people of Ontario to take an hour on May 1st and not contribute to the work done in Ontario that collectively makes us healthy and wealthy. After that, go back to the 'business' of being awesome. It would be a phenomenal thing if you were to spend that hour educating yourself on the power of General Strikes and the power of people acting collectively.
If you want to take that hour standing in solidarity with other good folks, we encourage you to gather in public squares at noon and break bread together (BYObread, or maybe something to share). We are a community, and we are powerful.
Do this with joy, all of our hearts have felt enough distress. Change is needed, and all of the power is in our hands.
This event has been pulled together by two women, Daxy and Flo, (yes those are our real names), who share the common goal of a better Ontario for all. It was not sparked by any politician, nor will it be co-opted by anyone. We are keeping it simple, and ask only for your support of this single idea, and your friendly participation.
For a list of all the planned protests and updates, visit the May 1st General Strike Against Ford page on Facebook.