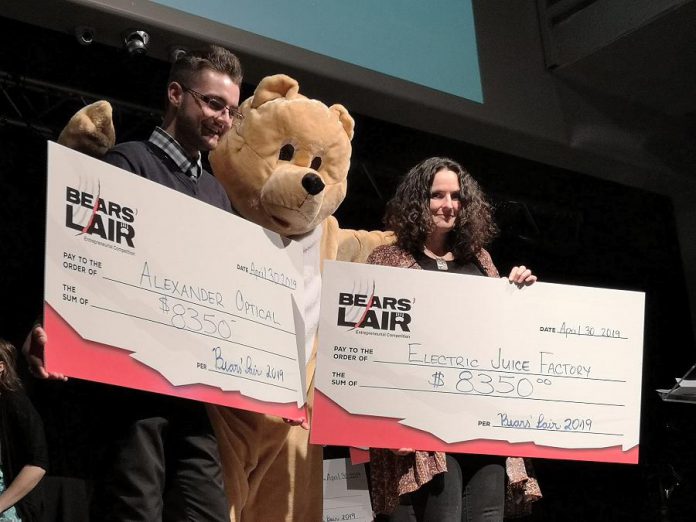 Dylan Trepanier of Alexander Optical and Cheryl Gould of Electric Juice Factory have won the 2019 Bears' Lair Entrepreneurial Competition, with each taking home a cash prize of $8,350.
The two entrepreneurs came out on top after six finalist pitched their businesses to a panel of judges before a live audience on Tuesday night (April 30) at The Venue in downtown Peterborough.
Trepanier won in the Innovation category for his business Alexander Optical, which organizes pop-up clinics with eye care professionals on site to perform comprehensive eye exams, to find eye wear solutions, and to provide an option for people to finance their eye care.
Gould won in the Goods and Services category for Electric Juice Factory, the business she founded with Will Harvey. Based in Port Hope with a retail location in downtown Peterborough, Electric Juice Factory manufactures organic, raw, cold-pressed juices and superfood smoothies.
The four runners-up — Husayn Dharshi of Transit One and Jeremy Brooks of AVROD in the Innovation category, and Jen Wight of Emily Mae's Cookies & Sweets and Hillary Flood and Pete Rellinger of PedalBoro in the Goods and Services category — didn't walk away empty handed. Each received a cash prize of $1,000.
The event also offered a People's Choice Award to one of the six finalists, selected by popular vote by attendees. With the highest number of votes, Jen Wight of Emily Mae's Cookies & Sweets won $200. In addition, the Women's Business Network of Peterborough awarded Wight with a free 2019/2020 membership.
During the final pitch event, each of the six finalists presented five-minute pitches followed by a question and answer session by the panel of judges: Teresa Kruze (partner at skin care and wellness company Neora, and former broadcaster, TV producer, best-selling author, and community activist), Steve Reble, owner of natural food wrap company ETEE (Everything Touches Everything Else), and Brenda Hogan (senior investment manager at Ontario Capital Growth Corporation).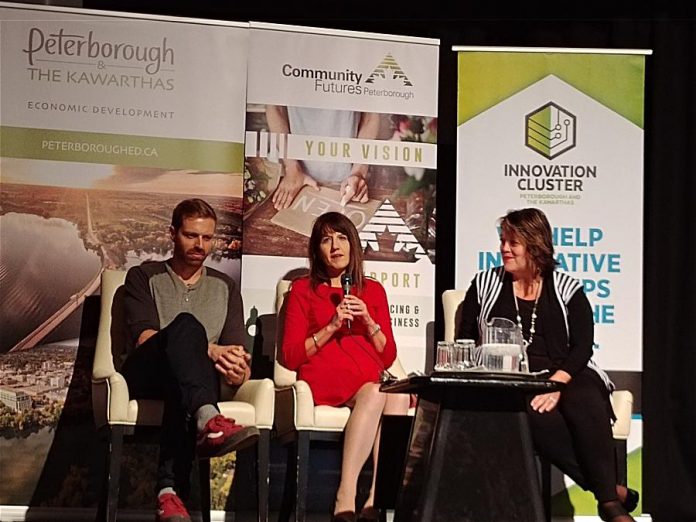 Unlike previous years' competitions, which featured a prize package including in-kind services, this year"s competition offered sizable cash-only prizes, all donated by sponsors of the 2019 competition.
"This year, we were very excited to be able to increase the cash prize thanks to the ongoing support of our community sponsors," says Catia Skinner, chair of the 2019 Bears' Lair steering committee. "The calibre of entrepreneurs entering this competition has been very impressive. The finalists did an incredible job with their pitches in front of the judges this evening, and it showed that they came prepared."
The presenting sponsors for this year's competition were Community Futures Peterborough, Peterborough & the Kawarthas Economic Development, Innovation Cluster, Peterborough Angels, and Mega Experience. Greater Peterborough Chamber of Commerce was the gold sponsor, with silvers sponsors including Park Place Financial, Cody & James Chartered Professional Accountants, PartTime CFO Services, and Brainstation, and bronze sponsors Sugar Me Right, Inclusive Advisory, Chalk Therapy.
Media sponsors were kawarthaNOW, Country 105, and Energy 99.7, with the Women's Business Network of Peterborough as award sponsor, Prima IP as the runner-up sponsor, and Ashburnham Realty as the event sponsor. Other sponsors included The Venue (location sponsor), We Design Group (video profile sponsor), Workforce Development Board and Ricart (partner sponsors), and Revolutions Dance Studio (supporting sponsor).