From May 1st to 4th, Enter Stage Right returns to the PCVS auditorium with a brand new production A Good Man is Hard to Find.
Written and directed by brother and sister team Greg and Jen Nugent, A Good Man is Hard to Find is a throwback to the campus comedies that dominated pop culture in the early 1980s.
Sort of a Facts of Life meets Revenge of the Nerds, with a hint of Legally Blonde and Animal House thrown into the mix, this original production is a different kind of show than I've become used to from Enter Stage Right in previous years.
By being firmly based in reality, it creates new dramatic challenges for the young cast of players. As Enter Stage Right's company grows up, so do the productions.
It's no secret that I have a soft spot for Enter Stage Right, and visiting with the cast and crew of their productions is a highlight of my theatrical year each year. Led by the Nugents, Enter Stage Right is a non-profit group that brings high school students from across Peterborough to help create their own original musical.
Advertisement - story continues below
I've always thought of Enter Stage Right as the "little theatre company that could" and, with limited resources or funding, this dedicated group always put on a highly original production. Over the four years that I have spent with this group, I have come to find the entire Enter Stage Right cast and crew to be very endearing, which brings me back each year.
A Good Man is Hard to Find had a more organic origin than previous plays. In the past, the company has been presented with original scripts by Greg and Jen written the summer before production begins. However, when the company only had two male actors show up for auditions this year, alongside a dozen young women, Greg and Jen put away their planned script and developed a brand new story to accommodate this unique situation that a good man, in fact, is hard to find.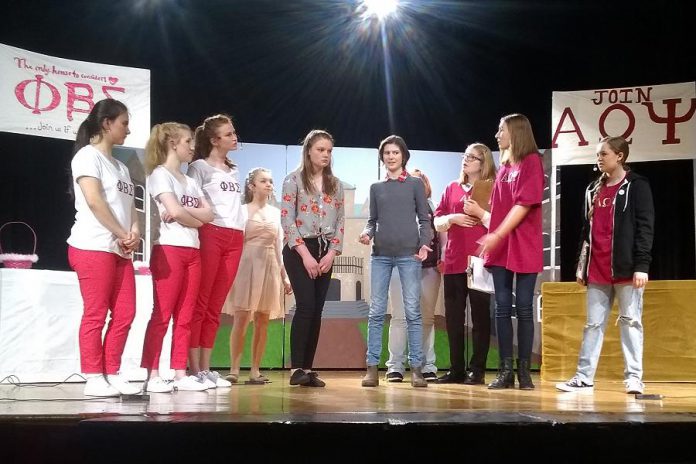 Enter Stage Right welcomes you to Everleigh College, where the two campus sororities are in competition for pledges, not to mention pretty much everything else. There's Phi Beta Sigma, led by pretty and popular Riley Hannigan (Sarah Theberge), who is pristinely dressed, armed with cookies, and ready for a good party. Then there's Alpha Omega Psi, led by Carter Abbotsford (Taite Cullen), which was formed on traditional, if not outdated and wildly misguided, values.
In an eternal struggle for dominance on campus, the two sororities are in a bitter feud, which escalates via various subplots throughout the show.
Advertisement - story continues below
One plot focuses on new students Delany (Hannah Boyes) and Sam (Annika Goeckel), two best friends from high school who planned to come to college and join a sorority together. However, while outgoing Delany finds herself seduced by the glamour and popularity of Phi Beta Sigma, awkward Sam feels more at home with Alpha Omega Psi.
As the two split off to discover life in their chosen sorority, not only is their friendship threatened, but they begin to discover the strengths and flaws of the two houses.
Meanwhile, two displaced male students, slacker frat boy Chuck (Russell Wideman) and his more serious studious best pal Addison (Isaac Martin), find themselves displaced when they are banned from all fraternities after an accidental explosion that Chuck caused. Homeless and facing the cutting of their funding, Chuck discovers a loophole allowing them to pledge to sorority houses. With Chuck heading over to Phi Beta Sigma, Addison pleads with Alpha Omega Psi to allow him in.
Discovering there's little they can do to stop the boys from pledging, Riley and Carter decide to force the boys out. In doing so, a private bet is concocted for which house will drive the boys out first — with harrowing consequences to the losing sorority.
Advertisement - story continues below
But once the boys start to become part of the sorority life, feelings begin to change among the girls as alliances are formed, friendships are broken, sisters are betrayed, and romance blooms in a story with likeable characters and lots of heart.
One of the things I enjoy about Enter Stage Right shows is to follow the returning performers who come back each year and watch them grow as actors. I've been watching some of the performers for three shows now, and in A Good Man is Hard to Find I noticed a maturity in the performances of many of the returning actors, who have greatly stepped up their game with this show.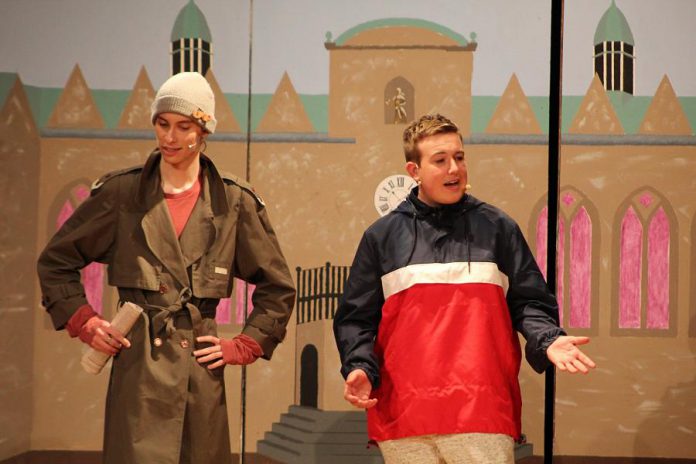 Taite Cullen, who caught my attention last year in After the Battle as angry underwater superheroine The Wave, has become a confident and strong leading lady in the role of Carter. She is able to lead this ensemble cast through a lengthy production with multiple plots.
Issac Martin, who in previous years played awkward characters such as Dilton in Everyone Loves Archie and The Bureaucrat in After the Battle, steps out of his previous typecasting into a more mature and emotionally conflicted character as Addison.
Jordan de Groot, who won over audiences last year as the hapless criminal The Gooch in After the Battle, continues to steal scenes as dumb but lovable Rosalie, who has not only a strong stage presence but many of the best lines of the show. Jordan always manages to make the scene glow when she takes centre stage.
Advertisement - story continues below
I was really impressed with Lena Ross, who graduated from saying apple puns in last year's show to becoming the emotional powerhouse player this year. In the role of conflicted Phi Beta Sigma vice president Reagan Hanover, Lena creates a realistic and relatable character. Confident on stage, Lena is always interesting to watch.
New to Enter Stage Right this year is Russell Wideman, who becomes the audience favourite in the role of Chuck. The stereotypical sophomoric slacker, Chuck is fun to be with and, despite his shenanigans, always remains likeable. While the character could be in fear of slipping into a cocky obnoxiousness, Chuck keeps him laid back and likeable.
Chuck and Lena's performance together at the finale could be my favourite moment of the show.
I also really enjoyed the performance by Annika Goeckel as Sam. Reminding me as a teenaged Sarah Silverman, Annika is a standout because she is just so different from the rest of the girls in the show. Quirky and awkward yet fierce, Annika can project strong emotions not only through her dialogue, but also with her interesting uses of body language — most notably the hunched stance she often uses when leaving the stage defeated. I think Annika has the potential to become a very good character actress and I hope to see her on stage again.
I also want to give a shout out to the important performances by Britney Burton and Eli Cox as house mothers Helen LaRue and Miss Munn. Britney dominates the stage with larger-than-life confidence as the mean-spirited former president of Phi Beta Sigma, while Eli delivers the show's best lines as the spaced-out but spiritually beautiful Miss Munn.
Advertisement - story continues below
Unlike some shows in previous years that relied heavily on chorus characters, in A Good Man is Hard to Find each character has a unique function and each cast member has a part to play in the movement of the plot.
The cast is rounded out by Hunter Sanderson as the conniving Staci Monroe, Eden Ferris as the exasperated Alpha Omega vice president Erica Sloane, Victoria Bell as annoying fact-quoting Tiffany, and Jaiden Charters as an exotic animal collector who causes havoc across campus.
Through each of these characters, a whole world of subplots and personalities make up campus life at Everleigh College.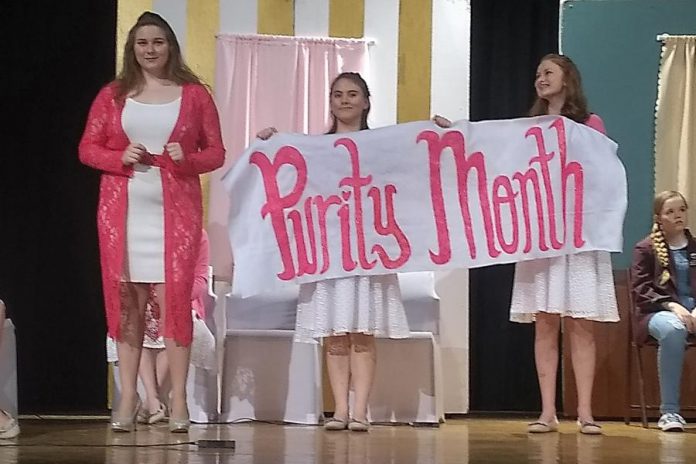 A Good Man is Hard to Find isn't without a noticeable weakness here and there, but for the times that it does fumble it makes up for it with the conviction of the performers and the noticeable heart that the Enter Stage Right company invests into the production.
Like every year, the company pulls off another production when the odds sometimes seem stacked against them, proving again that they are the little theatre company that could. As long as they are devoted to creating original theatre filled with heart and a sense of honesty, they will always be able to maintain my devotion to them.
A Good Man is Hard to Find runs from Wednesday May, 1st to Saturday, May 4th in the auditorium at PACE at PCVS (201 McDonnel St., Peterborough). Doors open at 6:#0 p.m., with the show at 7 p.m. Tickets are $15 for adults and #10 for students and seniors and are available for sale at the door.