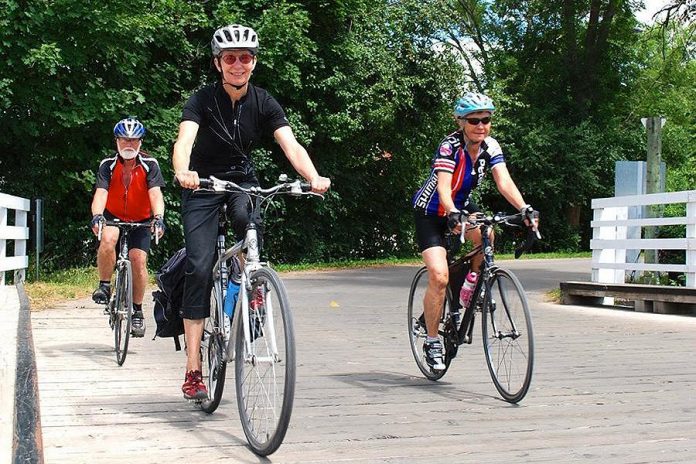 We're finally in for a stretch of summer-like weather, with sunny days and temperatures in the mid-to-high twenties from Thursday (June 6) to Sunday (June 9). It's a perfect time to take in some upcoming cycling events in Peterborough.
First up is a family-friendly bike ride along city trails, taking place from 6 to 7:30 p.m. on Thursday, June 6th starting at Rogers Cover Park (131 Maria St., Peterborough).
Advertisement - story continues below
Hosted by Peterborough Moves and B!KE: The Peterborough Community Cycling Hub, the event will be led by Susan Sauvé, the award-winning transportation demand management planner for the City of Peterborough, who will share information about the city's bike trails and what the city has in store for the future.
Bring your bicycle and wear a bike helmet (you will also have to sign a waiver at the beginning of the ride).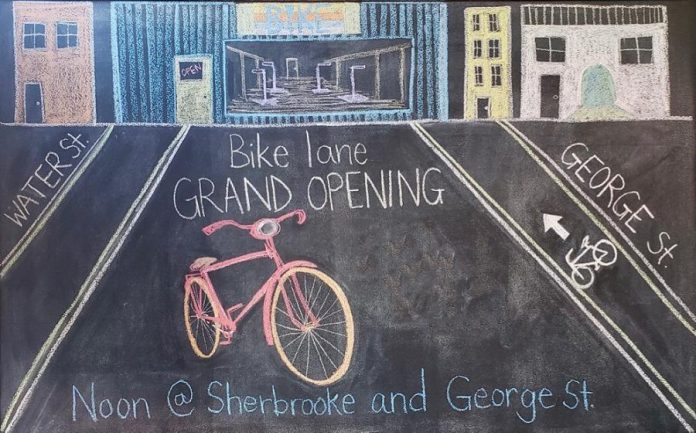 On Friday, June 7th, the City of Peterborough, Peterborough Moves, and B!KE: The Peterborough Community Cycling Hub will host the official opening of the new cycling lanes on George and Water Streets, which run 2.5 kilometres between Hunter and Lake Street. Peterborough Mayor Diane Therrien will be there along with project staff.
Gather on the sidewalk in front of the Investors Group building on the east side of George Street just north of Sherbrooke Street. The ceremony begins at 12:15 p.m. and will followed by infrastructure tours, one on foot and one by bicycle. If you want to participate in the cycling tour, bring your bicycle and wear a helmet.
On Saturday, June 8th, take the entire family to Millennium Park (130 King St., Peterborough) for Kids on Bikes, a free event running from 10 a.m. to 2 p.m.
Hosted by Active & Safe Routes to School Peterborough, B!KE, GreenUP, the City of Peterborough, and the Silver Bean Cafe, this is a fun event for cyclists all ages and abilities.
There will be bike decorating, rides through the bike playground, and tips and tricks for people of all ages on learning to ride a bike.
Advertisement - story continues below
On Sunday, June 9th, B!KE: The Peterborough Community Cycling Hub is hosting The Drive Train, the fifth of its home bike mechanic workshop series. The Sunday session takes place from 3 to 5 p.m. at the B!KE workshop (293 George St., Peterborough).
The cost is $15, with attendance limited to six to eight participants. To register, email Tegan at tegan@communitybikeshop.org. The final workshop in the series, "Bottom Brackets and Beyond", takes place next Sunday.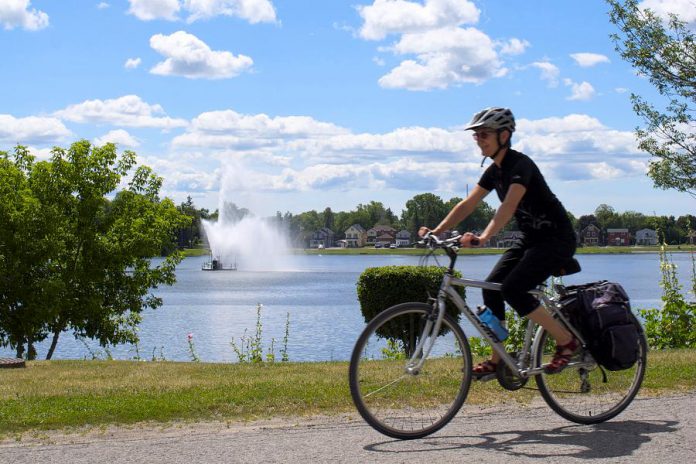 Next Wednesday (June 12), Mayor Diane Therrien will announce the 2019 Travel Wise Award Winners for Shifting Gears, Peterborough's transportation challenge that takes place every May.
Shifting Gears coordinator Lindsay Stroud of GreenUP and transportation demand management planner Susan Sauvé of the City of Peterborough will report on program highlights and impacts from the 2019 community challenge, and the celebration will include door prizes, refreshments, and fresh smoothies made on a blender bike.
The event takes place from 11:30 a.m. to 1:30 p.m. at the Millennium Park Display Room beside the Silver Bean Café in Millennium Park (130 King St., Peterborough), with the awards presentation at 12:15 p.m.
Finally, save the date for B!KE-A-THON, a new fundraiser on Saturday, July 13th.
B!KE: The Peterborough Community Cycling Hub is a well-established non-profit with a diverse funding model, raising revenues from sales of reclaimed and refurbished bicycles and parts, shop memberships, workshop fees, grants, fee-for-service programs, and a Trent undergraduate student levy.
However, due to changes in provincial funding sources, the organization is anticipating financial hardship in the coming year.
Advertisement - story continues below
The B!KE-A-THON will feature a tag-team style 12-hour marathon of riding a stationary bike on the back patio of The Social (295 George St. N., Peterborough). People are encouraged to form five-person teams, pay a team registration fee of $200, and raise a minimum of $500 in pledges, with proceeds going to support B!KE.
The event will run from 9 a.m. to 9 p.m. on Saturday, July 13th. Each team member will receive lunch, snacks, and non-alcoholic drinks, a B!KE water bottle, and prizes for the longest distance pedalled, best team name and costume, and most funds raised. Teams will need to bring their own bike or B!KE can arrange one with advance notice.
To register, visit ccnbikes.com/#!/events/bike-a-thon-2019.